This post is all about free date night printables.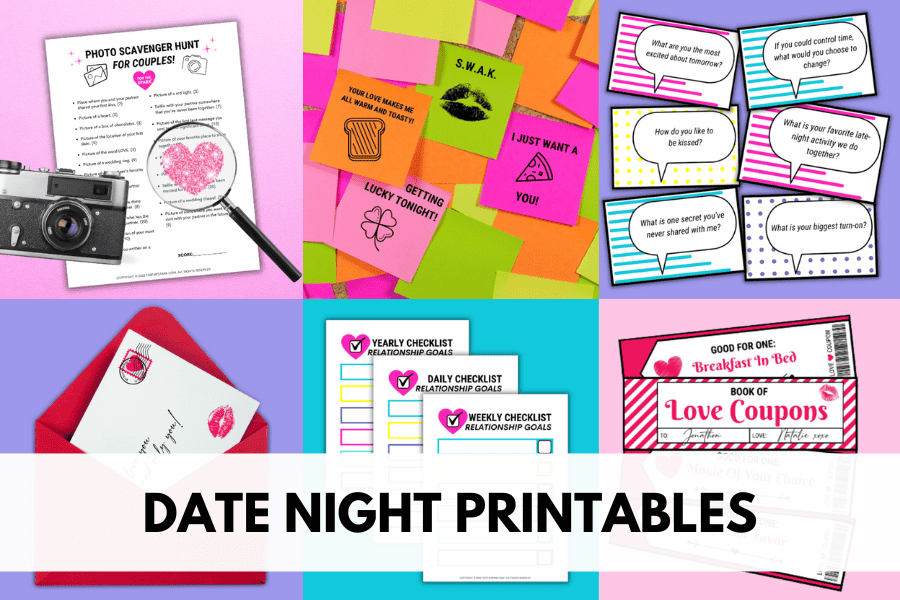 We know just how important it is to keep the spark sparkling in your relationship.
That's why we do our best to provide you with the best date night ideas, date night games, conversation cards, and more!
In this post, we have put together all of our free date night printables so you can find everything in one place.
As we continue to create more date night printables, we add them to this list!
Date Night Printables
We've put these printables together to help you to spice up your date nights.
It can be challenging to come up with different date night ideas and date night conversations.
Whether you are newly dating or you've been together for years, you're sure to find something on this list that you will LOVE!
So save this post, download your favorites, print, and enjoy!
MINI DATES
52 BEST MINI DATES TO SPICE UP YOUR RELATIONSHIP
One of my favorite things about these mini dates is that they take less than 30 minutes to do and the results are awesome!
If you and your sweetie are looking for ways to spice up your relationship and connect, you are going to LOVE these date ideas!
You'll receive a new mini date every week, so get ready to experience more romance and connection with your significant other!
RELATED: 101 Romantic Date Ideas We Love
Conversation Cards & Games
CONVERSATION CARDS
56 FREE DATE NIGHT CONVERSATION CARDS FOR COUPLES WHO WANT SOMETHING FUN TO TALK ABOUT
Using date night conversation cards is a great way to share some laughs and deep discussions with your partner.
Whether you are newly dating, been dating a while, married, etc..these conversation cards are a sure way to spark some entertaining dialogue on your date nights.
RELATED: How To Have An Incredible Painting Date Night At Home
WOULD YOU RATHER QUESTION CARDS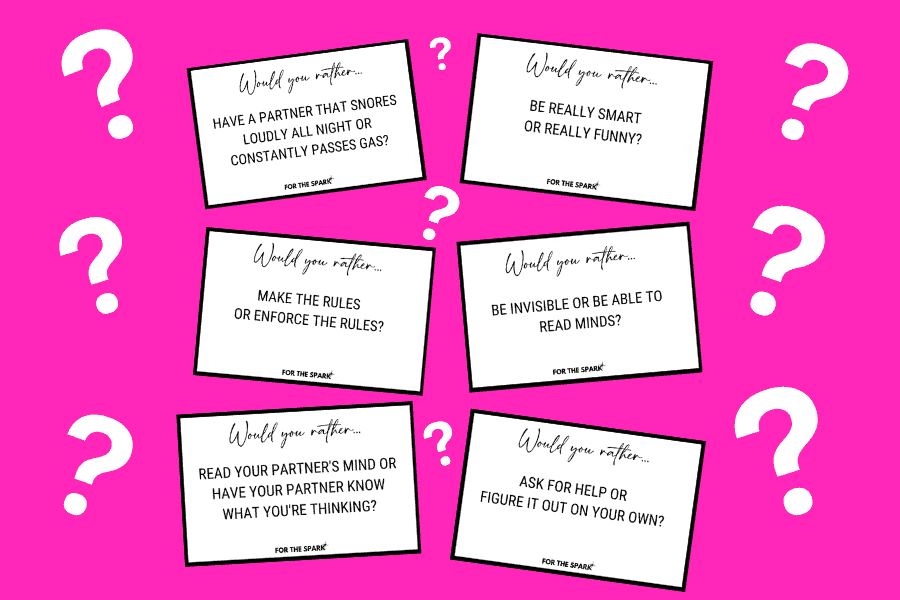 117 FUN WOULD YOU RATHER QUESTIONS FOR COUPLES
Enjoy fun date night discussions with these would you rather questions.
They are a creative way to get to know your partner better and share some laughs.
Ever since my husband and I met, we have forever been asking each other fun would you rather questions.
These questions always keep things interesting and lead to exciting dinner conversations.
RELATED: The Best Drive-In Movie Date Ideas
Fun Date Night Activities
DATE NIGHT SCAVENGER HUNT
BEST DATE NIGHT SCAVENGER HUNT FOR A NIGHT OUT YOU'LL NEVER FORGET
If you're looking to spice up your date night and have some serious fun with your sweetie, you are going to love this date night scavenger hunt!
RELATED: Create A Romantic Spa Date Night At Home
PHOTO SCAVENGER HUNT
ULTIMATE DATE NIGHT PHOTO SCAVENGER HUNT FOR COUPLES
If you're looking for a cheap and easy way to add some fun to your next date night, this photo scavenger hunt is for you!
We love doing this photo scavenger hunt – and since you are taking pictures while on this hunt, it is so fun to go back and reminisce about that one date night you shared!
RELATED: The Ultimate Fondue Date Night At Home
PILLOW TALK QUESTIONS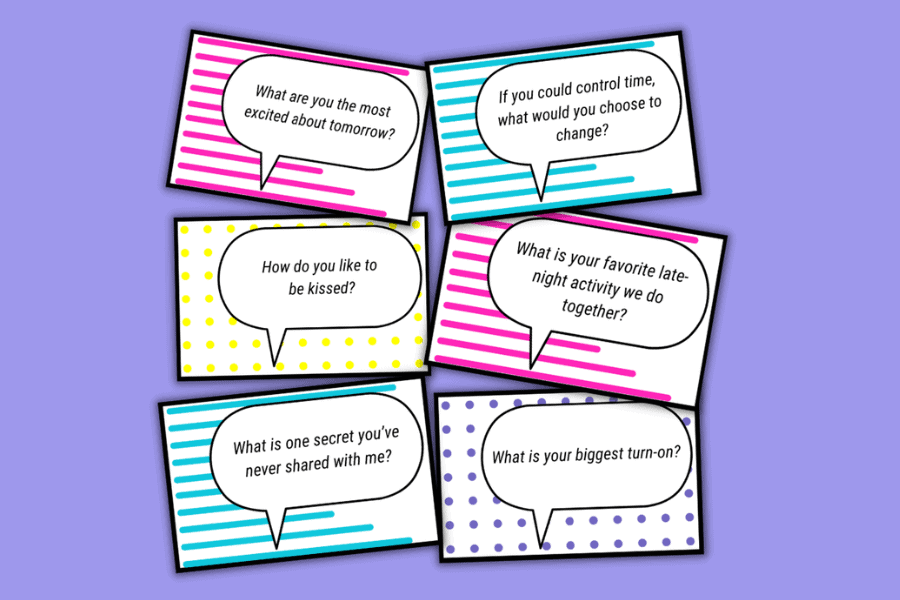 64 JUICY PILLOW TALK QUESTIONS FOR COUPLES
These pillow talk questions are the perfect way to enjoy deep late-night conversations, connect, and increase the intimacy between you and your significant other.
Sometimes while lying in bed with your sweetheart, it can be hard to think about what to say, especially after a long day.
Well, no worries! We have you covered. That's exactly why we've created these pillow talk questions for you to use.
With these free printable question cards, you will always have something new and exciting to talk about!
RELATED: 18 Date Ideas That Are Free And Actually Fun
Printable Date Night Jar Ideas
Coming up with date night ideas can be a challenge, that's why at For The Spark we strive to provide you with a wide variety of date night ideas!
DATE NIGHT JAR IDEAS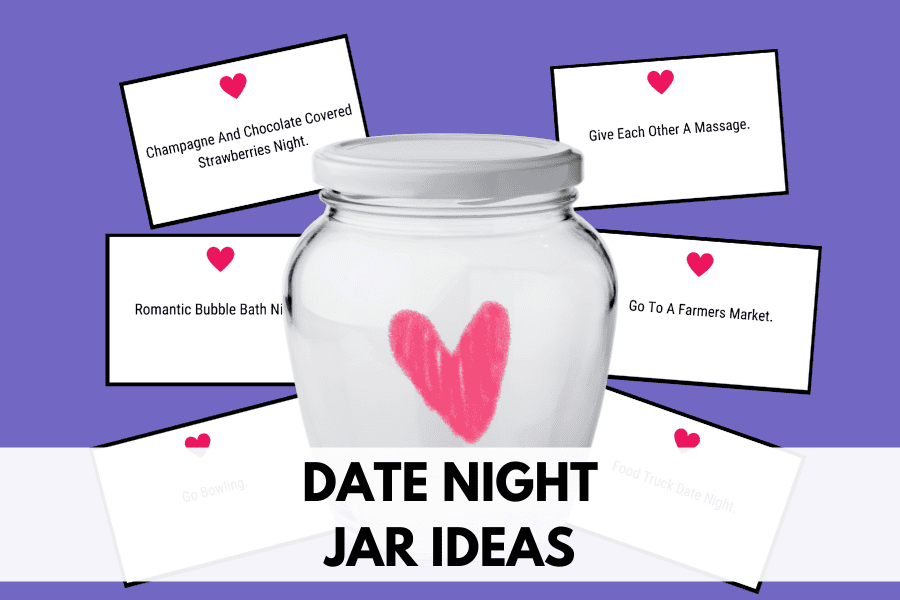 75 GENIUS DATE NIGHT JAR IDEAS THAT YOU'LL LOVE
Using date night jar ideas is an ideal way to add some excitement and variety to your date nights.
Here we've included 75 fun date night jar ideas, print them out for free and add them to your date night jar!
RELATED: 20 Questions Game For Couples To Spice Up Date Night
Free Date Night Printables
30 DAY RELATIONSHIP CHALLENGE
30 DAY RELATIONSHIP CHALLENGE FOR COUPLES WHO WANT TO SPICE UP THEIR RELATIONSHIP
This 30-day relationship challenge was created to help increase the connection, romance, and intimacy between you and your partner.
In this challenge, there is something new for you and your significant other to do for each other every day to strengthen your bond.
You'll find the free printable in this post to print out and follow along for each day of the challenge.
RELATIONSHIP GOALS CHECKLIST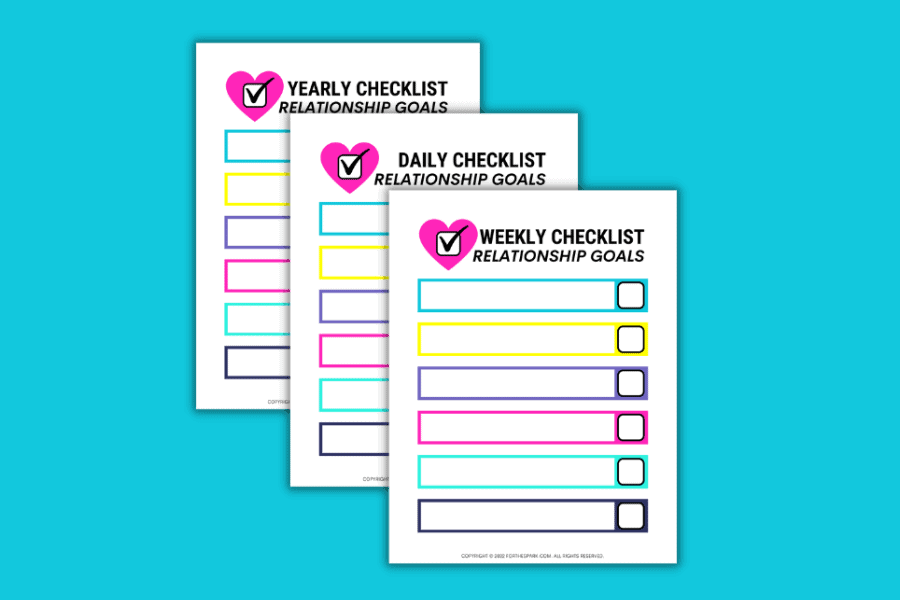 THE RELATIONSHIP GOALS CHECKLIST ALL COUPLES SHOULD BE USING
Using a relationship goals checklist helps create a strong, long-lasting, and fulfilling relationship with your significant other.
Here you will find a free relationship goals checklist that you can download to use for your weekly, monthly, and yearly goals.
Cute Printable Love Notes
LOVE NOTES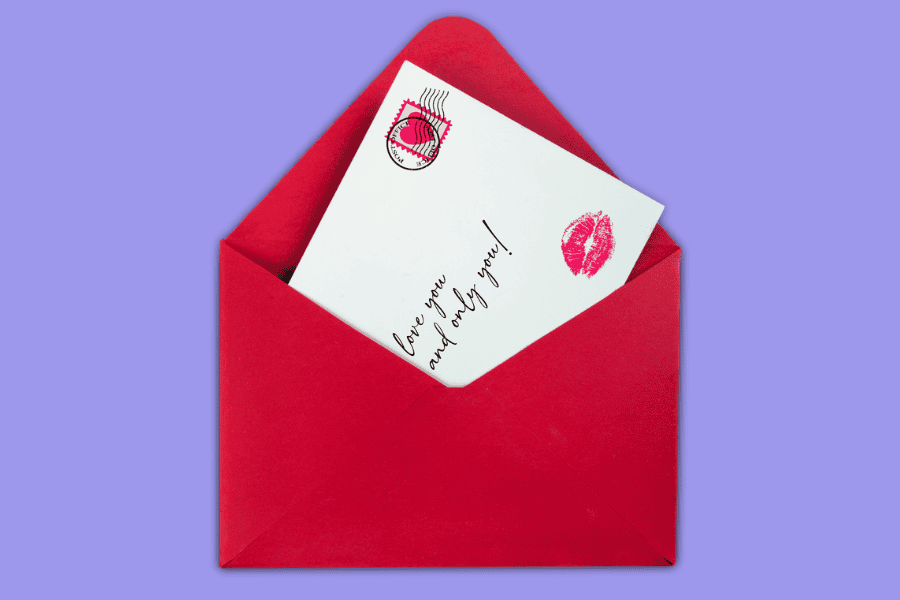 Sending your significant other sweet messages during the day is a great way to let them know that you're thinking about them and that you care.
Whether you choose to send these messages via text or write them as a little note, you're sure to touch their heart in a special way.
In this post, you will find 24 love notes that you can download for free, print, and give to your sweetie!
RELATED: 53 Relationship Quiz Questions To See How Well You Really Know Your Partner
LOVE COUPON BOOK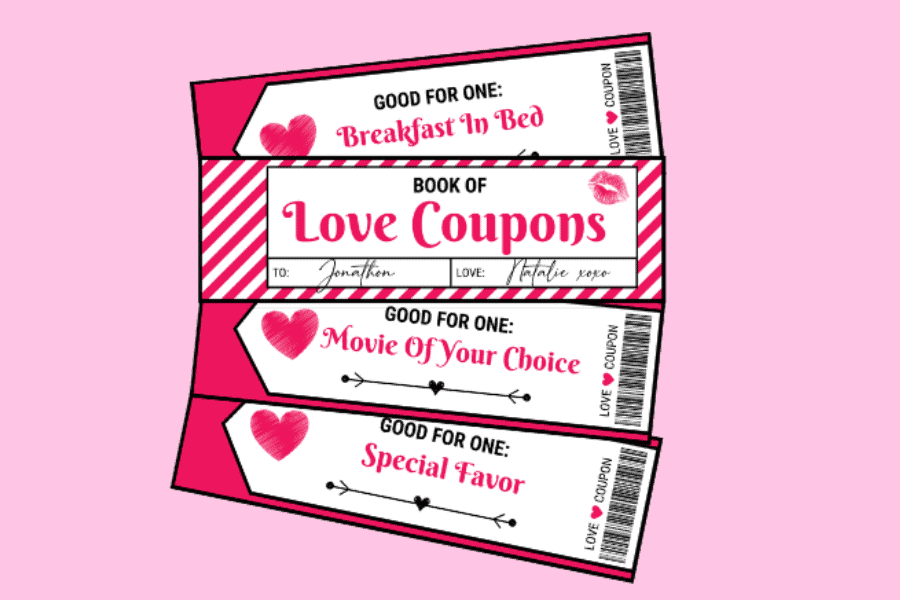 DIY: FREE PRINTABLE LOVE COUPONS
These free printable love coupons are such a sweet yet simple gift for that special person in your life.
Love Coupons are a great gift idea for a wide variety of occasions.
Whether you're celebrating an Anniversary, Valentine's Day, a Birthday, Christmas, or a fun Date Night, love coupons are the perfect way to spice up any event!
RELATED: 47 Cheap Fun Date Ideas You'll Love
STICKY LOVE NOTES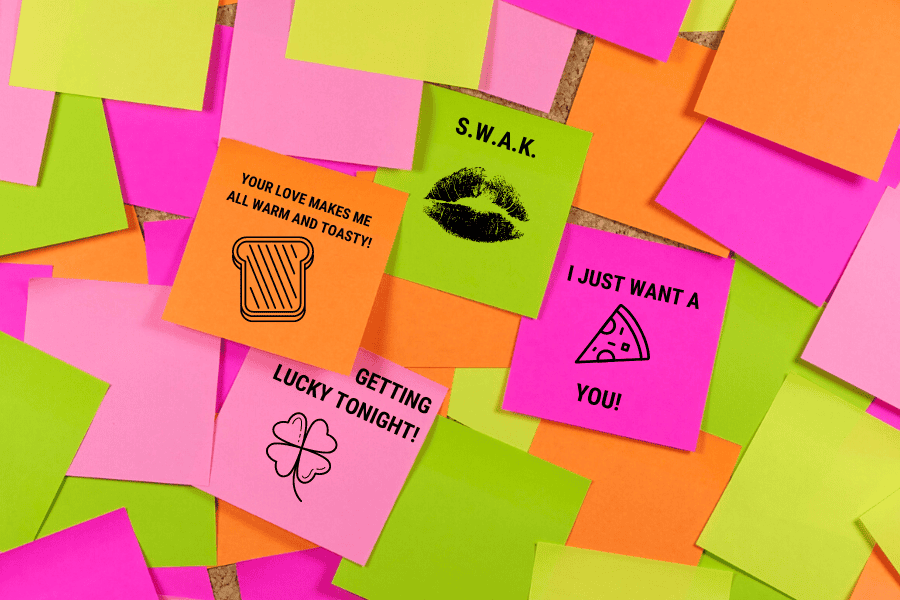 DIY: FREE PRINTABLE STICKY LOVE NOTES
Here you will find a super cute pack of sticky love notes that will make your sweetheart smile and feel the love!
They are quick, affordable, easy to use, and the perfect way to help you celebrate birthdays, anniversaries, or just because you want to make your partner's day extra special.
This printable pack is FREE and sure to make them feel loved in a matter of seconds.
RELATED: 13 Romantic Date Night Ideas For Him
THEMED DATE NIGHT CARDS
HALLOWEEN LOVE NOTES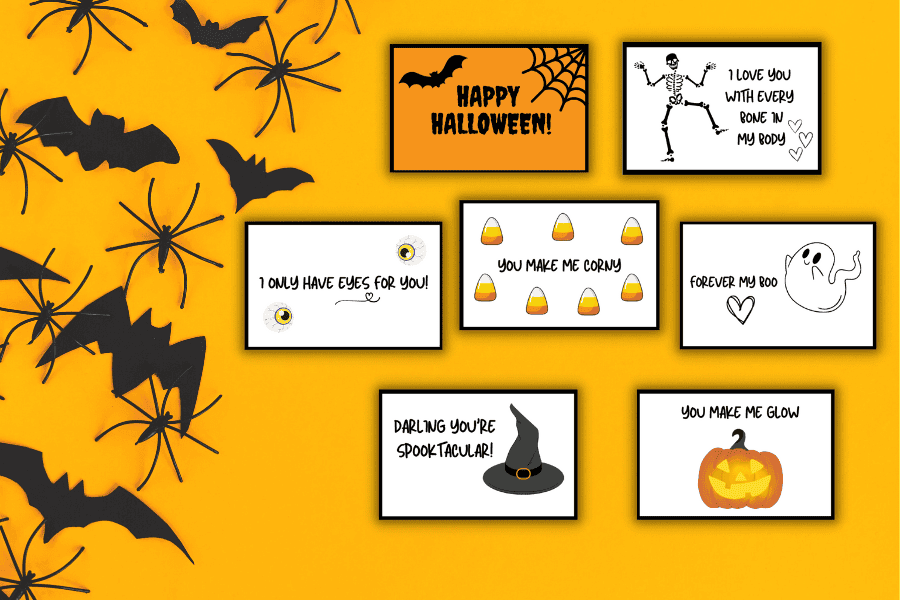 During the spooktacular Halloween season, these free Halloween love notes are the perfect way to celebrate!
We hope that you can find lots of free date night printables here to spice up your date night!
Which of these printables are your favorites?
Are there any specific date night printables you are looking for?
If so we'd love to hear from you!
Drop us a comment below and let us know what you would like for us to add to our free date night printables.
This post was all about free date night printables.
OTHER POSTS YOU MAY LIKE: