This post is all about date ideas that are free.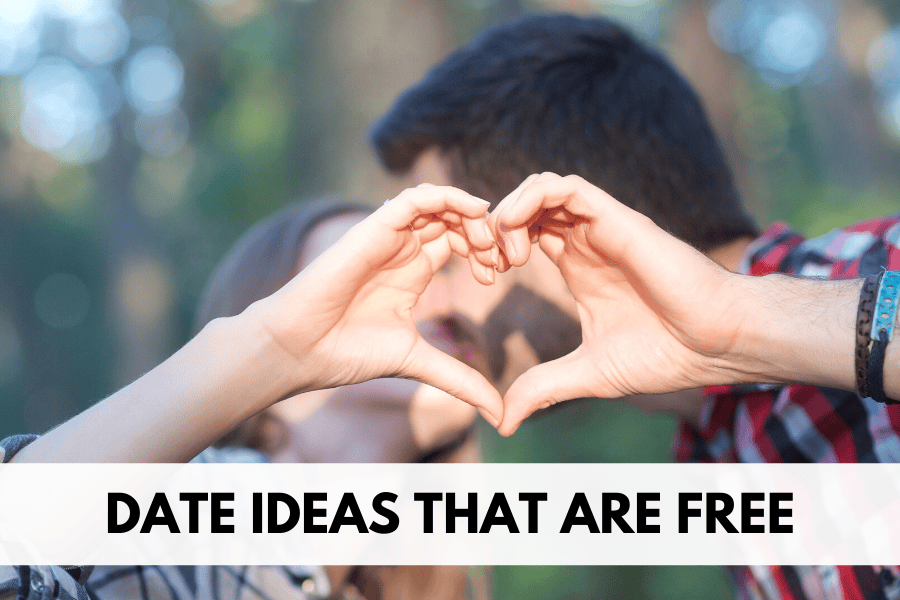 Looking for date ideas that are free?
You are in the right place. We've put together 18 of our favorite date ideas that are free, and not only do these dates cost no money, but they are also actually fun too! 🙂
18 Date Ideas That Are Free And Actually Fun
Having a consistent date night is so important to maintaining that spark and connection with your significant other. Let's be honest though, date night can get pricey.
That's why having date ideas that are free and cheap is so important!
After all, when you are with the person you love, you don't need to spend a lot of money to have a good time.
Free Or Cheap Date Ideas
#1 Go through old photos.
Looking at old photos is such a fun date night activity. It's a creative way to learn about your partner.
You can share stories from your past and talk about your favorite memories as you flip through old pictures with each other.
The photos don't have to be just of you two together. Consider going through baby books or adolescent years and share your best memories with your sweetie.
#2 Take funny pictures.
You can make funny faces, do crazy poses, dress up in costumes, or all of the above! It doesn't cost a dime to get creative with your camera.
RELATED: 97 Romantic Questions To Ask Your Partner To Get To Know Them Better
#3 Go on a date night scavenger hunt.
Date night scavenger hunts are so much fun!
If you want to create a memorable night out, I highly recommend this date night scavenger hunt.
My hubby and I were looking for something fun to do for date night, so we created this free date night scavenger hunt. We've completed it several times now and always have a blast!
#4 Play how well do you know your partner.
Get to know your partner with these relationship quiz questions.
You will quickly discover how well you really know your significant other. Be prepared to spend the evening laughing and connecting with these quiz questions.
RELATED: 53 Relationship Quiz Questions To Find Out How Well You Really Know Your Partner
Free Date Ideas At Home
#5 Have a romantic bubble bath night.
Relax and unwind with your sweetie while taking a romantic bubble bath at home. A bubble bath is a great way to connect and enjoy some romance on date night.
#6 Play never have I ever.
These never have I ever questions make for a fun date night activity. My hubby and I love playing never have I ever.
Start with these questions. After you complete them get creative with your own.
You never know what you will discover about your significant other. Just remember, don't ask a question if it's not something you want to answer yourself. 😉
#7 Give each other a massage.
You don't have to go to a fancy spa in order to have a spa date with your sweetie. Really all you need is some lotion or massage oil. Turn down the lights and create a zen experience for you and your significant other.
RELATED: 141 Flirty Never Have I Ever Questions For Couples
#8 Do a romantic photoshoot.
Create the scene and use your imagination as you and your sweetie take romantic pictures together.
Having a romantic photoshoot is not just a fun date night activity but also will give you both something to look back at and remember the amazing night you shared together.
#9 Read to each other.
Choose a book that you and your sweetie will enjoy and spend the evening reading to each other.
You can take turns reading. One of you reads a chapter aloud, then you switch. Reading to each other actually makes for a very romantic date night. Plus it's fun to get involved in the story together.
Free Romantic Date Ideas
#10 Play a card game.
There are so many great card games that you can play that don't cost a penny!
All you need is you, your partner, and a deck of cards. I recommend googling "card games for 2 people". You will get a bunch of good options that you and your sweetie can play together on date night.
#11 Watch the sunrise.
If you and your partner are early birds, you may enjoy a sunrise date. Get a couple of cups of coffee, and a warm blanket, and snuggle with your partner as you watch the sunrise.
RELATED: 117 Fun Would You Rather Questions For Couples
#12 Play 20 questions for couples.
Chances are you've heard of 20 questions, right?
Well, 20 questions for couples is my favorite form of 20 questions to play with my hubby. You can read all about how to play 20 questions for couples here. Trust me, 20 questions for couples is so much fun. You'll love it!
#13 Go window shopping.
I love a good window shopping date night. It's totally free to window shop! You can walk around and get lots of good ideas for what you may want to purchase in the future.
It's also great to get out and look at all the new fun finds that are available.
#14 Go to the park.
Visiting the park is always a fun free date activity. You can bring a picnic and enjoy a meal at the park, or bring a blanket and enjoy the lovely scenery.
RELATED: Ultimate Date Night Scavenger Hunt For Couples
Fun Date Ideas
#15 Play would you rather.
Laugh and connect with your sweetie playing would you rather on date night!
Would you rather is a fun free date idea and also an entertaining activity you can add to other date nights.
Check out these would you rather questions for couples.
We've also included a free printable here, so you can download and print out these would you rather cards for your next date night!
#16 Go stargazing.
Bring a cozy blanket and cuddle as you layout with your sweetie under the stars for this romantic free date idea.
#17 Listen to a book or podcast.
Find a story or podcast you both will enjoy listening to. Spend your date night engrossed in a story or a show that you can talk about and enjoy together.
#18 Go on a photo scavenger hunt.
Photo scavenger hunts are so much fun!
We created this photo scavenger hunt as a fun and free date night activity to do. You can download your free photo scavenger hunt here, print it out and bring it with you for your next date night!
I hope that you've found several date ideas that are free on this list that you can use for your future date nights!
This post is all about date ideas that are free.
Other Posts You May Like:
Pin these to remember this post!