If you've been looking for date ideas to do during the Halloween season this pumpkin carving date has it all!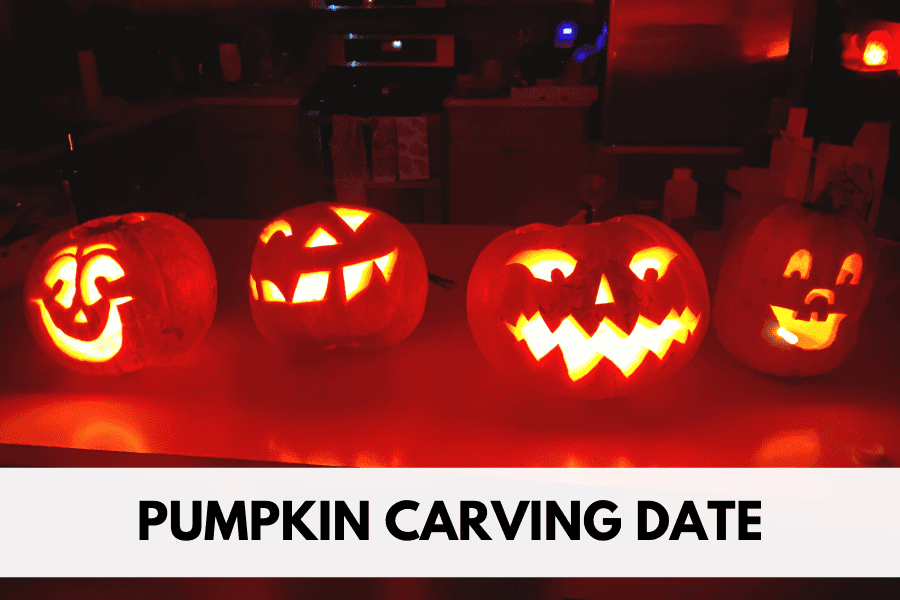 Whether you are newly dating or you've been together for years, carving pumpkins is an all-time favorite Halloween date idea.
This post is all about the best pumpkin carving date night.
Cute Pumpkin Carving Date
Wondering if carving pumpkins is a good idea?
Well yes, carving pumpkins is a great date idea! If you are looking for a fun Halloween date idea this is one of the best.
In this post, we will be sharing everything that you will need to make this pumpkin carving date a fa-boo-lous night you both will enjoy!
RELATED POST: 13 Halloween Date Ideas For Sexy And Spooky Fun
Pumpkin Carving Date Night
Pumpkin carving is a fun date idea. It's one that you can do with just you and your sweetie but it works as a great group date idea as well.
One of the best things about this date idea is that it is affordable, easy to do, and you get to use your creativity.
What You Need For A Pumpkin Carving Date | The 4 Essentials
#1 PUMPKINS
This goes without saying, it's hard to have a pumpkin carving date without the pumpkin to carve.
You will need to consider whether or not you want to have one or multiple pumpkins.
We always opt to have at least 3 pumpkins. That way we each get to carve our own and then carve one pumpkin together.
Plus, having the extra pumpkins is a great way to make sure that we will have plenty of pumpkin seeds to bake together on another date night.
#2 PUMPKIN CARVING KIT
Having a dedicated pumpkin carving kit really makes this date night so much easier to do.
You can go the old-fashioned way with a knife and a spoon but it is much more difficult and takes a lot longer to do. Also, carving the designs that you want in the pumpkin is more of a struggle when you don't have the right tools.
This pumpkin carving kit is a great one. It comes with all the tools you need to make pumpkin carving fun and easy. I do recommend ordering 2 of these kits though.
The first time we did this pumping carving date night we only had one kit. It was frustrating because we had to wait for one another to finish with the tools. After all, we only had one of each.
Having 2 pumpkin carving kits makes the date night move along more smoothly, and quickly, and ensures you both will be able to use the tools you want when you need them. 😉
RELATED POST: 141 Flirty Never Have I Ever Questions For Couples
Cute At Home Date Ideas
#3 PUMPKIN CARVING TEMPLATES
One of the fun things about doing a pumpkin carving date night is that you get to use your creativity.
That being said, I like being creative with the help of pumpkin carving stencils. I find that what I carve always turns out much better when I am following a pattern of some sort.
This book comes with a variety of different Halloween Patterns that you can use for carving your pumpkins.
#4 TEA LIGHTS OR FLAMELESS CANDLES
After carving your pumpkins you will want to admire all your hard work. To do so, turn off the lights and use tea lights or flameless candles to make your jack-o-lanterns glow!
We used to always use tea lights for lighting up our pumpkins. Recently we have been using Flameless Candles.
They look super realistic and you don't need to worry about the fire or the flame blowing out.
Both work great, it really comes down to personal preference and what you feel comfortable using.
RELATED POST: 13 Romantic Date Night Ideas For Him
Dinner Date Ideas At Home
Enjoy your pumpkin carving date with your sweetie while chatting and carving away.
For food consider ordering some of your favorites that you can enjoy during this date night. We find that having something fun and easy to eat is best, like pizza or Chipotle.
You can add to the Halloween theme of the evening by enjoying a Halloween-themed cocktail like a Bloody Mary or some Witches Brew. There are so many creative Halloween cocktails to choose from!
Fall Dates For Couples
There is something magical about the fall. The air gets cooler as the leaves on the trees begin to change in color.
It truly is such a beautiful time of year. You get to pull out your cute sweaters and boots and pumpkin spice lattes begin to make their annual appearance at the coffee shop.
If you are looking for the best fall date ideas, be sure to check out these 19 Romantic Fall Date Ideas. You're sure to find a variety of date night ideas to do with your sweetie throughout the season.
Halloween Date Night At Home
Having a Halloween date night at home can be a lot of fun. You can get as creative and festive about it as you please!
Some great Halloween date night ideas you can do at home are:
Carve pumpkins.
Scary movie marathon.
Dress up and pass out candy to trick or treaters.
Bake pumpkin seeds.
Candlelit dinner and drinks.
Decorate Halloween cookies.
Play guess the candy.
Tell each other ghost stories.
Pumpkin Carving Date Night Essentials
Carving pumpkins is at the top of our list for a Halloween date night ideas at home.
Make sure to get everything you need well ahead of time so that when you have your pumpkin carving date night you're all ready to go.
Pumpkins – Get however many pumpkins you and you date want to carve.
Pumpkin Carving Kits – Having a kit makes carving pumpkins so much easier! Be sure to get 2 kits so that you and your date each have your own.
We hope that you and your date have fa-boo-lous date night carving pumpkins!
This post was all about the best pumpkin carving date night.
OTHER POSTS YOU MAY LIKE:
Pin to remember!