If you are looking to have an amazing fondue date night you are in the right place.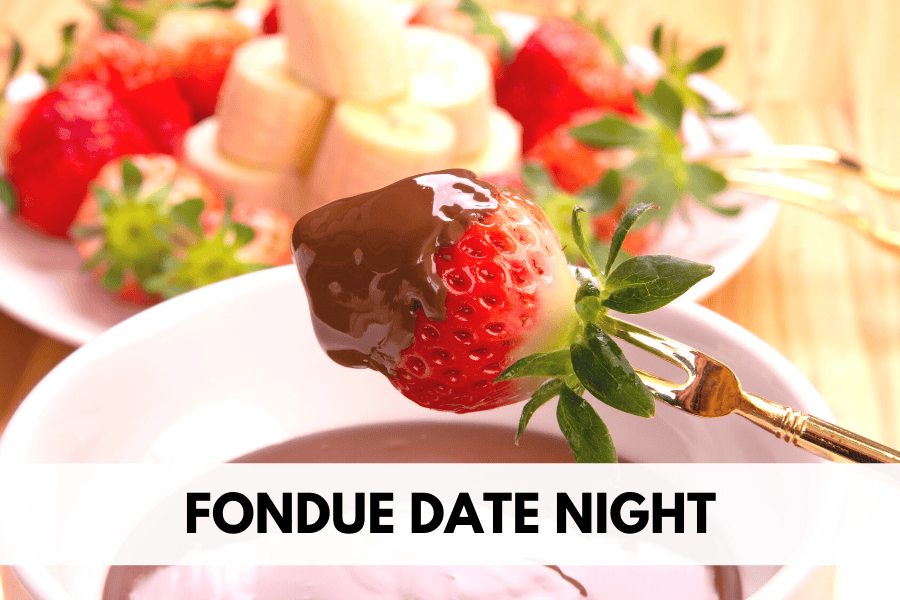 Here, we're sharing everything you need to create the best fondue date night in the comfort of your own home – making it even more romantic.
This post is all about a fondue date night.
Fondue Date Night
We will be sharing everything you need to create a romantic fondue date night at home that you and your date will be sure to enjoy.
Throughout this post, we will be covering each of the following to set you up for fondue date night success!
What Is Fondue?
How Do You Do A Fondue Date At Home?
What Do You Need For Fondue?
Chocolate Fondue Date Night Ideas
Cheese Fondue Date Night Ideas
Creating An Easy Fondue Date Night At Home
The Best Fondue Date Night Ideas
What Is Fondue?
If you haven't had the pleasure of enjoying fondue before you are in for a real treat!
To put it simply, fondue is the act of taking pieces of food like bread, fruits, or veggies and dipping them into a pot consisting of melted cheese, chocolate, or broth.
I know – sounds delicious right?!
How Do You Do A Fondue Date At Home?
If you and your date love cheese and chocolate you are going to love this date night idea! One of the best things about fondue is that once you have everything for this date night it really is quite easy to do.
What You Need For A Fondue Date At Home
For this fondue night you will need the following items:
Fondue Set
Cheese
Chocolate
Food to dip into the cheese and the chocolate
We will be getting into specific details for each of the 4 items above throughout this post.
The Best Fondue Sets
There are a variety of different options to choose from when it comes to fondue sets. Some require you to heat them over a stovetop, use candles, or plug them in.
We have 2 different style fondue sets that we enjoy using and highly recommend.
You don't need to mess with using any candles or a stove top with this electric fondue set. We've found that another pro to this electric set is that it heats up more quickly than using candles and it also makes it easier to control the temperature – it comes with 6 fondue forks too!
If you're looking to create a romantic and authentic fondue experience, this ceramic fondue set is a must. One of the nice things about this fondue set is that you don't need to plug it in, so regardless of where you and your sweetie want to enjoy your fondue, this set can go with you. You will need to use tealight candles to heat up your fondue, so be sure to order a pack of unscented tealight candles for this date night.
Chocolate Fondue Date Night Ideas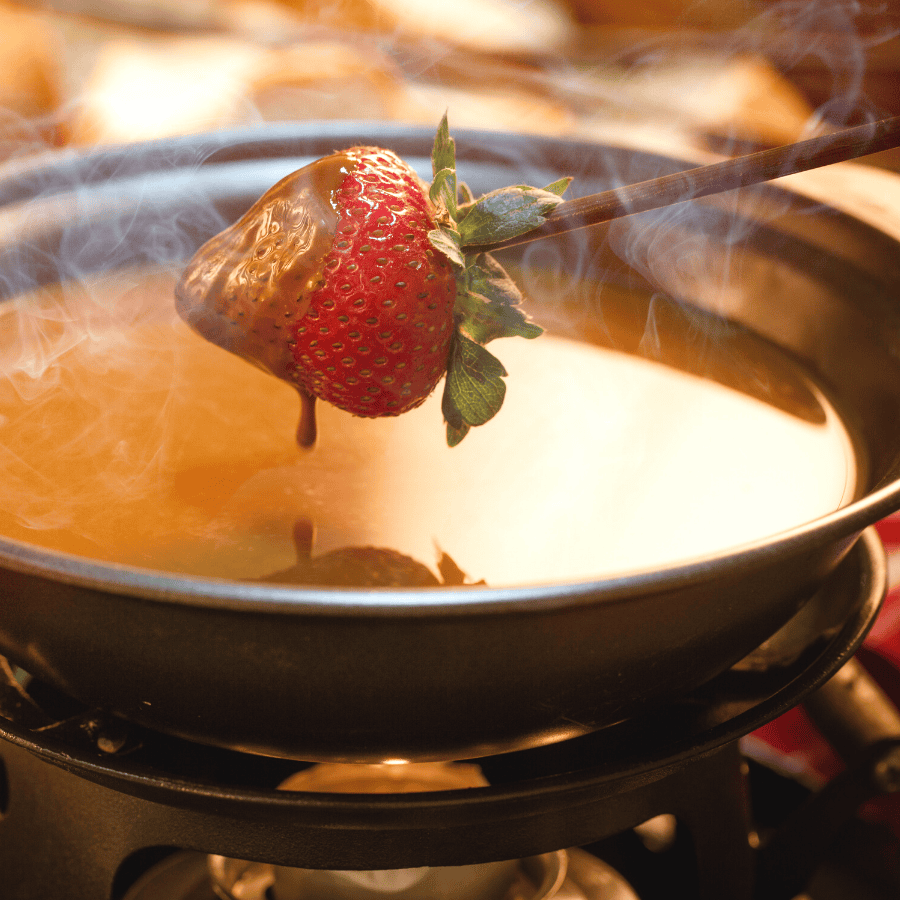 Chocolate fondue is an amazing treat, especially if you are a chocolate lover like me! Milk chocolate, dark chocolate, white chocolate, or a combination – they are all delicious!
3 Types Of Chocolate To Use For Fondue Date Night:
Milk Chocolate: Milk chocolate is a win for most! It typically melts easily, is extremely delicious, and pairs well with most fruits.
White Chocolate: White chocolate is not as sweet as milk chocolate but still is a great choice for an at-home fondue night. White chocolate is very tasty and works well with a variety of fruits and cakes that you might use to dip into the chocolate.
Dark Chocolate: Dark chocolate is very flavorful chocolate as it has more cocoa in it than milk chocolate does. Keep in mind that it also isn't as sweet and some dark chocolates do have a bitter taste to them.
However, one of the reasons I really like dark chocolate is that you can use it on something that is already sweet. For example, you can dip brownie bites or pound cake into dark chocolate and it's not as overpowering as it can be with milk and white chocolate fondue.
Fondue Chocolate
Regardless of what type of chocolate you choose to go for you'll want to be sure to purchase fondue chocolate. Chocolate chips and candy bars don't seem to melt as easily and the chocolate tends to get a bit hard. Getting fondue chocolate will help to ensure that the chocolate will melt properly in your fondue pot.
What to Dip Into Chocolate Fondue
Dipping fresh fruit into chocolate fondue is always delicious in my book!
Fresh Fruits: Strawberries, bananas, apples, blackberries, and raspberries, are a few of our favorites.
Additional treats to dip into the chocolate fondue: Rice crispy treats (my fave), pound cake, marshmallows, and brownie bites.
Cheese Fondue Date Night Ideas
If you and your date enjoy cheese you are going to thoroughly love having cheese fondue. You put the type of cheese you want to enjoy in your fondue pot and let it heat up.
However, you do want to grate the cheese you're using before sticking it into your fondue pot. This will help the cheese to melt more evenly than if you were to just stick chunks or blocks of cheese into the pot.
Once the cheese has melted to a consistency making it good for dipping you can dive in!
Best Cheese For Fondue
Gouda, Gruyere, and Fontina: Mix one-third of each of these together for a traditional cheese fondue.
Swiss Cheese: The most traditional type of fondue cheese.
Cheddar Cheese: This is quite delicious although not as traditional as the other options.
You can certainly go beyond these three suggestions when it comes to cheese fondue, however, these are what we have found to taste and work the best!
What To Dip Into Cheese Fondue
There is no right or wrong when it comes to cheese fondue. You can get creative and choose your favorite snacks.
Our favorite foods to pair with cheese fondue are:
Cheese
Celery
Cauliflower
Broccoli
Apples
Pears
Bread – (cube the bread to make it easy to stick on your fondue fork and dip it into the pot)
Corn Chips
Pretzel Sticks
Crackers
Romantic Fondue Date Night
One of my favorite things about having a fondue date night, aside from the fondue 😉 is how romantic it can be.
There is nothing better than being cozy at home with your sweetie sharing delicious food and drink.
Easy Fondue Date Night
Having a fondue night at home is really quite simple once you have what you need to make it happen.
What You Need For A Fondue Date:
The Best Fondue Date Night Ideas
If you can get a fondue set this is the easiest way to have a successful fondue date night.
With this electric fondue set, you don't have the hassle of using a stovetop or needing candles to heat up the ingredients. It also comes with several forks designed specifically for fondue. You can always use a traditional fork, but I think that these fondue forks work best!
As a side note – this fondue set also works great for bringing warm dips to parties! 😉
This ceramic fondue set truly creates an authentic and romantic environment for your fondue date night. You will need unscented tealight candles in addition to this set.
This date night is a lot of fun regardless of which set you choose to go with! Once you have a set, it makes it easy to repeat this date night again!
Decide On A Fondue Date Night Menu
There are so many incredible fondue recipes that you can find online, especially on Pinterest. I recommend searching there for delicious fondue recipes.
Our favorites are the traditional cheese and chocolate fondue that we shared above but there are so many other great options as well.
We like the cheese and chocolate fondue the best because they are simple and delicious!
Fun Fondue Date Night Conversations
Date night is such a great time to connect and get to know your partner more. Even if you two have been together for years and years, there is always something new that you can discover about your sweetie.
We have several fun date night questions for couples to add some extra entertainment to your fondue date night!
I hope that you and your sweetie enjoy your fondue date night!
It is one of those dates that my hubby and do over and over again because we both enjoy it so much. It's fun to be able to try different types of fondue and get creative.
This post was all about fondue date night.
OTHER POSTS YOU MAY LIKE:
Pin to remember!