Are you looking for a fun date night idea? This painting date night has everything you need to create a special evening that you and your sweetie will always remember.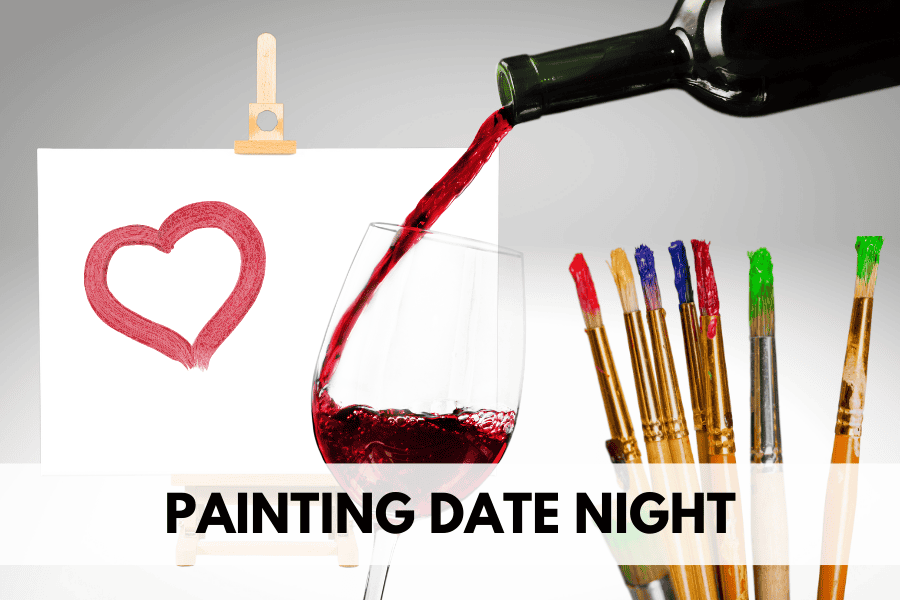 Painting date night is one of our favorite date night ideas. Whether you have just started dating or have been together for years, this date night idea is one that you are sure to enjoy!
Here we are sharing everything you need to create an amazing painting date night at home.
If you're hesitant to have a painting date night because you and your partner aren't artistically inclined or perhaps have no idea how to paint, no worries.
Regardless of whether or not you know how to paint, you will have the 411 on how to make this painting date night a success!
This post is all about a painting date night.
How To Have An Incredible Painting Date Night At Home
You've probably heard the rave reviews about Canvas and Cocktails or Paint and Sip date nights…
Well, we are sharing with you how to create a similar painting date night experience but in the privacy of your own home.
Having a paint date night with your significant other is a great way to be creative, relax, unwind, have fun, and get to know each other even more.
Throughout this post we will be sharing the following:
Why having a painting date night at home makes for an incredible date night.
What is needed for a painting date?
What supplies do you need for paint night?
How do you set up a paint night at home?
The best painting date night kit.
How do you paint and sip at home?
And so much more!
RELATED: How To Have The Ultimate Fondue Date Night At Home
Why Having A Painting Date Night At Home Makes For An Incredible Date Night
There are numerous reasons that we love this date night idea:
It's a good ice breaker. This date is especially helpful should this be a first date or if you're simply looking for a fun way to kick start a great date night.
Painting is an amazing stress reliever and helps with relaxation.
This date night helps to create a deeper connection with your partner.
Painting together will give you and your partner something to talk about.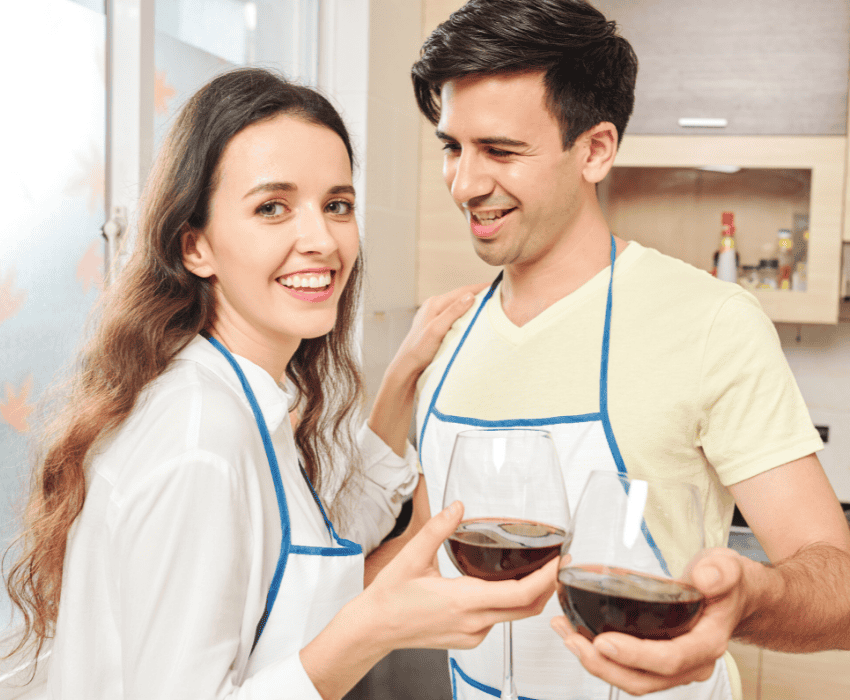 You can take your time and paint at your pace while sipping and painting in the privacy of your own home. It really creates a more intimate experience because it's just you and your sweetie. You don't have an instructor or other participants.
You're able to enjoy your favorite beverages and snacks as you and your partner work on a fun project together
You get to save your artwork as a sweet keepsake to remind you of the special evening you two shared together.
Paint night is one of our all-time favorite date night ideas for a variety of reasons.
You'll walk away from this date night feeling happy, relaxed, and more connected to your sweetie! Which is my book means the date night was a success.
RELATED: 97 Romantic Questions To Ask Your Partner And To Get To Know Them Better
What Is Needed For A Painting Date?
To create an at home painting night similar to that of paint and sip you do need to get some supplies. One of the perks of a DIY painting date night is that we've found it to be very cost-effective compared to a painting class or something similar.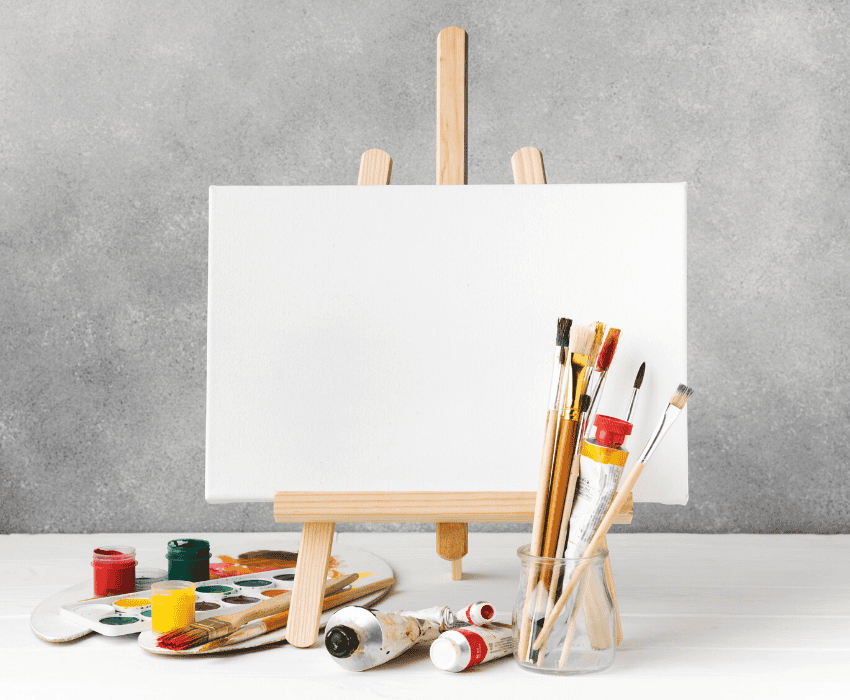 What Supplies Do You Need For Paint Night?
Canvases
Brushes
Paint
Easels
Water Cups
Paper Plates
Paper Towels
Wine or beverages of your choice 😉
Old Newspaper or old tablecloth (use to cover your table so you don't get paint on it)
2 Aprons (wear so you don't get paint on your clothes)
How Do You Set Up A Painting Date Night At Home?
The best way to set up a painting date night at home is to use your kitchen or dining room table.
It's helpful to select a location that is lit fairly well so that your eyes won't be straining as you are working on your painting.
#1 Cover your table.
First things first, you'll want to make sure you don't make a mess of your furniture at home. So to avoid getting paint on your table you will want to take a newspaper or old tablecloth (that you won't mind getting paint on) and cover your table.
Painting can be messy so do keep this in mind and make sure to cover your painting area according.
RELATED: The Best Drive In Movie Date Ideas
#2 Set up your painting station.
Before your date, you will want to get everything out and organized so that while on your painting date everything you need is already set up and ready to go.
I'm talking about all of it, your easels, canvases, brushes, water cups, plates, etc.
The more you can set up before your date, the easier it will be for you to have a fluid date night.
Spice Up Your Date Night Conversations With These FREE Date Night Conversation Cards
You will want to set your easels up on the table in the places that you and your sweetie will be painting. On each easel, you will want to place a canvas.
Take 2 plastic cups, one for you and your date and put a variety of different paintbrushes inside each and place one cup with brushes at each painting station.
Set out the paper plates. You will be using the paper plates to put paint on.
I have found that layering 3 or 4 paper plates together works best to support the paint depending on the thickness of the paper plates you use. Paper plates can get a bit soggy from the paint sitting on them so you will want to make sure to layer.
** Wait to put the paint on these plates until your date night starts. Otherwise, the paint can begin drying and be difficult to use.
RELATED: 141 Flirty Never Have I Ever Questions For Couples
Leave a roll of paper towels on the table.
Painting can get messy and it is helpful to have paper towels within arm's reach should you need them.
The Best Painting Date Night Kit
You can source each item on the list for your paint night individually or you can opt for a painting kit.
Personally, I found it easier to purchase a painting kit the first time that we did this date night. Ordering a painting kit makes it simple to get started because the kit includes everything that you will need for this painting date night.
This painting kit includes:
1 Easel
3 Canvases
3 Packs of 10 different size brushes
3 Painters plates
2 Packs of 12 different color paints
Getting a painting kit like this will make it a lot easier to get all of your supplies than having to go out and source each item for this date night.
Keep in mind that this is one kit, so for a painting date night, you will want to purchase 2 painting kits. That way you and your date each will have everything you need.
What To Wear For Painting Date Night
When it comes to proper attire for a painting date night there are a couple things to consider…
Wear something cute but not something that is super expensive or sentimental. Basically don't wear anything that will cause you to be upset if you happened to get some paint on it.
Avoid wearing anything with baggy sleeves or an outfit that could easily get into the paint if you were to lean forward towards your canvas.
Best option is to wear an apron over your clothes.
I always roll up my sleeves and wear an apron for painting date night. That way my clothes have some protection in case I happen to dribble a bit of paint on myself.
What To Paint For Painting Date Night
One of the fun things about painting night is that you get to use your creativity. You can chat with your date about what masterpieces you two are going to paint. There is no right or wrong when it comes to what to paint, the sky is the limit!
You and your sweetie can come up with your own ideas or find a picture of something you like and try to do the same.
Another good option especially if you are new to painting is to look on YouTube. There are several great step-by-step video tutorials on how to paint for beginners that you can find on YouTube. You can pull up a video and use it as your own private instructor for your painting date night.
How Do You Sip And Paint At Home
Set up your painting stations.
Decide on what you and your date will be sipping on!
My hubby and I enjoy drinking wine or making fun cocktails for this date night.
Get creative with your paintings, and favorite drinks, and enjoy this fun date night with your significant other!
Having a painting date night at home makes for such a fun and romantic date night. It gives you both time to relax, unwind, and connect as you get creative!
Put on some fun music and enjoy your date night as you sip the night away with your sweetie!
This post was all about a painting date night.
OTHER POSTS YOU MAY LIKE: