These mini dates are the perfect way to keep the spark alive in your relationship.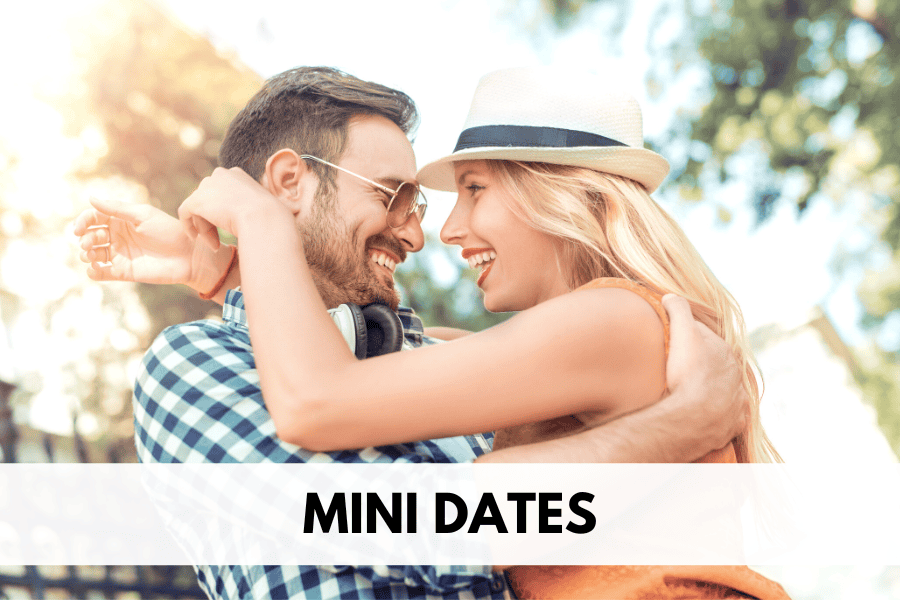 This post is all about the best mini dates.
52 Best Mini Dates To Spice Up Your Relationship
One of my favorite things about mini dates is that they take less than 30 minutes to do and the results are awesome!
If you and your sweetie are looking for ways to spice up your relationship and connect, you are going to LOVE these date ideas!
Download Your FREE Mini Dates For More Romance And Connection
What Are Mini Dates?
Mini dates are dates that are created to be shorter and very budget-friendly. Most of these dates that we're sharing with you are free or almost completely free and take around 10 minutes to do!
Our mini dates are simple activities that are designed to give you and your sweetie a way to connect in short periods of time.
RELATED: 101 Romantic Date Ideas That We Love
Why Couples Should Have Mini Dates…
You get to connect with your partner more frequently. Even though the time spent on a mini date is much less than that of a full date night, the results add up even more – you'll experience more connection and romance over time!
Mini dates help to eliminate some of the pressure that comes along with having a date night, date days, or staycations.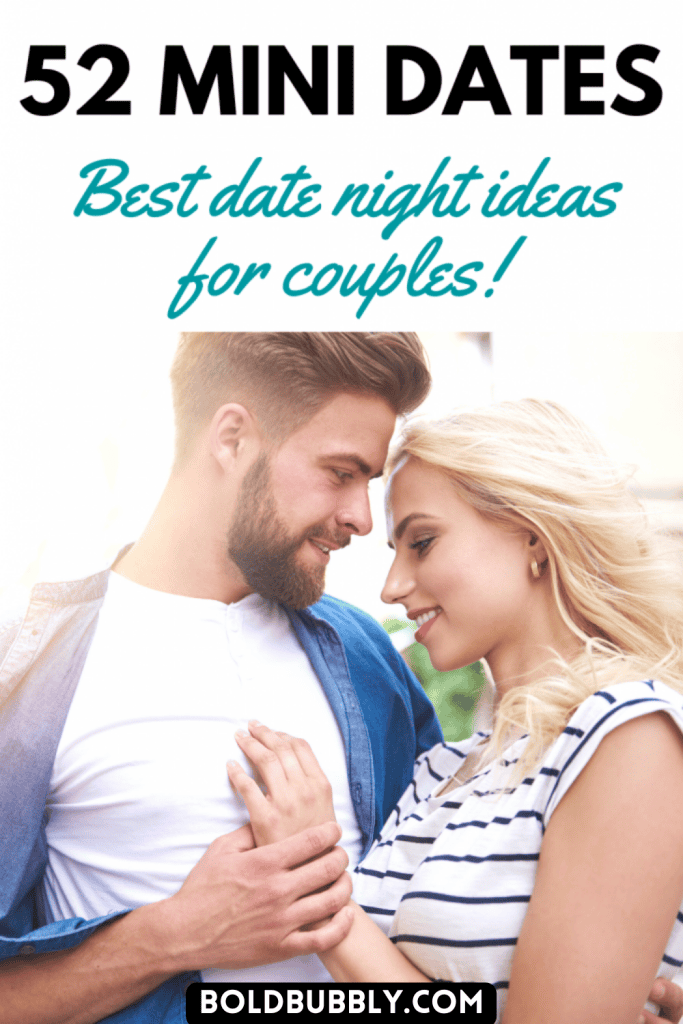 Mini dates are budget-friendly. Going out for a date night and doing date night activities, can add up. These dates are free or close to free to do.
Who Should Go On Mini Dates?
Let's be real, sometimes we are too busy to have a date night and mini dates help to ensure that there is still that special quality time for you to connect with your sweetie.
Whether you are dating, in a long-term relationship, newlyweds, or you've been married for years, you and your significant other will benefit from these date ideas.
RELATED: 13 Romantic Date Ideas For Him
Perhaps you and your partner are in a long-distance relationship or don't get to see each other very often, these dates help to create that consistent connection.
Any couple looking for ways to spice up their relationship and keep the spark sparkling will enjoy these dates!
How These Mini Dates Help With Date Night
I think we can agree that date night is an important part of a healthy relationship.
Date night gives you and your significant other a designated time to connect and be with each other. However, life gets busy, and with growing to-do lists our relationships can get put on the back burner.
Date night is that special time that you and your sweetie get to be together, just you two.
Problem is that sometimes date nights can cause stress in a relationship. Especially if one partner is super busy or is out of town a lot.
RELATED: 21 Date Night Movie Ideas You Both Will Enjoy
Experience More Romance And Connection!
I know how difficult this can be from personal experience. My hubby and I went through a period where he got super slammed at work and we weren't always able to have consistent date nights, sometimes I didn't even get to see him in the evenings because he was working. It just worked out like that.
Well, mini dates made all the difference! We planned time throughout the week that we could connect and enjoy these dates together.
I'm happy to report that mini dates work!
Our relationship got stronger and we connected even more with mini dates.
RELATED: 129 Juicy Yes Or No Questions For Couples
And now, even though we do have consistent date nights again, we always make sure to include at least one mini date with each other during the week. The results that we've experienced from doing so have been so incredible!
How To Start Implementing Mini Dates Into Your Relationship
You can see how valuable these dates can be when it comes to keeping the spark sparkling in your relationship.
Now all you need to do is start implementing them into your routine.
The best way to start going on mini dates is to sit down with your partner and look at your schedules to determine when during the week you can fit in a mini date with each other.
Keep in mind that these dates are about 10 minutes, 30 at the absolute most.
Pick a time during the week with your partner that you can commit to 30 minutes or less.
All the dates we send will provide you with ways to connect with your sweetie and keep that spark sparkling!
These dates work even if you have busy schedules. The whole point of mini date ideas is to increase connection, romance, and ease the stress of time and money when it comes to date night.
Download your FREE Mini Date Ideas and start spicing up your relationship one date at a time!
We are sharing 52 of the best mini date ideas to increase the connection and romance in your relationship. Each week you will receive a new mini date that you can do with your sweetie in less than 30 minutes!
This post was all about the best mini dates.
OTHER POSTS YOU MAY LIKE:
Pin to remember this post!