Using a relationship goals checklist helps create a strong, long-lasting, and fulfilling relationship with your significant other.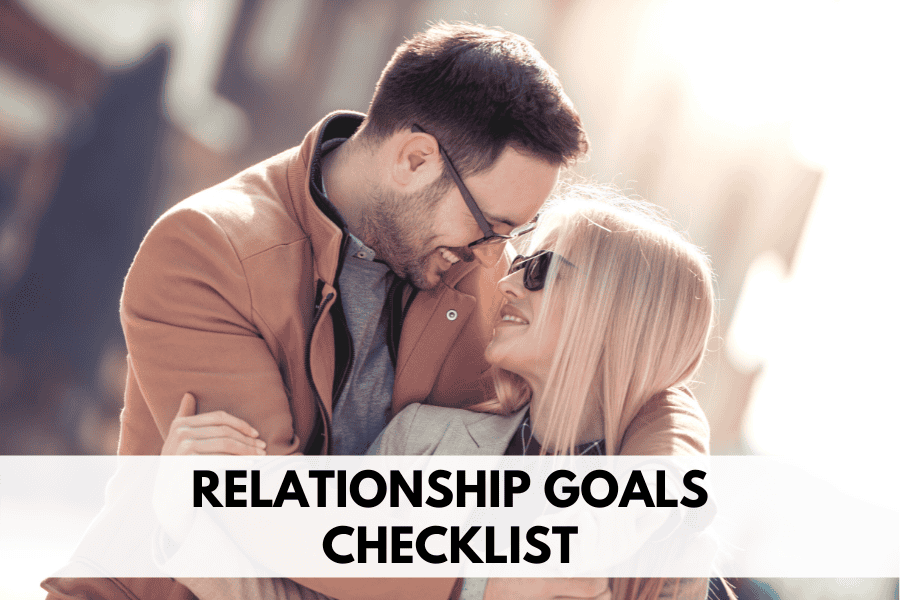 In this post, you will find a free relationship goals checklist that you can download to use for weekly, monthly, and yearly goals.
This post is all about a relationship goals checklist.
The Relationship Goals Checklist All Couples Should Using
You meet, you fall in love, you live happily ever after…right?
I think we'd agree all agree that that's the plan.
The truth is, yes, we all can have our happily ever afters, but relationships take work, dedication, and patience.
That's why using a relationship goals checklist is so incredibly helpful and important to a happy, healthy, long-term relationship.
You're going to love using this checklist with your partner.
Creating your relationship goals gives you and your significant other time to communicate your wants and needs.
It also helps to ensure that you and your partner are both feeling loved and cared for on a regular basis.
My husband and I love using our relationship goals checklist.
It has become part of our routine now and something we both thoroughly look forward to and enjoy.
We've found that by using our checklist, we both are meeting each other needs and deepening the connection we have with each other.
Making your relationship goals can be a fun date night activity.
Talk with your significant other and think about all that is important to each of you and your relationship.
Reasons To Use A Relationship Goals Checklist
Experience a deeper connection with your partner.
Increase your intimacy.
Have more fun together.
Increase your trust with one another.
List Of Cute Relationship Goals
You can have as many goals on your relationship goals checklist as you want.
Here are some cute relationship goals to consider adding to your list:
Work to always put your relationship first.
Plan consistent date nights.
Give each other fun nicknames.
Always be there for each other.
Never assume that you know it all.
Try new activities together.
Be intimate consistently.
Surprise each other.
Always strive to be your authentic self around one another.
RELATED: Top 10 Relationship Goals All Couples Should Have On Their List
Relationship Goals Checklist PDF
Be sure to download your FREE relationship goals checklist. Included in the download is a daily, weekly, and monthly checklist.
You can use the goals provided below, use your own, or do a combination of the two.
There's no right or wrong when it comes to setting relationship goals.
Relationship goals are specific to you and your significant other.
How To Set Relationship Goals
My husband and I like to break our goals down to daily, weekly, and yearly goals.
This is what we have found works the best for us.
Daily Relationship Goals
When setting daily relationship goals, think about what is important for you to experience in your relationship daily.
These daily goals don't need to be major things.
Keep in mind, it's often the little things in life that happen over and over again that end up meaning the most.
Examples Of Daily Relationship Goals:
Physical Affection – Hand-holding, kissing, hugging, physical intimacy, etc.
Words Of Affection – Tell your partner how much you care about them, love them, encourage them, etc.
Perform An Act Of Service – Do something for your partner. Consider taking out the trash, emptying the dishwasher, bringing them a coffee, etc.
Share The High And Low Of Your Day – I understand that exhaustion can set in at the end of the day and the last thing that you may want to do is have a lengthy conversation. However, consider simply sharing the high and low point of your day with your partner. This simple act can greatly help to strengthen your connection.
Weekly Relationship Goals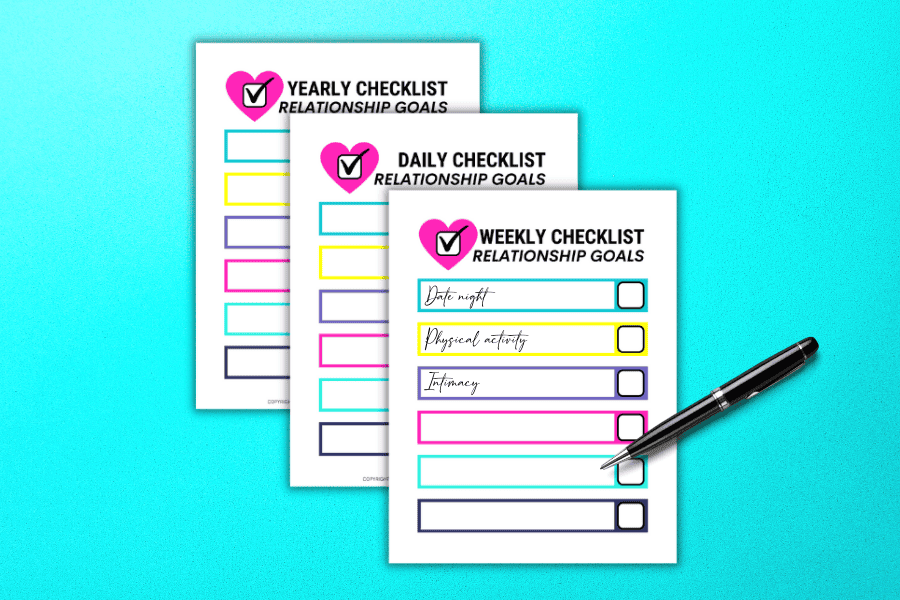 Date Night – Whether you go out for your date night or you stay in, having a weekly date night is a great goal to have on your list.
RELATED: 15 Date Night Activities To Spice Up Your Next Date Night
Do A Physical Activity Together – Go for a walk, run, do a workout, dance, etc. Take a bit of time to do something physical together.
Intimacy – Being physically intimate with your partner is important. Set aside time for just you two.
Yearly Relationship Goals
Travel Or Staycation – Plan a trip together that you can look forward to and enjoy being on when you go.
Learn A New Skill – Choose something you can learn together. This could be a new language, a game, a dance, etc. Any activity that you both can enjoy learning together.
Review The Year – Flip back through pictures you've taken together throughout the year and talk about your favorite memories.
Renew Your Vows – On every anniversary, my husband and I always read our vows to each other. We find that it gives us a moment to renew our promises and remember our special day.
Talk About Your First Date – Once a year, reminisce about your first date. How you two met, what you thought about each other. Doing this is a lot of fun and helps to keep the initial spark alive!
RELATED: 56 Free Date Night Conversation Cards
Download your FREE Relationship Goals Checklist below!
Consider using these goals for your relationship checklist or set your own.
Strengthen your relationship, experience more love, intimacy, and fun with your significant other by using a relationship goals checklist.
This post was all about a relationship goals checklist.
Other Posts You May Like: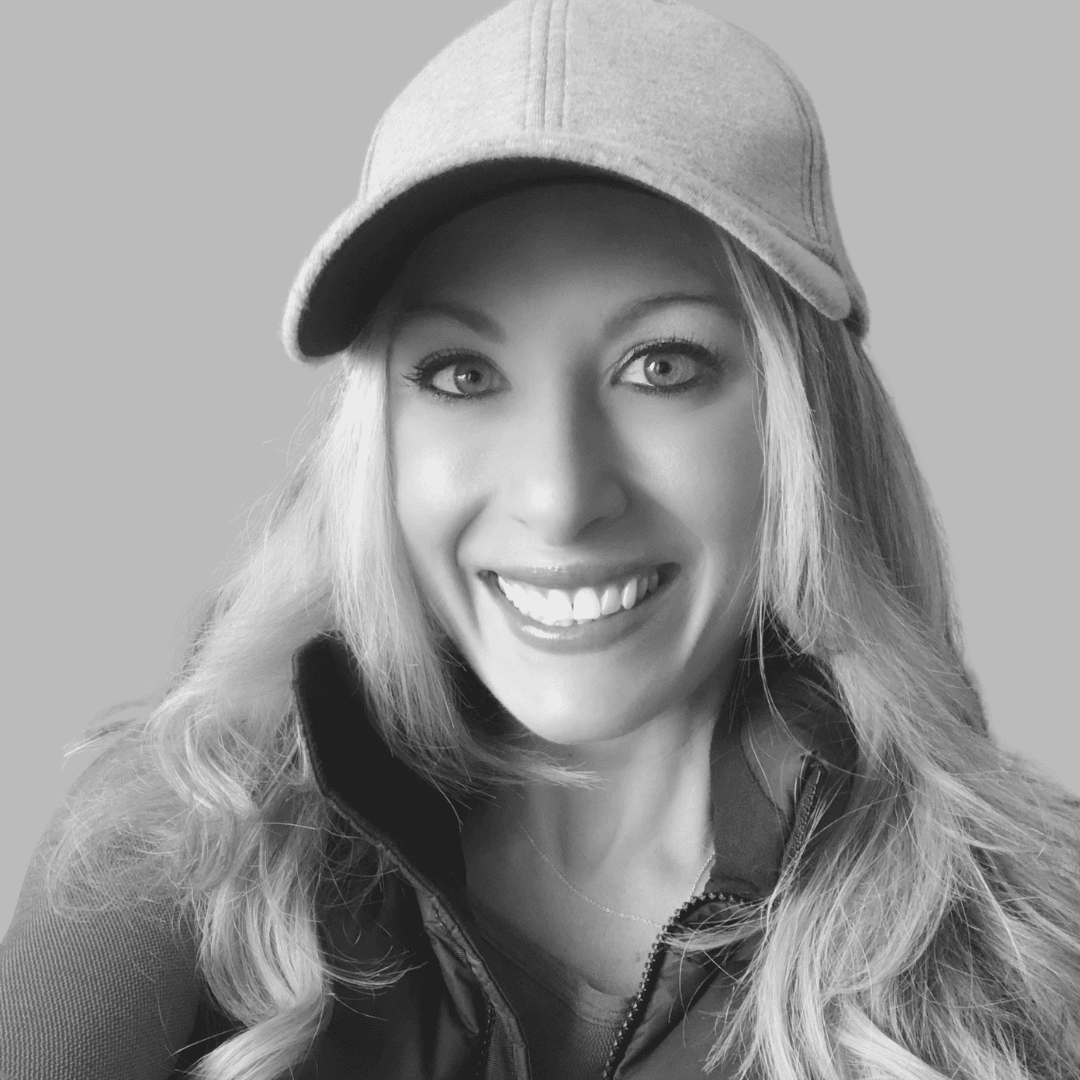 Chrissy Biamonte – Founder at Bold & Bubbly, your ultimate destination for date ideas, party planning tips, conversation starters, and more. With over 15 years in health and fitness, Chrissy is passionate about the balance between wellness and nurturing meaningful relationships. Join her at Bold & Bubbly where we explore, inspire, and create unforgettable moments!