This 30 day relationship challenge was created to help you increase the connection, romance, and intimacy between you and your partner.
There is something new for you and your significant other to do for each other every day to strengthen your bond.
You'll find a free printable in this post to print out and follow along for each day of the challenge.
This post is all about the 30 day relationship challenge.
30 Day Relationship Challenge For Couples Who Want To Spice Up Their Relationship
This 30 day relationship challenge is designed to help you connect with your partner, have some fun, and keep your spark sparkling!
Select a day to begin the challenge with your partner and get going!
Download Your FREE 30 Day Relationship Challenge
1. Talk about the first time you met.
Reminisce about the first time you and your partner met. Spend some time sharing intimate details about what each of you thought about one another.
2. Cook a new meal together.
Cooking something new together will give you time to bond and hopefully enjoy delicious food together.
3. Leave a love note for each other.
RELATED: DIY Free Printable Sticky Love Notes
4. Give your partner a compliment.
Complimenting your partner is a great way to show them how much you appreciate them. They will feel loved and cared about.
5. Play Never Have I Ever.
Spice up your evening or afternoon playing never have I ever with your partner. We've put together some fantastic never have I ever questions for couples here that will keep you laughing and talking all night long!
6. Try the 15-second kiss.
7. Make a bucket list together.
Looking for bucket list ideas? Here is the ultimate bucket list for couples who want to be entertained, challenged, and enjoy new exciting experiences together!
8. Send a flirty text.
Make your partner want you even more as you add some playfulness into your relationship with these flirty texts that are sure to get their attention.
9. Plan a weekend getaway.
Planning a getaway will help you to bond and have something to look forward to together.
10. Use a love coupon.
If you haven't given your sweetie a love coupon book, this is a perfect time! Love coupons are a simple and thoughtful gift that your partner can enjoy all year round.
These free printable coupons are a great gift for that special someone in your life…they will absolutely LOVE them!
30-Day Couples Challenge List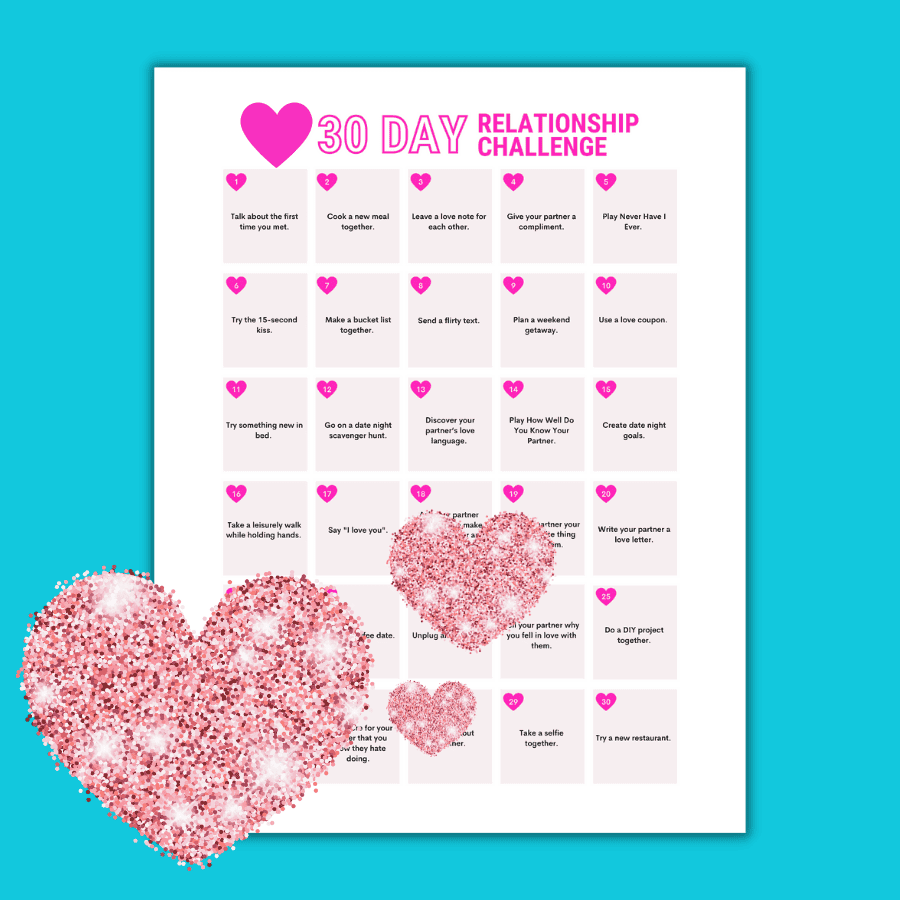 11. Try something new in bed.
12. Go on a date night scavenger hunt.
This date night scavenger hunt is the perfect way to add some extra entertainment to your date night and have some serious fun with your sweetie!
RELATED: Date Night Scavenger Hunt For A Night Out You'll Never Forget
13. Discover your partner's love language.
Whether you get the book or take a quiz online, knowing your partner's love language is a great way to strengthen your bond.
14. Play how well do you know your partner.
Share some laughs and fun conversations on date night with these entertaining relationship quiz questions. Discover who knows who better!
15. Create date night goals.
Keep your relationship fun and exciting by creating date night goals together. Here you will find the top 10 date night goals every couple needs to know about.
RELATED: The Top 10 Date Night Goals Every Couple Should Know About
16. Take a leisurely walk while holding hands.
17. Say "I love you".
18. Ask your partner how you can make their day better and then do what they said.
Often times it's the simple things that make us feel the most loved. Maybe your partner has a busy day and there are things you can do to help lighten their load, or perhaps they just need to hear some words of encouragement. Whatever it is, do it for them.
19. Tell your partner your most favorite thing about them.
20. Write your partner a love letter.
These 100 love messages are a special way to let your sweetie know that you're thinking about them and just how much you care.
Couples Challenge Ideas
21. Send your partner a good morning text.
Brighten their day by sending a text first thing in the morning. They'll be sure to know you're thinking about them.
22. Go on a coffee date.
Getting coffee with your sweetie is an ideal way to set aside a little extra time to connect during the day. You could wake up early and have a cup of coffee together or swing by your local coffee shop, both offer extra time for connection.
23. Unplug and connect.
Spend an evening with no phones, tablets, or computers. Give each other the attention you both deserve without any distractions or interruptions.
24. Tell your partner why you fell in love with them.
Keep The Spark Sparkling With This 30 Day Challenge!
25. Do a DIY project together.
There are so many great DIY projects you can do together as a couple. Working on a project together leaves lots of time for chatting and connection.
26. Surprise your partner with a thoughtful gift.
Gifts don't need to cost a lot to be meaningful. It can be a simple love coupon book, or perhaps a printed photo of a special moment the two of you shared together.
27. Do a chore for your partner that you know they hate doing.
We all have that one chore we absolutely dread. Maybe it's taking out the trash or folding laundry. Whatever the chore, make your partner's day by doing a little act of service for them.
28. Do a workout together.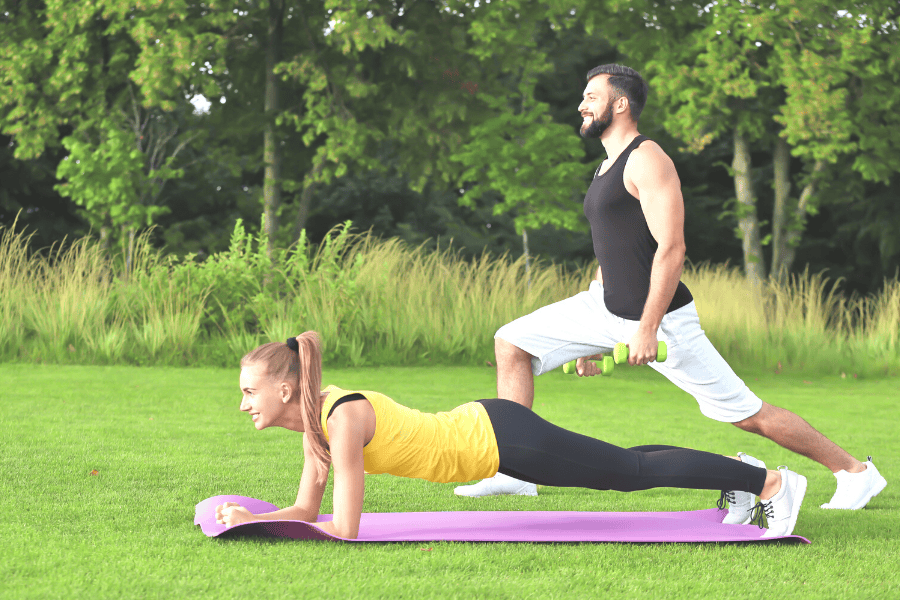 29. Take a selfie together.
Selfies are always fun to look back at and think about the sweet moments that you have shared together.
30. Try a new restaurant.
Don't fall into a rut of always going to the same spots. Take one night to step outside of your comfort zones and try a new restaurant. You never know, you two may find a new favorite spot!
Download Your FREE 30 Day Relationship Challenge & Spice Up Your Relationship!
It's fun to repeat this challenge time and time again.
Before you know it without even thinking you will consistently be doing things to strengthen your connection, increase your intimacy, and make your sweetheart feel loved.
This post was all about the 30 day relationship challenge.
Other Posts You May Like: