Looking for cheap fun date ideas? You have come to the right place!
We've got some cheap fun date night ideas here that are the perfect way for you to connect with your sweetheart throughout the year.
You don't need to spend a lot of money to have fun and romantic dates.
This post is all about cheap fun date ideas.
47 Cheap Fun Date Ideas You'll Love
Here we are sharing cheap fun date ideas that you can do with your partner without stressing your bank account.
At Home Date Ideas
1. Movie Night – Pick a new movie and cuddle up with your sweetie and favorite movie snacks in the privacy of your own home.
2. Bubble Bath And Wine – Create a romantic date night with a lovely bubble bath.
3. Carve Pumpkins – Show off your artistic skills by pumpkin carving with your sweetie. You also can save the seeds to roast after you're done with your pumpkin carving.
4. Create A Vision Board Together – Creating a vision board with your partner is a fun and creative way to deepen your connection, dream about what you want in the future, and work towards a common goal.
5. Date Night Jar
Spend your evening brainstorming date night ideas to put in your date night jar. This will give you time to bond as you think about all the fun activities you want to do together.
RELATED: 75 Genius Date Night Jar Ideas You'll Love
6. Cook Something New Together – Find a new recipe that looks delicious to both of you and whip out your aprons and spend the evening cooking.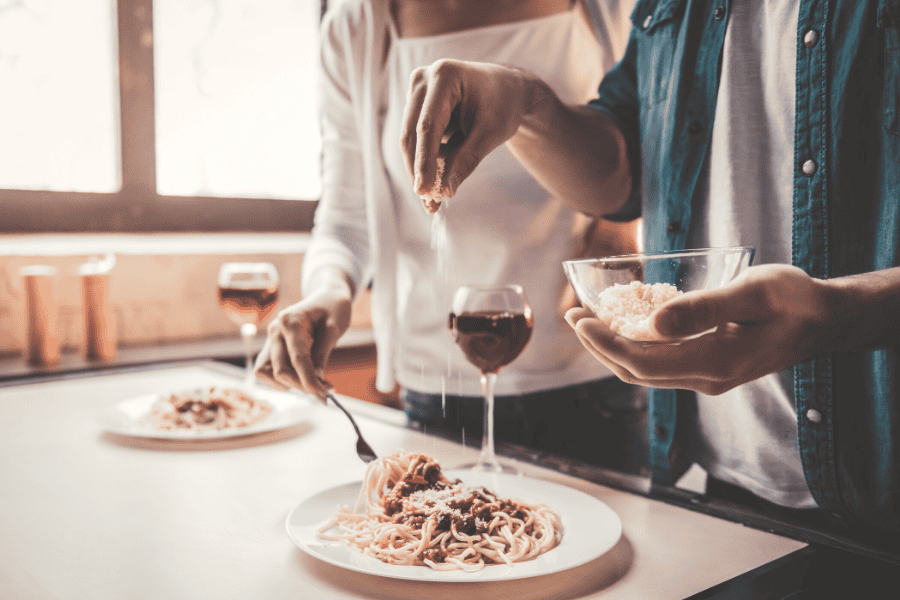 7. Build Your Own Pizza – Get creative with building your own pizza at home. All you need is dough and your favorite toppings!
8. Build Your Own Burrito – Enjoy some tasty Mexican food at home with a fun build your own burrito night! Pick your favorite burrito fillings, cook them up and make your burritos.
9. Paint A Picture – Painting a picture is a fun date night activity. And with the added benefit of doing it at home, you and your sweetie can take your time creating your masterpieces. Connect as you paint and chat throughout the evening.
RELATED: How To Have An Incredible Painting Date Night At Home
10. Give Each Other A Massage – Spend your date night together in a relaxing environment. Put on some calming music, get some massage oil and give your partner a nice back or foot massage. You will both be feeling amazing by the end of this date night.
RELATED: Insanely Romantic Spa Date Night At Home
11. Read A Book Together – You can read to one another or read the same book together and then discuss.
12. Write Each Other A Love Note – Romance your date with words of love.
RELATED: 100 Love Messages For Him
13. Cuddle Date – Hold hands and snuggle together…use your creativity! This date is all about being up close and inspiring romance.
Cheap Activities For Date Night
14. Garage Sales- Drive around town and hunt for hidden gems at local garage sales. You never know what exciting things you might find!
15. Build A Snowman – If it's snowing, embrace your inner child, bundle up and get outdoors with your sweetie to build a snowman.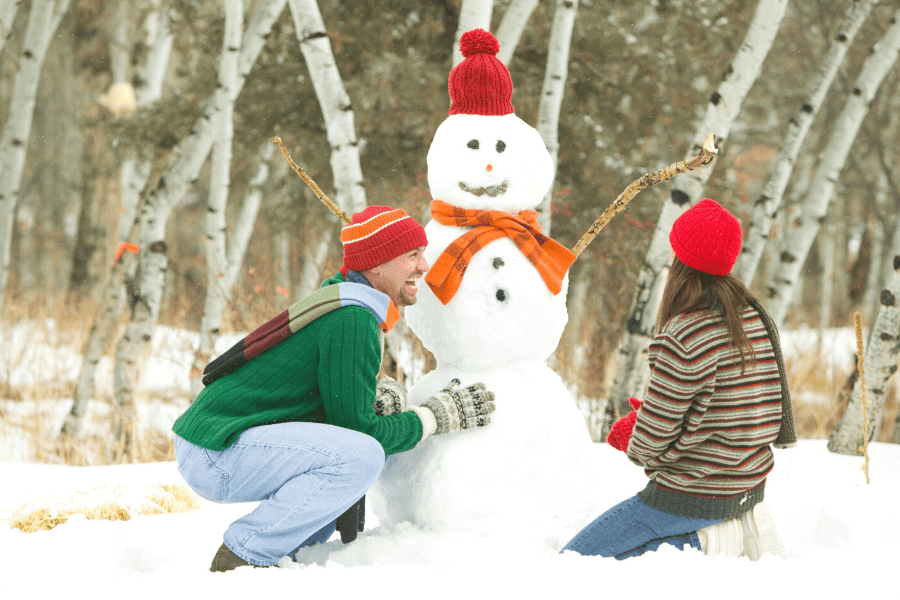 16. Go Sledding – Enjoy some laughs and excitement sledding down hills at a local park.
17. Volunteer – Find somewhere that you two can volunteer for a common cause together.
18. Take A Scenic Drive – Find somewhere that you both would like to see. Turn on your favorite tunes and enjoy intimate conversations with your partner as you take in the lovely scenery.
19. Go Window Shopping – This is a great way to enjoy a fun evening together chatting and looking at all the new and exciting items available without having to spend any money.
20. Learn A New Language – Learning a new language with your partner is a fun date-night activity that works to create a connection that goes well beyond date night. You can practice your new language skills together and have fun for years to come!
21. Pool Date – Hit up your local pool for a fun date in the sun. Enjoy the day with your sweetheart swimming and soaking up some vitamin D.
22. Go Hiking – Hiking can be romantic and a great way to spend uninterrupted time with your partner. Get some exercise and enjoy the fresh air together.
Download Your FREE Date Night Conversation Cards
23. Go Stargazing – Whether you choose to sit out in your backyard or walk to a local park, staring up at the stars on a clear summer night with your sweetie makes for a romantic evening.
24. Free Movie At The Park – Check with your local community center to see if they offer free movies in the park. This is a fun way to get outside and enjoy free entertainment and time with your sweetheart.
25. Concert At The Park – Several local parks offer free concerts during the summer months. Check with your town and see what musical entertainment is available in your area.
26. Watch The Sunset – Always a great way to spend the evening. Share some good conversation and cuddle up while watching the sunset with your sweetheart.
27. Roast Marshmallows – Get roasty toasty with your partner as you enjoy a sweet treat over a campfire or backyard fire pit.
28. Go To The Library – Enjoy the beautiful ambiance that many libraries have to offer. Explore the history of the building and check out a few of your old-time favorite books together.
RELATED: Ultimate Bookstore Scavenger Hunt Date | Bookstore Date Ideas
Budget-Friendly Date Ideas
29. Take A Walk – Taking a walk with your sweetheart is a great way to get some fresh air and connect on date night.
30. Go For A Bike Ride – Hop on your bikes and peddle around town.
31. Visit A Farmer's Market – Check out the new vendors and foods at your local farmer's market.
32. Go To A Local Museum – Check with your town for free or discounted nights at local museums or art galleries.
33. Draw With Chalk – Use your creativity and create sidewalk chalk drawings with your sweetie.
34. Train For A 5K – Training for a 5K is a cost-effective and healthy activity to do together. All you need is you, your date, running shoes, and some motivation.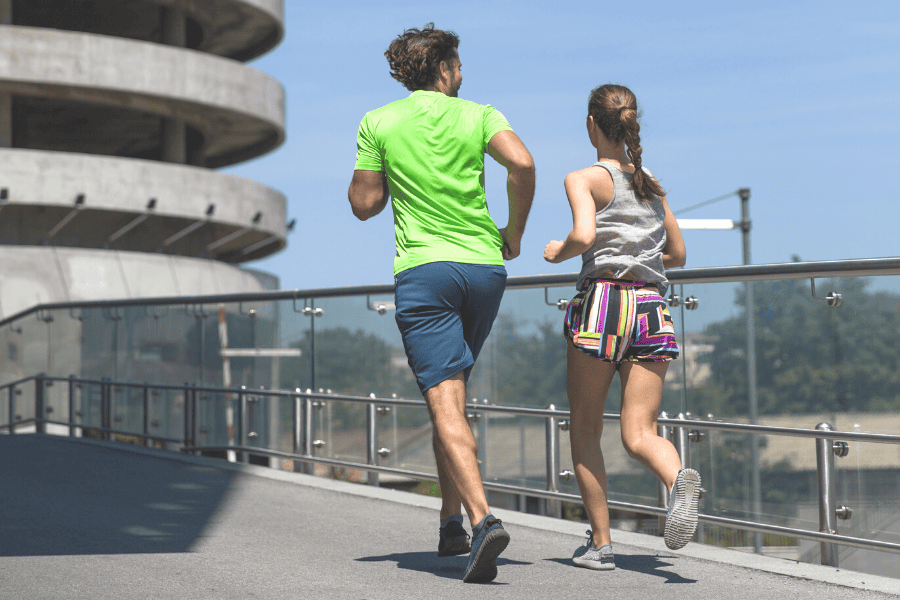 35. Go To The Park – Whether you choose to walk around the park or spend the afternoon picnicking, visiting the park is a fun and affordable date.
36. Visit A Pumpkin Patch – Wander through a pumpkin patch, pick pumpkins, walk through corn mazes, enjoy some delicious caramel apples with your sweetie.
37. Watch The Sunrise – This is a romantic date, especially for you early risers! Make some coffee and sit with your sweetie as you watch the sunrise on a new day.
Cheap Fun Date Night Games
38. Play Truth Or Dare – Always a fun and exciting way to spice up any date night with your partner. Ask the questions you've been wanting to know the answers to and get creative with some date night dares.
RELATED: 73 Flirty Truth Or Dare Questions For Couples
39. Skittles Blind Taste Test – This is a fun and tasty date night activity! Blindfold your partner and see if they actually can taste the rainbow.
40. Play I Spy – Get creative and add some entertainment to your date night by playing
'I Spy'.
41. Play Never Have I Ever – Check out these Never Have I Ever Questions for couples. We've put together some fantastic questions here that will keep you laughing and talking all night long.
RELATED: 141 Flirty Never Have I Ever Questions For Couples
42. Try A Board Game – There are so many fun board game to choose from. Consider playing Monopoly, Scrabble, or Bananagrams…the options are endless!
Download Your FREE Date Night Scavenger Hunt
43. Play Strip Jenga – If you're looking for a fun and sexy game to play with your partner, you'll love playing strip Jenga. It makes for a very entertaining at-home date night!
RELATED: The Ultimate Sexy Jenga Date Night Game For Couples
44. Photo Scavenger Hunt – This is a free and fun date to do with your sweetie. All you need is yourself and a camera!
RELATED: Date Night Scavenger Hunt For A Date Night You'll Never Forget
45. Learn A New Card Game – Card games are always a fun and cost-effective way to spend your date night. Look into a new game that you both think would be fun to learn and give it a whirl!
46. Play How Well Do You Know Your Partner Game – Share some laughs and fun conversations on date night with these entertaining relationship quiz questions. Discover who knows who better!
RELATED: 53 Relationship Quiz Questions To See How Well You Really Know Your Partner
47. Give Each Other A Strip Tease – Spice up your evening by giving each other a striptease and see where it goes from there!
Final Thoughts on Cheap & Fun Date Ideas
Creating connection, romance, and intimacy doesn't need to cost a lot of money. There are several ways to have a fun and meaningful evening with your partner that won't break the bank.
We hope that you enjoyed these cost-effective date night ideas!
What were your favorite cheap fun date ideas?
We'd love to hear from you!
Do you have a cheap date night idea we can add to the list?
This post was all about cheap fun date ideas.
Other Posts You May Like: