We've put together some fantastic never have I ever questions for couples that will keep you laughing and talking all night long!
These never have I ever questions are a lot of fun for new couples, couples who've been together a long time, and even those who maybe aren't quite a couple yet.
Share some laughs and learn more about each other.
Prepare to enjoy entertaining conversations, ask humorous questions and get to know your partner better.
This post is all about never have I ever questions for couples.
Never Have I Ever Questions For Couples
You can use these never have I ever questions to spice up your date night conversations as well as play the game Never Have I Ever.
How To Play Never Have I Ever
If you're new to playing Never Have I Ever, the rules are quite simple and like any other game feel free to adjust them as needed.
Never Have I Ever Game Rules
To play the game:
You and your partner playing the game both answer each Never Have I Ever and take turns going back and forth.
One person asks the question: Never have I ever…
Whoever has done the action in the statement following "never have I ever…." must take a sip of their drink or whatever other consequence you have come up with for having done the "never have I ever".
These never have I ever questions are a great way to get your date night conversations going and share an entertaining evening together.
Maybe there's something that you've always wanted to know about your partner…this is a fun way to get all the deets.
Just remember, don't ask something you don't want to answer yourself.
You can always tailor these questions to fit with your date specifically.
Date Night Never Have I Ever Questions
Never Have I Ever…
1. …gone commando.
2. …eaten dog food.
3. …swam in the ocean.
4. …gone sky diving.
5. …googled myself.
6. …bit my tongue.
7. …gone scuba diving.
8. …been on a roller coaster.
9. …run out of gas in my car.
10. …locked my keys in the car.
11. …gotten a parking ticket.
RELATED: 129 Juicy Yes Or No Questions For Couples
12. …danced on a bar.
13. …had a jello shot.
14. …sung karaoke.
15. …missed someone so much I cried.
16. …gone white water rafting.
17. …named a stuffed animal.
18. …been to Disney World.
19. …learned a musical instrument.
20. …bought a pair of shoes even though they were too small.
Random Never Have I Ever Questions
Never Have I Ever…
21. …had a conversation aloud with myself.
22. …colored my hair on my own.
23. … got a tattoo.
24. …said yes when I really wanted to say no.
25. …peed my pants.
26. …sung in the shower.
27. …been handcuffed.
28 …been to a drive-in.
29. …binged on pizza.
30. …been to a haunted house.
31. …eaten food off of the floor.
32. …had my teeth whitened.
33. …been told I have bad breath.
34. …sat on a whoopee cushion.
35. …bit my tongue.
36. …hiked a 14er.
37. …broken a chair.
38. …gone backpacking.
39. …attended an opera.
40….zoned out while talking with someone and ended up agreeing to something without knowing it.
41. …spent the day wearing mismatched socks.
RELATED: 20 Questions Game For Couples To Spice Up Date Night
42. …lied about my age.
43. …peed in a pool.
44. …gone skinny dipping in a lake.
45. …run naked through the woods.
46. …flashed a stranger.
47. …blamed a fart on someone else.
48. …ridden a motorcycle.
49. …called in sick to lounge around at home.
50. …picked my nose in public.
51. …had a celebrity crush.
52. …lied to impress someone.
53. …been on a blind date.
54. …made a snow angel in my bathing suit.
55. …met the president.
56. …ridden an elephant.
57. …met a celebrity.
58. …enjoyed a staycation.
59. …camped in the backyard.
60. …slept under the stars.
61. …seen a shooting star.
62. …traveled out of the country.
63. …been in a play.
64. …had gum stuck in my hair.
65. …worn colored contacts.
66. …stepped barefoot in dog poo.
67. …turned my white laundry pink.
68. …gone cliff jumping.
RELATED: 103 Insanely Flirty Truth Or Dare Questions To Ask Your Boyfriend Over Text
69. …stayed in bed all day for fun.
70. …made a snowman.
71. …gone dog sledding.
72. …gotten sick on a ride.
73. …ridden in a taxi.
74. …taken the subway.
75. …been to a professional sporting event.
76. …been bit by a snake.
77. …wished I could fly.
78. …pulled an all-nighter.
79. …been serenaded.
Flirty And Dirty Never Have I Ever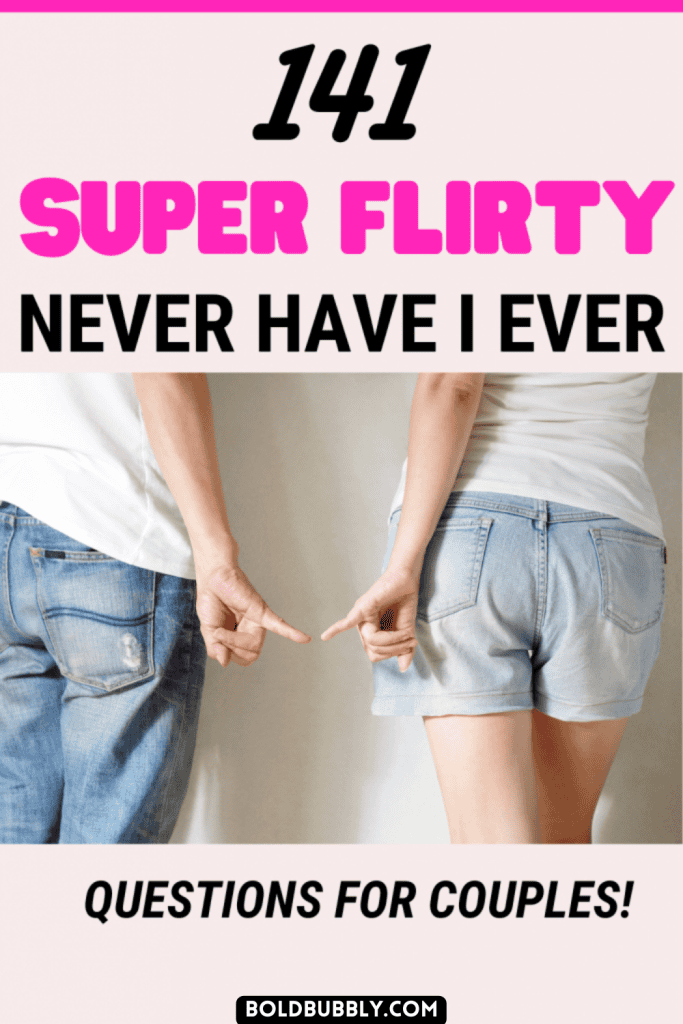 Never Have I Ever…
80. …kissed on the first date.
81. …kissed a stranger.
82. …had a dog lick the inside of my mouth.
83. …accepted a date because I felt bad.
84. …gave someone a fake number.
85. …stayed in a bad relationship.
86. …cried in a movie.
87. …flunked a class.
88. …had my body painted.
89. …been arrested.
90. …said i love you.
RELATED: 97 Romantic Questions To Ask Your Boyfriend To Make Him Laugh
91. …chewed someone else's gum.
92. …said i love you on a first date.
93. …broken up with someone.
94. …had a crush on a friend's sibling.
95. …regifted a present.
96. …no-showed on a date.
97. …called someone the wrong name.
98. …wanted to move to another state.
99. …rode on a motorcycle.
100. …been engaged.
101. …used a fake name.
102. …been married.
103. …had a one-night stand.
104. …hooked up with a friend.
105. …been dumped.
106. …lied about being single to get out of a date.
107. …sexted.
108. …made a sex tape.
109. …taken nudes.
110. …been to a strip club.
111. …eaten alone at a restaurant.
112. …worn dirty underwear.
113. …traveled by myself.
114. …fantasized about a celebrity.
115. …forgot my first love.
116. …smoked.
117. …done drugs.
118. …got a speeding ticket.
119. …been arrested.
120. …lied to a cop.
121. …flirted with a cop to get out of a ticket.
122. …used a fake id.
RELATED: 67 Of The Best This Or That Questions For Couples
Never Have I Ever Questions
123. …been kicked out of a movie theatre.
124. …cheated on a test.
125. …stood someone up.
126. …ghosted someone.
127. …gone skinny dipping.
128. …had a threesome.
129. …joined the mile-high club.
130. …had a sex dream about an ex.
131. …been spanked.
132. …gotten a hickey.
133. …had a friend with benefits.
134. …joined a cult.
135. …laughed so hard I peed.
136. …eaten an entire cake by myself.
137. …written a love poem.
138. …been in the same room as someone else doing it.
139. …gone streaking.
140. …texted the wrong person a dirty pic of myself.
141. …cooked dinner naked.
This post was all about never have I ever questions for couples.
OTHER POSTS YOU MAY LIKE:
Pin to remember this post!