Date night jar ideas are the perfect way to add some excitement and variety to your date nights.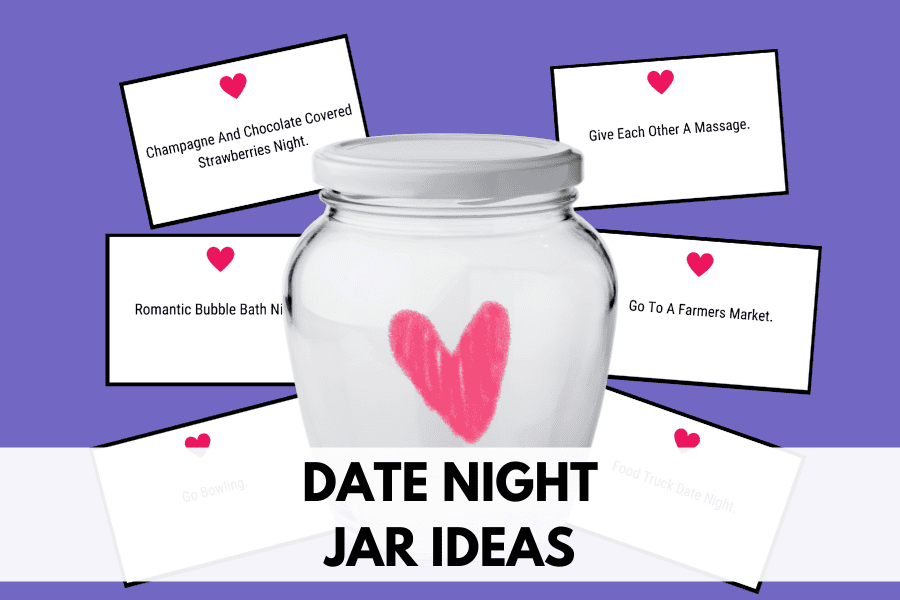 Date Night Jar Ideas
We've put together 75 fun date night jar ideas as well as a free printable pdf with all the date night jar ideas on it.
All you have to do is download and print out the date night ideas and put them in your jar.
What Is A Date Night Jar?
A date night jar is simply a jar filled with date night ideas!
One of the best things about using a date jar is that it provides a fun variety for your date nights.
Every week, or whenever you are looking for a fun date night idea, draw a date idea from your date jar.
Using a date jar helps you stay out of a rut and keep your date nights fun and exciting!
How To Make A Date Night Jar
Once you have your jar, it's time to fill it up with fun date night ideas.
Coming up with date night ideas for your jar can make for an entertaining date with your boyfriend or husband.
Spend the evening brainstorming on your date about several different activities the two of you would like to do together.
Check out the 75 awesome date night ideas below for some inspiration.
Write all your ideas down on separate slips of paper and fill your jar. That's it!
Now you have your date jar filled with fun ideas!
DIY Date Night Jar Printable
Your free printable is below. Simply download the "80 FREE Date Jar Ideas Printable", print them out on the paper of your choice, and place the ideas in your jar.
75 Cute Date Night Ideas For Your Jar
1. Take A Hike.
2. Go Through Old Photos.
3. Take Funny Pictures.
4. Cook Something New Together.
5. Surprise Him With His Favorite Meal.
6. Surprise Her With Her Favorite Meal.
RELATED: 117 Would Your Rather Questions For Couples
7. Play A Board Game.
8. Go Play Mini Golf.
9. Go Bowling.
10. Exchange A Gift.
11. Give Each Other A Massage.
12. Romantic Bubble Bath Night.
13. Champagne And Chocolate Covered Strawberries Night.
14. Food Truck Date Night.
15. Go To A Farmers Market.
RELATED: 141 Flirty Never Have I Ever Questions For Couples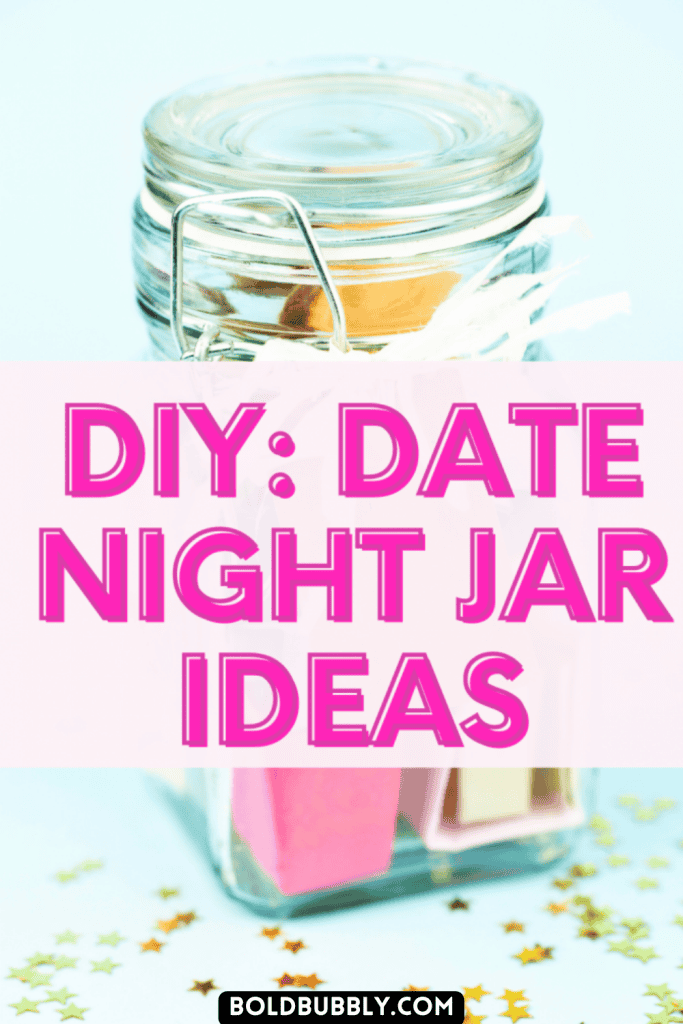 16. Canvas And Cocktails.
17. Have A Picnic.
18. Take A Scenic Drive.
19. Coffee Date.
20. Taco Night.
21. Sing Karaoke.
22. Take A Painting Class.
24. Do An Escape Room.
26. Visit The Zoo.
27. Go To An Aquarium.
28. Volunteer Together.
29. Romantic Photo Shoot.
30. Take A Bike Ride.
31. Try A New Cocktail.
32. Cheese And Wine Night.
33. Get Take Out.
34. At Home Movie Marathon Night.
Download Your Free Date Night Jar Printable
35. S'mores Night.
36. Listen To Live Music.
37. Go To A Drive-In.
38. Take A Carriage Ride.
39. Go To The Park.
40. Steak Night.
42. Do Yoga Together.
43. Try A New Cuisine.
44. Go To A Bookstore And Buy Each Other A Book.
45. Play Bingo.
46. Go To The Theatre.
47. Go Stargazing.
48. Bake Cookies.
The Best Jar To Use For A Date Night Jar
Using a date night jar is such a great way to keep your date nights new and exciting!
This jar is my favorite to use for our date night ideas! I love that this jar is small, glass, and has an easy to use lid making it comfortable to pull out a new date night idea each week.
49. Go Horse Back Riding.
50. Fondue Night.
51. Spa Date.
52. Take A Cooking Class.
53. Go Go-Karting.
54. Build Your Own Burrito Night.
55. Attend A Sporting Event.
56. Go Snow Shoeing.
RELATED: Date Night Scavenger Hunt For A Night Out You'll Never Forget
57. Lingerie Shopping Date Night.
58. Make Ice Cream Sundaes.
59. Build Your Own Pizza.
60. Binge On Netflix.
61. Movie Night Of Her Choice.
62. Movie Night Of His Choice.
63. Dessert Night.
64. Candle Lit Dinner At Home.
65. Sushi Night.
66. Go To An Arcade.
67. Listen To A Book On Tape.
68. Do A Puzzle.
69. Play Twister.
70. Go To A Driving Range.
71. Workout.
72. Take A Dance Class.
73. Hibachi Grill Night.
74. Play A Card Game.
75. Go Wine Tasting.
75. Indoor Rock Climbing.
Create a Variety on Date Night
Having a date jar is such a great way to add some fun variety to your date nights.
Whether you choose to create your own date night ideas or use the ones here, it's a sure way to add some spark to your date night.
Come up with your own date night ideas or use the free printable to fill your jar.
This post was all about date night jar ideas.
OTHER POSTS YOU MAY LIKE:
Pin to remember!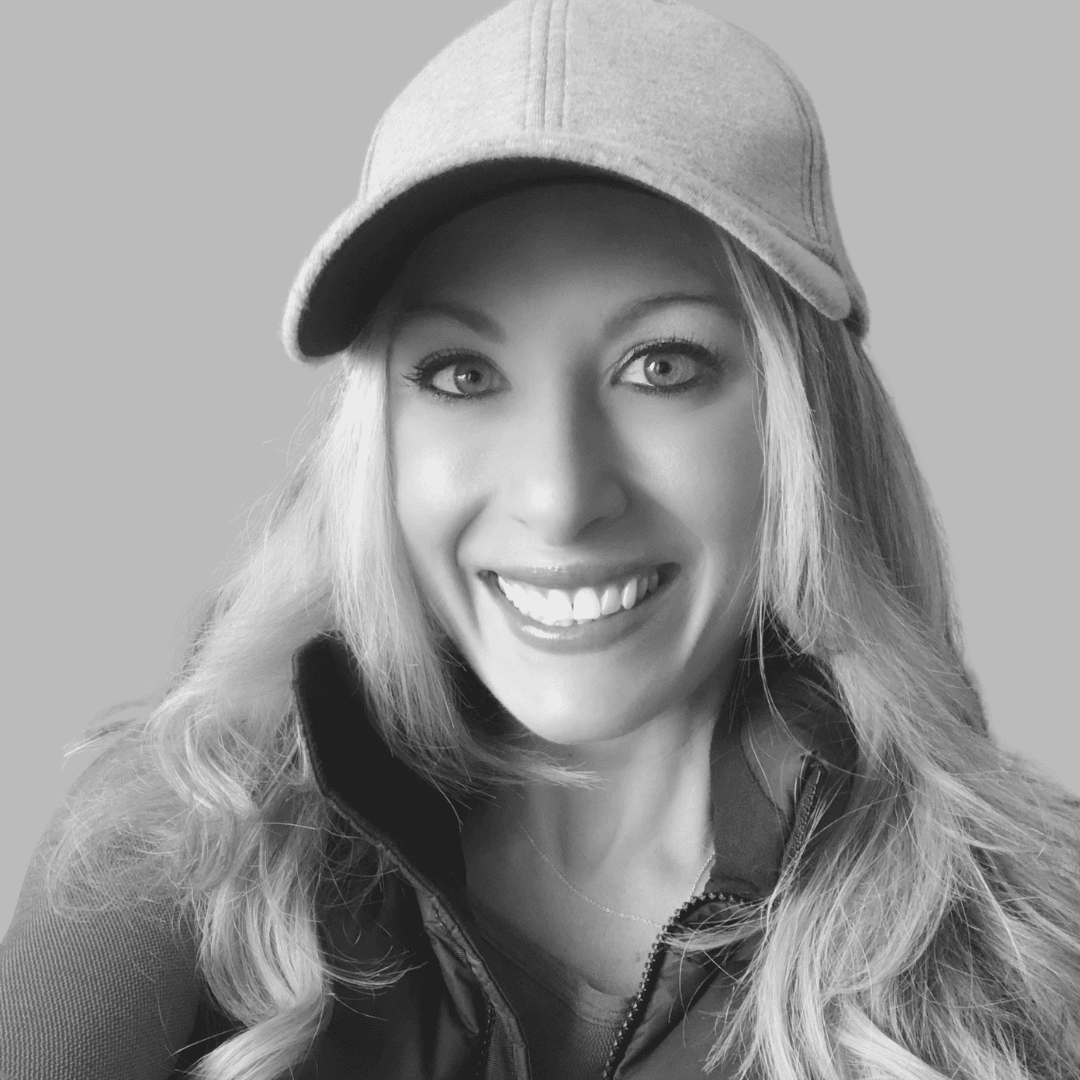 Chrissy Biamonte – Founder at Bold & Bubbly, your ultimate destination for date ideas, party planning tips, conversation starters, and more. With over 15 years in health and fitness, Chrissy is passionate about the balance between wellness and nurturing meaningful relationships. Join her at Bold & Bubbly where we explore, inspire, and create unforgettable moments!