These free printable love coupons for him are such a sweet yet simple gift for that special man in your life.
Love Coupons are a great gift idea for a wide variety of occasions.
Whether you're celebrating an Anniversary, Valentine's Day, a Birthday, Christmas, or a fun Date Night, love coupons are the perfect way to spice up any occasion!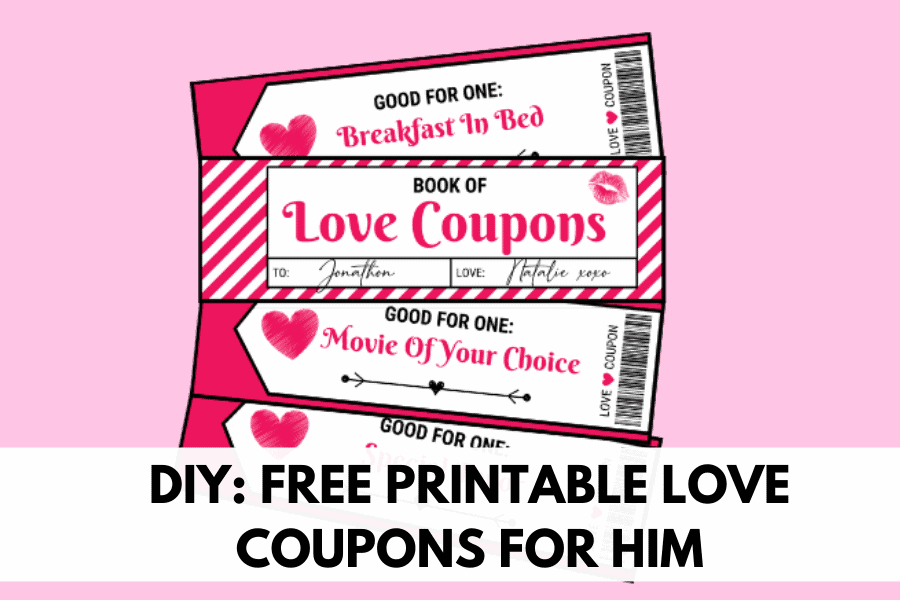 Gifting Love Coupons is a fun way to keep the sparks flying even long after you've given him his love coupon book.
Download these free printable love coupons for him, print them out, and put them together in a cute envelope or gift box.
This post is all about free printable love coupons for him.
DIY: Free Printable Love Coupons For Him
Sometimes it's the simple things in life that make for the best things. Gifting Love Coupons is one of those sweet simple things that can make all the difference!
Step #1: Download Your Free Printable Love Coupons For Him
Simply enter in your name and best email address and you will receive a PDF download included all of the love coupons.
Step #2: Print Out Your Free Printable Love Coupons
To print out your Love Coupons, you can use regular paper or thicker card stock. I personally prefer using a little bit heavier paper just because it makes the coupons seem a bit fancier. But regular paper works just as well!
Step #3: Cut Out Your Love Coupons
There are 4 Love Coupons on every sheet.
You will want to cut out each of the coupons so that they are all separate. That way he can use them individually whenever he chooses.
Step #4: Personalize the Love Coupons
The top coupon on the first page includes a space for you to fill out who the coupons book is for and who it is from. This makes it extra special for your man!
BONUS: Free Blank Printable Love Coupons
The last page of the coupon book includes free blank printable love coupons for you to write in your very own coupon gift ideas if you feel inspired to do so!
This is a great way to add a little personalization by including "Love Coupons" for specific things you know your man will enjoy!
Step #5: Put the Coupon Book Together
You can put these coupons together however you want!
Using an envelope or a cute gift box are two of my favorite ways to do this.
If you are feeling extra ambitious you can hole punch the left side of the coupons and tie them together with a little ribbon to give the coupon book some extra flare.
This Coupon Book Includes The Following Coupons:
Breakfast In Bed
Movie Of Your Choice
Night Out Dancing
Home Cooked Meal
Romantic Picnic
Unplug & Connect Day
30 Minute Massage
Foot Massage
Get Out Of Trouble Free
Sleep In 'Til Noon Day
Coffee Date
Romantic Night Out
Weekend Away
Special Favor
Evening Of Cuddling
Love Coupon Book Also Includes:
4 Blank Love Coupons that you can fill out with your own ideas!
If you feel up to it – get creative and think about the "Love Coupons" you could give your man that are very specific to him.😊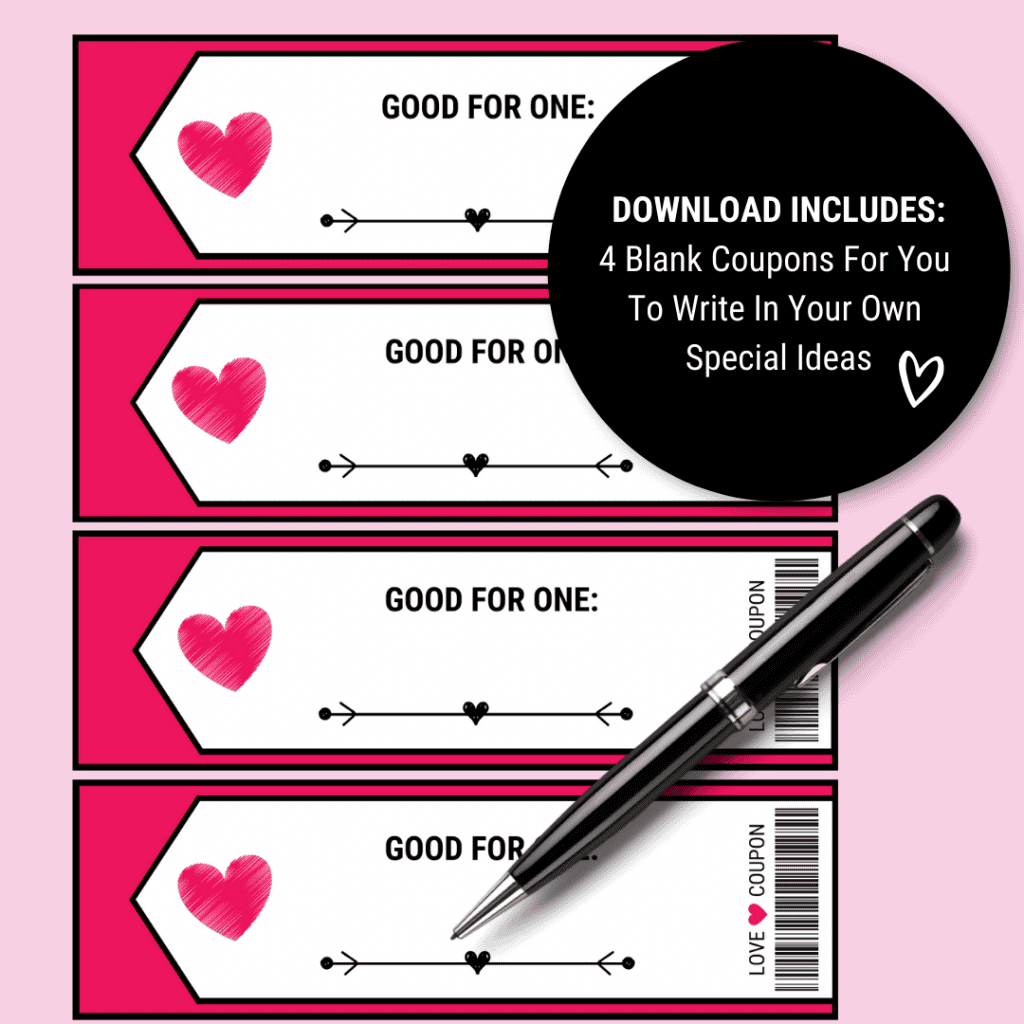 I hope you enjoy gifting this Love Coupon book as much as I have.
It is one of my favorite little gifts to give my husband.
He absolutely loves receiving and cashing in on his love coupons.
Whether you're married, engaged, or dating…Love Coupons are such a fun way to add a little sparkle to your relationship and date nights throughout the year!
This post was all about free printable love coupons for him.
OTHER POSTS YOU MAY LIKE:
Pin to remember this post!