This post is all about summer date ideas.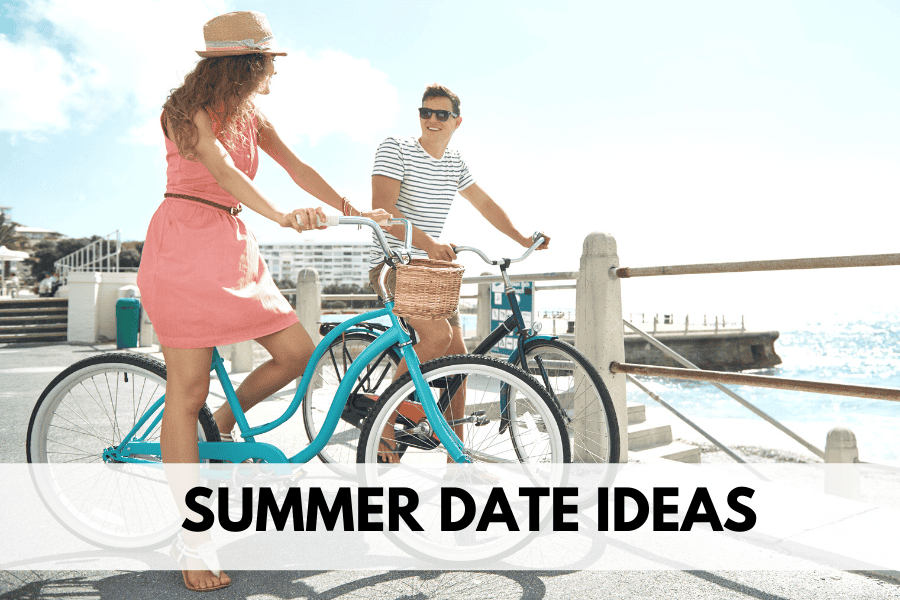 Looking for some great summer date ideas?
You're in the right place, we're sharing 25 awesome summer date ideas that are tried and true and sure to make for summer date nights you will always remember.
One of my favorite things about summer is all the extra date night options that become available.
With the longer days and warm weather, there are so many fun things to do outside. And as a bonus, not all of them cost a bundle!
Don't get me wrong, I absolutely love cooler weather dates as well, but the change in the seasons makes for the perfect opportunity to create variety in your date nights and keep things fun and interesting.
25 Fun Summer Date Ideas You'll Want To Try This Summer
We're including several date options in our summer date ideas list. Everything from at-home date ideas, free date ideas, adventurous date ideas, etc. All of which are fun dates you can do this summer!
Check out the list below, you'll be sure to find several date ideas that you can add to your list of to-dos with your sweetie this summer.
Cute Summer Date Ideas
#1 ATTEND A FOOD FESTIVAL
If you and your sweetie love food like me, you'll LOVE going to food festivals. They are so much fun! You get to spend your date outdoors, sampling new foods, enjoying great conversations, and usually some live music and entertainment as well.
RELATED: How To Have The Ultimate Fondue Date Night At Home
#2 DINNER AT-HOME ON THE PATIO
Create a romantic dining atmosphere in the privacy of your own home by dining out on your patio. Light candles and set up some twinkle lights and create a special evening date night at home with your sweetie. These tea light candles and twinkle lights help to create the perfect outdoor atmosphere!
#3 SCAVENGER HUNT
Who doesn't love a good scavenger hunt?! I know my hubby and I love doing scavenger hunts on date night, we always have such a blast!
If you're looking for a super fun scavenger hunt to do on date night, this scavenger hunt is one that you definitely will want to check out.
RELATED: Date Night Scavenger Hunt For A Night Out You'll Always Remember
#4 ATTEND A CARNIVAL
As summer rolls around so do the carnivals! Find some fun local carnivals to attend and fill your summer date nights with games, treats, and prizes!
#5 VISIT THE ZOO
Maybe it's been years since you've been to the zoo, but the zoo can be just as fun for adults as it is for kids.
Reminisce about your favorite zoo trips as a child while creating new memories with your sweetie.
RELATED: 141 Flirty Never Have I Ever Questions For Couples
Cheap Summer Date Ideas
#6 CAMPING
Get away for some peace and quiet, just you two! Pack your tent, sleeping bags, and of course your favorite campfire foods.
RELATED: 15 Date Night Activities To Spice Up Your Next Date Night
#7 TUBING
If you don't have a tube, you can buy a tube on Amazon or borrow one from a friend. Tubing is a great low-key date that allows you to enjoy the sunshine, stay cool, and spend some quality time with your significant other.
#8 SWIMMING
Stay cool on those hot summer days by going to the pool. Check to see if your neighborhood has a pool or consider hitting up a local rec center for the day.
RELATED: The Best Drive In Movie Date Ideas
Keep Your Date Night Conversations Interesting With These FREE Date Night Conversation Cards
#9 MAKE A SIDEWALK CHALK ART MURAL
Relive your childhood days and get creative making chalk art together. Think "Canvas and Cocktails" but instead "Chalk Art and Cocktails". This chalk art kit works great for this date!
RELATED: How To Have An Incredible Painting Date Night At Home
#10 MOVIE AT THE PARK
Several communities offer movies at the park during the summer months. Check to see if your community offers this as an option and mark the movie nights on your calendar. If your neighborhood doesn't offer movies at the park, you can get a projector and screen online and create your own outdoor movie experience!
This movie projector and screen are perfect for this date night!
#11 PHOTO SCAVENGER HUNT
I know we mentioned how much fun scavenger hunts are for summer dates but we wanted to add doing a photo scavenger hunt to the list as well. One of my favorite things about doing a photo scavenger hunt is that you can look back at all the pictures that you took on your date that night as part of the hunt. It's such a fun way to create lasting memories with your sweetie and you get to keep all the documentation.
RELATED: Ultimate Date Night Photo Scavenger Hunt For Couples
Free Summer Date Ideas
#12 HIKING
Going on a hiking date gives you a great opportunity to get outside and enjoy the beautiful summer days with your sweetie. Plus, it's the perfect way to get your exercise in as well!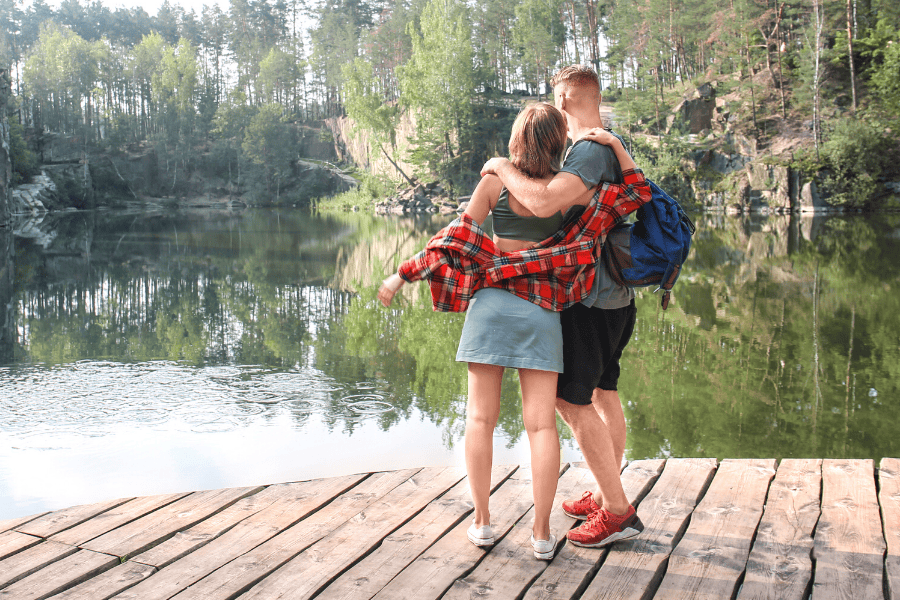 RELATED: Fun And Romantic Hiking Date Ideas You Need To Try
#13 RIDE BIKES TO YOUR LOCAL ICE CREAM SHOP
Okay, if you don't want to ride bikes to the ice cream shop, I totally get it. But, if you have bikes and it is an option for you, it can be really fun! Regardless, stopping by your local ice cream shop is a must-do summer date in my book. Get adventurous and try a new topping or flavor to keep things tasty and interesting.
RELATED: 64 Juicy Pillow Talk Questions For Couples
#14 WATCH FIREWORKS
Nothing sets the mood of summer quite like a good fireworks show. Check Google or Facebook for firework shows in your city and plan a night to go watch the sparks fly in the sky!
Romantic Summer Date Ideas
#15 PICNIC UNDER THE STARS
Put together a yummy meal and pack it in a picnic basket. Make sure to bring your picnic blanket so that you can comfortably sprawl out to eat and lay looking up at the stars with your sweetie.
#16 CAMPFIRE WITH S'MORES
Cuddle up by the fire pit and make some s'mores. There are lots of new and exciting s'mores recipes that you can check out online if you're looking for something less traditional. This s'more kit works great for this date night!
RELATED: 13 Romantic Date Night Ideas For Him
#17 PATIO DINING AT YOUR FAVORITE RESTAURANT
Dining outside creates a whole new atmosphere even when you're eating at your regular date night spots. When given the choice this summer, opt to eat outside!
#18 TAKE A DAY TRIP TO A LOCAL TOWN
Pick a day and go discover a new city that's not too far away. Maybe you aren't able to plan a full getaway with your sweetie this year, or you're just looking for something new and exciting to do. Regardless, taking a day trip is such a fun way to spend a summer day!
RELATED: 129 Juicy Yes Or No Questions For Couples
Fun Summer Date Ideas
#19 WATER PARK
Stay cool and enjoy the sunshine with your sweetie by going to a water park. Spend the day in the water, riding rides, and soaking up the sun. Be sure to bring your sunscreen and flip-flops or water shoes (the ground can get SUPER hot at water parks) so make sure you're prepared for when you're walking around!
RELATED: 97 Romantic Questions To Ask Your Partner To Get To Know Them Better
#20 PLAN A SUMMER TRIP
This doesn't have to be a trip that you two will go on this year. It can be a trip that you will add to your bucket list! It's fun to plan the details of somewhere you want to go with your sweetie and get excited about going there in the future.
#21 AMUSEMENT PARK
This is always an entertaining way to spend the day or evening with your significant other. Be sure to check for Groupons or local discount days, doing so can help you to save a few dollars on your entry fees.
RELATED: 47 Cheap Fun Date Night Ideas You'll Love
#22 DAY AT THE LAKE
Pack a picnic and spend the day lounging at the lake! Being outside by the lake allows you to enjoy all that summer has to offer. Bring a blanket, some magazines, sunscreen, and enjoy a lovely afternoon date.
Summer Date Ideas For Couples
#23 ATTEND A LOCAL FESTIVAL
Look on Google or Facebook for local festivals in your area. Summertime caters to lots of different local events. My hubby and I are constantly watching for unique summer festivals that pop up. We love that it's such an easy way to be outdoors and try something new.
#24 TAKE A BUS TOUR OF YOUR CITY AND DISCOVER A NEW DINING OPTION
Act like a tourist in your own city. If your city offers double-decker bus options, opt to sit on top and take in your hometown. While you're discovering your own city, be sure to keep an eye out for a new local dining option you and your sweetie can try.
#25 GO TO A BASEBALL GAME
Baseball season is in full swing during the summer! Take advantage of those nice summer nights by hitting up a baseball game. It's a great opportunity to spend quality time together and enjoy some tasty ballpark food and drinks.
We hope that you are able to find several summer date ideas here to fill your calendar with this year!
These summer date night ideas will make for a summer of date nights that you and your sweetheart will always remember.
This post was all about summer date ideas.
Other Posts You May Like:
Pin these to remember this post!