These are the best quick coffee date ideas.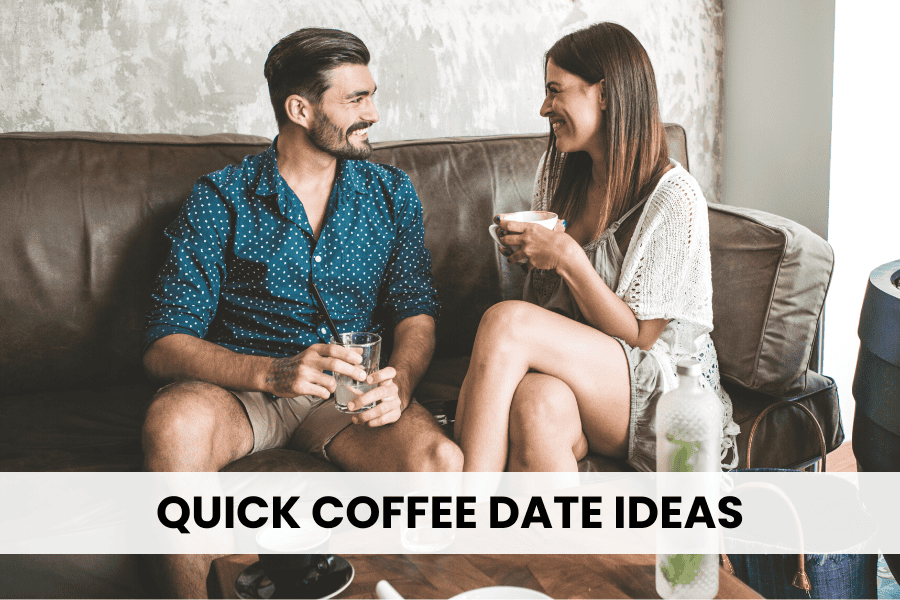 Quick Coffee Date Ideas
In a fast-paced world filled with hectic schedules and endless to-do lists, finding time for a romantic rendezvous can sometimes feel like an impossible task.
However, there's a great solution that combines the simplicity of a coffee break with the potential for a meaningful connection: the quick coffee date.
Whether you're a busy professional looking for a brief escape or looking for a romantic way to connect with someone, we've got several quick coffee date ideas for you here!
We've included everything from how to prepare for a coffee date, the best coffee date ideas, conversation starters, and more!
What Does A Coffee Date Mean?
A coffee date usually refers to a casual meeting between two people, often in a coffee shop or a cafe. The primary intention of a coffee date is usually to get to know each other better or to create a deeper connection.
Coffee dates are great because they are simple, affordable, and provide a relaxed atmosphere – making them ideal for a first date idea or a quick catch-up with someone.
Whether you're looking for a brief connection or a more in-depth conversation, coffee dates are a good option.
How Do You Flirt On A Coffee Date?
When it comes to flirting on a coffee date, it's important to strike a balance between showing genuine interest and being respectful of the other person's boundaries.
Here are a few tips to add a touch of flirtation to your coffee date:
Eye contact and body language: Maintain eye contact with your date and use open, relaxed body language to show that you're engaged and interested.
Compliment your date: Offer genuine compliments about your date's appearance, outfit, personality traits, etc.
Engage in playful conversations: Spark some fun and friendly conversation by asking flirty questions. Conversation starters and questions can help break the ice and create a sense of connection and playful fun.
Listen actively and show interest: Pay close attention to what your date is saying and ask follow-up questions.
Smile: A warm, genuine smile can go a long way in expressing your interest and showing your date you're having a good time being with them.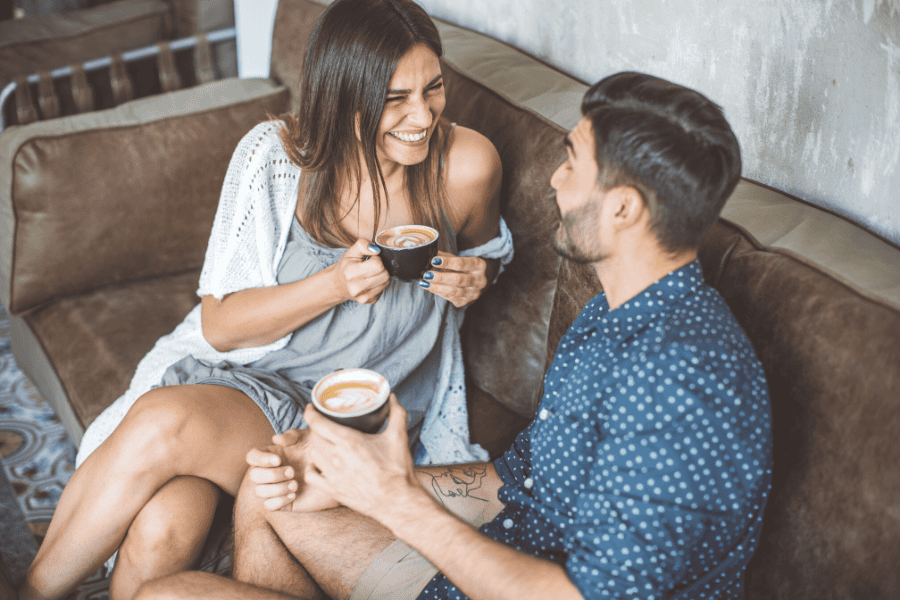 How Long Should You Plan For A Coffee Date?
The duration of a coffee date can vary which is one of the reasons it's a great date idea. In general, a coffee date tends to last anywhere from 20 minutes to an hour.
It's a quick date idea that allows for a casual and convenient meeting. If the conversation is flowing and both of you are enjoying each other's company, the coffee date can go for as long as you wish.
How To Prepare For A Quick Coffee Date
Preparing for a coffee date is fairly simple but still necessary to ensure a smooth and enjoyable time.
Choose a comfortable yet stylish outfit, research and select a cozy coffee shop, arrive on time, have some conversation topics in mind, and most importantly, be yourself.
These steps are small but important and can help set the stage for a great quick coffee date.
13 Best Quick Coffee Date Ideas
These are 13 of the best quick coffee date ideas:
1. Coffee Date Tasting Adventure
Visit a specialty coffee shop together and try different types of coffee, exploring the flavors and talking about your preferences.
2. Coffee Date At A Board Game Café
Find a café or coffee shop that offers a collection of board games and enjoy a little friendly competition over a cup of coffee.
3. Outdoor Coffee Picnic Date
Grab your favorite coffees to go and head to a nearby park or scenic spot for a relaxed quick outdoor coffee date.
4. Bookstore Coffee Date
Explore a bookstore that has a coffee shop and spend some time browsing books together while savoring your favorite coffee brews.
5. Coffee and Dessert Pairing Date
Go to a cafe that's known for its delectable desserts and try pairing different coffee drinks with sweet treats.
6. Farmer's Market Coffee Date
Plan a coffee date around a visit to the local farmer's market. Enjoy a cup of coffee while strolling through all the vendors.
7. Coffee and Live Music
Find a coffee shop that hosts live music performances and enjoy the tunes while connecting and sipping on your drinks.
8. Coffee Date with a View
Go to a coffee shop with a rooftop patio or scenic view, and indulge in pleasant conversations with a gorgeous backdrop.
9. Coffee Date at a Historic Landmark
Choose a coffee shop located in a historic building or near a significant landmark. Immerse yourselves in the local history and architecture while enjoying your coffees.
10. Coffee and Yoga
Look for coffee shops that offer yoga classes or workshops. Start your coffee date with a relaxing yoga session followed by a cozy cup of coffee.
11. Coffee Date at a Coffee Roastery
Explore the world of coffee by visiting a local coffee roastery. Learn about the coffee roasting process and enjoy a cup of freshly roasted coffee.
12. Coffee Date with a Clever Twist
Choose a coffee shop that offers unique coffee experiences such as latte art lessons or coffee brewing demonstrations.
13. Coffee and Art Class
Look for coffee shops that offer art classes or workshops. Sip your coffee while getting creative together.
Coffee Date Conversation Starters
A great way to ensure that you can start and keep the conversation going on your coffee date is with conversation starters.
Here are 10 quick coffee date conversation starters to help break the ice and create a connection:
1. "What's your favorite type of coffee or coffee drink? Have you ever tried any unique or exotic flavors?"
2. "What is the most interesting or memorable experience you've ever had at a coffee shop or while drinking coffee?"
3. "Are there any coffee brewing methods or techniques you're curious about or would like to try?"
4. "What are your go-to activities or hobbies to enjoy while sipping coffee? Any particular books, podcasts, or music you like to indulge in?"
5. "Have you ever traveled to any places that have a big coffee culture? If so, any fun stories or recommendations from those trips?"
6. "Do you have any favorite local coffee shops or hidden gems you've discovered?"
7. "How does coffee play a role in your daily life? Do you have any daily routines that involve a cup of coffee?"
8. "Let's play a game of 'Two Truths and a Lie' but with coffee-related facts. Share three coffee-related statements, and I'll try to guess which one is the lie."
9. "If you could go on a coffee date with any famous person, who would it be? What would you want to chat with them about over coffee?
10. "If you could only have one type of coffee for the rest of your life, what would it be and why?"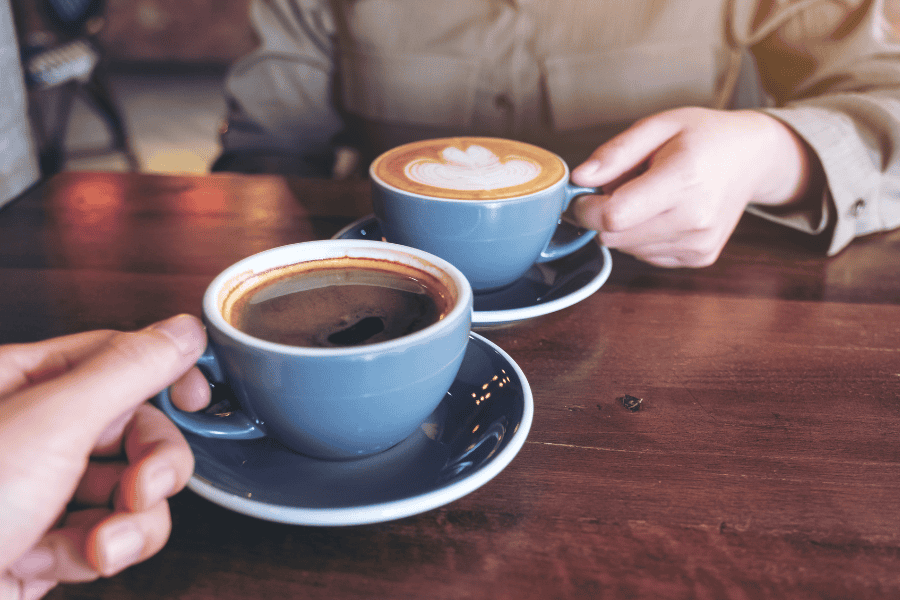 What To Say or Text After A Coffee Date
After a coffee date, it's important to connect with your date by expressing your gratitude and leaving a positive impression.
Here are a few suggestions for what to say or text after a quick coffee date:
Thank you: Send a simple message expressing your appreciation for the coffee date. It can be as simple as "Thanks for meeting for coffee with me today. I had a really great time!"
Share something about the experience: Share something specific that you enjoyed or found interesting about the date. For example, "Talking to you about (certain topic) was really nice. It was good to hear your thoughts on (topic)."
Express your interest for future plans: If you're interested in seeing the person again, this is a good time to let them know. You could say, "I really enjoyed our coffee date today. Would you be interested in another coffee date or doing another activity together?"
Reference a shared moment from your coffee date: Bring up a memorable moment or highlight from the coffee date. Such as, "I am still thinking about that funny story you shared with me about (whatever topic they shared). I really enjoyed it!"
When you follow up with your coffee date make sure to be genuine and keep what you say specific to your date and the connection you two made.
Best Quick Coffee Date Ideas
Quick coffee dates offer a delightful way to connect with someone in a casual and relaxed setting. Whether you explore different coffee flavors or engage in fun coffee-themed activities, there are numerous ways to make a quick coffee date memorable.
We hope you can embrace the simplicity and flexibility of coffee dates and let them serve as mini opportunities to spark new connections, deepen existing relationships, or slow down to savor moments of connection in our fast-paced lives.
Other Posts You May Like: