This post is all about hiking date ideas.
Going on a hiking date is a great way to spend quality time with your sweetie while you get exercise and enjoy the outdoors.
Having grown up in Colorado, I've been on several hiking dates. Some of them were awesome – some were not so awesome.
In this post, we share everything you need to know to ensure that your hiking dates are not only fun but sweet and romantic too!
Hiking Date
To create the spark and keep that spark sparkling long after your first date – it's helpful to have a variety of date night ideas and activities to do with your sweetie.
When it comes to date ideas – hiking is a date that you will definitely want to have on your list.
That being said – before jumping into the best hiking date ideas, first a few FAQs to consider when going on hiking dates.
RELATED: 15 Date Night Activities To Spice Up Your Next Date Night
Is Hiking Considered A Date?
Yes, hiking is an excellent date idea! Hiking will give you and your sweetie plenty of time to connect without any distractions, enjoy a new experience together, and get some physical exercise as well.
Is A Hike An Okay First Date?
If you and your date both enjoy physical activity and the outdoors, then yes – hiking is a good first date idea!
Going on a hike for a first date is a great way to break the ice and immediately create a memorable experience together.
Not to mention, a hiking date will stand apart in your date's mind from the traditional coffee/restaurant first date experience.
RELATED: 18 Best First Date Ideas That Aren't Awkward
However, if you are unsure if your crush is into hiking – it's a good idea to make sure that they're on board with going on a hiking date.
If they're not into it – a hiking date could be recipe for disaster.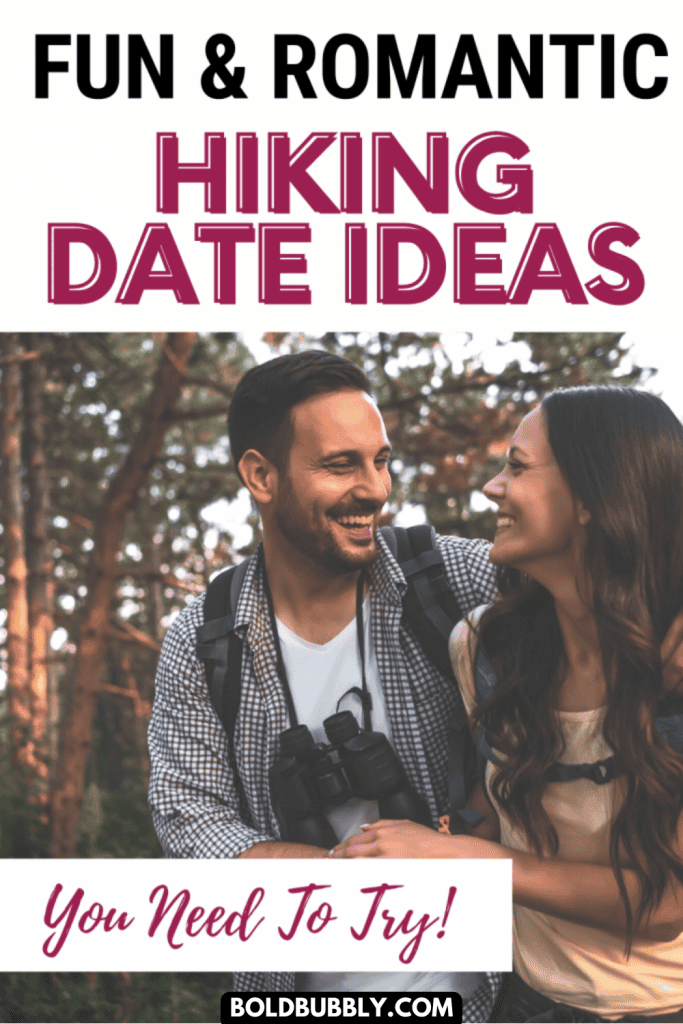 What Should I Wear On A Hiking Date?
Depending on the time of year and where you are hiking – what you wear for the hike will vary.
You will definitely want to dress in comfortable athletic wear with appropriate shoes.
And yes, you can still look super cute and be comfy for this date idea!
Be sure you and your date both know where you will be hiking and the weather that is expected as this will drastically impact what you choose to wear (and bring with you).
RELATED: How To Have An Insanely Romantic Spa Date Night At Home
How Long Should A Hiking Date Last?
Think of a hiking date just like any other date – lasting an average of 2 to 3 hours.
You want the hike to be comfortable for you and your sweetie – so that both of you can complete the hike easily and enjoy the experience.
Planning too long or strenuous of a hike can lead to a not-so-fun date (to say the least). That is unless you and your date are both in great shape and up for the challenge.
If you're going on a first date – you will especially want to be cognizant of this. Keep the hike easy and manageable.
RELATED: The Ultimate Fondue Date Night At Home
Hiking Date Ideas
Sunrise or sunset hike – Start your hike 30 to 60 minutes before sunrise or sunset. That way you can reach the point along your trail that offers the best view of the sunrise or sunset.
Waterfall hike
River hike
Geological hike
Picnic hike
Hike along a stream
RELATED: 73 Flirty Truth Or Dare Questions For Couples
Hiking Date Tips
Before planning a hiking date ensure that you and your crush can physically complete the hike. If it is early on in your relationship and you're not sure of your date's fitness level – this is something you will want to know before planning this date.
Wear comfortable athletic clothes and shoes.
Check the weather. Weather can change incredibly quickly, especially in the mountains. It's always a good idea to check the weather right before you leave so you don't get stuck in an unfortunate storm.
Additional Items To Bring On Your Hike:
Hat
Sunscreen
Sunglasses
Bug spray
Flashlight
Bandages
Sleeping pad or light blanket
RELATED: Wine Tasting Date Night Ideas You Need To Try
Hiking Date Food
There are several options when it comes to what food to bring on a hike.
Keep in mind that because you are hiking – you will need to carry all of the food with you for the duration of the hike.
So choose to bring foods with you that are lightweight and easy to eat.
Hiking Food Ideas:
Trail Mix
Sandwiches
Chips
Energy bars
Energy gels
For a more romantic date consider bringing the following for a special picnic with your sweetie….
Cheeses
Cured meats
Nuts
Dried Fruit
Crackers
RELATED: 16 Romantic Car Date Ideas Worth Going On
How To Make A Hiking Date More Romantic In 9 Steps
1 – Make sure you and your date will both be able to comfortably complete the hike and it is something your date will enjoy
2 – Check the weather right before your date to ensure you will have a lovely day for the hike.
3 – Wear appropriate hiking attire. If your date is not used to hiking, help them in regards to what to wear for a hike so they will be comfortable.
4 – Choose a beautiful location to do your hike.
5 – Pack a romantic picnic with cheeses, cured meats, dried fruit, and crackers.
6 – Bring plenty of water and snacks for you and your date to enjoy.
7 – Pack a sleeping pad or lightweight blanket so you and your date can sit next to each other comfortably.
8 – Have some creative conversation starters to ask your date to get to know them more while on your hike.
Here are a few of our favorites:
9 – Take selfies of you and your date so that you both can look back on this hike as a special memory you shared together.
RELATED: 56 Free Date Night Conversation Cards For Couples Who Want Something Fun To Talk About
Where To Go On A Hiking Date
Depending on where you live – there will be a variety of hiking options.
Be sure to check Google for "hiking date near me".
Read the reviews, then decide on the ideal hiking date location for you and your sweetie.
This post was all about hiking date ideas.
Other Posts You May Like: