This is the ultimate bucket list for married couples who want to be entertained, challenged, and enjoy new exciting experiences together.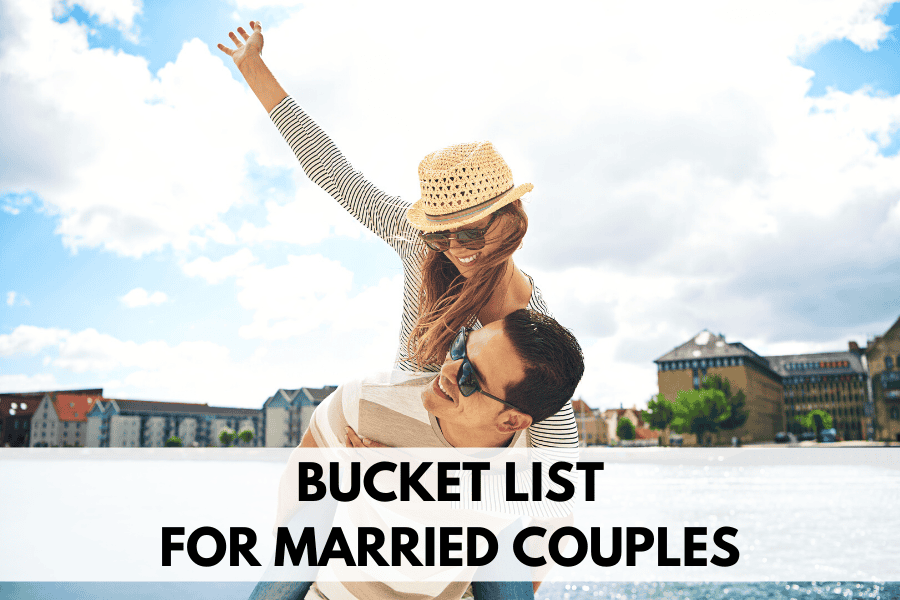 It can be easy to fall into a rut and create the bad habit of saying "someday we'll do (fill in the blank)" then never following through.
Creating a bucket list is a great way to keep the spark in your relationship alive.
This post is all about the ultimate bucket list for married couples.
The Ultimate Bucket List For Married Couples
Bucket lists provide entertaining and fulfilling activities that the two of you can do together.
There may be days you think…what should we do?
This is the perfect time to whip out your bucket list and select an activity.
Keep your list nice and fresh and add to it as you both come up with different ideas.
Time goes by so quickly and before you know it, years can pass and you haven't done any of the activities that you wanted to do together.
Having a bucket list and consistently checking items off of your list helps to ensure that you get to experience lots of life together!
Bucket List Ideas For Couples Travel
If you and your partner want to travel, creating a list of places that you want to go to is a great way to set travel goals and start making those goals a reality.
After you have your list created you can start picking and choosing which destinations you two want to hit up first.
Take some time to research all the fun activities that there are to do in each of the locations that you choose.
We're including some romantic, relaxing, exciting, and adventurous destinations on this list to help get you started!
Travel Bucket List Ideas For Couples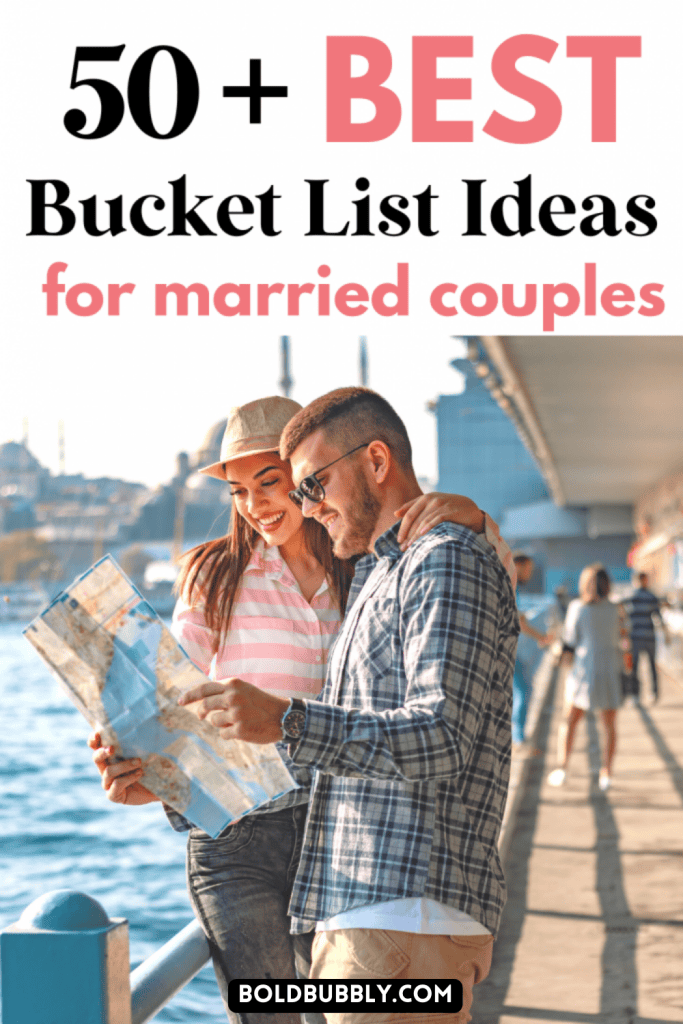 London, England – Experience Big Ben, the London Eye, the Crown Jewels, changing of the guard, shopping at Harrods, etc…London is full of fun and exciting activities for couples.
Hawaii – Swim with the sea turtles, hike up a volcano, take long walks on the beach, relax and unwind in beautiful Hawaii.
Paris, France – Gaze up at the Eiffel Tower, eat delicious cuisine, shop, and visit the Louvre. There is no shortage of romance to be had in France.
Caribbean – Enjoy the beautiful blue water and white sandy beaches with your love. The Caribbean is the perfect place for luxury and adventure.
Italy – Nothing says romance quite like Italy. Whether you go to Rome, Venice, Tuscany, the Amalfi Coast…the food is amazing and the sites are breathtaking. All provide a wide variety of activities regardless of what you enjoy doing.
Cabo San Lucas, Mexico – With delicious food, fun snorkeling, deep-sea fishing, shopping, and beautiful beaches, Mexico offers amazing opportunities for couples to relax together as well as experience adventure.
Las Vegas, Nevada – Explore all the glitz and glamor of Las Vegas. With world-class dining, shows, shopping, and phenomenal service, you're sure to have an amazing time.
Africa – If you are up for a serious adventure, consider vacationing in Africa. Experiencing an African safari is unlike anything else.
New Orleans, Louisiana- Do you like music, food, and drinks? New Orleans is just the place!
Napa, California – Go wine tasting and take in all the beautiful scenery that Napa Valley has to offer.
Romantic Things Couples Do Together
Get creative with your date night ideas so that you don't always end up doing the same thing.
Date night is your time to connect and when you get to try something new and different together, it can help to make that connection even stronger.
Depending on the time of year and where you live, date night might look a little different for you, but here are some fun date night ideas for you to consider!
Picnic Under The Stars – Whether you're picnicking at home or decide to picnic at a park, this is a romantic date night that you're sure to love.
Spa Day – Relax and unwind together with a couples massage.
Dessert Hopping – Have a sweet tooth? Consider restaurant hopping for your favorite desserts around town.
Drive-In – Bring your favorite movie snacks and enjoy a film on the big screen while you get to lounge together in the car.
Tip: Dress in your comfy loungewear and bring a big cozy blanket to snuggle under together.
Camping – Create a night of adventure for the two of you by camping out under the stars. Enjoy some s'mores and quiet time away from the hustle and bustle of your everyday life.
RELATED: 55 Date Night Questions For Married Couples
List Of Cute Couple Things To Do
Eat In The Car – Pick your favorite drive-through and park in the lot. Savor those tasty treats in the privacy and comfort of your car.
Art Museum – Attending an art museum together provides you with no shortage of things to talk about. Connect as you explore different works of art and share your interpretations.
All You Can Eat Buffet – If you love eating…going to an all-you-can-eat buffet may be right up your alley. All-you-can-eat buffets allow you to try lots of different cuisines. Who knows, maybe you'll even discover a new food that you didn't know you liked.
Be A Tourist In Your Own City – Explore attractions in your town. It's amazing how many tourist attractions can be in your own town that you don't know about. Do some research "tourist attractions in my city", pick a few that look like fun, and go pretend to be a tourist.
Afternoon Tea – Dress up and indulge in delicious pastries, finger sandwiches, tea, and more!
Wine Tasting – If you are a wine lover, wine tasting is such a fun date night. Experience new wines, and delicious charcuterie
Coffee Date – Go to your favorite coffee shop and spend the evening chatting over coffee and pastries.
Bucket List For Couples
Dinner Theatre – Attending a dinner theatre is such fun. You get to eat dinner while watching a live show.
Escape Room – Work with your partner in an escape room solving puzzles together, this is an entertaining and exciting date, it will make you think for sure!
Comedy Club – Laugh the night away with your love at a local comedy club. Laughing together not only will boost your happy/feel-good chemicals, but it also helps to create a deeper connection and lower your stress levels.
Movie Night At Home – Select a new movie that neither of you has seen, get in your comfy clothes, pop some popcorn, and snuggle up for movie night.
Activity Bucket List Ideas For Couples
Having an activity bucket list is a helpful way to try new and exciting activities.
If there is an activity that you and your partner want to do together, add it to the list.
Here is a list of several different activities to get you started!
Take An Acting Class
Go Sky Diving
Paint A Picture
Go Snow Shoeing
Take A Cooking Class
Go Go-Carting
Play Laser Tag
Lay Out Under The Stars
Go For A Hike
Take A Ghost Tour
Go Bowling
Play Pingpong
Take A Bike Ride
Build A Snowman
Go On A Scavenger Hunt
Have A Photo Shoot
Go Roller Skating
Create A New Recipe
RELATED: 13 Romantic Date Night Ideas For Him
Play A Game
Learn A New Skill
Go Ice Skating
Make A Scrap Book
Take A Dance Class
Go To The Zoo
Attend An Amusement Park
Do A Couples Workout
Sing Karaoke
Read A Book Together
Go Hang Gliding
Take A Hot Air Balloon Ride
Go Swimming
Soak In Hot Springs
Go Horse Back Riding
Shop And Pick Out An Outfit For Each Other
Take Dance Lessons
Play Mini Golf
Go To An Open House
Bucket lists are lots of fun to create and continue to add to.
Having a bucket list and using it helps to ensure that you are getting to experience lots of different activities that life has to offer.
This post was all about the ultimate bucket list for married couples.
OTHER POSTS YOU MAY LIKE:
Pin to remember this post!