This list is full of fun things for couples to do at home when bored.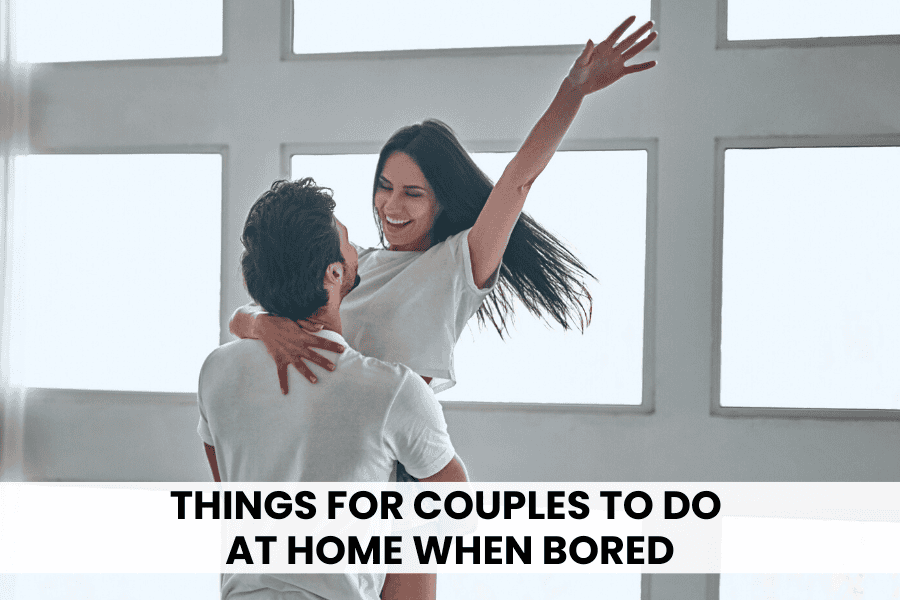 Let's be honest – it can be hard to come up with new and exciting things to do at home with your sweetie. And the longer you've been together the harder it is to come up with ideas that you haven't already done.
That's why we've put together this list of things for couples to do at home when bored.
Things For Couples To Do At Home When Bored
Some of my favorite date night activities were born out of being bored at home. Unless you want to sit around and mope – being bored forces you to get creative and start searching for things you can do.
This list is full of creative things for couples to do at home together when bored.
Be sure to save this post so that the next time you find yourself bored at home with your sweetie, you'll have LOTS of great ideas to go to!
1 – SNUGGLE IN BED ALL DAY
Whether you snuggle for an hour or a day – spend some time under the sheets with your sweetie! You won't be bored for long. 😉
2 – LISTEN TO A PODCAST
Look for a new podcast on a topic that you and your crush both enjoy. You never know – you just may have a new favorite podcast to listen to!
RELATED: 100 Fun Questions To Ask Your Spouse About Yourself
3 – READ TO EACH OTHER
Pick a book that you and your partner both are interested in. At the end of each chapter, you can talk about the story and switch who reads next.
4 – FIND A DIY PROJECT TO DO TOGETHER
Is there a fun project that you've been wanting to do? Maybe a piece of artwork or furniture for your house you want to make?
If you're bored at home with your sweetie – use the time to work together and create a DIY project that you both can enjoy for years to come!
Cheap Things For Couples To Do At Home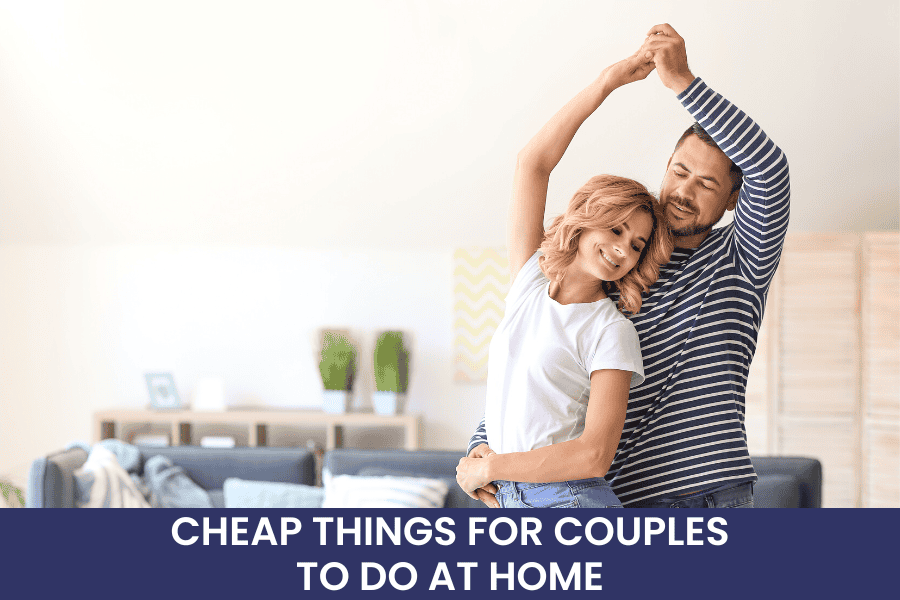 5 – HAVE A DANCE PARTY
If you're looking for things for couples to do at home when bored – turn on your favorite playlists and dance the night away! No need to wear uncomfortable high heels to this party – you can dance in your slippers and PJs at home!
6 – PLAY SEXY TWISTER
Enjoy a sexy and entertaining evening at home playing Twister with your crush! We've created some special sexy Twister cards here that you can download for free! With this game, you won't be bored as you Twist the night away! 😉
7 – LEARN A NEW LANGUAGE
Is there a language you'd like to learn? There are so many helpful videos on Google that show you the basics of a new language. By learning together, you both will always have someone you can practice with.
RELATED: The Ultimate Sexy Twister Date Night Game For Couples
8 – PLAY A CARD GAME
Pull out a deck of cards and start playing. With several card games available all you need is you, your partner, and a deck of playing cards.
9 – HAVE A PHOTO SHOOT
Dress up in the outfits you know your partner loves. Let him take pictures of you wearing all of his faves! Not only will sparks fly during the photo shoot – he'll love looking back at the pictures and remembering that special night you shared.
10 – COOK SOMETHING NEW
One of our favorite things for couples to do at home when bored is to get creative in the kitchen! Is there a recipe you and your sweetie have been wanting to try? Search for a new recipe to make and start cooking!
RELATED: Wine Tasting Date Night Ideas You Need To Try
Romantic Things To Do With Your Partner At Home
11 – SPA DATE NIGHT
Transform bored at home into a relaxing oasis at home. Turn down the lights and create a spa-like ambiance in the comfort of your own home with these spa date night tips.
12 – FASHION SHOW
Quickly turn bored into fun and festive with a fashion show at home. Use this as an opportunity to show him all his favorites!
RELATED: Insanely Romantic Spa Date Night At Home
13 – CANDY TASTE TEST
Pick up a packet of Skittles or Starbursts and do a candy taste test with your sweetie. Have your sweetie close their eyes as you give them one piece of candy. With eyes closed, have them guess the color of the candy you game them. Take turns switching back and forth as many times as you wish – as you indulge in your senses and have fun enjoying sweets with your sweetie!
14 – MAKE OUT SESSION
If you're bored at home with your crush – consider having a sizzling make out session with your sweetie! You'll quickly lose track of time and completely forget that you were even bored as you two are lip to lip…
15 – HAVE A SCAVENGER HUNT IN YOUR HOUSE
If you're feeling up to the challenge – create a scavenger hunt in your home for you and your sweetie to do together!
16 – PLAY ADULT TIC TAC TOE
Spice up your evening at home by playing adult tic tac toe! When it comes to things for couples to do at home when bored, adult tic tac toe is always a good idea. This game is simple, sweet, and can be as sexy as you choose ;)!
RELATED: Adult Tic Tac Toe | A Sexy Date Night Idea
Fun Things For Couples To Do At Home
17 – PICNIC IN THE LIVING ROOM
Lay out a blanket, grab a couple of pillows, and your favorite picnic foods, and enjoy a romantic picnic in the comfort of your living room!
18 – DO AN AT-HOME WORKOUT
Not only is a workout something for couples to do at home when bored – but it's also good for you and your partner! Plus, exercise will boost your energy and endorphins! Who knows what exciting activity you two may enjoy doing next! 😉
RELATED: Sexy Jenga Date Night Game For Couples
19 – DO A PUZZLE
If you and your sweetie like puzzles – a puzzle is a great at-home activity to do. You don't have to finish the whole puzzle at once unless you want to! You can set out a puzzle table and leave it there for you two to complete gradually.
20 – PLAY WOULD YOU RATHER
Nothing like a few rounds of would you rather to spice up a night at home!
We LOVE would you rather questions – these are some of our faves (we've included our season favorites on this list as well):
Things For Couples To Do At Home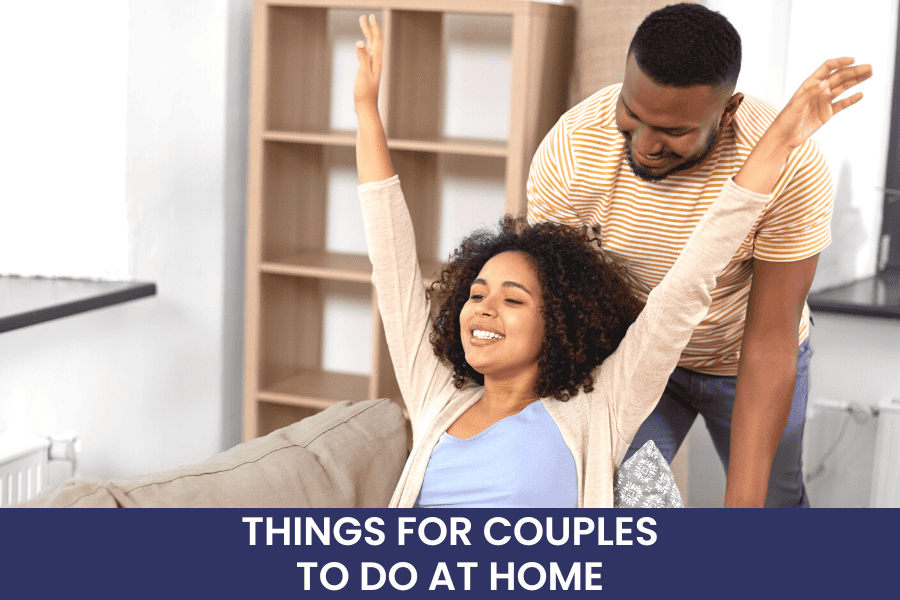 21 – PLAN YOUR NEXT DATE NIGHT
Having a consistent date night is so important to a healthy and happy relationship. However, coming up with date ideas can be challenging. That's why we've compiled this list of 101 date night ideas!
Tip: Consider making a date night jar! If you're unfamiliar with a date night jar, no worries. You can read all about it here. We use our date night jar whenever we're looking for a little spontaneity on date night!
RELATED: Date Night Scavenger Hunt For A Night Out You'll Never Forget
22 – TEACH YOUR DOG A NEW TRICK
If you're looking for things for couples to do at home when bored and have a pup at home – teach the puppy a new trick. There are lots of how to teach your dog tricks videos on YouTube. This activity will be fun for you, your sweetie, and your fur baby as well!
23 – SING KARAOKE
Whether or not you or your partner are gifted singers, karaoke is always a blast. Rock out to your favorite songs in the privacy of your own home! 😉
RELATED: 73 Flirty Truth Or Dare Questions For Couples
24 – CREATE AN AMAZON WISH LIST
You can create a private wishlist on Amazon just for you and your sweetie. Then if you're ever looking for a little gift to surprise each other with you'll know exactly what it is they've been wishing for!
Quality Time Ideas For Couples At Home
25 – WRITE EACH OTHER A LOVE LETTER
Think about what it is that you cherish most about your partner. You can write each other letters. Include favorite memories you've shared – what you're most looking forward to together -and what you value the most about one another.
26 – ROMANTIC BUBBLE BATH
Light the candles, turn on romantic music and enjoy a bubble bath with your sweetie. This date idea you can do any time of the day – your boredom will melt away!
27 – PAINT A PICTURE
Create your own paint and sip date night at home! In this post, we share everything you need to have a fun and romantic painting date night at home that you and your sweetie will always remember.
RELATED: 67 Of The Best Flirty This Or That Questions For Couples
28 – CREATE COUPLE'S GOALS
Setting goals with your significant other for your relationship helps ensure that you both feel loved regularly. Creating couple's goals can be a fun date night activity to do with your sweetie.
29 – MAKE A COUPLE'S BUCKET LIST
Compile a list of all those places you want to go and things you want to do together as a couple. Dream big as you make your bucket list together!
RELATED: The Ultimate Bucket List For Married Couples
I hope you found several ideas on this list that you can do with your sweetie the next time you find yourself bored at home! Do you have any ideas we should add to the list? Leave us a comment and let us know what extra ideas we should add to things for couples to do at home when bored!
This post was all about things for couples to do at home when bored.
Other Posts You May Like: