This post is all about car date ideas.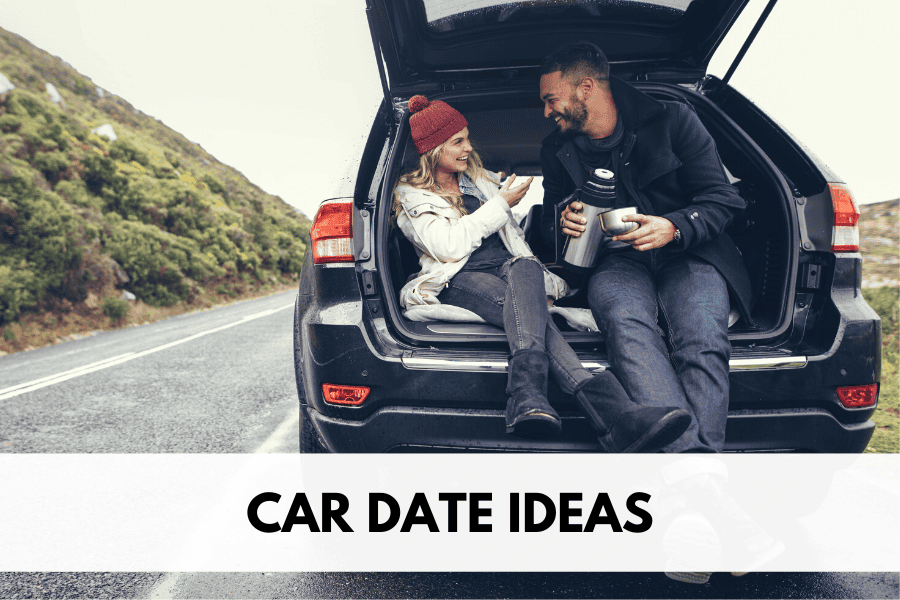 Looking for creative date night ideas? You're in the right place. We're sharing our favorite car date ideas!
Each of these car dates can be done entirely in the car.
No need to get out and walk around, unless you want to!
So grab your sweetie, jump in the car, and enjoy a romantic evening together with one of these romantic car date ideas!
Romantic Car Date Ideas
There is something extra romantic about having a date in the car.
It's cozy and private making it a special and unique date night location!
And regardless of the time of year, there are fun car date ideas that you can do.
At the bottom of this post, we've even included a few of our favorite romantic winter car date ideas!
#1 – Star Gazing Car Date
Imagine driving out to a special place in the dark to look up at the stars with your significant other.
You can hold each other close as you gaze up into the sky.
Keep an eye out for shooting stars to make a wish on together!
#2 – Cuddle Car Date
Regardless of your age you can always enjoy some car cuddle time with your sweetie. Grab a couple pillows and cozy blankets and snuggle up.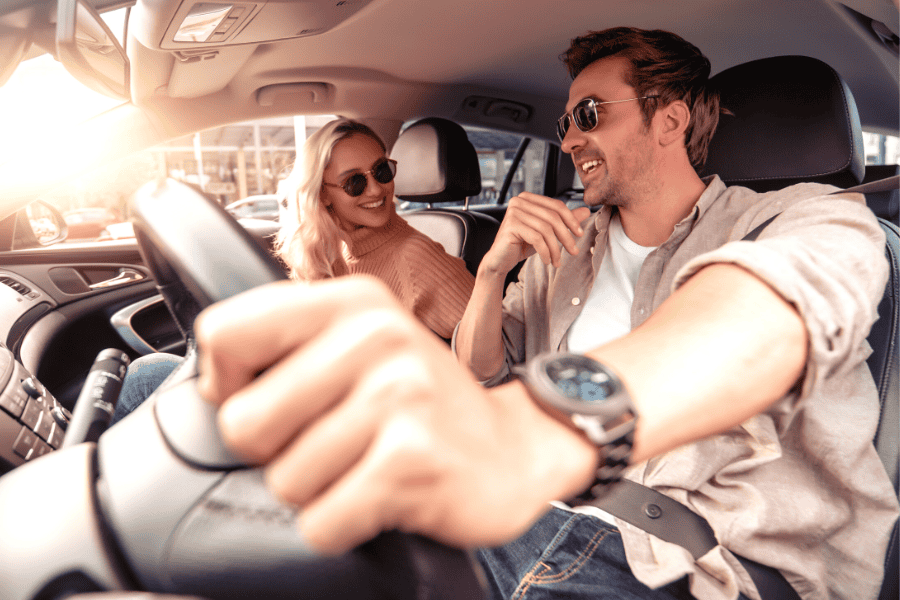 #3 – Story Car Date
Find a book on tape you both will enjoy and listen to it in the car. Another good option is to select a book you both want to read and take turns reading to each other.
#4 – Movie Car Date
Download a new movie you both have been wanting to see.
Watch the movie together in the car on your laptop, tablet, or phone. Be sure to pack some tasty movie snacks for this date night idea.
RELATED: 21 Date Night Movies You Both Will Actually Enjoy
#5 – Scenic Drive Car Date
Depending on where you live, summer and fall typically offer the best opportunities for a scenic drive.
Find a location or two that you would like to see, grab your sweetie, and enjoy a lovely scenic drive!
Download Your Free Date Night Conversation Cards!
#6 – Tourist Car Date
Pretend you're a tourist in your own city and make it a point to drive by all the major landmarks.
As you make your way to each location, Google some fun facts about each spot. You may learn something about your own city that you didn't know before.
#7 – Sunrise Car Date Idea
If you and your significant other are early birds, this sunrise date is for you.
Drive to a location where you will be able to enjoy watching the sunrise together.
Don't forget to bring your favorite breakfast snacks and coffee of course!
RELATED: 47 Cheap Fun Date Ideas You'll Love
#8 – Sunset Car Date
Watching the sunset always is a good romantic date idea.
For this sunset date, grab your sweetie, and your favorite treats, and drive to a location where you can watch the sun go down on the day.
#9 – Drive-In Car Date
This is one of our favorite car date ideas!
We've included a separate post for this date where you can discover how to have an amazing drive-in date night.
We share the best drive-in movie date ideas!
RELATED: The Best Drive In Movie Date Ideas
Car Date Food Ideas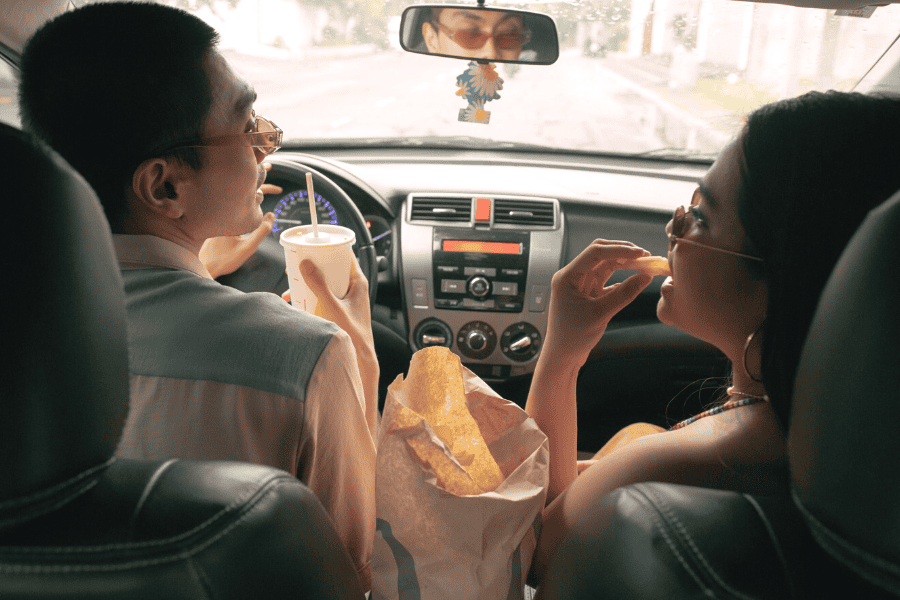 #10 – Picnic Car Date
Picnic in the car or pop the trunk and sit in the back. Either way – a picnic car date is a must!
Pack a delicious picnic basket filled with your and your sweetie's favorite picnic foods.
Be sure to grab lots of napkins and even some wipes, just in case things get a little messy.
#11 – Coffee Car Date
Drive through a coffee shop with your significant other and pick up your favorite drinks.
Park in the parking lot of the coffee shop or drive to a nearby park and spend some time chatting while enjoying your coffees together.
#12 – Fast Food Drive Thru Car Date
We love doing the fast food drive-thru date night! It's a perfect car date and really a lot of fun.
Especially if you live near an In-N-Out – where they literally give you the option to dine in your car!
There are a variety of tasty fast food locations to pick from.
Regardless of where you choose to eat, this is a fun car date idea worth trying!
RELATED: 15 Date Night Activities To Spice Up Your Next Date Night
Things To Do Car Date Ideas
Having some car date activities always helps to keep car date conversations fun and exciting. We've put together some of our favorites below.:
Car Date Ideas Winter
During the holiday time of year, take advantage of the festivities and go check out the lovely sites for your car date.
#13 – Christmas Lights Car Date
Pull up a map of the best Christmas lights in your city and plot out a Christmas light drive for you and your sweetie to view the holiday lights.
#14 – Sing Along To Your Favorite Christmas Tunes Car Date
Get in the holiday mood with some Christmas songs. Sing along to Jingle Bells or rock out to Mariah Carey's All I Want For Christmas.
#15 – Christmas Movie Car Date
Download a romantic Christmas movie like Love Actually, The Holiday, or Elf. Pack a blanket and some hot chocolate and get cozy in the car with your sweetheart while you watch a special Christmas movie together.
#16 – Holiday Memory Car Date
Walk down memory lane – take turns sharing your favorite holiday memories with your significant other.
These can be childhood memories or memories the two of you have made together, anything holiday-related counts!
Use this as an opportunity to connect with your sweetheart and reminisce about some of the favorite special moments you've experienced in your life.
We hope that you've found some romantic car date ideas on this list that you can do with your sweetie!
Which of these car date ideas was your favorite?
Do you have any car date ideas we should add to the list?
This post was all about car date ideas.
Other Posts You May Like: