This post is all about Christmas date ideas.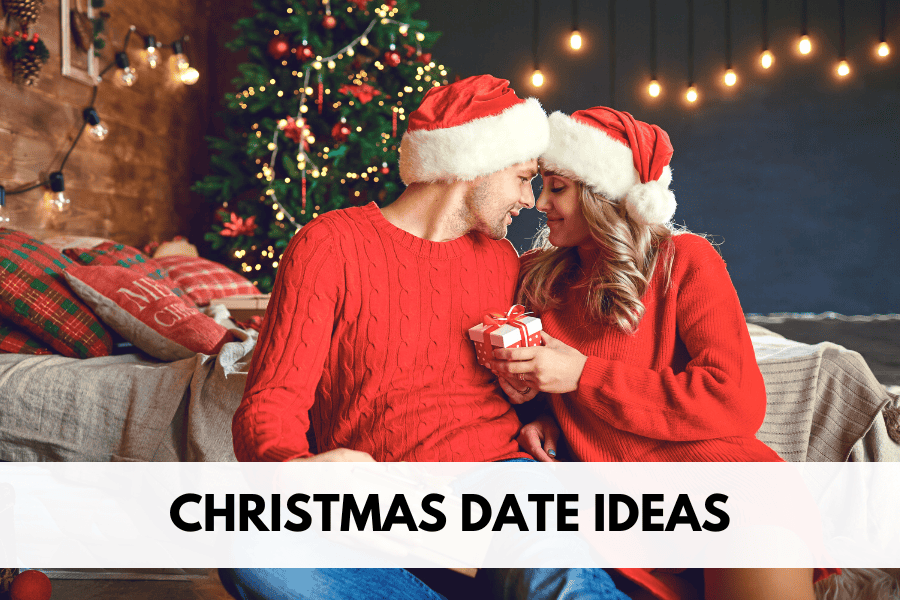 Tis' the season to be merry – and what better way to spice up your holiday romance this year than with these 12 days of Christmas date ideas!
Christmas Date Ideas
Let's be honest, with the hustle and bustle of Christmas – fitting in a date night can be a challenge.
That's why we've put together these 12 days of Christmas date ideas that can be done in the afternoons or evenings and are sure to add some extra fun and romance to your holiday season.
12 Days Of Christmas Date Ideas
#1 – GINGERBREAD HOUSES
Light some candles, turn up the Christmas music and enjoy the holiday cheer! Plan a date night with your sweetie to decorate gingerbread houses.
You can get adventurous and make your gingerbread houses from scratch or buy pre-made gingerbread house kits to decorate together.
There are so many cute kits to choose from. Even if you decide to do this holiday date night idea last minute – you can typically pick up a kit from your local grocery store.
#2 – CHRISTMAS MOVIE MARATHON
Catch up on all the holiday classics while snuggling up with your sweetie.
Purchase your favorite movie snacks, pop some popcorn, grab a cozy blanket, and cuddle up watching your holiday faves.
RELATED: 35 Romantic Winter Date Ideas You Need To Go On This Winter
Holiday Date Ideas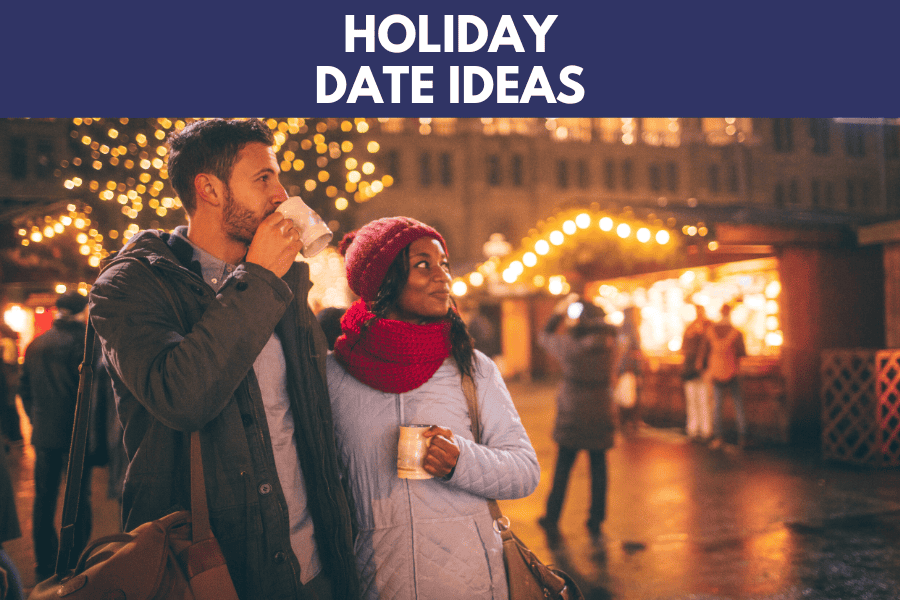 #3 – DECORATE ORNAMENTS
Go to a craft store and get a few items for a DIY ornament making date night.
This date night is a fun way to stay at home and get crafty with your significant other. Also, your ornaments will make a special keepsake for many years to come.
Be sure to write the date on your ornaments so you can look back at them several years from now and "remember when".
#4 – CHRISTMAS CAROLERS
Get in the holiday spirit by listening to Christmas carolers with your significant other.
Several towns have Christmas carolers who stroll the streets during the Christmas season.
Check with your local area for this special opportunity to experience some extra holiday cheer.
#5 – NUTCRACKER
Enjoy a festive night out on the town!
Go to the theatre with your sweetie and seeing the Nutcracker.
Start with dinner and drinks and finish off the evening with the holiday classic.
RELATED: 67 Festive Would Your Rather Questions | This Or That Christmas Edition
Christmas Date Night Ideas At Home
#6 – MISTLETOE KISSES & PAMPERING
Meet your sweetie for some special kisses under the mistletoe.
Consider doing a holiday-themed spa date night at home for a little extra R & R.
#7 – BAKE CHRISTMAS COOKIES
This Christmas cookie bake set is so cute and I can't wait to use it for one of our Christmas date nights this season!
One of my favorite things about this holiday date idea is that after you're done with the baking and the decorating, you get to do the eating. 😉
#8 – CHRISTMAS WALK DOWN MEMORY LANE
Spend an evening sharing your favorite Christmas memories with your sweetie.
What better way to learn more about your partner this holiday season than by taking a joyful walk down memory lane?!
RELATED: 18 Cute Relationship Bracelets For Couples Who Want To Wear Their Love
Romantic Christmas Date Ideas
#9 – HOLIDAY LIGHTS
Hop in the car, grab some hot chocolate, turn on your favorite Christmas music, and drive to see the holiday lights.
This is one of my favorite Christmas date ideas! My hubby and I do this date a few times throughout the season because we both find it fun and romantic.
#10 – DECORATE & DONATE A TREE
This Christmas date idea in one that will bring joy to many.
Purchase a small Christmas tree and decorate it with lights and ornaments.
After your tree is all dressed up, donate it to an assisted living center for residents to enjoy during the holiday season.
RELATED: 80+ Jolly Never Have I Ever Christmas Questions
Christmas Winter Date Ideas
#11 – HOLIDAY SHOPPING
Join the holiday hustle and bustle and do a little last-minute Christmas shopping with your sweetie.
It can be fun to grab a holiday drink at the mall and pick up a few extra little things to put under the tree.
#12 – S'MORES & HOT COCOA
Enjoy a relaxing Christmas date night at home while sipping on hot cocoa and roasting s'mores by the fire.
Grab a blanket and cuddle up as you listen to your favorite Christmas music.
This sweet date night idea is a good way to unwind, connect and spend a little quiet time with your special someone.
The holidays can be busy, so make sure to schedule a time to connect and share some romance with your sweetie.
These 12 days of Christmas date ideas have helped my hubby and me to connect (even with all the holiday chaos) and do a little something festive together leading up to Christmas day.
We hope that you and yours can enjoy going on some of these Christmas date ideas this holiday season!
This post was all about Christmas date ideas.
OTHER POSTS YOU MAY LIKE: