This post is all about the best first date ideas.
If you're looking for the best first date ideas, you're in the right place.
We've put together 18 of the best first date ideas to help set you and your date up for success.
18 Best First Date Ideas That Aren't Awkward
Going on a first date can bring along some uncertainty with it.
You're interested in this new person…
You're wondering…are they as interested in you?
What should you wear?
Where should you go?
You're hoping this date won't be awkward…
Maybe you're concerned that you won't have anything to talk about…
Well, we're here to ease your nerves and help you to have a super fun first date that won't be awkward.
The first date is a time to build a connection, learn about your date, and discover what you two have in common. If all goes well and sparks fly, then you'll have a second date.
So how do you choose dates ideas that will allow you to connect, learn about your date, and find out what you two have in common?
This list of best first date ideas will help you to do exactly that.
You'll notice that every single date on this list includes doing an activity together. Not a strenuous activity like sky diving but date ideas that avoid the stereotypical sit-down dinner at a nice restaurant first date.
Best First Date Ideas
Sitting down at a nice restaurant with someone you barely know, committing to a long meal, can be kind of uncomfortable.
For starters, on a first date, you usually don't know much about the person you are on the date with. These first dates when not planned properly can end up feeling like an interview. Where you're put on the spot and you feel like you have to talk consistently for the duration of the date to avoid any awkward pauses.
That's why doing a date activity together makes for a successful first date.
Being active on your date will help to ease your nerves, give you both something to bond over, and it helps to lighten the pressure of feeling like you need to constantly be talking about something.
18 First Date Ideas
#1 MEET AT THE PARK FOR A WALK
Movement helps with relaxation. So meeting at a park and enjoying a casual stroll with your date will give you both the opportunity to relax, take in the beautiful scenery, and get to know one another in a casual setting. Walking can be a good lead into another date. If the walk goes well, go get a smoothie or something after.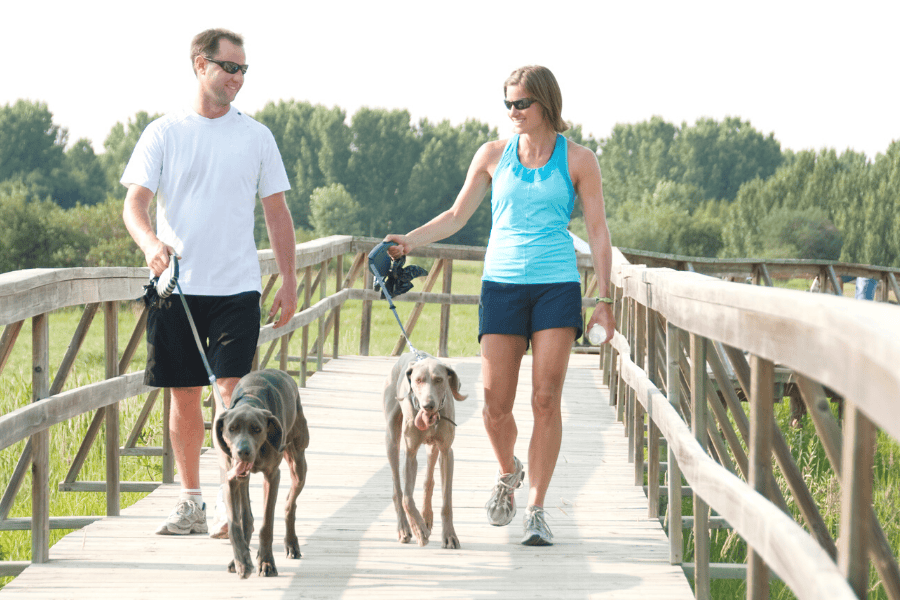 #2 WINE OR BEER TASTING
Going on a tasting as a first date is a great way to learn something new together. While enjoying your beverages you get to discover more about your date. Discussing the tastings will give you easy conversation starters.
RELATED: 13 Romantic Date Night Ideas For Him
Creative Date Ideas
#3 FARMER'S MARKET
Explore local vendors at the farmer's market with your date. You'll get a good idea of what they like and don't like. Farmer's markets will give you lots of topics to discuss and you can try a variety of different foods together as well.
#4 GRAB A CUP OF COFFEE
Grabbing a cup of coffee is a great first date. You can stay for as little or as long as you want. Sharing a cup of coffee or tea doesn't have to take a lot of time. It also allows for you to do something more after you've finished your drink…that is if things are going well.
#5 MINI-GOLF
This first date activity allows for plenty of time to talk while doing a fun activity together. Typically you and your date will have played mini-golf before and be familiar with the rules. Making it an easy low-key game to play together.
RELATED: Date Night Scavenger Hunt For A Night Out You'll Never Forget
#6 ART OR HISTORY MUSEUM
Going to a museum on a first date gives you and your date the ability to learn something new together. You can discuss thoughts on paintings, life, events, etc.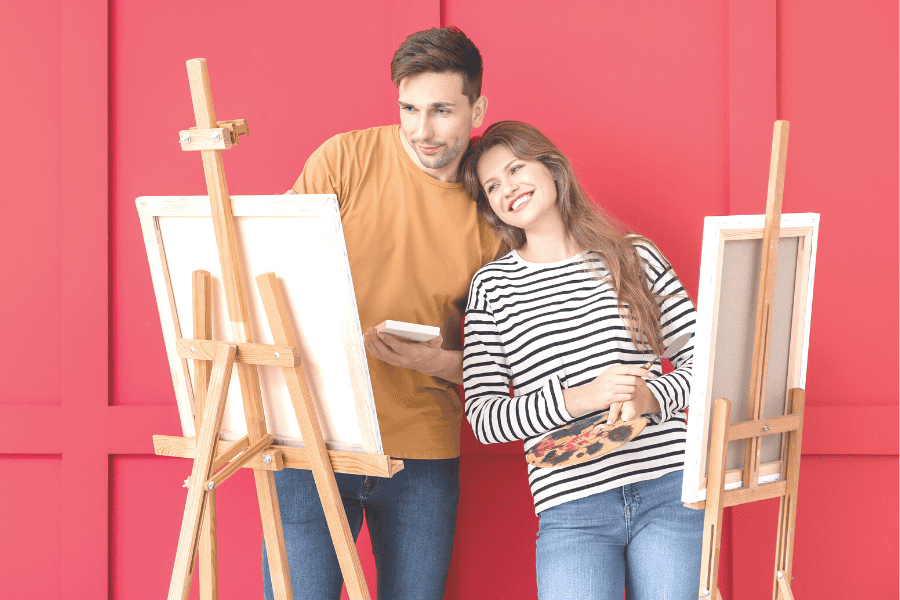 #7 CANVAS AND COCKTAILS – OR SOMETHING SIMILAR
These locations are great for first dates. You don't need to be an artist to go on these dates. Getting creative will help you both to relax, have fun, and get to know one another.
RELATED: 47 Cheap Fun Date Ideas You'll Love
#8 GO-KARTING
If you and your date both enjoy a little adrenaline, consider go-karting. You can bond, and create some good comradery as you race around the track. Most go-karting locations have a place for snacks where you can grab a bite and get to know your date after your race.
Download Your FREE Date Night Conversation Cards
#9 GET ICE CREAM OR DESSERT
Grabbing ice cream or dessert makes for a sweet first date. We love dessert dates for first dates. They are shorter than a full sit-down meal, but also allow for you to spend quality time with your date. If the date goes well, opt to do something more after dessert!
#10 TAKE A COOKING CLASS
Cooking classes are a good way for you and your partner to do an activity together. By the time you two sit down to eat, you'll be more relaxed from working together to create the meal. This will make the conversation flow more easily.
#11 FOOD TRUCK
Enjoy some tasty food as you get to know your date by meeting at a food truck. Food truck lots usually have a variety of different food options and activities going on so you won't feel as put on the spot. You can sit on a park bench and enjoy your meal or walk around taking in the sites together.
#12 ESCAPE ROOM
Problem-solve with your date by going to an escape room. You'll get to learn about each other's personalities and there will be lots to talk about as you work to escape. If you have fun in the escape room you can head to a restaurant to sit down and get to know your date further.
Date Ideas For Fun
#13 ARCADE
Playing games is a mood booster and it helps people to relax. That's why an arcade can make for a great first date spot. Show off your skills at skeeball or play video games together. Maybe your date will win you that giant stuffed animal. Regardless it will give you both time to get to know each other and connect over something fun.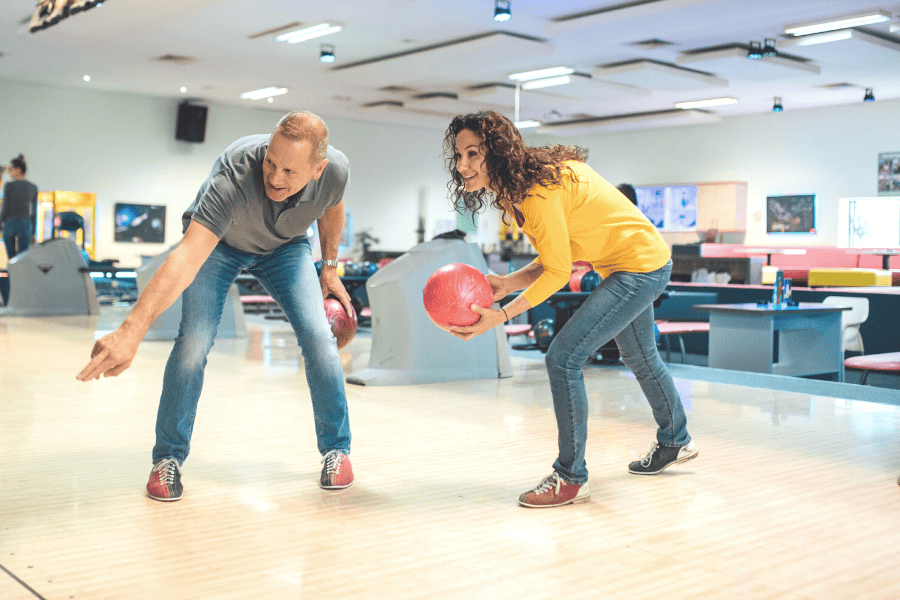 #14 BOWLING
Meeting at a bowling alley and playing a game is a fun way to be active while you get to know your date. Bowling dates allow you to learn about your date's personality. Are they competitive, encouraging, etc? You'll quickly discover whether this is someone you want to have on your team or not. 😉
#15 CONCERT AT THE PARK
You can pack a picnic basket and blanket to layout at a local park concert. We love this first date because there is so much else going on while you enjoy a meal together that it helps to keep things light and relaxed.
Romantic First Date Ideas
#16 BOTANICAL GARDENS
Wandering through beautiful scenery together can be quite romantic. There will be time for you to talk and get to know each other as you stroll through the lovely gardens.
#17 ICE SKATING
Getting active helps to ease the nerves on a first date. If you or your date don't know how to ice skate you might want to avoid this first date, but if you do, this is a must. You can chat with each other as you skate the rink and a little hand-holding never hurt either! 🙂
#18 SPORTING EVENT
If you're both into sports this is a fun first date. You can bond over the game and get to know each other while cheering on your favorite team.
Select a first date idea that is low-key, gives you the opportunity to learn about your date as you two build a connection
Being relaxed and at ease will help you both put your guard down and be your real self.
This post was all about the best first date ideas.
Other Posts You May Like:
Pin these to remember this post!