This guide is your go-to resource for crafting an unforgettable bachelorette party that will have everyone talking for years to come.
Whether you're a seasoned event planner or a first-timer, this guide has got your back.
Bachelorette Party
We cover everything you need to know from creative bachelorette party themes and exciting activities to thoughtful details and practical tips. We've got you covered every step of the way!
What Is A Bachelorette Party?
A bachelorette party, often called a "hen party" in some regions, is a fun gathering held in honor of a bride-to-be.
The purpose of this party is to celebrate the bride's upcoming marriage, allowing her to unwind, have fun, and create lasting memories with her inner circle before walking down the aisle.
From playful games and themed activities, a bachelorette party is a cherished tradition that adds an extra layer of excitement to the wedding festivities.
What Happens At A Bachelorette Party?
Typically, the celebration involves a mix of activities tailored to the bride's interests and the chosen theme of the bachelorette party.
From playful games and workshops to a night out on the town, the focus is on creating special moments between the bride and her besties.
Who Traditionally Throws a Bachelorette Party?
Traditionally, the maid of honor and bridesmaids take on the responsibility of planning and hosting the bachelorette party.
How To Plan A Bachelorette Party
Planning a bachelorette party is a lot of fun but can also be a whole lot of work. That's why we've put together everything you need to plan a bachelorette party. With our stellar checklist, tips, and the best ideas – you'll plan a celebration the bride will cherish for life.
1. Plan with the Bride in Mind
First things first: know your bride! Each bride is unique, with her own preferences and tastes. Before you start the planning, sit down with the bride and get to know what she envisions for her party.
Does she dream of a wild weekend in the city, or is she more into a cozy and intimate gathering at a cabin? Listen to her wishes. These are what will set the tone for the entire event.
2. Set the Date and Budget
Now that you have a sense of what the bride wants, it's time to get practical. Set a date that works for the bride and the majority of the bridal party. Planning in advance helps ensure everyone can attend.
Next, establish a bachelorette party budget. Bachelorette parties can range from low-key and affordable to lavish and luxurious. Consider the bride's preferences and what the group can comfortably afford.
3. Create a Guest List
Put together a list of guests based on the bride's preferences. Remember, a bachelorette party is usually an event with the bride's besties. Make sure to check with the bride that you have everyone on the list that she wants to be included in the event.
4. Choose a Bachelorette Party Theme
Bachelorette party themes add an exciting twist to the celebration, making it even more memorable and enjoyable. Themes can range from glamorous retro parties to laid-back beach getaways, and from spa days to wild nights out. The chosen theme sets the tone for the entire event, guiding everything from decorations and attire to activities and games.
Beach Bachelorette Ideas That Will Make A Splash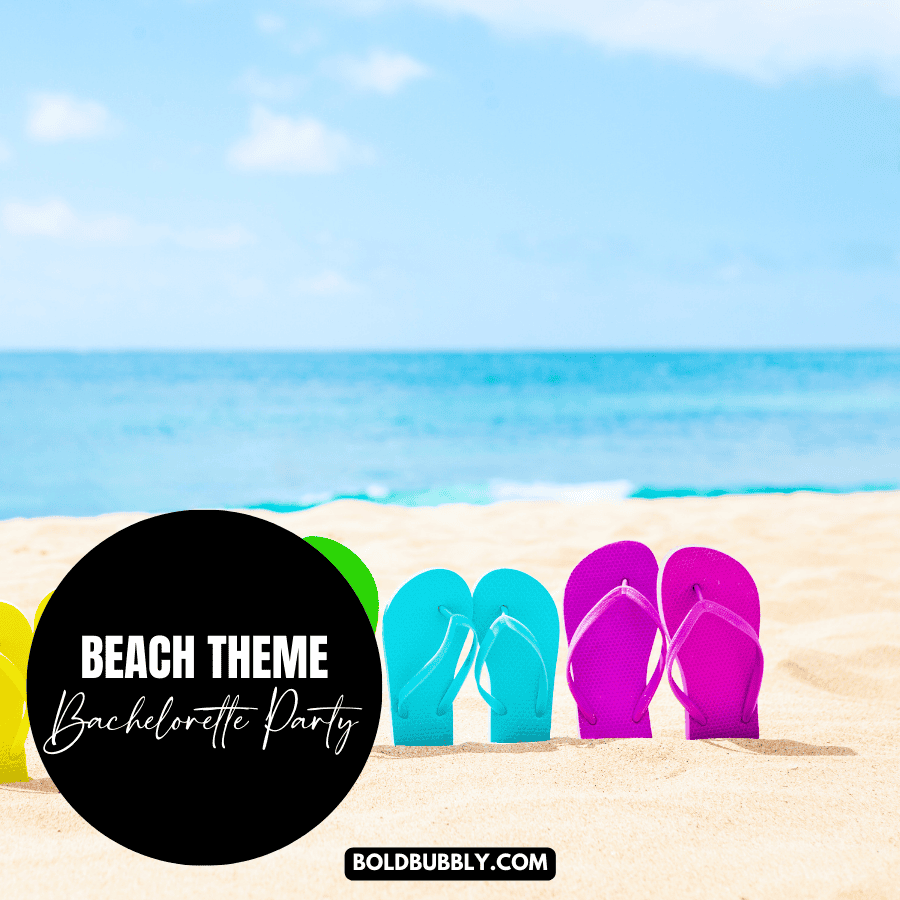 Whether you're dreaming of tropical cocktails and sunsets or lounging in the sand with your besties, a beach bachelorette party is a great way to celebrate the bride-to-be in style. With so many fun ideas and activities to choose from, you can create a one-of-a-kind experience that everyone will love.
Flamingo Bachelorette Ideas for a Fabulous Final Flamingle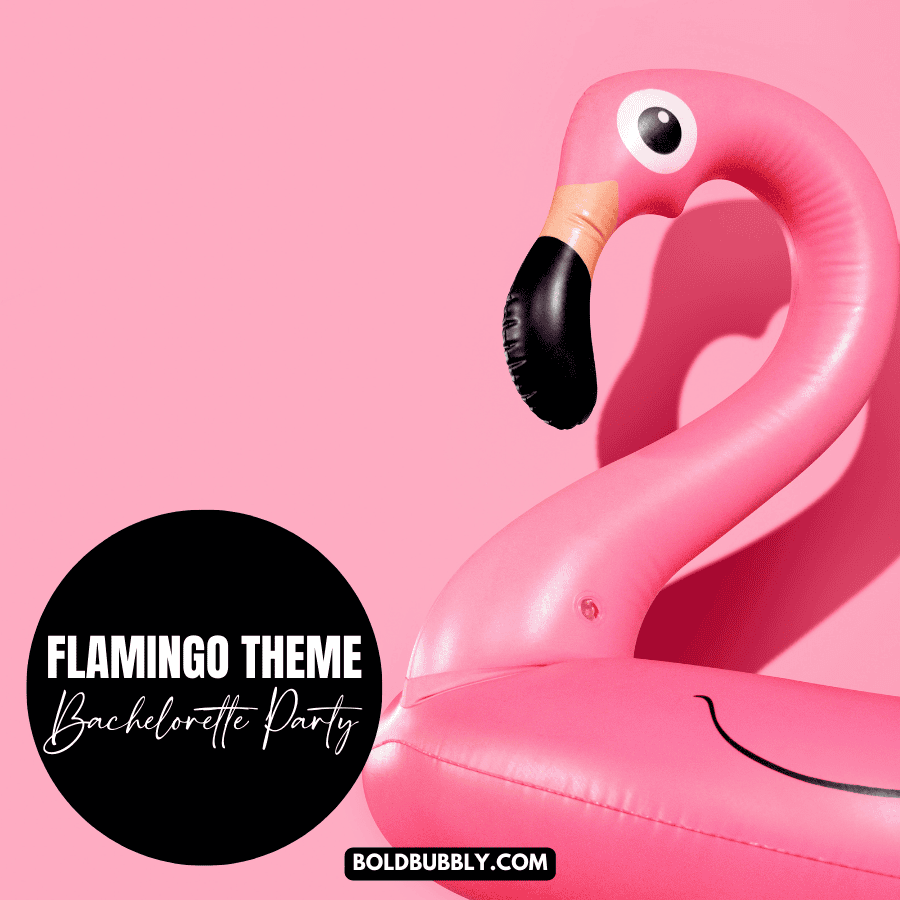 Get ready to party like a flock of fabulous flamingos with the bride-to-be and her closest friends as we show you how to throw a final flamingo bachelorette party that everyone will be talking about for years to come!
Mermaid Bachelorette Ideas for the Bride's Last Splash
A mermaid-themed celebration is the perfect way to create a fun and unique experience for the bride-to-be and her friends.
Groovy Disco Bachelorette Theme Ideas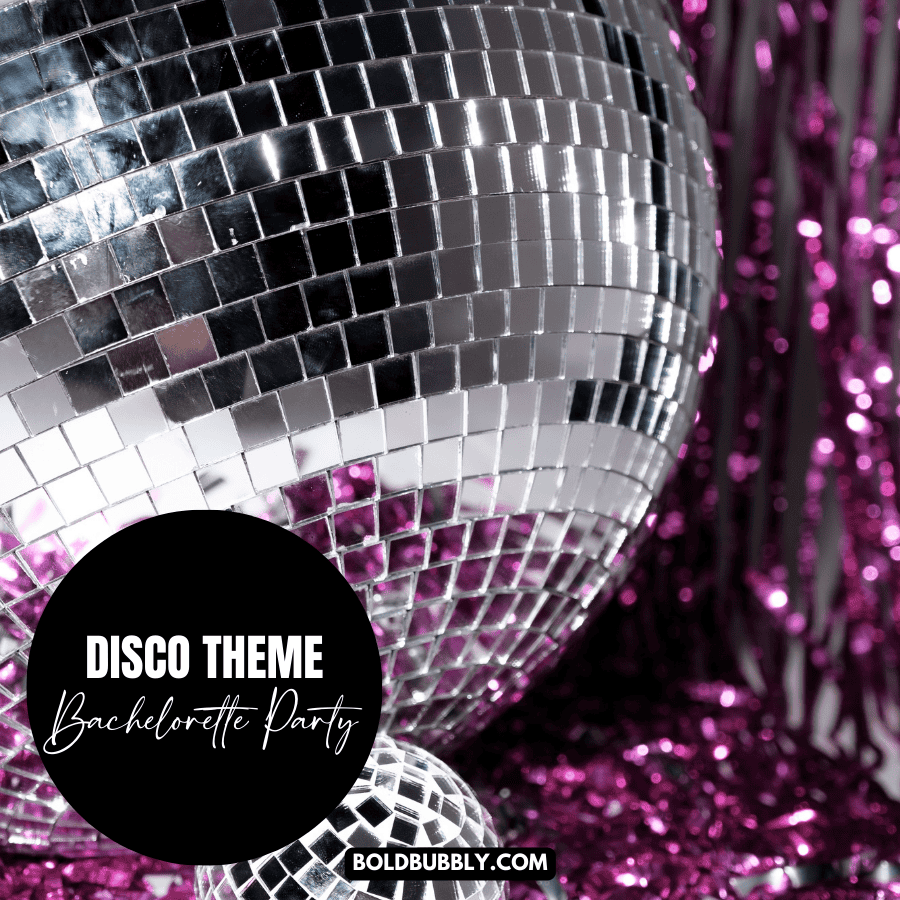 Throw a groovy disco bachelorette party with these ideas! From disco ball-inspired decorations to custom shirts, we've got you covered with the coolest favors, invitations, and everything in between.
Bewitching Harry Potter Bachelorette Ideas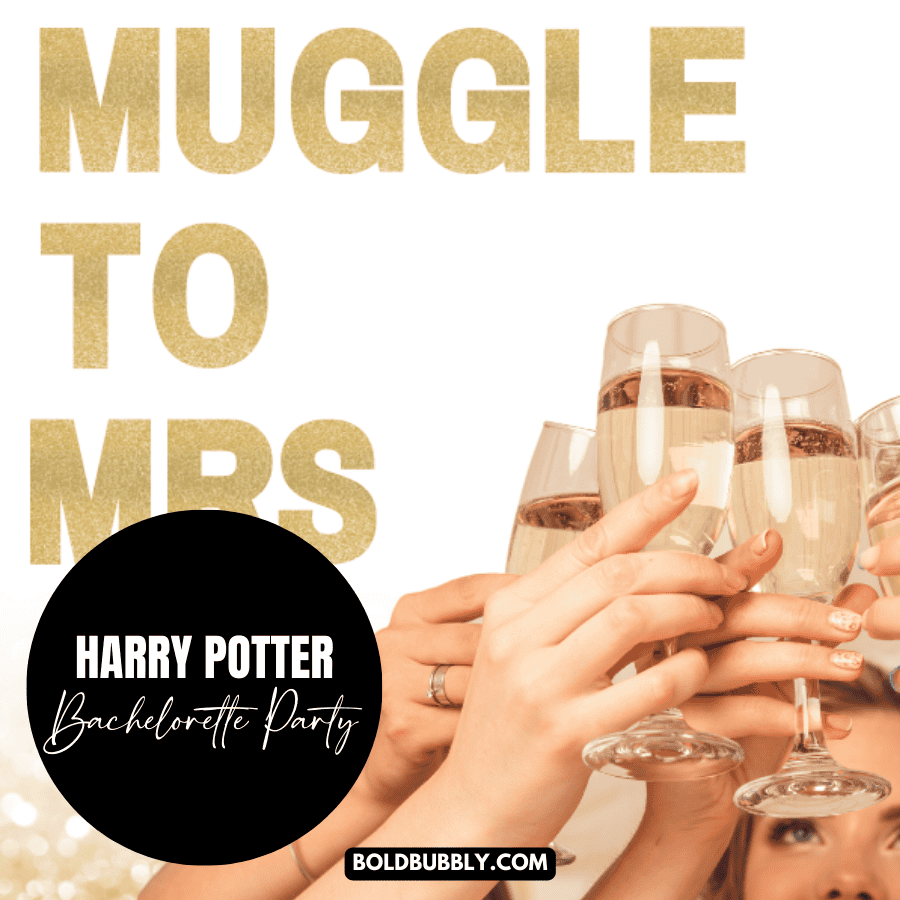 From Muggle to Mrs – we are sharing everything you need to plan a magical Harry Potter Party or Harry Potter hen party that the bride will remember for eternity!
Final Fiesta Bachelorette Ideas
If you're planning a bachelorette for a bride-to-be who loves bright colors, tacos, tortilla chips, and margaritas, she'll love a final fiesta bachelorette party!
5. Send Cute and Themed Invitations
The invitations set the tone for the party. Get creative and design invitations that match the chosen theme. You can send traditional paper invites or opt for a digital approach with personalized e-invitations. Make sure to include essential details like the date, location, RSVP instructions, and any dress code if applicable.
6. Plan Fun Bachelorette Party Activities
A successful party is all about having a blast with the bride and her besties. Organize a mix of activities that align with the bride's interests and the party's theme.
Simple Bachelorette Party Ideas
Bachelorette Scavenger Hunt For A Fabulous Night Out
This bachelorette scavenger hunt is perfect regardless of if you're planning to be partying it up in Las Vegas or heading out locally for a night on the town.
Kiss the Miss Goodbye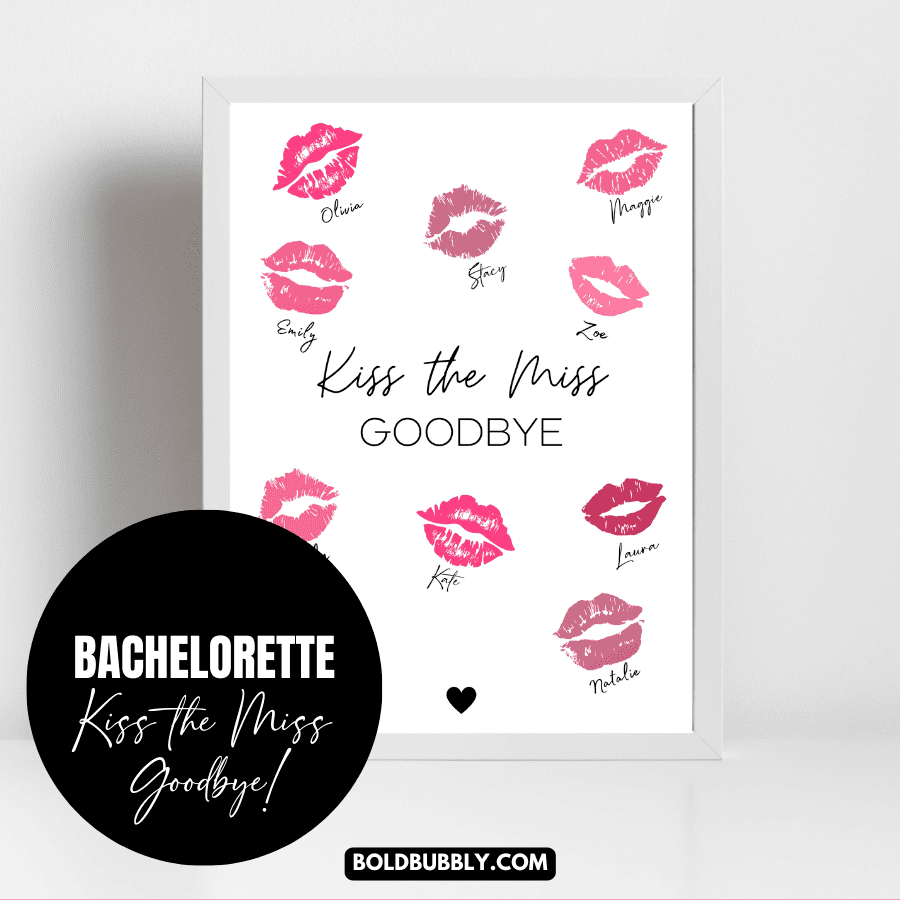 With colorful lipsticks, a blank canvas, and a lot of love, "Kiss the Miss Goodbye" is an interactive and creative way to celebrate the bride's last hurrah as a single woman.
Workshops
Consider hosting a workshop, such as a cocktail-making class, painting session, or dance lesson.
Night Out On The Town
If the bride loves to hit the town, arrange a night out at her favorite bars, clubs, or a special venue.
Relaxing Day
For a more laid-back celebration, book a spa day or a relaxing retreat.
Outdoor Adventures
If the bride is adventurous, plan outdoor activities like hiking or kayaking.
DIY Craft Party
Get crafty with a do-it-yourself crafting party. Decorate wedding-related items or make personalized gifts for the bride to cherish.
Game Night In
Host a game night at someone's home. Bring out the board games, card games, and party games for an evening filled with laughter and friendly competition.
Backyard Movie Night
Transform a backyard into a cozy outdoor cinema. Set up a large screen and projector, lay out blankets and pillows, and enjoy a movie marathon with the bride's favorite films and of course -plenty of popcorn.
Beach Day
Head to the nearest beach or lake for a relaxing and sun-filled day. Pack a picnic, play beach games, and soak up the sun while creating lasting memories with the bride.
Cooking Class
Enroll in a cooking class and learn to prepare delicious dishes together. The group can bond over culinary creations and enjoy a tasty meal afterward.
Wine Tasting Tour
Plan a wine tasting excursion to local vineyards or wineries. Savor different wines, indulge in gourmet treats, and toast to the bride's happiness.
For additional games and activities, check out our collection of bridal shower games. Several of these games are perfect activities for a bachelorette party as well!
7. Coordinate Transportation
If the bachelorette party involves moving around town, think about transportation. Renting a limo or party bus can be a fun and safe way to travel, ensuring everyone stays together and can enjoy the journey as much as the destination.
8. Capture the Memories
Memories are priceless, so make sure to capture the moments. Designate a photographer or create a hashtag for guests to share their pictures on social media. You can also set up a photo booth with fun props to let everyone show off their personalities.
9. Bachelorette Party Favors and Goodie Bags
Show appreciation to the guests by preparing party favors or goodie bags. Fill them with small, personalized items related to the party theme. Items such as custom t-shirts, beauty products, or little trinkets will remind everyone of the celebration.
Insanely Cute Bachelorette Party Cups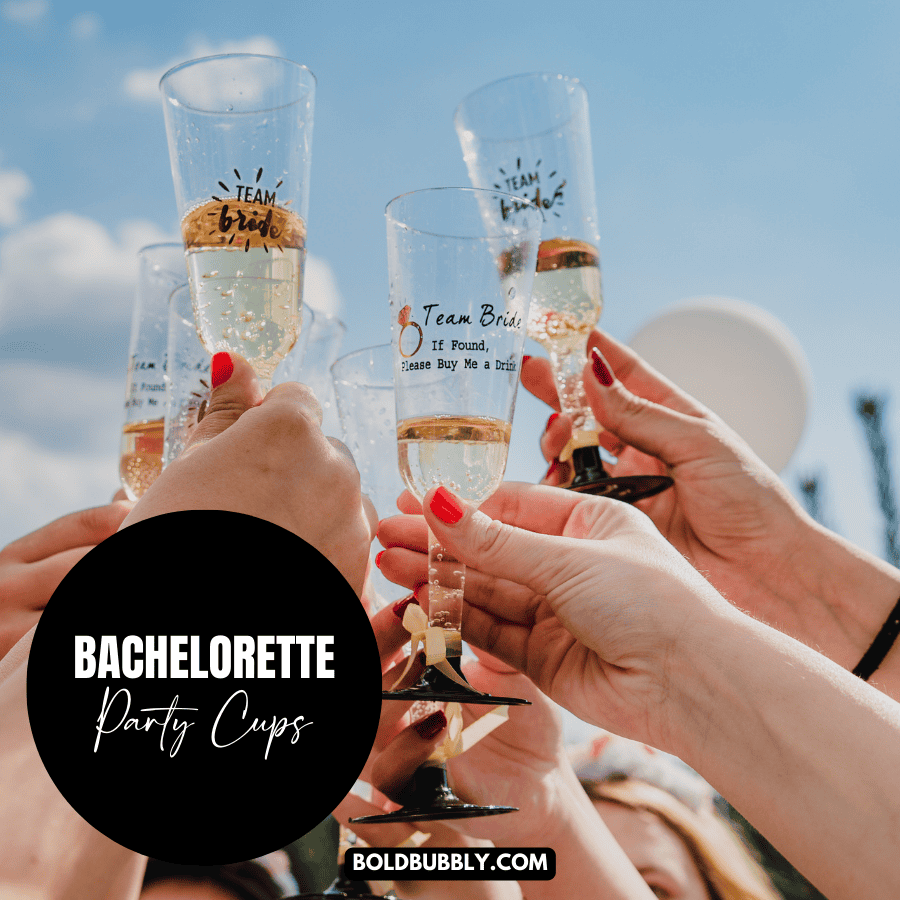 As you decide whether you'll be hitting the dance floor with some disco divas, sipping margaritas at a final fiesta, laying at the beach for a splash at a "Last Splash" extravaganza, or rounding up the squad for one last rodeo, we've got the perfect bachelorette cups to match every theme.
Bachelorette Party Favors For An Unforgettable Weekend
These bachelorette party favors serve as little reminders of the special celebration. From personalized accessories and mini pampering kits to quirky novelties and sweet treats, they're a wonderful way to express appreciation to guests for sharing in the bride's pre-wedding excitement.
10. Make Safety a Priority
While you want to create an unforgettable experience, safety should always be a priority. If alcohol is involved, ensure there are designated drivers or rideshare options available for everyone. Always plan to stay together as a group and watch out for one another.
Bachelorette Party Planning
There you have it, your ultimate guide to throwing an incredible bachelorette party. We hope this guide has been a fantastic resource for you. From understanding the bride's vision to planning exciting activities and capturing memories, you're now set to create an unforgettable celebration.
Remember, a successful bachelorette party is all about celebrating the bride and making her feel special during this momentous time in her life. So, get creative, have fun, and throw her a fabulous bachelorette bash!