This post is all about FaceTime date ideas.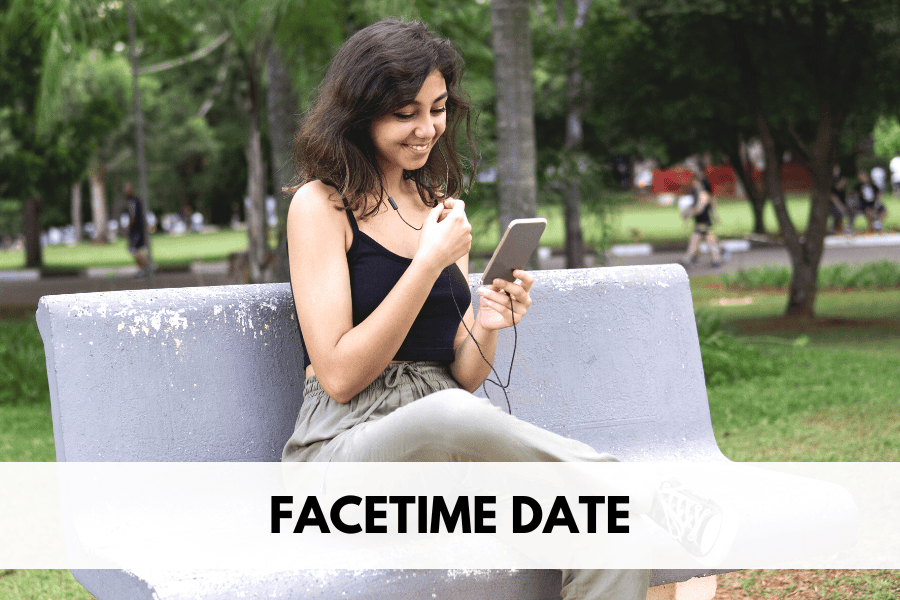 Spice things up and keep your relationship new and exciting until you can be together again with these FaceTime date ideas.
Sometimes a FaceTime date is the only way that we have to connect and spend quality time with our special someone.
Whether you and your sweetie are long-distance, travel a lot for work, or have schedules that make it difficult to spend time together – these FaceTime date ideas are for you!
FaceTime Date
IN THIS POST:
How Long Should A FaceTime Date Last?
Your FaceTime date can last for as long as you would like for it to. Depending on your specific relationship and what you have planned for your FaceTime date, the time spent on your virtual date will vary.
You want your video chat to be long enough with your date for you to build a connection and spend quality time together, just as you would on an in-person date.
How Do You Ask For A Date on FaceTime?
You can ask for a FaceTime date just like any other date.
Some options for virtual date invitations are:
I know it's been difficult for us to meet up. How would you like to do a FaceTime or Skype call?
I miss seeing you – would you be up for a video call with me?
I was thinking that since we haven't been able to coordinate our schedules, perhaps we could set a time to have a FaceTime date?
RELATED: 18 Cute Relationship Bracelets For Couples Who Want To Wear Their Love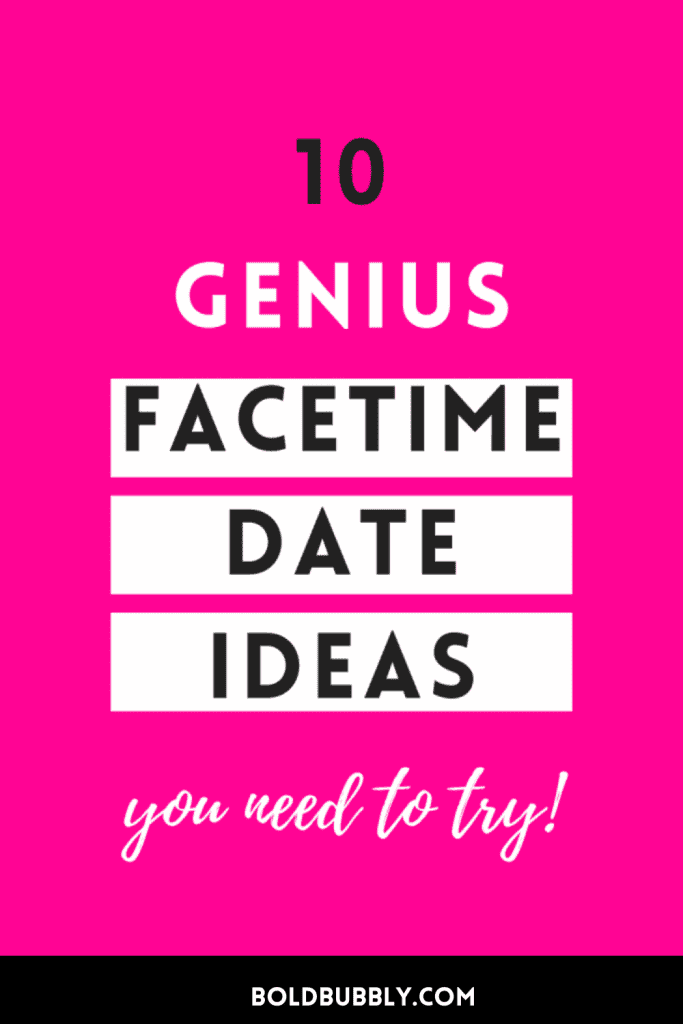 FaceTime Date Ideas
#1 – COFFEE DATE
Head to a coffee shop simultaneously and order your favorite cup of joe! FaceTime with your sweetie as you both catch up and connect over a delicious cup of coffee.
RELATED: 79 Of The Best Love You Texts For Him
#2 – DINNER
Who said you can't go out to eat for a FaceTime date?! Choose a restaurant chain or a restaurant with similar cuisine that you and your date can go to, and set a time for dinner. You can both enjoy looking at the same (or similar menu) while on this virtual date.
Tip: Do bring a pair of headphones for this FaceTime date, it can be difficult to hear (depending on where you are dining) and you don't want to disturb your fellow patrons.
RELATED: 97 Romantic Questions To Ask Your Boyfriend To Make Him Laugh
#3 – CREATED A SHARED PHOTO ALBUM
Although you and your sweetie aren't able to be together, it doesn't mean that you can't still share special moments throughout the day.
For your virtual date, create a shared photo album together. Think of this as your own private Instagram, just for you two!
Commit to sharing pictures of special moments you experience and images that remind you of your significant other.
Another fun thing about a shared photo album is that these pictures will give you lots to talk about. When you are on your next virtual date, you can flip through the images and fill each other in on all the details.
RELATED: 67 Of The Best This Or That Questions For Couples
FaceTime Date Night Ideas
#4 – COCKTAILS
Having cocktails virtually with your partner is not the same as in person, but it still can be a lot of fun! Set a date and time, get what you need to make your favorite cocktail, and enjoy an evening of sipping and chatting with your sweetie!
#5 – WATCH A MOVIE
There are several date night movies that you and your sweetie can live stream at the same time. You could even send a little care package to your partner (consisting of their favorite movie snacks) before this date.
RELATED: 21 Date Night Movie Ideas You Both Will Enjoy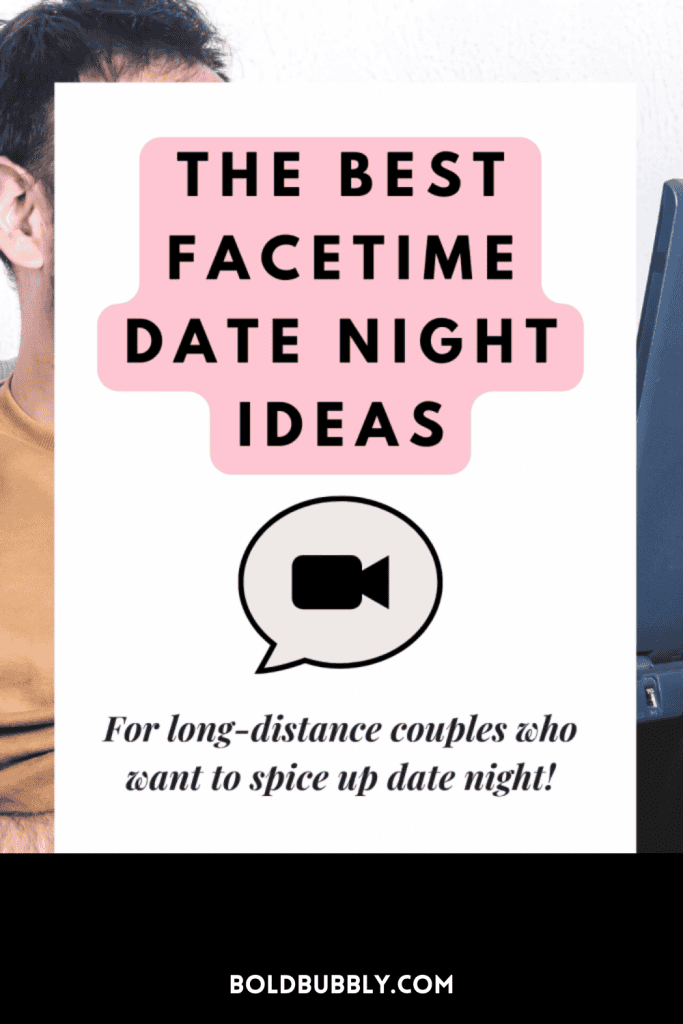 #6 – SIPPING & PAINTING
Having a virtual sip and paint date night is really quite easy.
In this post, we share everything you need to have an at-home painting date night. To do this date night virtually, you and your sweetie can paint at the same time while on FaceTime.
If you are looking for fun ideas to paint, consider painting a symbol, word, or scene that reminds you of your significant other. It can be fun to keep your paintings a surprise and then reveal them to each other after you are done!
RELATED: How To Have An Incredible Painting Date Night At Home
#7 – BUCKET LIST DATE
Just because you can't be with your sweetie now doesn't mean that you won't eventually be together. Have a FaceTime date night where you and your partner come up with a variety of bucket list ideas that you want to do together!
RELATED: The Ultimate Bucket List For Married Couples
FaceTime Date Night Questions
#8 – PLAY A GAME TOGETHER
There are several online games that you and your sweetie can play virtually together. Our favorites include date night conversation questions!
Whether you are newly dating or have been together for years – asking questions will help to deepen your connection, and you get to learn new little tidbits about your sweetie!
A Few Of Our Favorites:
RELATED: 56 Free Date Night Conversation Cards For Couples Who Want To Spice Up Date Night
#9 – GET FANCY
Plan a night that you and your sweetie will get dressed up for a fancy virtual date at home!
You can easily make this FaceTime date idea a super romantic evening…
Light some candles, pour champagne, and order food from your favorite takeout restaurants! Enjoy your delicious meal together on video with your partner all dolled up!
RELATED: 107 Love Texts He'll Want To Read Over And Over Again
#10 – TRY A NEW RECIPE & COOK TOGETHER
This virtual cook-together date is a fun way to connect, get creative and try something new in the kitchen.
Before this date, find a new recipe that you and your partner both want to try and get everything you need to make the meal.
While on your FaceTime date, cook together. After the meal is ready, sit down and enjoy your creation on video!
RELATED: 100 Fun Questions To Ask Your Spouse About Yourself
FaceTime Date Ideas Long Distance
Being long-distance and away from your partner is hard. But technology can help to make those miles between you not seem quite as far…
Plan a consistent date night with your long-distance sweetie just as you would if you both were in the same area.
No, it's not the same – but it's better than nothing! And to have a successful date night, you don't have to be in person.
Date night is all about connecting with your significant other, trying new things, creating memories, and keeping that spark sparkling.
This post was all about FaceTime date ideas.
OTHER POSTS YOU MAY LIKE: