This post is all about date night tips.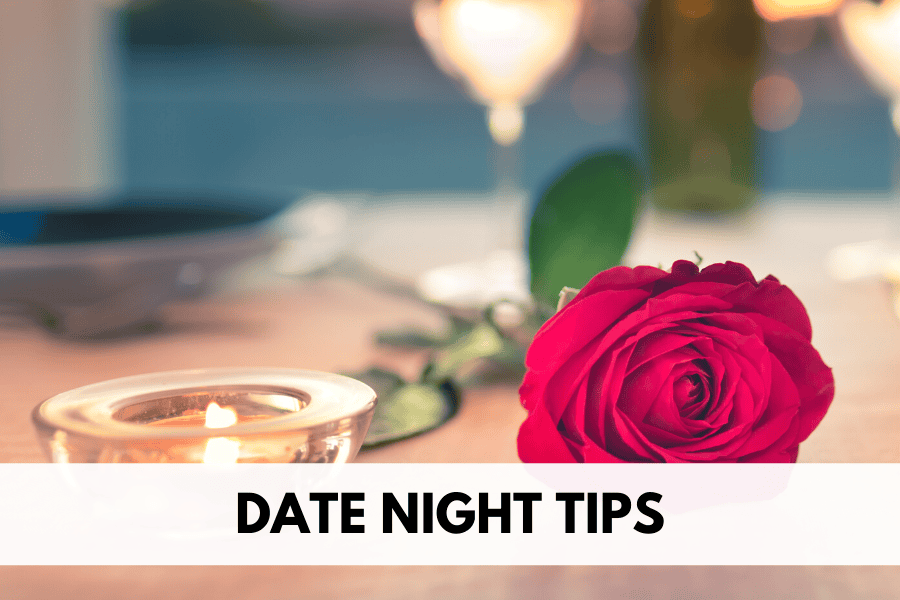 Want to create a memorable date night with your sweetie?
You're in the right place! In this post, we are sharing 3 simple things that you can do that will make for an incredible date night. By the way – doing these 3 date night tips won't cost a thing!
Whether you are dating, newlyweds, or have been married for years, these 3 date night tips are a sure way to spice up your date nights!
3 Date Night Tips To Spice Up Date Night
I think we'd agree that having consistent date nights can make all the difference when it comes to keeping the spark sparkling in your relationship! Especially when you are enjoying new date night activities and fun conversations with each other.
Date night is that designated time that you and your significant other count on to be able to have fun and connect with each other.
These 3 date night tips won't just make things more exciting on date night but also they will help to keep the spark sparkling all week in between.
My hubby and I have consistently started to do these 3 things so I know first hand what a huge difference that they can make.
Tips For Date Night
These 3 tips are simple but truly make a world of difference!
Date Night Tip#1
Hold hands and snuggle.
Think about when you and your sweetie were first dating, you probably loved every touch, and you couldn't keep your hands off each other.
On date night, whether you're walking, sitting at a table, or watching movie, etc., be physically close and affectionate with your sweetie. I'm not talking about any crazy PDA, just subtle sweet closeness.
RELATED: 13 Romantic Date Night Ideas For Him
Date Night Tip #2
Compliment each other.
Compliments truly go a long way. Make these compliments sincere and from the heart.
If you're not being authentic, chances are your significant other will see right through it.
Take a moment to notice something about your sweetie to compliment. We can move through life quickly and with so many distractions that we can end up missing out on the little details and special moments that are right in front of us.
On date night, slow down and be fully present with your sweetie and notice the little things.
RELATED: 97 Romantic Questions To Ask Your Partner To Get To Know Them Better
Date Night Tip #3
Send a note or text before and after your date.
There are 2 steps to this date night tip.
Remember the excitement and anticipation you had about going out with your sweetie when you were first dating?
You probably were texting them about how you couldn't wait to see them at (your date night location).
RELATED: DIY: Free Printable Love Coupons For Him
Step 1 – Before your date night, send a note or a text to your partner saying how much you are looking forward to your date night. Be sure to include details on what you're the most excited for.
Step 2 – After your date night, follow up with a text about how much fun you had on date night (be specific with details from your date) and what you're most looking forward to about the next one.
These 3 date night tips are a simple recipe to spice up date night and keep the spark sparkling between you and your significant other all week in between.
RELATED: 80 Flirty Texts To Make Him Laugh And Want You More
Try them out!
If you're looking for some extra fun, these Flirty Never Have I Ever Questions are an excellent addition to date night or a time you and your sweetie are looking to spice up your evening – be sure to check them out HERE!
This post was all about date night tips.
Other Posts You May Like:
Pin these to remember this post!