This post is all about date night movie ideas.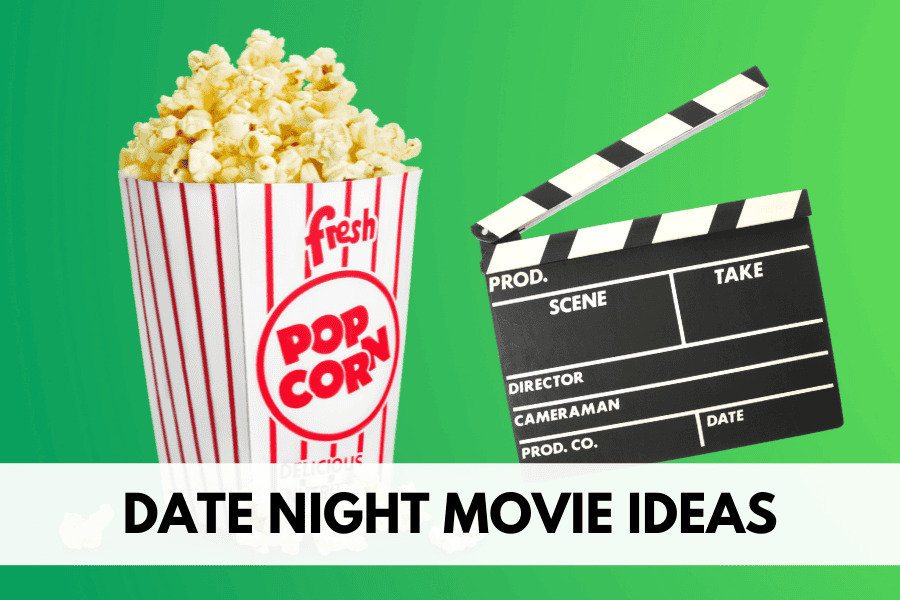 Finding a movie to watch with your significant other for date night can be a bit of a challenge, to say the least. Especially if you two have different tastes in what it is that you enjoy viewing.
Watching movies is one of my husband's and my favorite things to do on date night, but discovering movies that we both enjoy has truly been a process. However, over the years we've found several movies that we both actually love watching.
In this post we're sharing our top date night movie ideas. Hopefully, you and your sweetie will find one, several, or all on this list that you will love watching together on your next movie date night.
21 Awesome Date Night Movie Ideas You Will Both Enjoy
Snuggling up with your sweetie and watching a fun movie together makes for an amazing date night activity. You seriously can't go wrong with delicious movie snacks and cozy blankets in the comfort of your own home.
Also, because you're at home, you can make your movie date nights as elaborate as you choose.
You can go all out, using authentic movie popcorn and drinks, or keep it simple and low-key. There are so many options!
One of my favorite perks to movie date night at home is that you can attend this date in your loungewear, which in my book is such a bonus. Any excuse to be comfy, I'll take it!
Best Movies For Couples
Be sure to save this post. That way any time you and your sweetie decide to have a movie date night, you have a great set of movie options to choose from. I always keep a list of movies to watch, it helps to save time on date night searching for that perfect date night movie.
Date Night surprised my husband and I, in a great way! Tina Fey and Steve Carrell are hilarious as married couple looking to create more of a spark in their relationship. Their attempts in doing so are met with a series of unplanned dangerous and thrilling events. Each time we watch this movie we laugh even more!
The Proposal is a great date night rom com! It's filled with laughs, emotions, and a fun story line. This is one of those movies you can watch and know that you'll be feeling good during and after it's over.
If you're looking for romance, comedy, action, and adventure, you will LOVE Mr. & Mrs. Smith. We find ourselves laughing throughout this movie every time we watch it.
This fairy tale is complete with romance, humor, and adventure. The Princess Bride is a classic must see love story.
RELATED: 20 Questions Game For Couples
Ben Stiller is an insurance agent who plans and calculates safety in all areas of his life. However he meets up with his opposite, childhood friend Jennifer Anniston, a free spirit that does no planning. This opposites attract rom com Along Came Polly is hilarious and makes a great date night movie.
Will Smith plays a matchmaker who helps"average guys" find their perfect girl. This movie is filled with lovable characters, twists, and turns. If you're looking for an uplifting romantic comedy, Hitch is a great choice!
Kate Hudson is a journalist who is writing a column on How To Lose A Guy In 10 Days. Matthew McConaughey is in advertising and to win an account must make a woman fall in love with him in 10 days. This movie is a favorite light hearted comedy. It's filled with love, laughter, lies, and a lot of romance!
Funny Date Night Movies
Talk about opposites attract with a one night stand turned into an unplanned pregnancy. Knocked Up is funny, full of lessons, and makes for an entertaining date night movie.
If you're looking for a sweet, feel good movie, you'll enjoy French Kiss.
The amazing chemistry between Meg Ryan and Kevin Kline in this movie makes it even more fun to watch.
RELATED: 55 Date Night Questions For Married Couples
Reese Witherspoon plays a sassy southern belle who has moved to New York and is a designer. However, she has a couple secrets she's hiding from her past. Sweet Home Alabama is great to watch if you are wanting a movie to make you laugh and feel good.
This charming movie is loaded with an amazing cast! Valentine's Day has lots of sweet love stories, twists and turns, that will keep you entertained time and time again.
This incredible love story will keep you glued to the screen until the very end. It's based on the Nicholas Spark's novel and does not disappoint. Grab a few tissues and snuggle up with your sweetie and watch The Notebook on date night.
An absolute must watch date night movie. Dirty Dancing has it all, the cast, the music, the love stories, and of course the dancing!
My Big Fat Greek Wedding is hilarious and cute! It's one that you can watch over and over again.
RELATED: 47 Cheap Fun Date Ideas You'll Love
Date Night Movies
Katherine Heigl and Josh Duhamel do a great job as total opposites that learn to work together in this romantic comedy Life As We Know It. This movie has a great story line, will make you laugh out loud, but also has some scenes that require a tissue. It makes for a good date night movie.
Jennifer Anniston and Adam Sandler are hilarious in this rom com
Just Go With It. Sandler (a plastic surgeon) lies about being unhappily married til he meets the girl of his dreams, only to end up telling even more lies to keep her around. If you are looking to laugh at goofy jokes and watch a love story grow, this is a great movie!
Letters To Juliet takes place in beautiful Verona and is lovely to watch. There are a few love stories that unfold throughout this movie. My husband calls it predictable, but he still enjoyed watching it.
My husband and I both could not stop laughing through this romantic comedy. Vince Vaughn and Owen Wilson are hilarious as usual. The plot twists and lines in Wedding Crashers are worth watching over and over again!
If you're looking to laugh, Van Wilder is always good for that!
Ryan Reynolds does a great job in this romantic comedy. There are a few different love stories going on throughout the movie that keep it fun and interesting. Definitely Maybe is a good one to add to your date night movie list.
This movie made its debut in the late 90s and it's done a good job staying funny throughout the years. 10 Things I Hate About You is a must watch classic rom com for date night!
There are so many great date night movies to choose from. I hope that this list gives you and your sweetie some movie options to add to your list for date night!
This post was all about date night movie ideas. 
Other Posts You May Like:
Pin these to remember this post!