Keep the spark in a relationship with these 10 helpful tips!
Whether you are newly dating or you've been together for years and years, implementing these tips can help!
In this post, you will find 10 tips for how to keep the spark in a relationship. 
How To Keep The Spark In A Relationship
When you first start dating or meet someone new you feel that initial surge of excitement.
It's a spark!
Time stands still and you become totally entranced with this person. Everything is new and exciting!
However, as time goes on if you're not careful that spark can begin to dwindle. And in time the flame may go out altogether.
The best way to keep the spark in a relationship is to nurture it while it's still sparkling.
But if your spark is out or dwindling, all is not lost.
We have 10 tips that you can implement to reignite the spark in your relationship!
Is A Spark Important In A Relationship?
The reality is that you probably wouldn't be in a relationship with someone unless you initially felt a spark with them.
As far as having a happy, thriving, long-term relationship, a spark in a relationship is incredibly important. Experiencing the spark long-term doesn't always come easily though.
To keep the spark in a relationship requires work. But once you've mastered how to keep that spark sparkling you and your sweetie will be set!
How Long Does The Spark Last In A Relationship?
When you first are crushing on someone fireworks are flying all over the place. Your crush is all that you can think about.
You probably feel a surge of excitement and everything is new and interesting. You find yourself completely enamored with your new flame.
As time goes on and your relationship progresses, if you aren't careful you can begin to notice that the spark you once felt for your sweetie may begin to fizzle.
That's why these 10 tips are so important.
Regardless of how long you and your significant other have been together, there's no reason you shouldn't be able to make your relationship sparkly hot and exciting!
Is It Normal For A Relationship To Lose Its Spark?
If you notice that the spark in your relationship seems to be dwindling or has gone out altogether, it can be helpful to ask yourself why.
Many times a spark will dwindle in a relationship simply because two people have become so accustomed to being together. There's nothing new or exciting going on and the grass always looks greener on the other side.
Perhaps without even realizing it, you and your partner have begun taking each other for granted.
If you're noticing that the spark in your relationship is becoming a bit dull or just not sparkling at all, these tips can help you to ignite that spark again.
How To Fix The Spark In A Relationship
#1 – Try new things together.
Get adventurous with your significant other.
This doesn't mean that you need to go sky diving or anything like that (unless adrenal activities are something that you both would enjoy).
You can get adventurous simply by changing up your date night.
Try cooking a new recipe together, watching a new tv show, or going to a different store to check out what is there. You could even consider taking a dance class.
There are endless possibilities of new activities that you can do with your sweetie.
Check out these 101 romantic dates to get some ideas.
RELATED: 3 Date Night Tips To Spice Up Date Night
#2 – Unplug and disconnect.
Truly unplug and disconnect from your electronic devices.
You can start by each of you turning off your phones, computers, laptops, etc. for 10 minutes.
Use that time to be present together without any distractions, this can make a world of difference.
#3 – Flirt with your sweetie.
Flirting isn't just something that has to coincide with a new relationship.
It actually is quite valuable to couples who have been together for years and years.
Flirting with your significant other will help you to notice the little things about them that make you get those butterflies.
It also can trigger your partner to feel wanted and desired by you.
We have some juicy pillow talk questions here to help with the flirting!
RELATED: 101 Romantic Date Ideas We Love
Download Free Mini Dates To Spice Up Your Relationship!
#4 – Share your favorite relationship memories.
Walk down memory lane with your sweetie. Discuss favorite events that you two shared.
These can be simple things like a favorite meal, drink, shirt, etc. They can also be big things like the day you got married, engaged, or went on your first date.
Reminiscing with your partner about your favorite memories will help you two bond and connect.
It also can help to ignite the sparks that you were experiencing during those special times together.
#5 – Have a consistent date night.
Consistent date nights are a huge part of a healthy relationship. Especially if you both are busy and/or have children.
Date night is a designated time that you both can count on to be able to connect and focus on each other.
However, I know from personal experience that date night isn't always a possibility depending on schedules.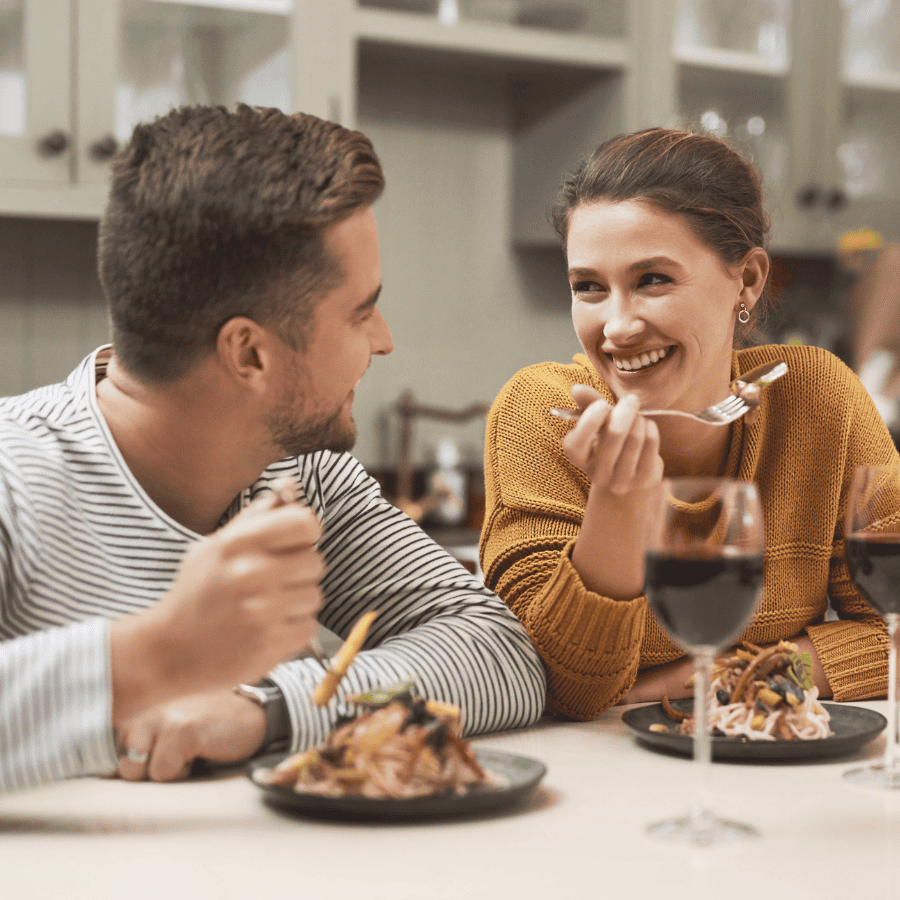 That's why we created these mini dates as a way to connect even when we weren't always able to have a consistent date night. Be sure to check out these mini dates.
They have been life-changing for my hubby and me.
Even if you can have a consistent date night, I highly recommend adding one or two of these mini dates into your weekly routine to keep that spark sparkling!
RELATED: 52 Best Mini Date Ideas To Spice Up Your Relationship
What Kills A Spark In A Relationship?
#6 – Let the past go.
Holding on to baggage from the past is a good way to get stuck back there.
If there are events from the past that you both have moved on from, let it go.
Continuing to stew about the past or bringing it up is bringing "past baggage" into the present.
This can make it difficult for you and your partner to be able to move on to better things.
If you choose to forgive something from the past, let it go. This can be easier said than done, but the spark in your relationship will thank you for saying goodbye to the dimmer.
#7 – Be present with each other.
With growing to-do lists and constant distractions, the time spent being present with your partner can begin to become less and less.
Even if you are physically with your partner you may not be fully present. There's a big difference between being next to someone spending time with them and truly being with them (undistracted, uninterrupted).
Make time that you and your sweetie spend together uninterrupted and focused on each other.
Put all other distractions away and out of mind (work, kids, social media, etc). Focus your complete attention on your partner.
Even if being completely present starts as just a short window of time, like 20 minutes or less.
Use that time to find out what is going on with your partner, how they are, and what they are excited about.
Download your FREE Mini Dates To Help With The Spark
#8 – Set relationship goals.
Like anything in life if you don't have a clear direction for where you are going it can make it incredibly difficult to get there.
That's why using a relationship goals checklist is so helpful.
This checklist helps to get you and your sweetie on the same page as far as what you both want and need in your relationship.
Using this relationship checklist will help you to stay on track and be able to know what you both expect from each other.
RELATED: The Relationship Goals Checklist All Couples Should Be Using
#9 – Be intimate.
Intimacy doesn't need to mean sex. Although sex is important to a healthy relationship.
Even just talking about sex and what your partner needs to feel loved can make a world of difference.
You can increase the intimacy you experience with your partner simply by being physically close. Hold hands, cuddle, etc.
Learn About Your Partner For The Spark
#10 – Never stop learning about your partner.
Even if you've been together for years and years there always is something you can learn about your sweetie.
It could be as simple as a new ice cream flavor that they discovered they love. When you are first dating there is so much curiosity and interest for your crush.
In the beginning, we typically ask lots of questions and do everything we can to get to know this new person.
The thing is that as time goes on and your relationship progresses you should never stop getting to know your partner.
Playing question games with your sweetie is a great way to continue to get to know them.
We've put together some fantastic question games here that you can do with your significant other.
These are a lot of fun and a great way to consistently discover more about your sweetie.
You're sure to find some fun new facts about your partner with these questions.
These questions are a great way to connect and enjoy entertaining date night conversations together!
The spark in a relationship doesn't just one day go out. It usually happens gradually over time. That's why it's so important to consistently implement these 10 simple tips!
Increase your connection and romance.
Keep the spark in your relationship sparkling!
This post was all about the spark in a relationship.
Other Posts You May Like: