Add some playfulness into your relationship with these flirty texts to make him laugh.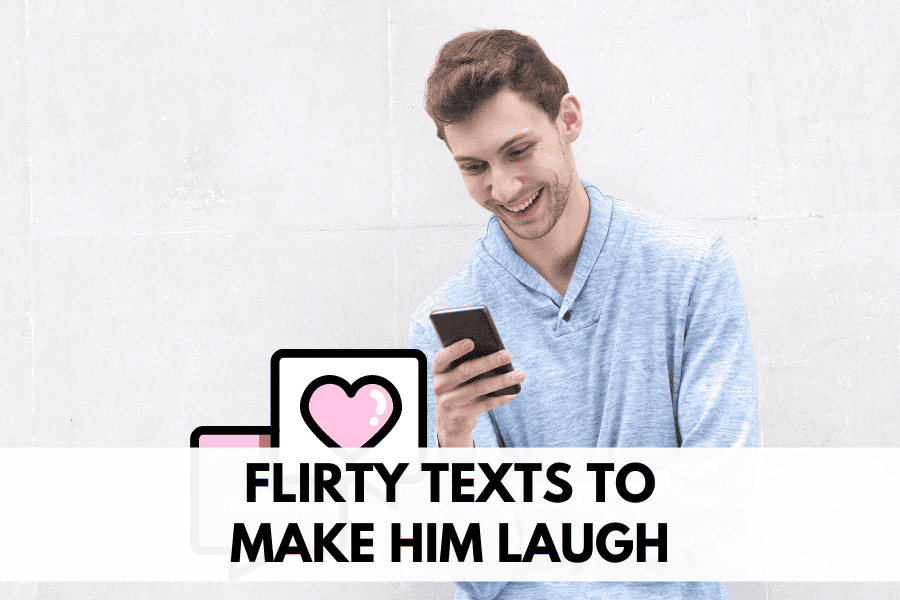 Sending fun texts to your sweetie is such a simple way to connect and keep the spark sparkling.
This post is all about flirty texts to make him laugh.
80 Flirty Texts To Make Him Laugh And Want You More
These flirty texts will have him cracking up and wanting you even more. Picture this – you're casually texting back and forth, and out of nowhere, you drop the funniest one-liner that leaves him laughing out loud.
With each funny and flirty text, you'll have him hooked, eagerly waiting for your next witty punchline.
Trust me, laughter is an instant connection booster, and by sprinkling your conversations with hilarious banter, you'll be the one he can't get enough of.
In this post, we've put together a collection of the best flirty texts to make him laugh. You'll have a treasure trove of ideas that you can use to captivate his attention and keep the flirty sparks flying.
So get ready to send some playful messages and prepare for his laughter-filled responses!
How Do You Make Texts Flirty?
Are you eager to send him flirty texts to make him laugh, but wondering how to master the art of flirtatious messaging?
Well, there are a few things to keep in mind when it comes to making your texts flirty…these are 3 key elements you can incorporate:
1. Use A Playful Tone 
Infuse your texts to him with a light-hearted and playful tone. Using emojis, witty jokes, or clever wordplay can help to create a fun and flirtatious atmosphere.
2. Ask Flirtatious Questions 
Ask open-ended questions that encourage him to share his thoughts, dreams, or fantasies. This allows for deeper and more intimate conversations while keeping the flirtatious vibe alive.
3. Offer Compliments and Playful Teasing
Give genuine compliments that highlight his attractive qualities or make him feel special. Playfully tease him gently and affectionately, creating a sense of camaraderie and attraction.
RELATED: Insanely Cute Love Text Messages (Updated Every Week)
Flirty Texts To Make Him Laugh
1. Are you feeling chilly? I'm undressing you in my head right now.😉
2. You are on the very top of my to-do list.
3. I'm going to have you arrested for stealing my heart.❤️
4. I'm officially on the naughty list for the thoughts I'm having about you.
5. My knees are hurting from falling in love with you over and over again.
6. You are hotter than a habanero pepper.🔥
7. Are your legs tired? You've been running through my mind all day.
8. I didn't have time to work out today. Want to help me get my cardio in later?😉
RELATED: 141 Flirty Never Have I Ever Questions For Couples
9. You be the peanut butter, I'll be the jelly, and let's make a sandwich.
10. I'm hung up on you.
11. My jaw is tired from all the smiling I've been doing thinking about you.😉
12. I'm a coffeeholic and I need you more than I need coffee this morning.
13. I have a sugar rush because you're so sweet.
14. I hope you like coffee because we're going to be pulling an all-nighter.
15. You are my sugar, spice, and everything nice.❤️
16. Good morning handsome! I love you a latte!
17. I wish I could fast forward to tonight.
18. I bet you're tired this morning from all that you were doing to me in my dreams last night.
Flirty Texts To Make Him Think About You
These flirty texts will help to keep you on his mind all day long. You know those messages that make him pause and think, "Wow, she's amazing"? 
Well, get ready to become the queen of captivating conversation. Send him some thoughtful and engaging texts that show you genuinely care.
Whether you ask about his day, share interesting anecdotes, or sprinkle in a bit of humor – these types of flirty texts will keep things light and fun.
Being a delightful presence in his life is the secret to making him think about you non-stop!
19. Good morning handsome! I will be thinking about you all day!
20. I'm thinking about kissing you and being wrapped up in your arms.
21. Let's spend the day in bed.
22. I miss your kisses.😘
23. My new lingerie came in the mail today. Interested in a fashion show tonight?
24. I'm wearing something for you to untie right now.😉
RELATED: 56 FREE Date Night Conversation Cards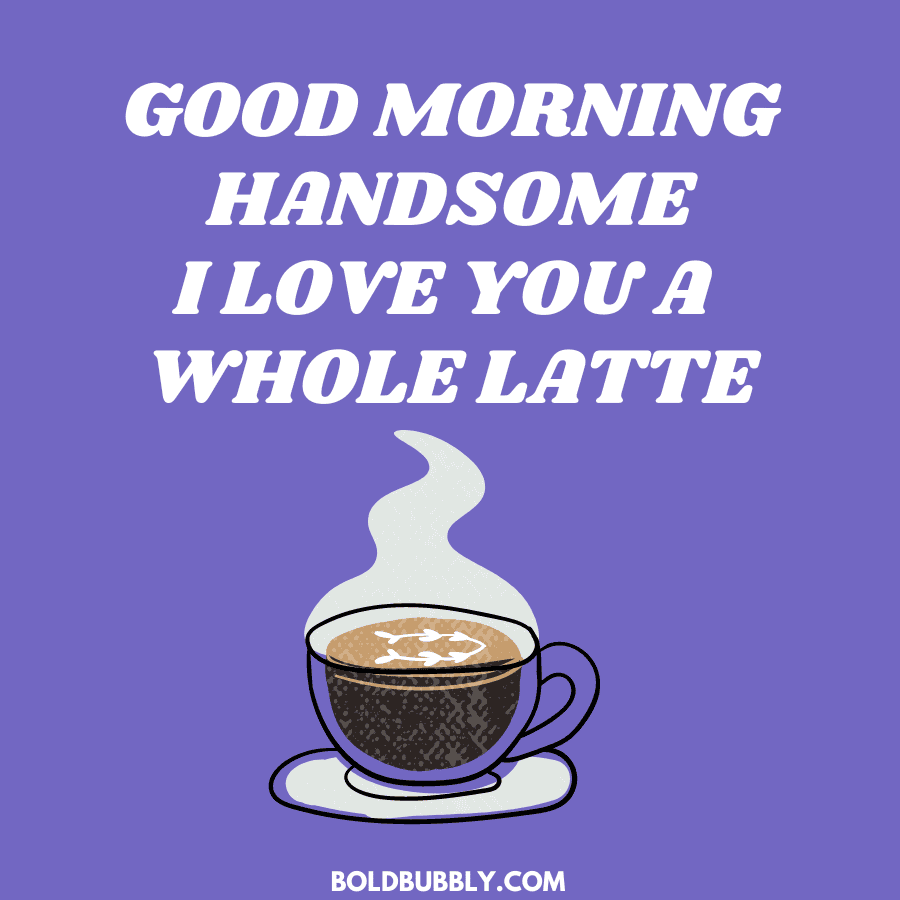 25. Can't wait to show you tonight what it is that I'm thinking about doing to you right now.
26. I'm hoping in the shower. Want to come home and join me?
27. Every day I fall in love with you over and over again.
28. Currently, wearing my birthday suit, want to come and see?
29. I can't stop thinking about how amazing last night was.😍
Flirty Dirty Texts To Make Him Laugh
When it comes to flirty dirty texts – laughter and a cheeky sense of humor can still reign supreme.
Imagine this – you're both in on the naughty secret, and you unleash a barrage of hilarious and risqué messages that leave him rolling with laughter. 
It's like a dance between being seductive and ridiculously funny. You cleverly combine suggestive innuendos with playful jokes that catch him off guard.
These texts become your secret language. A way to explore the boundaries of your desires while keeping the mood light and entertaining. So, don't be afraid to let your imagination run wild and conjure up witty, dirty texts that tickle his funny bone.
Get ready for an exhilarating ride where laughter and sensuality intertwine, taking your flirty exchanges to a whole new level of hilarity and intimacy.
30. Thinking about you gives me butterflies.
31. Currently ONLY wearing the perfume you gave me. 😉
32. Keep an eye out for the pics I'm taking. They are for your eyes only.
33. You are totally going to score tonight.
34. I can't resist you.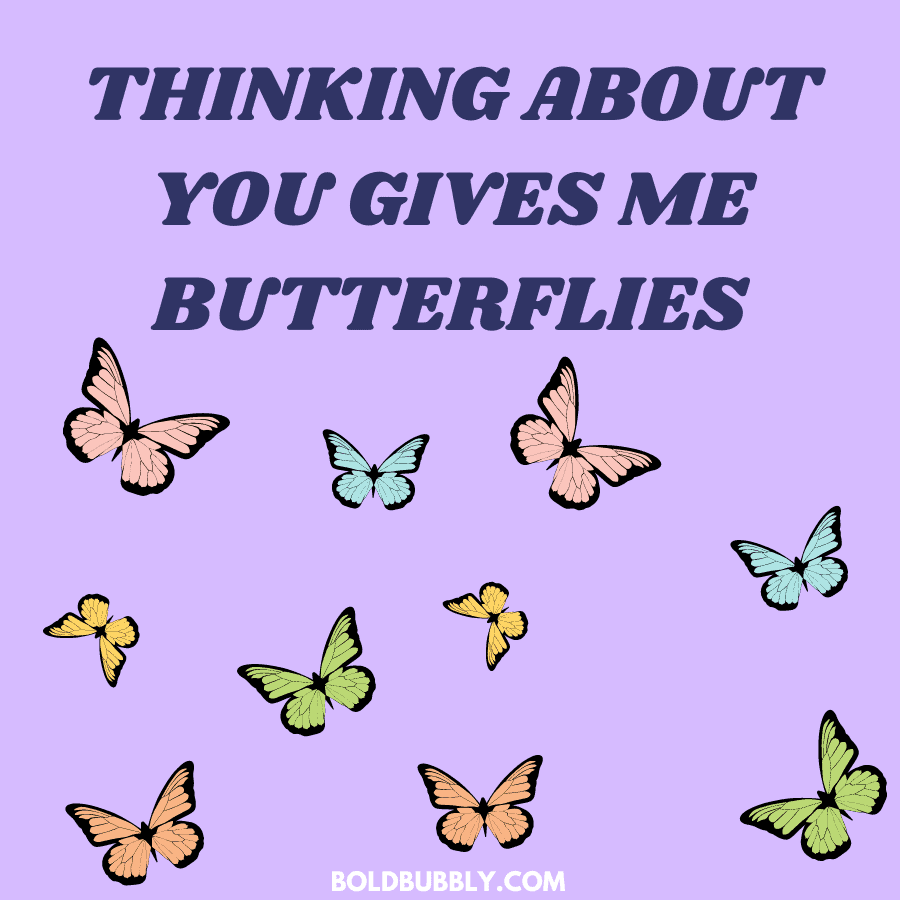 35. Your kisses make me melt.
36. Good morning to the sexiest man in the world.😍
37. You are an amazing kisser.
38. Having you in my life makes my life happier!
39. We have a very exciting weekend ahead of us!
40. Good morning to the man that makes my world go round.
41. Thinking about you makes my heart skip a beat.
Texts To Make Him Miss You
The art of making him miss you through texts is all about creating that longing and anticipation in his heart.
Send him sweet, yet mysterious messages that leave him yearning for more. A well-timed, "Remember that time we…" or "I can't wait to see you again" will spark his imagination and make him want you more.
Keep your conversations light and don't overdo it. Before you know it, he'll be counting down the moments until he can see you again.
42. I'm so lucky to have such a sexy guy in my life.
43. You are my dream come true.❤️
44. Home is wherever you are.
45. I got some new massage oil I can't wait to try out.
46. We might be far apart but you are always in my heart.
47. You get sexier every day.😍
48. Oh, the things I want to do to you.
49. You're hotter than my extra hot skinny vanilla latte?🔥
50. You are my one and only.
51. I love you to the moon and back times infinity.
52. You make me incredibly happy.
53. I love how strong and confident you are.
RELATED: Date Night Scavenger Hunt For A Night Out You'll Never Forget
54. You make me feel safe.
55. I want to wake up next to you every single day.
56. I've been thinking about you all day.
57. I'm so lucky that you are mine.❤️
58. I can't stop thinking about the way you kissed me last night.
59. You + Me = 🔥🔥🔥
60. No matter what, I love you!
61. You are my favorite.
62. I'm counting down the seconds until I get to kiss you again.😘
Flirty Texts For Him At Night
Prepare yourself for some late-night texting magic that will leave him dreaming about you. These flirty texts for him are designed to make him laugh at night. Send him teasing messages that hint at the untold adventures you two could embark upon.
With each text, let the anticipation build as you embrace the nighttime charm!
63. My bed is empty without you in it.
64. Want to watch a movie and snuggle?😘
65. I love the way my body feels pressed up against you.
66. I want you now.
67. I wish you were here to ruffle the blankets with me.
68. You are my kryptonite.
69. Can't wait to fall asleep and discover what you're going to do to me in my dreams.❤️
70. I want your arms wrapped around me.
71. If I could only show you what I am doing right now.
72. BTW – I'm naked.😉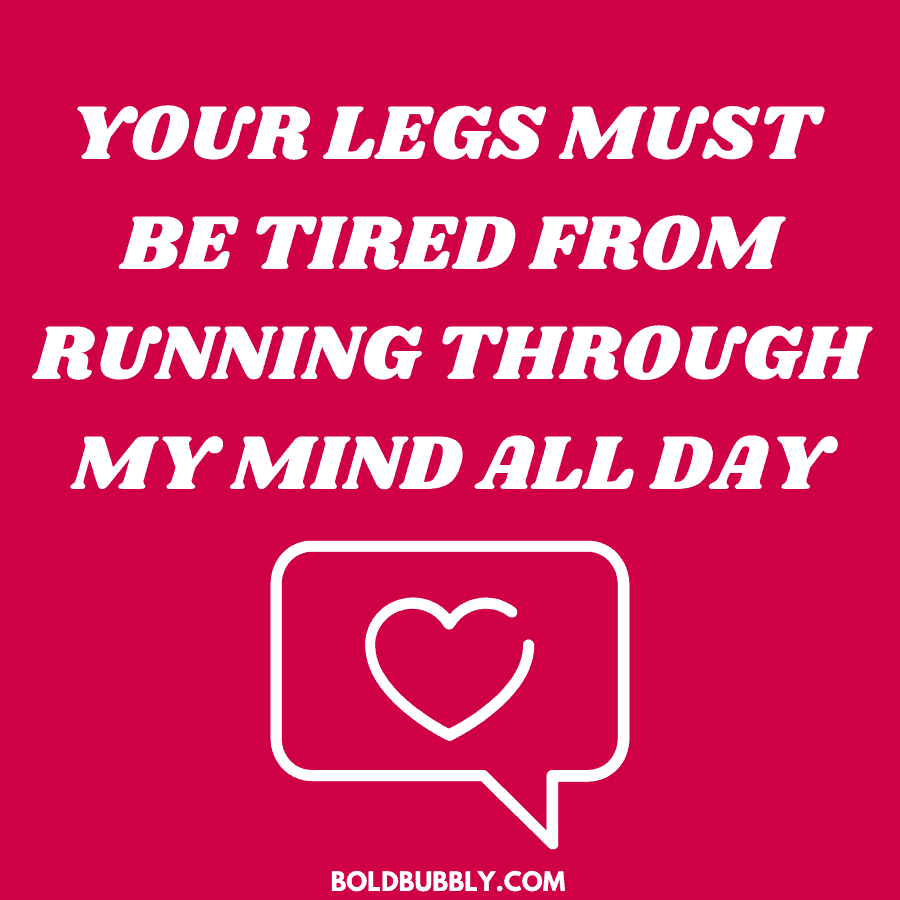 73. The things I would do to you if you were here in bed with me.
74. Want to come over? I'll make it worth your while.
75. I'm falling asleep smiling because I'm thinking of you.
76. I can't wait until you're here next to me.❤️
77. You are the first thing on my mind in the morning and the last at night.
78. Looking forward to showing you more of me tonight.
79. I'll be seeing you in my dreams.
80. Sending you virtual hugs and kisses.😘😘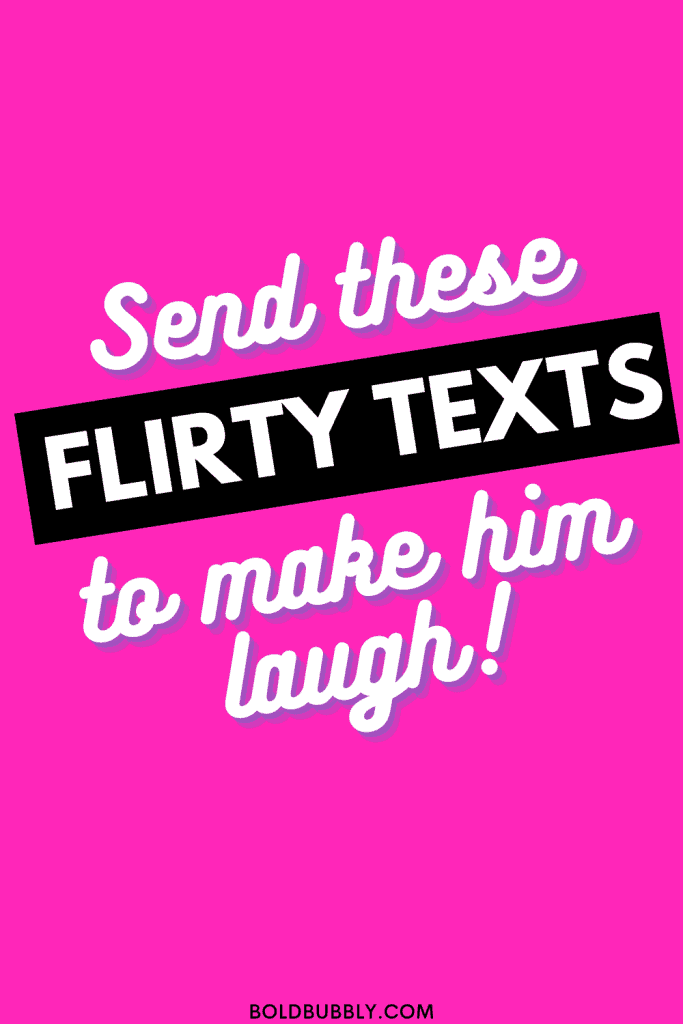 Best Flirty Texts To Make Him Laugh
Flirty texts have an incredible ability to bring laughter and spice into your relationship. The best flirty texts create a playful dynamic that keeps the romance alive and the sparks flying. 
By infusing humor into your text messages, you not only make him laugh but also create a deep connection adding a fun twist to your everyday conversations.
We hope that these flirty texts to make him laugh help you embark on a fun-filled journey together, one laugh at a time!
This post was all about flirty texts to make him laugh.
Other Posts You May Like: