This post is all about winter date ideas.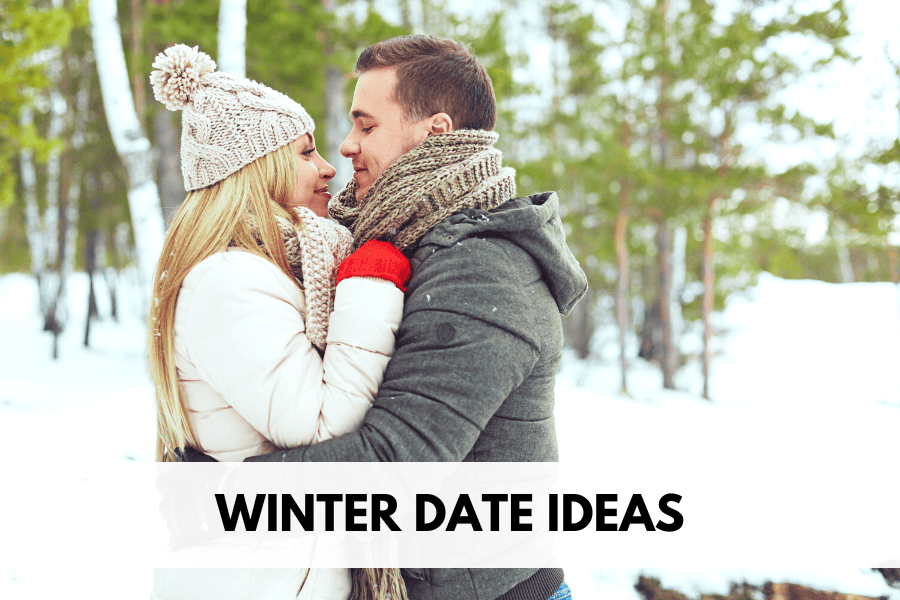 What better way to celebrate the winter season than with some romantic winter date ideas?!
Whether you've just started dating or you and your sweetie have been together for years, we have cozy winter date ideas that you will love!
Winter Date Ideas
It can be hard to come up with date night ideas, especially when it is freezing outside. Staying warm inside on the sofa may be all you can think about doing…
Well, we have some special winter date ideas for you on this list that will spice up your date nights whether you choose to stay in or brave the cold!
Winter Date Ideas At Home
#1 – Bubble Bath
Create a steamy bubble bath for two at home for you and your sweetie. This date night is super easy to do and makes for a romantic date night.
Fill the tub, light some candles, turn on relaxing music, and enjoy soaking with your sweetie. For an extra special touch consider getting some strawberries and champagne to enjoy in the tub as you two unwind.
#2 – Bake Cookies
Get busy in the kitchen and bake the night away! Use the cold weather as a good excuse to break out some classic cookie recipes. Not only will the baking and decorating be fun, but then you get to enjoy the sweet treats you made together.
#3 – Watch A Holiday Classic
Snuggle up on the sofa and watch a holiday classic. Purchase your favorite movie snacks and get lost in a festive movie.
#4 – Cook A New Recipe
There are so many great recipe options for a date night at home. Find a new recipe and cook with your sweetie.
#5 – Fondue Date Night
If you're looking for a romantic date night at home, this fondue date night is a must! In this post, we share everything you need to create a special fondue date night in the comfort of your own home. This is one of our faves!
RELATED: How To Create A Romantic Fondue Date Night At Home
Winter Dates For Couples
#6 – Holiday Scavenger Hunt
Get out and about during the chilly season and do a scavenger hunt together! Scavenger hunts are always so much fun and with the change in the season, this will add an extra challenge to this date night game!
RELATED: The Ultimate Date Night Scavenger Hunt For A Night Out You Will Always Remember
#7 – Spa Date Night
Plan a day at the spa or create your own spa date night at home! If you're looking for a date night idea that includes romance and relaxation you will love this romantic spa date night!RELATED: Insanely Romantic Spa Date Night At Home
#8 – Make Hot Chocolate
Keep warm by sipping on some delicious hot chocolate. You can get fancy with this date night idea and pull out the whipped cream, marshmallows, and chocolate shavings!
#9 – Wine Tasting
Create your own intimate wine tasting at home! This wine tasting date night has everything you need to enjoy wine tasting at home for two!!
RELATED: Wine Tasting Date Night Ideas You Need To Try
Cute Winter Date Ideas
#10 – Holiday Market
During the winter seasons, there are holiday markets that you can go to. You can discover one-of-a-kind artisan gifts and enjoy some delicious food and drinks.
#11 – Attend Afternoon Tea
If you're looking for a unique way to spend an afternoon with your sweetie, consider finding a location that offers afternoon tea. You two will stay cozy and warm while enjoying an afternoon of delicious snacks and hot tea.
#12 – Sleigh Ride
Experience a fairy tale winter date as you and your significant other take a ride in a sleigh. If it is snowing while you are riding it will be even more romantic! Either way, bundle up and snuggle up with your special someone because this will be a date night you both will always remember!
Fun Winter Date Ideas
#13 – Drive-In Movie Date
Get out and about but stay warm in the car at the drive-in! With these drive-in movie date night tips, you'll have the 411 on how to make this the best drive-in movie date ever!
RELATED: Cute & Romantic Drive-In Movie Date Ideas
#14 – Comedy Club
Laugh the night away (indoors) by going to a comedy club with your significant other!
#15 – Drive Through Date Night
Doing a fast food drive-thru date can be an ideal way to get out of the house and stay warm during the winter months! Hop in the car with your partner and pick a tasty location to eat at. One of the best parts of this date is that you won't even need to get out of the car to get into the restaurant. You can stay warm as you eat your food in the car – of course with the heater on!
Free Winter Date Ideas
#16 – Build A Snowman
Celebrate the chilly season by building a traditional snowman. Building a snowman is a lot of fun and the perfect way to get out and enjoy all that winter has to offer!
#17 – Go Sledding
Embrace your inner child as you and your significant head out into the cold and hit the sledding hill. You're sure to enjoy some physical activity and share some laughs!
#18 – Game Night
There are so many fun games for couples! We've included a few of our favorite free options here for you to enjoy:
Indoor Winter Date Ideas
#19 – DIY Project
Get on Pinterest and find a new crafty project to do together! There are so many ideas to choose from. Whether you want to make something for the house or for each other there are endless options!
#20 – Indoor Picnic
Pack a picnic basket with your and your significant other's favorite foods. Lay out a picnic blanket in the living room, light some candles or set up twinkle lights, and enjoy an indoor picnic together!
#21 – Read A Book By The Fireplace
Light the fire and pick out a book that you both want to read. Enjoy the romantic evening cuddled up by the fireplace with your sweetie as you take turns reading a story to one another.
#22 – Painting Date Night
Perhaps you've heard the rave reviews about Canvas and Cocktails or Paint and Sip date nights… Well, in this post, we are sharing with you how to create a similar painting date night experience but in the privacy of your own home.
RELATED: How To Have An Incredible Painting Date Night At Home
#23 – Make A Chili
Why not use this chilly season as a good excuse to make a delicious chili?! You can find a new recipe to try or go with one that is tried and true. Consider throwing some cornbread in the oven for an extra special treat!
Romantic Winter Date Ideas
#24 – Go To The Theatre
Make it a memorable date night out! Bundle up and try a new restaurant, then go to the theatre. There are several holiday shows to see during the winter season. Check with your local theatre for what options they may have.
#25 – Carriage Ride
Take a carriage ride with your sweetheart! This is a romantic date idea regardless of the time of year. However, in the winter it can be even more romantic. The chilly air will lead to extra cuddling 😉 Just be sure to bundle up, especially if you're going for a carriage ride at night!
#26 – Take A Dance Class
Learn some new dance moves with your partner! Taking a dance class together will allow you to have some fun and connect. Plus, you'll have something to practice together even after your date is over.
#27 – Go To A Museum
Whether you go to a history or art museum, this is a great date for the winter season. You'll be warm inside as you and your sweetie enjoy a day of learning and discovery.
Cheap Winter Date Ideas
#28 – Go Window Shopping
It's so much fun to look at the holiday displays, see the sights, and watch all the hustle and bustle!
#29 – Tubing
Grab your tubing tube and get out into the chilly air with your sweetie and hit the slopes!
RELATED: 47 Cheap Fun Date Ideas You'll Love
#30 – Snuggle By The Fire Place (No Electronics)
Turn off your phones, tablets, tv, computers, etc, and cuddle up by the fire with your significant other. You will be amazed at the connection you can experience when you both are free from distractions.
#31 – Build A Gingerbread House
Get crafty with your partner and build gingerbread houses together. You can even purchase gingerbread kits with all the essentials!
Outdoor Winter Date Ideas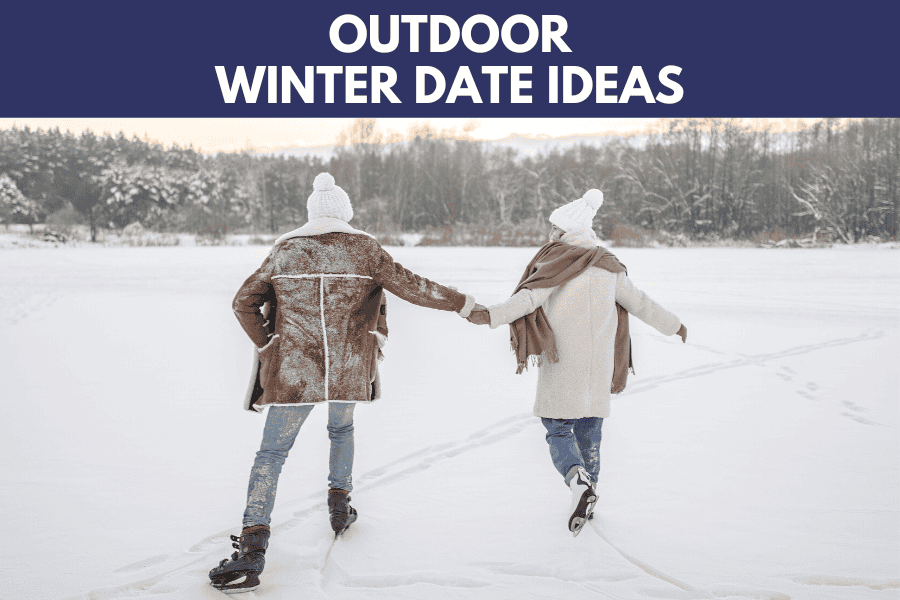 #32 – Snowshoeing
If you and your partner enjoy being physically active, you should try snowshoeing. Not only will you have fun with your sweetie on this date but you will also get your exercise in too!
#33 – Ice Skating
Hold hands as you and your partner make laps around the ice rink. Whether you choose to go to an outdoor or indoor skating rink, this chilly winter date idea is a blast!
#34 – Look At The Holiday Lights
Walk through your town and check out the holiday lights or take a drive to see the seasonal festivities, this makes for a romantic winter date idea!
#35 – Build A Fire And Make S'mores
Bundle up, make a fire, and stay warm and toasty as you make s'mores! You can also bring this outdoor date idea inside – cuddle up by the fire and use a s'more maker!
This post was all about winter date ideas.
Other Posts You May Like: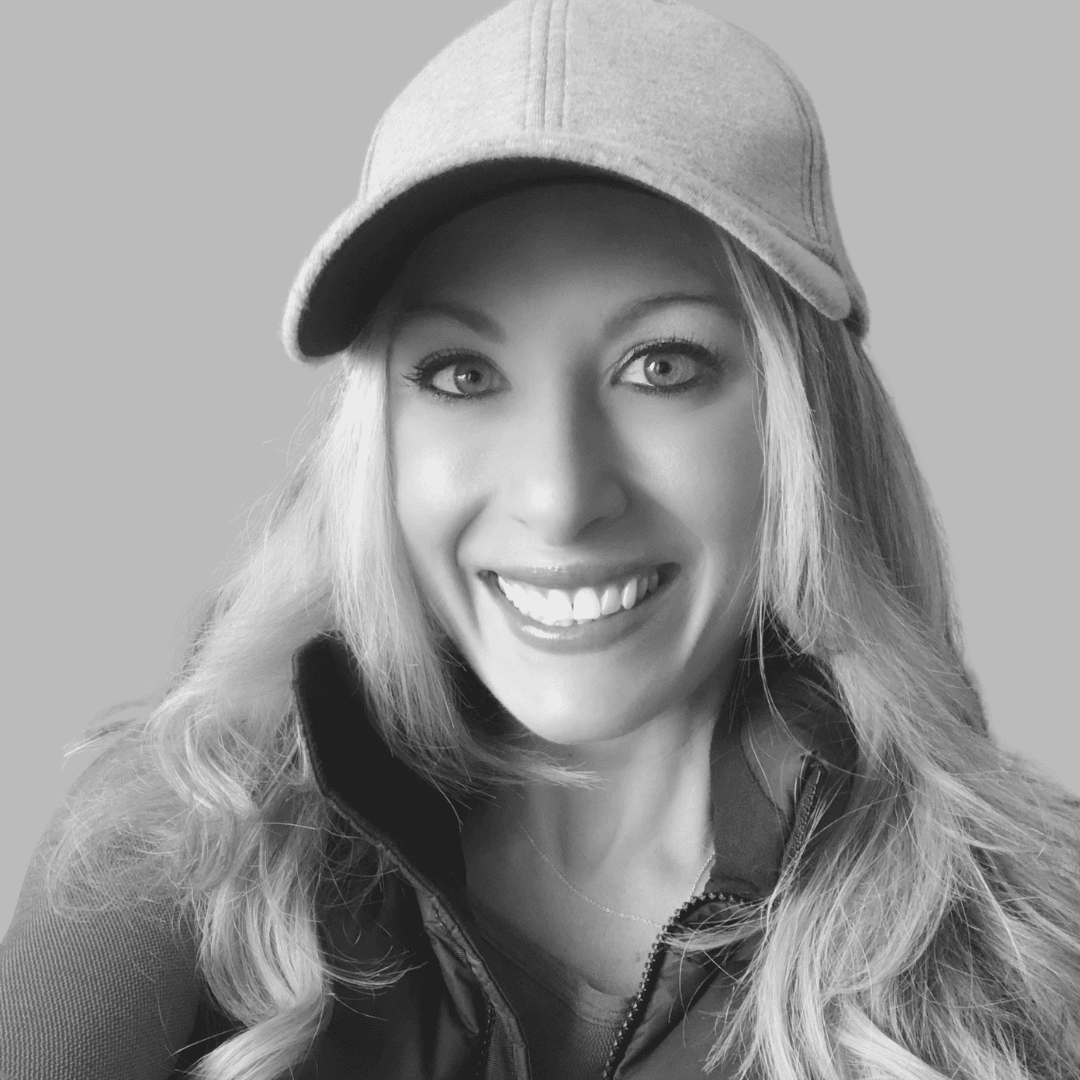 Chrissy Biamonte – Founder at Bold & Bubbly, your ultimate destination for date ideas, party planning tips, conversation starters, and more. With over 15 years in health and fitness, Chrissy is passionate about the balance between wellness and nurturing meaningful relationships. Join her at Bold & Bubbly where we explore, inspire, and create unforgettable moments!