These coloring date night ideas will add excitement to your relationship!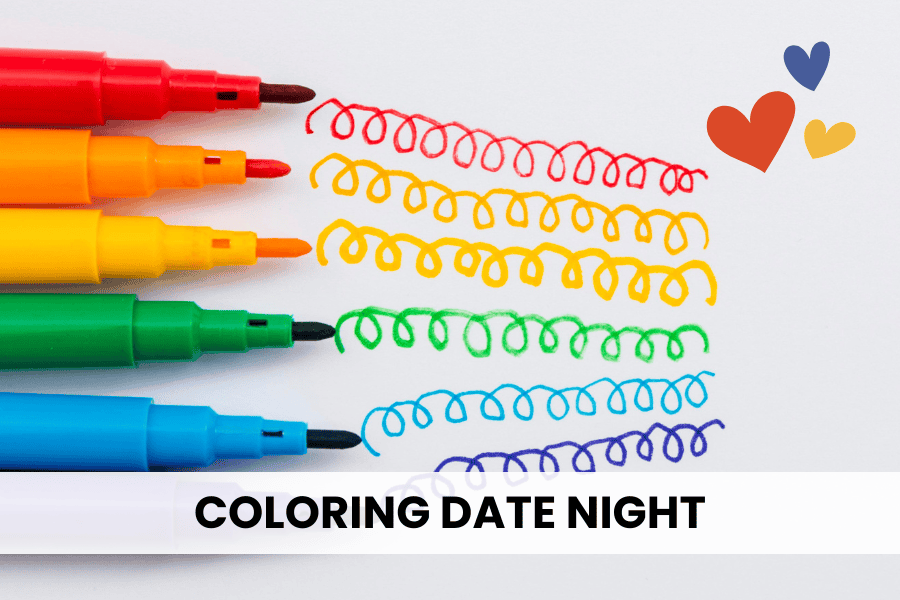 In a world filled with digital distractions and busy schedules, finding meaningful and creative ways to connect with your partner is essential.
Coloring Date Night
While the classic dinner-and-movie date is always enjoyable, spicing things up with unique experiences is a good way to keep the spark sparkling.
One such activity is a "Coloring Date Night." A coloring date can turn an ordinary evening into an extraordinary journey of shared creativity, romance, and connection. 
In this post, we've included the best coloring date night ideas, books, tips, and more for you to have a successful coloring date.
What Is A Coloring Date Night?
A coloring date night is a creative way for couples to spend quality time together while enjoying the calming activity of coloring. Similar to a traditional date night, a coloring date involves two people coming together to color designs, patterns, or images using colored pencils, markers, crayons, or watercolors.
This date idea allows couples to escape from the stresses of daily life, immerse themselves in the present moment, and connect on a deeper level through a shared artistic endeavor.
Creating the Perfect Coloring Date Night Aesthetic
The ambiance of your date night plays a crucial role in setting the mood for creativity and connection. You'll want to create a romantic atmosphere with dim lighting. Including scented candles and soft music is a lovely extra touch.
Consider laying out a selection of coloring supplies, from colored pencils to markers. Create a comfortable seating area with lots of space for both of you to get cozy as you spread out your coloring materials.
What Do You Need For A Coloring Date Night?
One of the best things about this date night idea is that you don't need a whole lot to make it happen.
You simply need coloring books or pages and coloring tools, like markers, colored pencils, or crayons. 
Coloring Date Night Ideas
These are some of our favorite coloring date night ideas:
1. Stargaze While You Color
Spread out a blanket in your backyard or a park, and color beneath the night sky while gazing at the stars. Combine coloring with stargazing by selecting coloring pages featuring a variety of constellations or night sky images. This Starry Skies coloring book is loaded with swirling stars, unique planets, and more!
2. Coloring Date and Wine Tasting
Elevate your coloring date with a touch of elegance by incorporating wine tasting into your evening. Each of you can select a few bottles of wine with visually appealing labels or vibrant hues. As you color, take breaks to savor the different wines, discussing the notes, aromas, and overall experiences they offer. This Uncork and Unwind coloring book makes a perfect addition to your romantic evening. 
3. Culinary Coloring Night
Combine your coloring date with your passion for cooking by hosting a coloring and cooking date night. Select a recipe that features vibrant and colorful ingredients, and start your evening by coloring a page inspired by the dish you're about to prepare. This Food Coloring book is loaded with recipes and coloring pages!
As you chop, sauté, and season, discuss the colors and flavors that make the meal special. This multisensory experience engages both your artistic and culinary senses, resulting in a memorable and flavorful date night. 😉
4. Theme-Based Coloring Date Ideas
Give your coloring date a unique twist by choosing a theme for the evening. Themes can range from seasons (spring, summer, fall, winter), to destinations (tropical paradise, cityscape, mountain adventure), or even abstract concepts (dreams and goals). There's no limit to the type of theme you can select. By choosing a theme, you create a framework that can spark imagination and open up avenues for meaningful conversations. If you choose to go with a season theme, this Colorful Seasons coloring book is loaded with a variety of designs illustrating the seasons of the year. 
5. Collaborative Coloring
Instead of coloring separate pages, create a collaborative masterpiece together. Begin with a large, intricate coloring poster or a blank canvas, and work together to bring it to life. 
This activity encourages communication and teamwork, as you navigate through color choices, blending techniques, and design decisions. Plus, it's a whole lot of fun to see the masterpiece of your two styles coming together!
6. Coloring Down Memory Lane
Travel back in time by choosing a coloring page that reminds you of a scene or memory from your relationship.
It could be the place you had your first date, a vacation spot you both cherish or an event that holds special meaning. As you color, reminisce about the experience of that particular memory.
These coloring ideas will deepen your connection as you reminisce about the good memories you've shared.
7. Outdoor Coloring Date Night Adventure
Take your coloring date outdoors for a twist. Find a park, garden, or even a beach, and set up your coloring area amidst nature's beauty. The change of scenery can inspire new color choices and ideas. This Romantic Country Scenes coloring book is loaded with beautiful illustrations. Whether you lie under a tree or along the water's edge, immersing yourselves in nature can invigorate your creativity as you color. 
8. Guided Meditation and Coloring
Infuse relaxation and mindfulness into your night by beginning your date with a guided meditation session. Sit comfortably together and listen to a meditation recording that focuses on gratitude, connection, or simply being present in the moment.
After the meditation, transition into coloring, allowing your peaceful state of mind to guide your creative choices. The combination of meditation and coloring can create a deep sense of connection, creativity, and relaxation.
The Best Coloring Date Night Ideas
In a world that often pulls us in different directions, finding innovative ways to connect with your partner is vital for maintaining a strong and fulfilling relationship.
The best coloring date night ideas offer a fun and artistic avenue for couples to connect, communicate, and create together. Whether you're unleashing your creativity on individual pages or collaborating on a masterpiece, the shared activity of coloring sparks intimacy and strengthens your emotional connection.
So, for this date night idea – set aside your screens, pick up your coloring tools, and color with love, laughter, and create unforgettable memories!
Other Posts You May Like: