Spring has sprung and we're all ready to go with the best spring date ideas!
After a long winter, the sun is finally coming out, the flowers are beginning to blossom, the air smells fresh and new.
This is a favorite time of year and one of the best to get out with your sweetie and enjoy all the joy that spring has to offer!
This post is all about spring date ideas.
17 Spring Date Ideas We Love
What better way to start the new spring season than with some super fun date ideas for spring!
#1 Go For A Hike
Enjoy the crisp and fresh mountain air with your sweetheart as you go for a beautiful springtime hike.
Not only will you receive the benefit of spending some quality time together, but you also will get your exercise in for the day.
RELATED: Fun And Romantic Hiking Date Ideas You Need To Try
#2 Visit A Farmer's Market
Going to a Farmer's Market makes for a fun and delicious spring date experience.
Take your time and check out all the new vendors at the market.
If you're feeling adventurous with your sweetie, consider trying a couple of new foods together.
#3 Spring Date Idea – Go Berry Picking
Once the weather warms up, picking berries is a great activity for couples all over the country.
Google which berries are in season in your area and plan a spring date around spending the day at a local berry patch.
Download Your Free Date Night Scavenger Hunt For A Night Out You'll Never Forget
#4 Lunch Time Picnic At The Park
Depending on where you live, the evenings may still be a bit cool for a nighttime picnic.
So, in the spring grab your picnic basket, blanket, and head to a local park for lunch.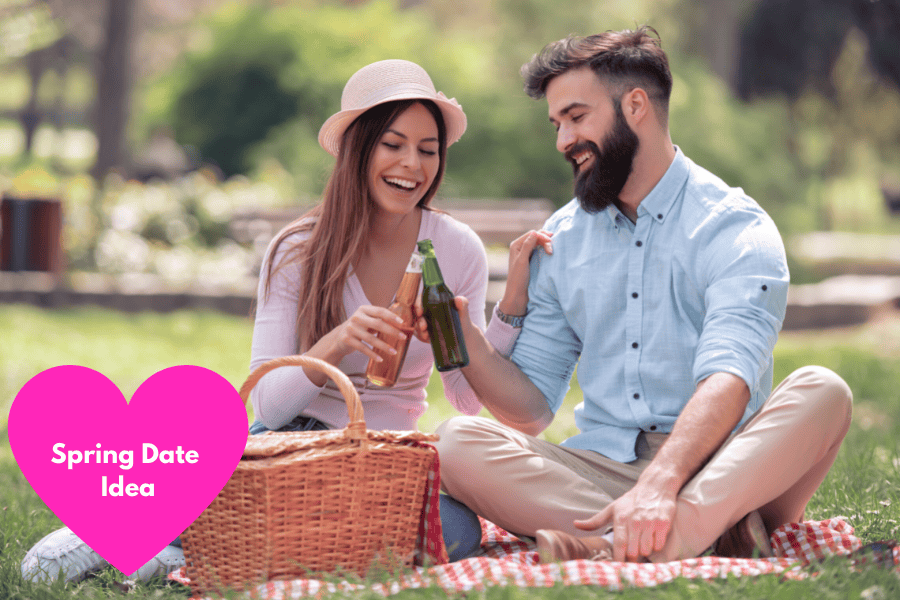 #5 Visit The Zoo
Visiting the Zoo in the spring is a great time to go.
Springtime Zoo visits typically mean cooler temperatures than in the summer and lighter crowds as well.
You'll be more comfortable and you'll be able to see the animals more easily.
#6 Breakfast On The Patio
With the crisp morning air, dining on the patio in the spring is a romantic date idea that we absolutely love.
Wake up and enjoy a hot cup of coffee and a tasty breakfast outside with your sweetie.
#7 Train For A Sporting Event Together
Whether you choose to run a 5K, play tennis, shoot hoops, etc…select something that the two of you can train for together.
You'll get to spend extra time bonding with your sweetie and as a bonus, you'll make sure to get your workouts in.
#8 Eat At A Drive-Through
Going to a drive-through is such a fun date night idea.
You can dress super comfy, put on your favorite car tunes and enjoy private and uninterrupted conversations with your partner.
Playing Never Have I Ever or taking relationship quizzes can be a fun addition to any Drive-Through date night.
RELATED: 141 Flirty Never Have I Ever Questions For Couples
#9 Create A Bucket List
Spend your date night coming up with a list of bucket list activities that the two of you want to do together.
Think about all the different places that you would like to visit.
Consider different couples activities that you think would be fun, and make your list!
RELATED: The Ultimate Bucket List For Married Couples
#10 Color Easter Eggs
Coloring Easter eggs isn't something that is just for kids…it's also a fun and creative activity that you and your sweetie can do together on date night.
Consider getting an egg decorating kit and write sweet messages on your eggs to one another.
Think 'Canvas and Cocktails' but Easter egg style.
Spend the evening painting and decorating Easter eggs on date night while you sip on your favorite beverages.
Make sure to get an Easter Egg decorating kit so that you have all that you need to make your eggs extra special!
RELATED: 10 Easter Date Ideas That Will Make Love Bloom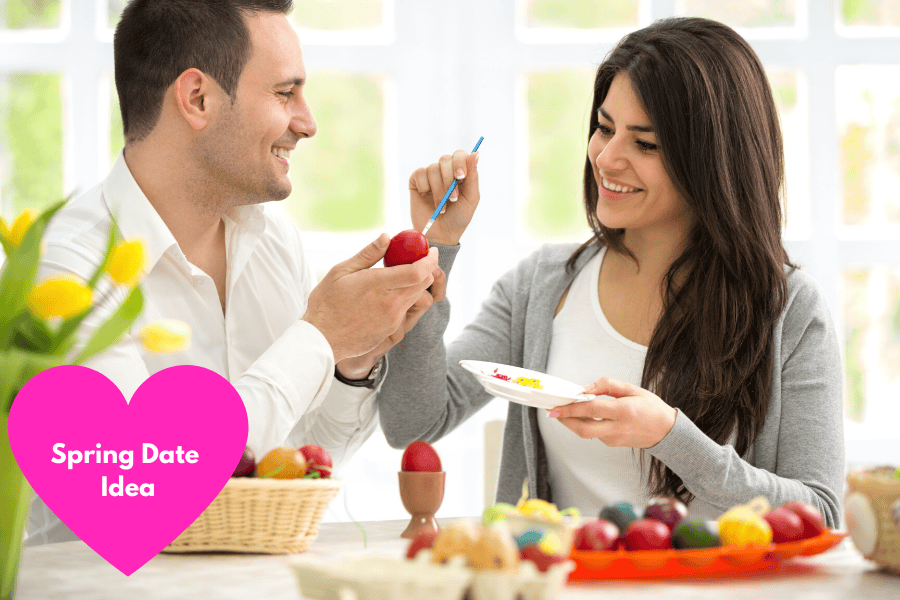 #11 Do An Easter Egg Hunt Together
This is a favorite spring date idea!
All you need to do is get a bunch of fillable plastic Easter eggs.
Fill the eggs with something you know your partner will enjoy.
Sweet love messages or little treats are always great to stuff into plastic Easter eggs.
After you fill your eggs, you'll want to hide the eggs for each other.
It's a good idea to mark the plastic eggs with each of your initials so that you can keep track of who's eggs are who's while you are hunting for them.
Tip: Add some extra fun to Easter egg hunting by seeing who can find all of their Easter eggs first.
#12 Visit The Botanical Gardens
Springtime is a beautiful time of year to go to the Botanical Gardens.
Take a tour or spend the afternoon just wandering around the gardens taking in the beautiful new blossoms.
#13 Plan A Summer Trip
With summer right around the corner, planning a summer trip makes for a super fun spring date night.
Think about all the places you want to go to together this summer.
Perhaps you want to hit the beach, go camping, or take a road trip…the possibilities are endless!
Planning a summer vacation makes for a fun spring date night.
It also will give you something to look forward to together over the next couple of months.
#14 Search For Wildflowers
Head up to the mountains and discover all the beautiful wildflowers that are beginning to show after the long winter.
This is a great way to get outside, enjoy nature, see some natural beauty, and spend quality time with your sweetheart.
#15 Go On A Bike Ride
Whether you decide to ride along hilly trails or bike through the city, taking a bike ride is a great way to enjoy the spring season.
Stop at your favorite coffee shop and enjoy exploring while riding bikes with your date.
#16 Plant A Vegetable Garden
Go to your local garden center and get the types of seeds you need for the vegetables you wish to grow.
This Vegetable Garden Kit is a great option to use. It has everything you need to start your own mini green house at home!
Spend the morning or afternoon planting your favorite veggies together using your garden kit that you both can nurture and watch grow over the next few months.
#17 Go Wine Tasting For A Spring Date
Spring is a wonderful time of year to enjoy wine tasting.
The temperatures are usually more comfortable than in the summer months and it will be less busy at the wineries.
Visit a local winery or even a beer garden for a fun date night.
Download Your Free Date Night Scavenger Hunt For A Night Out You'll Never Forget
We hope you enjoyed these date ideas for spring!
Which were your favorites?
Do you have any others we should add to the list?
We'd love to hear from you! 😊
This post was all about the best spring date ideas.
Other Posts You May Like:
Pin these to remember this post!