These are the best Easter date ideas for couples!
If you're looking for Easter-themed activities to do with your significant other this spring – there are several on this list.
Easter Date Ideas
Don't you just love spring? As the tulips begin to bloom, you can tell that warm weather is on the horizon. Along with the pretty blossoms and warmer weather that come with the springtime vibes, this season offers a variety of fresh new date night ideas as well!
RELATED: 17 Spring Date Night Ideas We Love
Easter activities aren't just for kids. In fact, there are several Easter date ideas for couples to do together. And we've gathered up our faves and put them on this list just for you!
I hope that you find a few Easter date ideas here that you can do with your sweetie to celebrate the spring season.
Cute Easter Date Ideas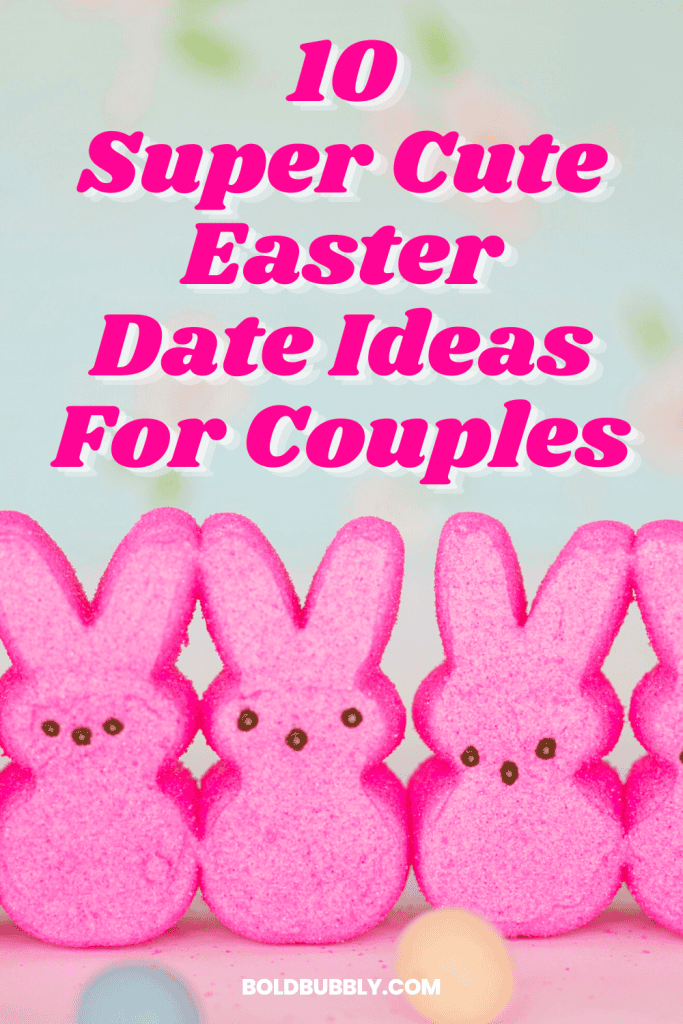 #1 – Decorate Easter Eggs
This is one of my favorite Easter date ideas! It's a lot of fun and fairly inexpensive to do. All you need is the eggs and an egg coloring kit. This makes for a great at-home date night idea! Coloring Easter eggs will give you and your significant other time to bond, get creative and make lasting memories together.
#2 – Easter Egg Hunt Date Ideas
Easter egg hunts can be for adults too! 😉 For this Easter date night idea – get a bunch of plastic eggs, treats, and little gifts to put inside each of the eggs.
My hubby and I take our designated plastic eggs and fill them with little things that we know each other will enjoy finding.
After your eggs are filled with little goodies – hide the eggs around your house or the yard for your partner to find.
Tip: Have your partner fill specific colored eggs and you fill others. This makes it much easier to know what eggs you're supposed to be searching for.
#3 – Dress Up In Easter Outfits
Get in the Easter spirit by dressing up in easter outfits! This is a creative way to express yourself through fashion. These festive outfits also cater to the perfect springtime photo ops. Be sure to capture a few special moments that you two can look back on and cherish.
#4 – Spring Time Picnic
Take advantage of the lovely spring weather by going on a picnic. Pack your favorite snacks and drinks, grab a picnic blanket, and head to a local park. Spend the afternoon with your sweetie enjoying the pleasantly warm weather!
#5 – Bake Easter Cookies
Baking cookies is a fun and delicious Easter date idea! Bunny and carrot-shaped sugar cookies are fairly simple and affordable to make. For this cookie baking date, you'll get creative and spend quality time with your partner. Not to mention – when you're done you can enjoy a delicious freshly baked treat! If you're looking for recipes, here's an Easter egg sugar cookie recipe worth checking out.
#6 – Date Night Easter Basket Ideas
Put together an Easter basket filled with items and activities that you and your partner can do on date night. This is a special way to surprise your sweetie and create a memorable date night!
#7 – Plant Something Together
Planting something during the Easter season is a special date idea. Connect with your partner and nature as you enjoy planting something together. It's one of those date ideas that will give you a sense of accomplishment this season. You'll get to watch your plant grow as the spring season comes fully into bloom!
#8 – DIY Easter Decorations Date Ideas
There are several DIY Easter decorations that you can make with your partner. Such as wreaths, garlands, or even table centerpieces. Head over to Pinterest to search for the best DIY Easter ideas!
#9 – Easter Brunch
Prepare an Easter brunch at home with your sweetie or go out to a special brunch spot. If you opt for brunch at home – you can get creative and make pancakes in the shape of eggs or bunnies!
#10 – Easter Parade
Several towns have festive Easter parades. Search on Google for what Easter themed parades or festivities may be taking place in your area. Enjoy some time outside with your sweetie at an Easter parade or other seasonal festivities!
List Of Easter Date Ideas
Decorate Easter eggs
Have an Easter egg hunt
Dress up in Easter outfits
Spring time picnic
Bake Easter cookies
Make a date night Easter basket
Plant something
DIY Easter decorations
Easter brunch
Easter Parade
Final Thoughts On Easter Date Ideas
There are a variety of clever Easter date ideas to choose from. You can decorate eggs, dress up for brunch, stay home and bake cookies, etc. Whatever you choose, you and your partner will enjoy making new memories with these spring date ideas!
I hope you've found a few date ideas to do with your sweetie this spring season.
We'd love to know your favorite Easter date ideas! Leave us a comment below with your favorite date ideas for this season.
This post was all about the best Easter date ideas.
Other Posts You May Like:
Pin to remember this post!