This list of date night questions for married couples is the perfect way to share some laughs, have good conversations, and create a deeper connection with your partner.
This post is all about date night questions for married couples.
Date Night Questions For Married Couples
Staying in good communication with your partner is key to a happy and healthy relationship.
Not to mention that once you've been together for a long time, it can be easy to fall into a rut.
The reality is that sometimes it can be hard to think of what to talk about.
You get home from work, you're both tired, you have an established relationship, you know so much about each other.
This can make date nights and even just dinner at home feel a little blah and boring…and that's no fun.
One of the best things about these fun date night questions is that they make you think about several parts of your life, connect, and discover your partner's ideas.
They also can lead to entertaining and thought-provoking discussions.
We've included some fun, serious, silly, and intriguing questions on this list.
Fun Date Night Questions For Married Couples
Sometimes all it takes to get the spark going is a little nudge with what to talk about.
With date night questions, before you know it you're laughing, chatting, and reminiscing about all sorts of topics and memories.
Best Date Night Questions
Use these questions to give your date night conversations a boost and learn more about your partner!
1. If you were stranded on a deserted island and could only have a book, a pad of paper and pen, or a mirror, what would you have with you and why?
2. If you could turn back time and relive one year of your life, what year would it be?
3. If you could write a letter to your 8-year-old self, what would you say in the letter?
4. Who made the biggest impact on you as a child?
5. If you could plan a vacation anywhere in the world, where would it be and what would you want to do there?
6. What activity do you wish that you were better at?
7. What is one thing that you wish people understood about you?
8. If you could have your dream job, what would it be?
9. What is your favorite thing that we do together?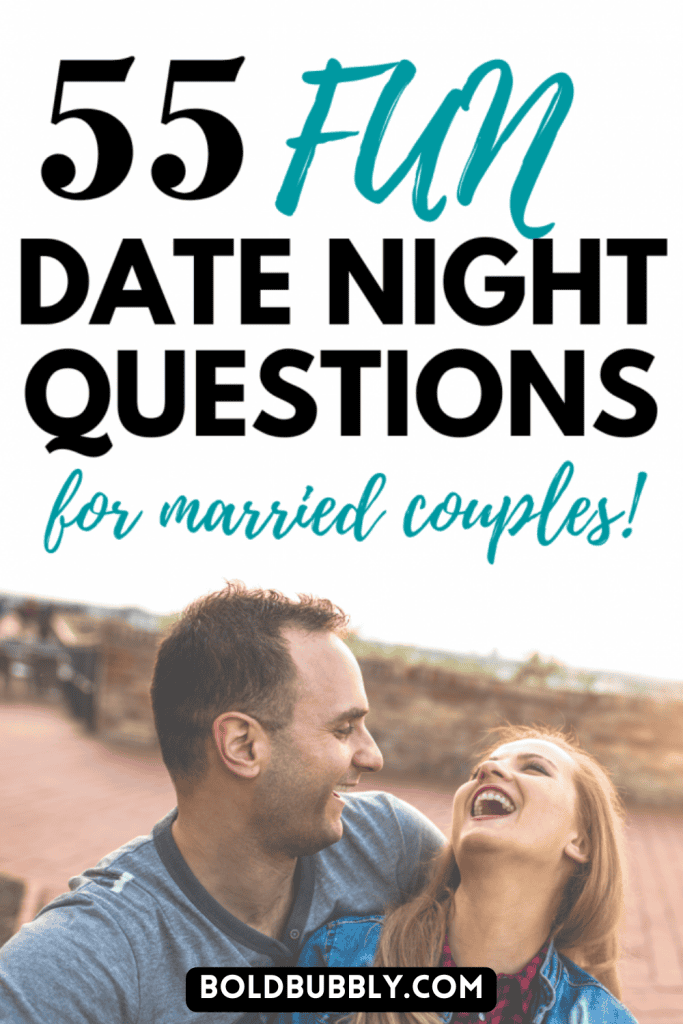 10. What do you consider to be the most embarrassing moment that we've shared together?
11. What is your most embarrassing moment from your childhood?
12. Who in your family was the disciplinarian?
13. Who is the one person you feel that you can always turn to for advice?
14. What was your favorite snack food as a kid?
RELATED: 97 Romantic Questions to Ask Your Partner To Get To Know Them Better
Romantic Date Night Questions For Married Couples
15. When did you know you wanted us to go out on a date?
16. What did you think about me after our first date?
17. What do you remember about our first kiss?
18. When did you first know that you loved me?
19. What is your favorite physical feature that I have?
20. If you were to describe me in 3 words to a stranger, what words would you use?
RELATED: 141 Flirty Never Have I Ever Questions For Couples
21. What do you remember the most from our wedding?
22. If you could relive our wedding day, what part was your favorite?
23. When did you know that I was the one?
24. What are you the happiest with in our marriage?
25. What is something that I do that makes you feel appreciated?
26. What is something that I could do more of to make you feel more loved?
27. What do I do that you find the sexiest?
28. What is something we've never tried together in bed that you would like to try?
29. What is the best gift that I could ever give you?
30. Is there anything that I do that makes you feel jealous or insecure?
RELATED: 117 Fun Would You Rather Questions For Couples
Intimate Questions For Married Couples
31. What is one area of our relationship that you would want to improve?
32. Do you always feel like my priority even when my friends and family are around?
33. What is your 5-year goal for our marriage?
34. Describe what a perfect marriage looks like for you?
35. What is something that you wish we could do more of?
36. What have you learned the most since we've been married?
37. What do I do that you find the most annoying?
RELATED: DIY Free Printable Love Coupons For Him
38. What is your biggest personal goal for this year?
39. What accomplishment are you the proudest of?
40. What is your least favorite household chore?
41. What do we do together that makes you experience the most joy?
42. What is your favorite date that we have ever been on?
43. If we could have one celebrity over for dinner, who would you want to invite?
Deep Questions For Married Couples
44. If you could retire tomorrow, what would you spend your days doing?
45. Where would you want us to retire?
46. What song do you listen to that always makes you think of us?
47. What is your go-to Starbucks order?
48. What is your favorite reality TV show?
49. If you had no fears what would you do?
50. If we could spend the weekend together, being anywhere and doing anything…where would you choose for us to go and what would we do?
51. What does your dream home look like?
52. If you had the opportunity to travel to space, would you go?
53. What is the scariest moment you've ever experienced?
54. When you're upset or having a bad day, what do I do that always makes you feel better?
55. Do you like surprises or do you prefer to be part of the planning process?
I hope that you enjoyed this fun list of date night questions!
Now you don't have any excuse for not knowing what to talk about.
You can enjoy these date night questions to connect with your partner over dinner or pillow talk!
This post was all about date night questions for married couples.
OTHER POSTS YOU MAY LIKE:
Pin to remember this post!