This post is all about relationship bracelets for couples.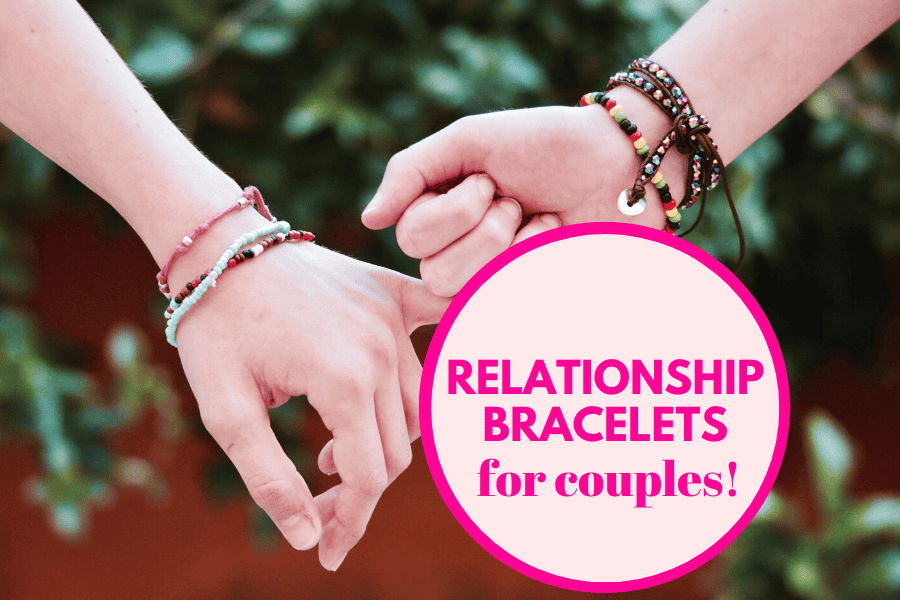 Wearing a relationship bracelet is a sweet and simple way to help you to feel connected to your special someone every day – even if you aren't always able to be with each other.
With these relationship bracelets for couples, you both will be expressing your love for one another.
Anytime you want to feel connected, simply look at your relationship bracelet on your wrist.
There are so many great styles to choose from when it comes to relationship bracelets for couples.
On this list, we've included a variety of different styles and budgets, you're sure to find something perfect for you and your significant other.
Pick out matching relationship bracelets for couples that are meaningful and a good fit for you and your sweetie!
RELATED: DIY: FREE Printable Love Coupons
Relationship Bracelets For Couples
#1 – Relationship Bar Bracelet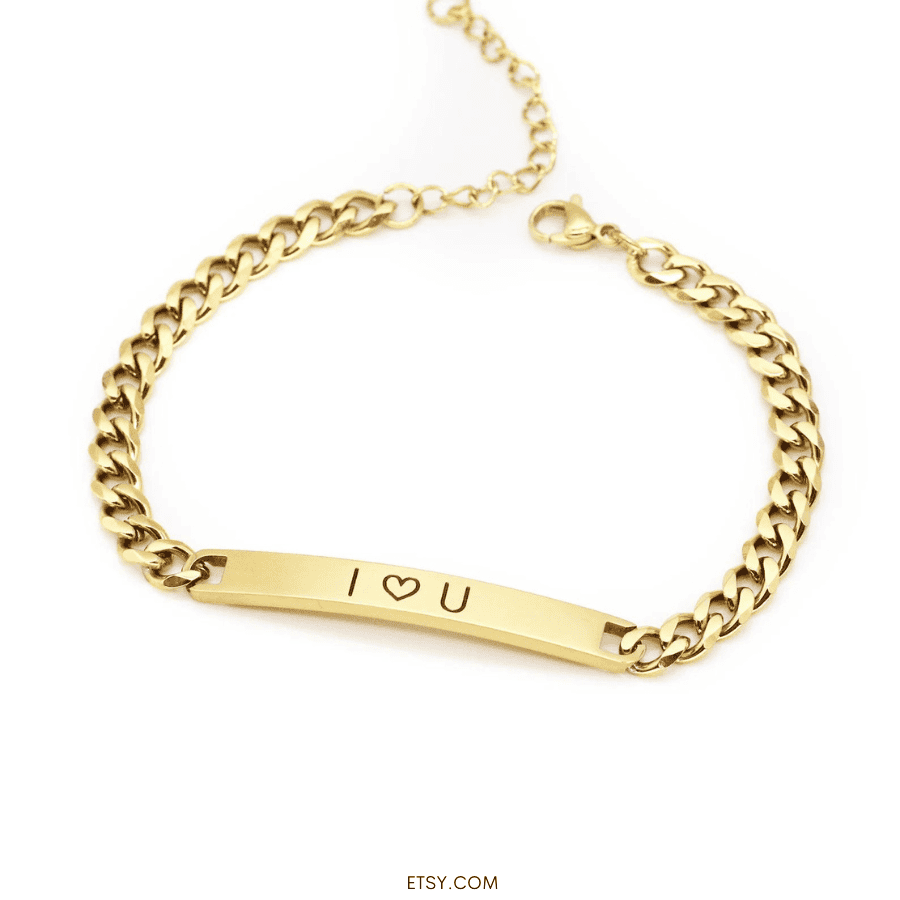 This lovely relationship bar bracelet is customizable and will work for him or her. It's a great style that you can wear every day. We love that you can engrave this bar bracelet with whatever it is you feel best suits you and your significant other. It could be initials, a date, a phrase…anything that is special to you two!
---
How sweet are these pinky promise relationship bracelets?! Order your and your significant other's initials. They wear your initial, and you wear there's! Near or far these pinky promise bracelets will serve as a sweet reminder of your love.
---
#3 – Morse Code Relationship Bracelets For Couples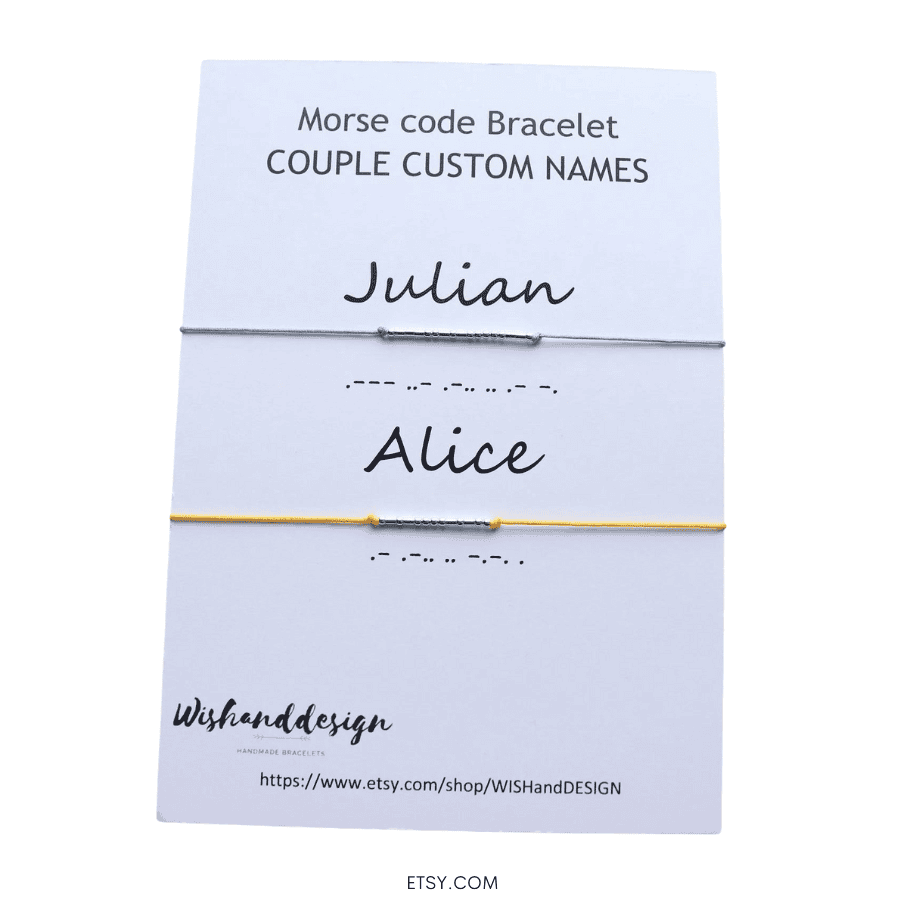 These dainty morse code bracelets are the perfect unisex relationship bracelets. They are totally customizable, you can pick out the color and what you want to put as the code!
---
RELATED: 141 Flirty Never Have I Ever Questions For Couples
Magnetic Relationship Bracelets For Couples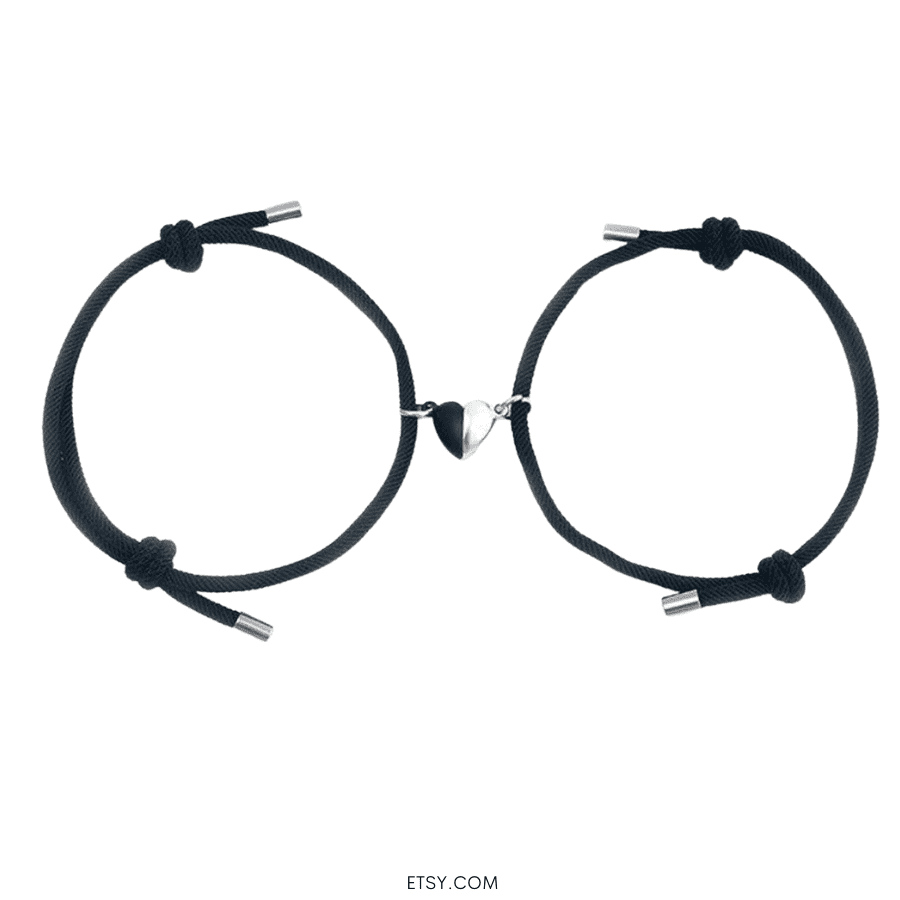 This magnetic heart bracelet set is ideal for long-distance couples. If you and your sweetie are living apart you will love these magnetic bracelets. They are unisex and adjustable so regardless of your wrist size these will work. If you prefer a different color bracelet there are several to choose from!
---
#5 – Magnetic Matching Couple's Bracelets (With Engraving)
With these magnetic relationship bracelets, you also have the option to engrave meaningful words onto the bar. This bracelet is a thoughtful way to express your love!
---
#6 – Matching Thin Leather Bracelets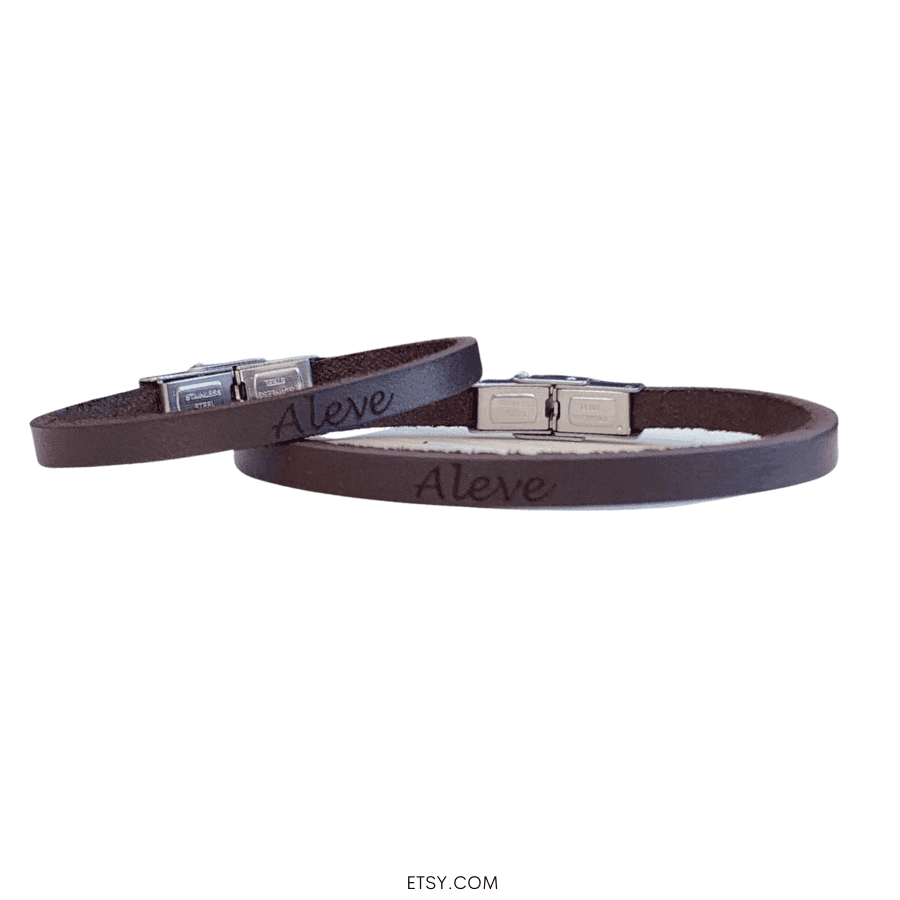 Personalize these classy leather bracelets with your significant other's initials, a word, a statement, a date – there are endless options! You can engrave what is meaningful to you two. There are several sizes available with these leather bracelets, so big wrists or small – there is something that will fit.
---
#7 – You Complete Me Bracelet Set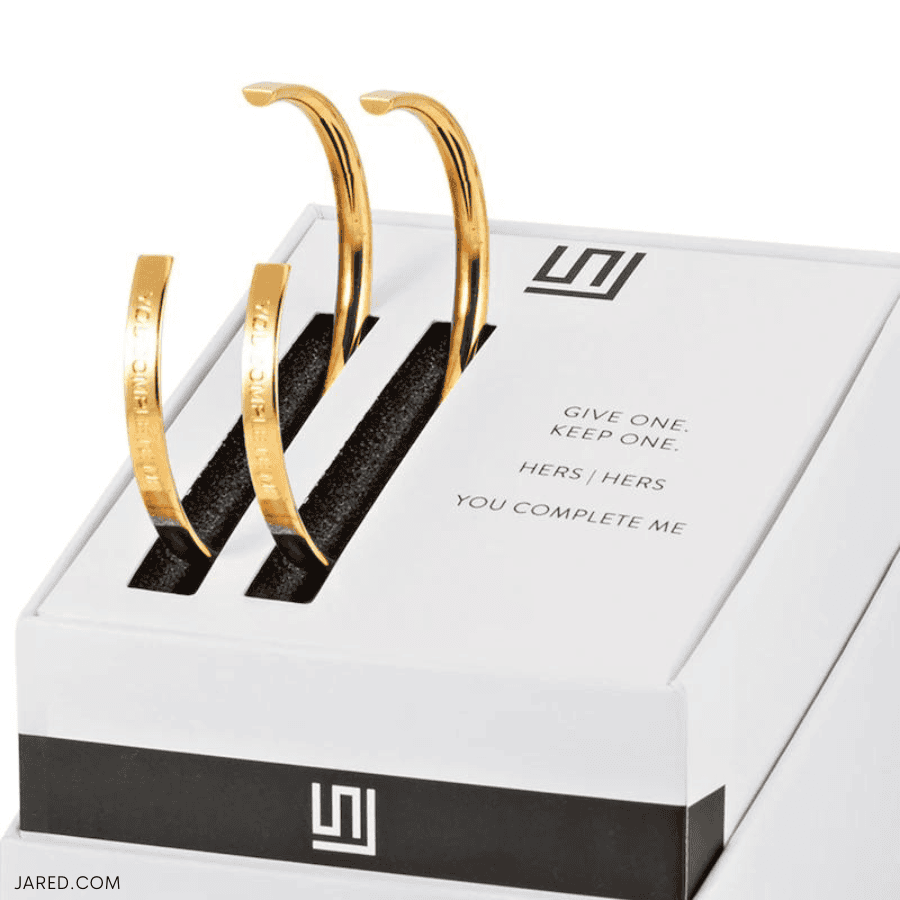 This matching bracelet set is fashionable and sweet! Give one bracelet to your sweetie and keep one for yourself. "You Complete Me".
---
RELATED: 15 Date Night Activities To Spice Up Your Next Date Night
Matching Couples Bracelets on Amazon
These personalized woven bracelets are a thoughtful way to express your love. They come in a variety of different sizes and colors. Customizable with special words, numbers, or coordinates – no matter what you want to say to your sweetie – you can engrave it on the bar.
---
#9 – Matching Bracelets
If you're looking for simple and sweet, these matching bracelets for couples are for you! They come in sets of two, so order one set. Keep one for yourself and give one to your significant other. You can wear these daily and feel connected even when you're apart.
---
#10 – Pinky Promise Bracelets
We LOVE these cute slip-on pinky promise bracelets. Slightly different than the pinky promise bracelets above. These have a single rope with a simple heart charm that holds the initial of your significant other. Each of you wears one on your wrist as a promise to always be there for each other near or far…
---
RELATED: 64 Juicy Pillow Talk Questions For Couples
Unique Couples Bracelets
#11 – BOND TOUCH Bracelets
Enjoy your own little morse code with your sweetie by using these BOND TOUCH bracelets. If you are looking for unique couples bracelets, these are it! You can tell your significant other I love you without having to pick up the phone. They will feel their bracelet vibrate on their wrist with your message!
---
#12 – Coordinates Bar Bracelet
This coordinates bar bracelet can serve as a thoughtful reminder of your special someone throughout the day. Have the bracelet engraved with the coordinates unique to both of you. The location of your first kiss, your first date, your future home, etc. Your sweetie will love this thoughtful lovely relationship bracelet!
---
#13 – Initial Disk Bracelet
Simple and sweet this initial disc bracelet is a stylish way to express your love. Order the bracelet with your partner's initial and one for them with yours. Dress this bracelet up or down, it will style well regardless of the occasion.
---
#14 – Essential Diamond Bracelet
This lovely round diamond bracelet has just the right amount of sparkle. You can wear this Monica Vinader bracelet alone or stack it with others. Show your love for your significant other with this classy diamond bracelet!
---
RELATED: 52 Best Mini Dates To Spice Up Your Relationship
Cute Matching Bracelets For Couples
#15 – Round Box Chain Bracelet
We love these gold box chain bracelets! Made in 14K gold they are made to be worn every day and last, making them an ideal relationship bracelet. These come in a couple different sizes perfect for his and her options.
---
#16 – Birthstone Bracelet
This elegant bracelet is adjustable and can be ordered with any birthstone. Show your significant other your love by wearing their birthstone on your wrist.
---
#17 – Infinity Chain Bracelet
Wear your love on your wrist with this infinity chain bracelet. By wearing this symbolic infinity bracelet you'll be able to show your love forever every day.
---
#18 – Gold Heart Bracelet
This gorgeous gold heart bracelet can be dressed up or down. Such a sweet and subtle way to show your love for your sweetie. While wearing this bracelet you will feel connected, even if you are miles apart.
RELATED: 101 Romantic Date Ideas We Love
Wearing a relationship bracelet is such a sweet and fashionable way to show love for your significant other.
We hope that you were able to find a great option for you and your sweetie on this list of cute relationship bracelets for couples!
This post was all about relationship bracelets for couples.
OTHER POSTS YOU MAY LIKE: