If you're looking for the secrets to a happy relationship, you are in the right place.
Maybe you've noticed the spark dwindling in your relationship and you want to get it back, or you're in the honeymoon phase and you want to keep that spark sparkling.
Regardless of where you are in your relationship, these secrets will help you to create a healthy, happy, long-lasting relationship that you and your partner will enjoy together for years to come!
This post is all about the secrets to a happy relationship.
Top 7 Secrets To A Happy Relationship
I think we would all agree that relationships are a lot of fun and special but they also can be frustrating at times and require work.
Relationships are like anything else in life, you get what you put into it.
For example, if you want to lose weight but are unwilling to eat right and exercise, chances are you won't be at your goal weight.
Well when it comes to relationships, if you say you want an incredible relationship but are unwilling to put in the work, chances are you won't have your dream relationship.
Fortunately, these 7 secrets to a happy relationship are quite simple and easy to apply!
The more consistently you apply these secrets to your relationship the more happiness and success you will experience as a result.
How To Have A Happy Relationship
#1 COMMUNICATE
You probably have heard this time and time again – if you want to have a happy relationship you need to communicate. You and your partner should be able to speak openly and honestly to one another about your feelings. There are some topics that may not always be the most comfortable to talk about, but you should always feel like you can. Your relationship should be a safe place for you to be yourself and feel safe to communicate.
RELATED: 30 Day Relationship Challenge For Couples Who Want To Spice Up Their Relationship
#2 LISTEN TO YOUR PARTNER
Communication is a two-way street. That means that you need to be able to tell your partner how you feel but also listen to them. The more that you are able to truly listen to your partner the better you will understand what it is that they want. Don't get so caught up in trying to communicate your point that you aren't able to listen to what they are saying. Make it a goal for you and your partner to be present and truly listen to one another when each of you is speaking.
RELATED: 97 Romantic Questions To Ask Your Partner To Get To Know Them Better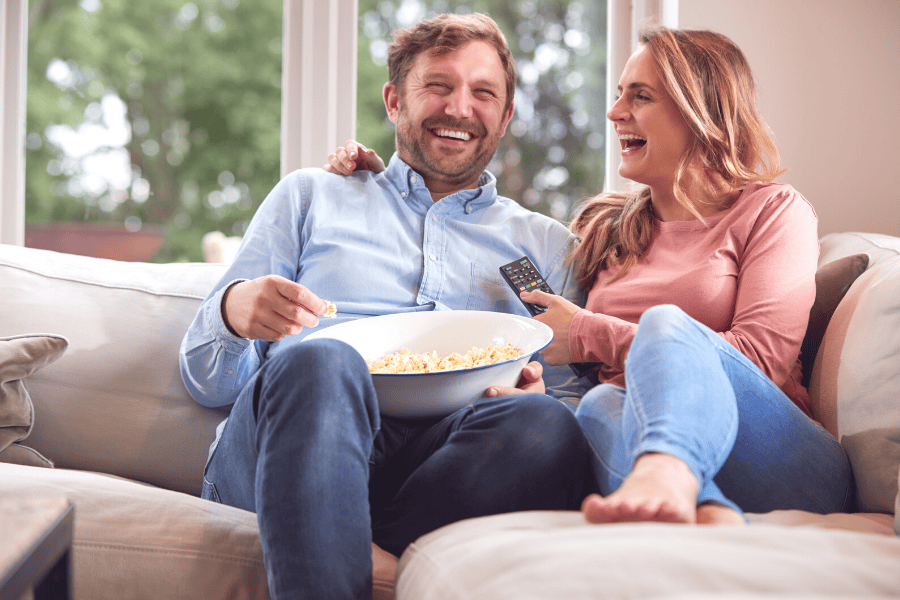 #3 MAKE TIME FOR YOU
Taking time for yourself outside of your relationship can help you and your partner bring your best selves into the relationship. This doesn't mean you need to spend days and weeks apart. It simply requires that you and your partner spend a little time here and there privately to ensure that you keep in touch with who you are, your personal hopes, dreams, and desires. After all, your partner fell in love with you!
How To Keep A Relationship Happy And Healthy
#4 SET GOALS TOGETHER
Setting goals together is a great way to increase long-term success and happiness in a relationship. Make time to sit down with your partner and create a bucket list of all the things you want to do together.
Set goals for your relationship and what you want to accomplish together in life.
These goals can range from little things like restaurants you want to go to all the way to buying a house, building a family, etc.
RELATED: The Top 10 Date Night Goals Every Couple Needs To Know About
#5 STAY INTIMATE
Intimacy is important to a relationship. Make sure that you and your significant other are making time for the two of you to be intimate with one another. When you are in the honeymoon phase of a relationship, staying intimate can be easy. But as time goes on and life gets busy, intimacy can slowly begin to fade away from a relationship if you're not careful. That's why it's important to consistently work to stay intimate with your partner. Doing so helps to make for a happy long-lasting relationship.
RELATED: 64 Juicy Pillow Talk Questions For Couples
Secret To Relationships
#6 LEARN EACH OTHER'S LOVE LANGUAGE
If we all spoke the same love language, so much would be easier. But, we don't, so learning what love language your partner speaks is key to being able to show them love in a way that they will understand. When your love language is different than your partner's, you may think that you are showing your partner, or telling your partner that you love them and care for them, but they aren't getting it.
The same is true for them, they may think that they are showing you love but it's not in your language so you don't see it the same way.
Take time to discover each of your love languages. Once you and your significant other understand one another's love language, it makes it so much easier for you both to feel loved and cared for.
#7 HAVE FUN TOGETHER
Don't get so caught up in the day-to-day routine that you forget to have fun with your partner. Schedule consistent date nights, try new activities together, and always learn more about your significant other.
Creating memories and sharing experiences helps to keep a relationship happy and strong.
Try implementing these 7 secrets into your relationship and watch the magic happen.
The Secrets Of Happy And Successful Relationships
Communicate.
Listen to your partner.
Make time for yourself.
Set goals together.
Stay intimate.
Learn each other's love language.
Have fun together.
It's amazing how these 7 secrets can make all the difference.
Happy relationships require two people who are both willing to do what it takes to make the relationship a joyful and successful one.
This post was all about the secrets to a happy relationship.
Other Posts You May Like: