This post is all about the best romantic fall date ideas.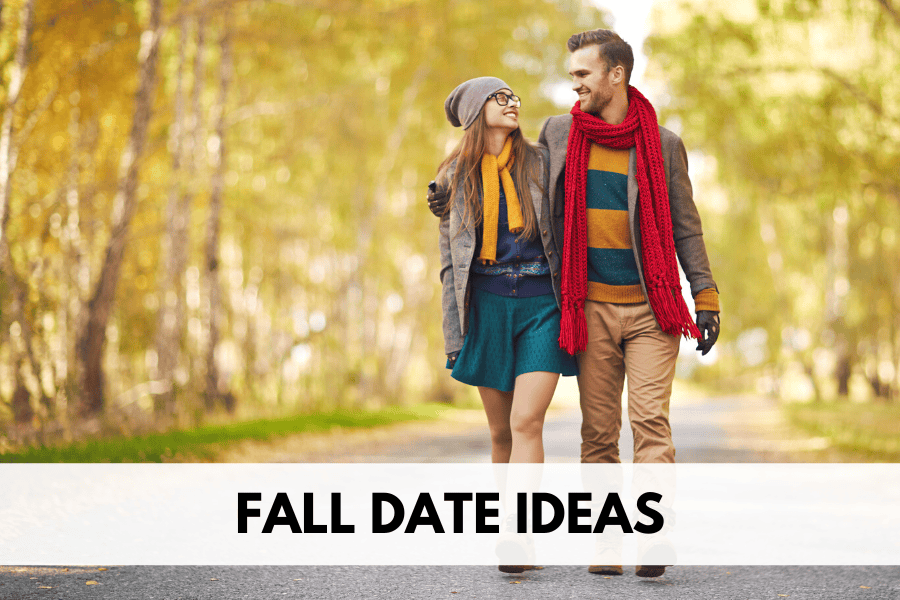 There is something magical about the fall. The air gets cooler as the leaves on the trees begin to change color. It truly is such a beautiful time of year.
You get to pull out your cute sweaters and boots and pumpkin spice lattes make their annual appearance at the coffee shop.
Romantic Fall Date Ideas
Fall carries with it a certain romance that is unlike any other season.
It's hard to say whether it's the cooler weather, the beautiful leaves, the availability of pumpkin spice, or all of the above, but it certainly brings a spark to relationships.
That being said, we have put together 19 fall date ideas you are going to LOVE!
Fun Fall Date Ideas
#1 Visit A Fall Festival
Festivals are a festive way to kick off the changing of the seasons.
At a fall festival, you typically will be able to enjoy a full day of live entertainment, local food vendors, a beer and wine garden, and even more.
To find a fall festival in your area, the best thing to do is to look on Google or Facebook.
Mark the dates in your calendar as soon as you find them. You then will have a few fun fall date ideas already planned to kick off the season.
RELATED POST: How To Have The Ultimate Fondue Date Night At Home
#2 Attend Farmer's Market
Going to a farmer's market always makes for a fun fall date idea. Depending on the time of year you will find different goods and foods from local vendors.
Try something seasonal and stock up on your fall faves.
Download Your Free Date Night Conversation Cards
#3 Haunted House
If you and your sweetie enjoy a good scare consider visiting a haunted house for date night. You can hold each other close as you walk through the haunted rooms in celebration of the fall season.
RELATED POST: 141 Flirty Never Have I Ever Questions For Couples
#4 Do A Corn Maze
A corn maze is such a festive fall date idea. If you have never been through a corn maze before you are in for a treat.
It's like walking through a life-size fall-themed gigantic puzzle. Be sure to grab a map before you start the maze though.
Throughout this fall date idea, you get to work with your sweetie as you make your way through the winding corn maze. For an extra challenge try doing a corn maze at night.
#5 Go Cider or Beer Tasting
If you and your sweetie enjoy cider and beer you will love this fall date idea. Fall is one of the best times to go cider or beer tasting.
You can do this date by attending local breweries or you can select a few cider and beer options and do this as an at-home date idea as well.
Cute Fall Date Ideas
#6 Have A Fall Photo Shoot
Fall offers so many great photo ops. Especially with all the beautiful colors and fall decorations around.
If you are looking for fall-themed photo ideas consider taking pictures in a pile of leaves or head to a pumpkin patch. Both will give you magnificent photo ops!
RELATED POST: Date Night Scavenger Hunt For A Night Out You'll Never Forget
#7 Go To A Drive-In Movie
Going to a drive-in in the fall is one of my favorite fall date ideas.
It's cooler in the fall so the temperature is perfect. Not too hot (like in the summer) and not too cold (like in the winter) it's just right! Drive-in movies allow for lots of date night cuddle time.
Check our drive-in movie date idea for how to create the ultimate drive-in movie experience.
#8 Go Apple Picking
Visiting an apple orchard is a cute fall date idea. You can enjoy being outside in the beautiful scenery while picking apples with your sweetie.
Usually, there are other fun activities that you can do while at an apple orchard. Many will have hay rides, and food stands, some even have petting zoos. The apple orchard also is the perfect place to snap some cute fall pics of you and your sweetie.
Cheap Fall Date Ideas
#9 Visit A Pumpkin Patch
Nothing says fall quite like going to a pumpkin patch and typically they are loaded with fun activities. You get to walk through the field with your sweetie and pick out your pumpkins.
This date idea always holds a special place in my heart because my hubby and I did this for our 2nd date. We always make it a point to visit a pumpkin patch every year.
After you pick your pumpkins, most pumpkin patches have a place to get food and drinks and some even offer live entertainment.
RELATED POST: How To Have An Incredible Painting Date Night At Home
#10 Have A Scary Movie Marathon
Do you and your sweetie enjoy a good scary movie? If so, you can do a scary movie marathon. Look up some of the best scary movies and get them all lined up and ready to go.
Pick up your favorite movie snacks, grab a blanket, and cuddle up with your sweetie as you make your way through your scary movie marathon.
#11 Go Fly Kites
Flying kites is not only a fun date idea but it also will allow you and your partner to connect and enjoy the lovely atmosphere that fall has to offer.
Pack a picnic, bring a blanket, and embrace your inner child and the joy of flying a kite.
Free Fall Date Ideas
#12 Go For A Hike
Going for a hike in the fall is one of our favorite times to get up to the mountains.
The air is cooler which makes it much more comfortable. Depending on where you live, if you time your fall hike right you also will get to revel in the beauty of the changing leaves.
#13 Take A Bike Ride
Grab your bike and your significant other and take a bike ride around town. You could even stop at a local coffee shop for a pumpkin spice latte or another seasonal favorite.
RELATED POST: Ultimate Photo Scavenger Hunt For Couples
#14 Go See The Leaves
Heading to the mountains to watch the leaves change is a romantic fall date idea. Bundle up because it can get a bit chilly but it's totally worth it. If you are fortunate enough to be able to see the Aspen trees glow it is an unbelievable site
Fall Picnic Date Ideas
Having a picnic during the fall is a super romantic date. The temperature is ideal and the scenery is gorgeous.
You can picnic at home in your living room, in your backyard, at the park, or in the mountains, the options are endless. It really comes down to your personal preference.
The benefit of a picnic at home is that you have everything you need nearby.
#15 Have A Picnic Date
You can pack a picnic basket and spread out a blanket in your living room or backyard. This date is especially helpful should you have young kids at home. It's a good way to get creative on date night and spice up the romance after they've gone to bed.
Having a fall picnic in the mountains is always a good choice. The scenery is lovely and the air is nice and crisp leaving you with plenty of good cuddle opportunities.
Pack a picnic basket, blanket, and sweaters, and bring your sweetie to a local park for a fall picnic date. You can enjoy lying together as the leaves slowly fall to the ground.
During the fall you can even find local parks that offer free concerts. I suggest checking Google or Facebook to see what concert in the park options may be available for fall date ideas in your local town.
Fall Date Ideas At Home
As the seasons begin to change use some of these romantic fall date ideas to snuggle up with your sweetie at home.
#16 Fondue For Two
Having a fondue date night at home is one of my hubby and my favorite at-home date nights. Depending on the time of year we like to use different types of fondue and dippers for the fondue.
In this post, we share how to have the ultimate fondue date night. If you like fondue, you will want to be sure to check it out. 🙂
#17 Sip & Paint At Home
Having a paint date night with your significant other is a great way to be creative, relax, have fun, and connect.
This fall date night idea is another at-home fave and we've put together everything you need to have an incredible painting date night in your own home.
#18 Spa Date Night
If you've had the pleasure of receiving a professional massage or facial treatment, you know just how much of a treat this spa date night will be.
This fall date idea will give you time to unwind with your sweetie as you enjoy an evening or afternoon filled with relaxation and romance!
RELATED POST: How To Create A Romantic Spa Date Night At Home
#19 Bake An Apple Pie
With apples in season, baking a pie is one of the best fall date ideas to do at home.
You can even begin this date by going shopping with your sweetie for everything you'll need for this date idea. Hit up your local store or farmer's market and pick up all the pie baking date night necessities.
Cute and Cozy Fall Date Ideas
Fall is such a romantic season offering a variety of new date ideas!
We hope that you've found some fall date ideas on this list to spice up your autumn romance.
Be sure to save this post for future reference – that way if you're ever looking for a date idea this fall – you'll have several to choose from.
This post was all about fall date ideas.
Other Posts You May Like:
PIN TO REMEMBER!