Create virtual sparks with these video call date tips and ideas.
Are you ready to embark on a virtual adventure of love and connection? Look no further than video call dates!
Video Call Date Tips & Ideas
In today's fast-paced and tech-savvy world, finding creative and convenient ways to connect with someone special has become increasingly important.
That's where video call dates come in. Not only are they a fantastic alternative to traditional in-person outings, but they also offer a unique and exciting opportunity to get to know someone on a deeper level from wherever you may be.
So grab your favorite beverage, cozy up on the couch, and get ready to experience the magic of a video call date.
In this post, we're sharing the best video call date tips, ideas, questions, and more.
Whether you choose to make your video call date a mini date or an entire date night – these video call date ideas will help to spark a connection and keep it sparkling!
How To Have A Video Call Date
Having a video call date is a fantastic way to connect with someone, even if you can't be in the same physical location. So, here's how you can have an awesome video call date.
First things first, find a cozy and comfortable spot wherever you're going to do your date and set up your device.
Create the mood by dimming the lights, lighting a few candles, or playing some relaxing music in the background. Next, dress up a bit and put on something that makes you feel confident and relaxed.
Once you're all set up, kick off the date by engaging in fun activities together, like cooking the same recipe, playing online games, or watching a movie simultaneously.
Don't forget to chat and laugh along the way, as a good conversation is the heart of any great date.
Video Call Date Tips
These are 10 video call date tips to make your virtual date a success:
1. Find the right platform for your video call date:
Choose a video call platform that both you and your date are comfortable with, whether it's Zoom, Skype, or FaceTime.
2. Set the mood:
Create a cozy and inviting ambiance by dimming the lights, lighting some candles, or playing soft background music. It's all about setting the right atmosphere for a memorable date.
3. Dress to impress:
Just because you're at home doesn't mean you can't look your best! Dress up a little and show your date that you've put effort into your appearance.
4. Plan an video call date activity:
Engage in a shared activity like cooking the same recipe, playing online games, or watching a movie simultaneously. This will bring a fun and interactive element to your virtual date.
5. Be a good listener:
Show genuine interest in your date by actively listening and asking questions. It's important to make them feel heard and valued.
6. Embrace spontaneity:
Don't be afraid to be spontaneous and go with the flow. Surprise each other with unexpected questions or challenges to keep the conversation lively and entertaining.
7. Keep distractions at bay:
Minimize distractions by turning off notifications on your devices and finding a quiet space where you can focus solely on your date.
8. Maintain eye contact:
Look directly into the camera on your video call date to create a sense of eye contact. This will help you connect and establish a stronger bond, even through a screen.
9. Be yourself:
Your date is interested in connecting with you. So be genuine and let your personality shine through!
10. Have fun and enjoy your video call date:
Above all, remember to relax and enjoy the experience. Laugh, be playful, and savor the connection you're building. After all, a video call date is meant to be fun and a chance to create special memories together.
10 Best Video Call Date Ideas
Here are 10 video call date ideas to add some excitement to your virtual hangouts:
1. Virtual coffee or tea date:
Brew your favorite beverage, sit back, and have a cozy chat over a cuppa.
2. DIY craft or art session:
Get creative together by working on a craft or art project simultaneously. Share ideas, show off your creations, and have a fun time.
3. Virtual game night:
Choose online multiplayer games or classic board games that you can play together. It's a fantastic way to engage in friendly competition and enjoy some laughs.
4. Book club date:
Pick a book or a short story to read, then discuss your thoughts, favorite characters, and plot twists during your virtual book club date.
5. Music sharing session:
Create playlists of your favorite songs or albums, take turns playing them, and share the stories behind your musical choices.
6. Virtual cooking or baking class:
Find a recipe that interests both of you and follow along with an online cooking or baking tutorial. Enjoy the fruits of your labor afterward!
7. Workout session:
Stay active and motivated together by doing a virtual workout or yoga session. Share your fitness routines, challenge each other, and cheer each other on.
8. Virtual museum or art gallery tour:
Explore the virtual world of art and culture by visiting museums or art galleries online. Discuss your favorite pieces and share your interpretations.
9. Outdoor virtual date:
Take your devices outside and have a picnic, go for a walk, or enjoy the sunset together virtually. Connect with nature while connecting with each other.
10. Movie marathon:
Pick a movie genre or a series you both love and have a movie marathon over video call. Snuggle up with blankets, and snacks, and enjoy the cinematic experience together.
Video Call Date Questions
Having date night questions whether in person or on a video call date will help to get the conversation started and keep it flowing. Plus, asking questions is a great way to get to know your date better.
These are 10 popular video call date questions to set you up for success:
1. What's the most memorable trip or vacation you've ever been on, and what made it so special?
2. If you could have any superpower, what would it be and why?
3. What's your go-to comfort food or guilty pleasure snack?
4. If you could have dinner with any historical or famous person, who would it be and what would you ask them?
5. What's the best piece of advice you've ever received, and how has that advice helped you?
6. How do you like to relax and unwind after a long and stressful day?
7. If you could learn any new skill or hobby overnight, what would it be and why?
8. What's the most interesting book you've read recently, and what did you love about it?
9. If you could live anywhere in the world, where would you choose to live and why?
10. What's something on your bucket list that you're determined to achieve in the next few years?
These questions are just a starting point. You can branch off into other topics based on your shared interests and the flow of the conversation. The key is to keep things light, enjoyable, and full of curiosity.
RELATED: 97 Romantic Questions To Ask Your Boyfriend To Make Him Laugh
How To Flirt On A Video Call Date
A common question we get is – how do you flirt on a video call date? So, if you're curious about how to flirt on a video call date – these tips are for you!
When it comes to adding a little spice and excitement to your virtual dates, there are a few things you can do.
First off, give genuine compliments. Let your date know that their smile lights up the screen or that their outfit looks fantastic. A little compliment can go a long way in making them feel special.
Secondly, use body language. Even though you're not physically together, you can still convey interest and attraction through subtle gestures like leaning in closer to the camera or giving a playful wink. Remember to smile and maintain eye contact – those small gestures can create a powerful connection.
Lastly, inject some playful banter and teasing into the conversation. A witty remark or a light-hearted joke can make the atmosphere flirty and fun. Just remember to always keep it lighthearted and respectful, so that you and your date always feel comfortable.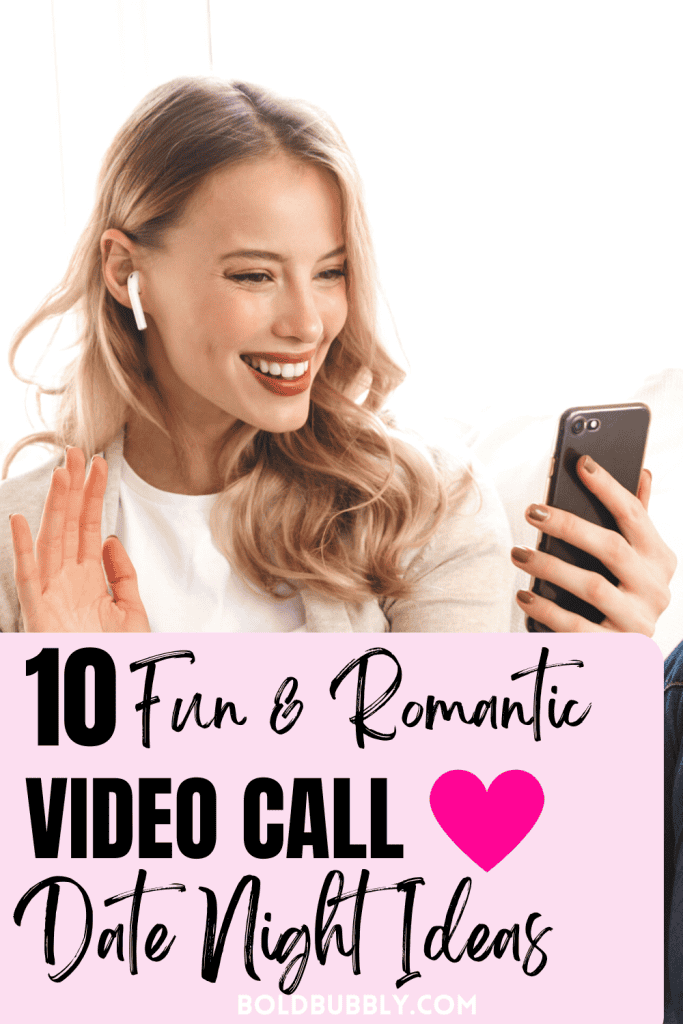 Are You Nervous About A Video Call Date?
No worries, we've got your back! If you're feeling a bit nervous about your upcoming video call date, here are five tips to help you feel more at ease:
1. Take a deep breath and relax:
Remember, it's completely normal to feel a little jittery before a date, even a virtual one. Take a few deep breaths to calm your nerves and remind yourself that you're just two people getting to know each other.
2. Dress comfortably:
Choose an outfit that makes you feel confident and comfortable. When you're relaxed in what you're wearing, it can help boost your self-assurance and put you in a positive mindset.
3. Prepare some talking points:
If you're worried about running out of things to say, jot down a few conversation starters or interesting topics beforehand. This way, you'll have some go-to ideas to keep the conversation flowing smoothly.
4. Create a cozy environment:
Set up your space in a way that makes you feel relaxed and at ease. Arrange some soft lighting, play your favorite music in the background, or have a comforting beverage nearby. Creating a cozy atmosphere can help you feel more comfortable and in the right frame of mind.
5. Be yourself and have fun:
I really think this is the most important tip of all. Be yourself! Embrace your unique quirks and let your personality shine through. This is a chance for both of you to connect, enjoy each other's company and have a good time. So relax, smile, and let the conversation unfold naturally.
Keep in mind that nervousness is perfectly normal, and your date might be feeling the same way. Embrace the opportunity to connect with someone new, and enjoy the experience together.
Final Thoughts on Video Call Date Tips & Ideas
A video call date is an incredible way to connect with someone special. Whether it's a virtual coffee date, an adventure, a cozy movie night, or even cooking together from a distance, these video call dates allow us to create meaningful memories and deepen our connections, even when we can't be physically together.
So, don't let distance or circumstances keep you from enjoying the magic of love and connection. Embrace the possibilities, be yourself, and have fun exploring new ways to bond and share experiences with your virtual date.
With a little creativity and an open mind, you'll discover that having a video call date can be just as delightful and memorable as traditional face-to-face outings. So go ahead, grab your device, and get ready for sparks to fly as you experience some incredible virtual adventures together!
This post was all about video call date tips and ideas.
Other Posts You May Like: