Stargazing date nights are the stuff dreams are made of and we're here to help you make it a romantic evening for you and your partner.
Whether you're seasoned stargazers or just want to try something new for date night, get ready for a guide to the most romantic stargazing date ideas out there.
Romantic Stargazing Date Ideas
Stargazing is undeniably one of the most romantic activities you can share with your partner. The beauty of the night sky, the stars, and the vastness of the universe create a magical and intimate atmosphere.
Whether you're cuddled up together or holding hands while tracing constellations, stargazing sets the stage for unforgettable moments of romance and connection.
From where to go, when to go, the best tips, ideas, and everything in between – we cover what you need to make this stargazing date one that you'll remember forever.
We've also included free printables to make this stargazing date night an extra special romantic date for you and your partner!
When Is The Best Time To Go Stargazing?
The best time to go on a stargazing date depends on a few factors. Here are a few things to keep in mind for the best time to go stargazing:
During New Moon or Crescent Moon Phases – Stargazing during a new moon or crescent moon phase is ideal because the sky is darkest. This means that the stars will be able to shine more brightly.
Nights That Are Clear and Have A Cloudless Sky – Choose a night when the weather forecast predicts clear and cloudless skies. Clouds can block your view of the stars.
Midnight to Very Early Morning – A stargazing date in the late evening to early morning hours is ideal because the sky is usually at its darkest during this time.
Seasonal Considerations – Different constellations are visible at different times of the year. Research what you can expect to see during the season of your stargazing date.
Where Is The Best Place To Go Stargazing
The best places to go stargazing are typically an area where the night sky is darkest and stars shine the brightest.
Here are some excellent locations for a stargazing date:
National Parks: Many national parks have areas with limited artificial light, making them perfect for stargazing.
Remote Countryside: Far away from cities and urban areas, the countryside offers dark skies for stargazing.
Mountains and Hilltops: High elevations can offer breathtaking panoramas to enhance your stargazing experience.
Beaches: Coastal areas can be excellent spots for stargazing, plus the sound of ocean waves can add to the ambiance.
Astronomy Observatories: Some observatories offer stargazing events and opportunities to use telescopes for a closer look at the night sky.
Backyard or Balcony: If you can't travel to a remote location, a backyard or balcony away from streetlights can still offer decent stargazing opportunities.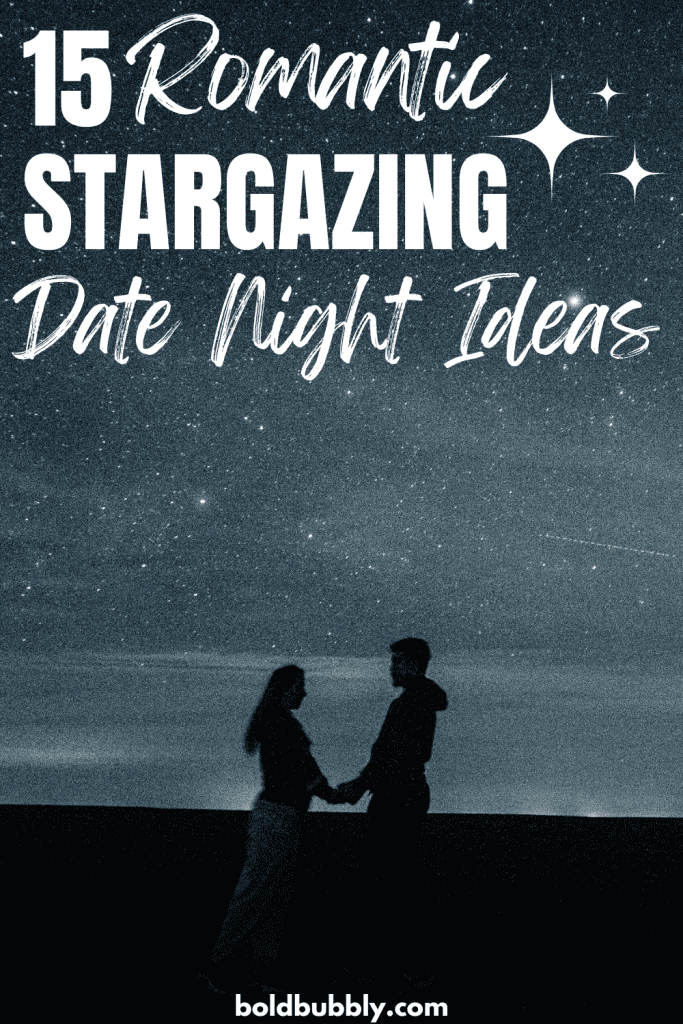 Stargazing Date Tips
Here are several tips to make your stargazing date a romantic experience you'll always remember:
Find a Dark Location: Choose a location away from city lights to ensure a clearer view of the stars.
Check the Weather: Keep an eye on the weather forecast to ensure a cloudless sky. You can see the stars best on a clear night.
Bring Comfortable Stargazing Date Essentials: Bring cozy blankets, pillows, and portable chairs to create a comfortable and relaxed setup.
Pack Snacks and Drinks: Enhance the experience with delicious snacks like chocolate, fruits, or a picnic-style meal. A warm beverage is a nice extra touch too, it can be chilly at night looking at the stars!
Stargazing Apps: Download stargazing apps to identify constellations and planets easily. Apps like SkySafari or Star Walk are handy guides.
Telescope or Binoculars: If you have access to a telescope or binoculars, bring them along to get a closer look.
Plan Ahead: Research events like meteor showers or planet sightings happening around your date night for an extra touch of magic.
Cute & Romantic Stargazing Date Ideas
Backyard Starry Night – Set up a cozy stargazing location in your backyard. Enjoy some delicious treats while lying on a blanket as you gaze up at the night sky.
Beach Stargazing – Head to the beach with a comfy blanket and watch the stars dance above the ocean waves.
Hiking Date – Plan a romantic evening date night hike to a hilltop or scenic viewpoint for a stunning stargazing experience.
Stargazing Boat Ride – If you live near a lake, rent a small boat and float under the stars together.
Astronomy Event – Attend a local astronomy club event or star party to learn from experts.
Camping Date – Spend the night camping immersing yourselves in nature's beauty.
Drive-in Movie & Stargazing – Combine a classic drive-in movie date with stargazing from the comfort of your car.
Observatory or Planetarium – Visit a planetarium or observatory for an educational yet romantic evening of celestial exploration.
Stargazing on a Rooftop – If you have access to a rooftop, create a private stargazing spot with blankets and cushions.
Stargazing Picnic Date – Prepare a delightful nighttime picnic, complete with star-shaped treats, and dine under the stars.
Hot Tub Stargazing – If you have a hot tub, stargazing while soaking in warm water can be incredibly relaxing and romantic.
Starlit Wine Tasting – Set up a wine tasting session under the stars, and sip on your favorite wines.
Midnight Dessert Date – Head to a 24-hour cafe or bakery for late-night dessert date and stargazing in the city.
Stargazing Scavenger Hunt – Plan a stargazing-themed scavenger hunt with fun surprises and clues to keep things exciting.
Night Sky Photography Date – Experiment with photography as you capture the beauty of the stars together.
Free Printable Stargazing Date Ideas
Enhance your stargazing date night with our Free Stargazing Date Night Printable.
Constellation Guide: This will help couples identify the stars they see.
Wish Upon a Star Cards: These cards have space for you and your partner to write down your wishes as you gaze at the stars.
This printable is the perfect way to add magic and sentiment to your date and create lasting memories under the stars.
What To Wear For A Stargazing Date
Choosing the right attire for a stargazing date depends on the location, weather, and your personal preferences.
Comfortable Layers: Nights can get chilly, so dress in layers that you can add or remove as needed. A light jacket, sweater, or hoodie is a good option.
Warm Accessories: Consider bringing a beanie or a hat as well as gloves or mittens, especially if it's cold.
Comfortable Footwear: Opt for comfortable shoes suitable for your stargazing date location.
Final Thoughts On Cute & Romantic Stargazing Date Night Ideas
These romantic stargazing date ideas provide an opportunity to connect and create memories. Whether cuddling on a hilltop, lying on a blanket at the beach, or simply gazing up from the comfort of a backyard setup, the beauty of the night sky sets the stage for unforgettable moments with your special someone.
Other Posts You May Like: