These are the best walking date ideas!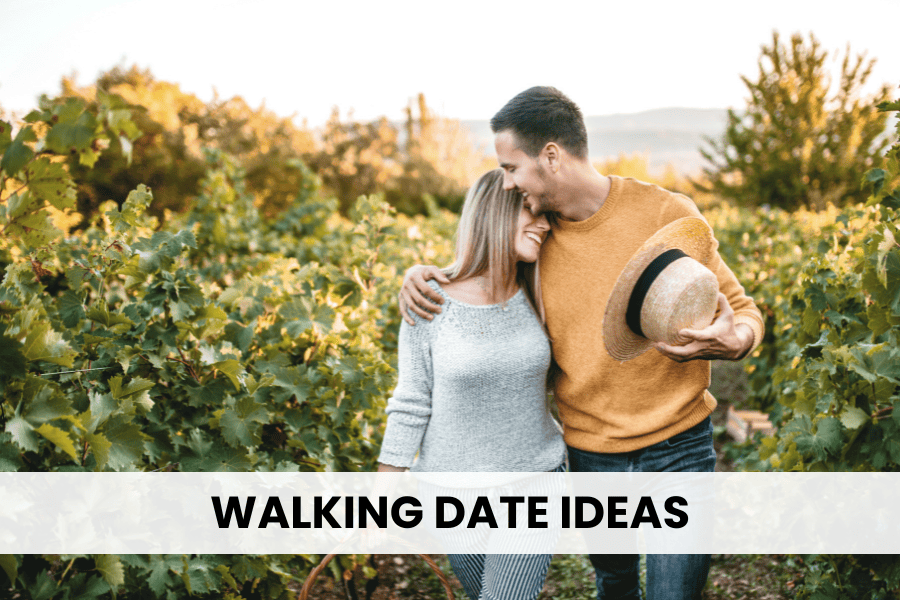 In a world that's increasingly dominated by technology and fast-paced lifestyles, finding meaningful ways to connect with your partner has become more important than ever.
That's one of the reasons these walking date ideas are such favorites!
Walking Date Ideas
Walking dates are a simple way to spend quality time with your partner while enjoying each other's company and the beauty of nature.
If you're looking for date ideas that offer the perfect blend of relaxation, adventure, and intimacy, you will love these walking date ideas.
In this post, we share a variety of walking date ideas to help you infuse your relationship with romance and connection.
Why Walking Dates Are Good Date Ideas
Walking dates provide a special opportunity for you and your partner to have genuine conversations, free from the distractions of screens and noisy environments.
My hubby and I love our walking dates. We find that these dates not only help us to connect on a deeper level but also clear our minds and give us a chance to relax and unwind together.
A casual walk allows for you and your partner to focus on one another.
Whether it's a leisurely stroll through a park, a scenic hike, or a city exploration, these walking date ideas are fun, relaxing, and a great way for you and your partner to connect
Best Walking Date Ideas
There are several amazing walking date ideas that you can do with your partner. On this list, we've put together our favorites:
Nature Walking Date Ideas
One of the best parts of walking dates is the chance to immerse yourselves in nature. If you and your partner appreciate the great outdoors, consider these nature-inspired walking date ideas: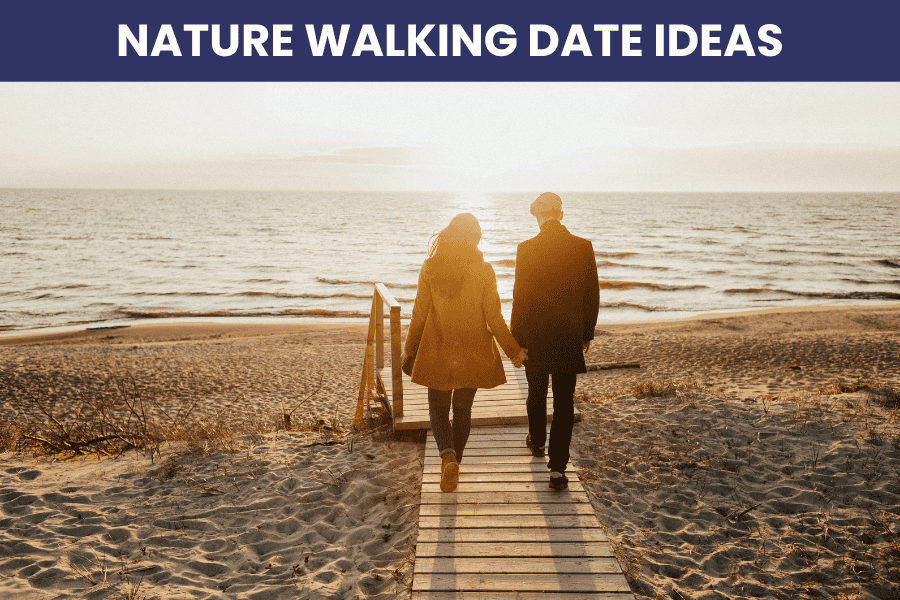 1 – Picnic in the Park
Pack a picnic basket with your favorite snacks and beverages, grab a cozy blanket, and head to a local park. Enjoy a leisurely stroll, find a beautiful and quiet spot, and indulge in a picnic.
2 – Sea Side Walk
If you're lucky enough to live near a coast, a walk along the beach during sunset or under the stars can be incredibly romantic. The soothing sound of waves crashing and the vastness of the ocean provide a backdrop for heartfelt conversations.
3 – Botanical Garden
Explore the beauty of a botanical garden with your sweetie as you stroll hand in hand. Connect in meaningful conversations as you admire the plants and flowers.
City Walking Date Ideas
City dwellers don't need to miss out on the charm of walking dates. Urban areas offer their own variety of captivating walking date ideas:
4 – Architectural Exploration
Take a stroll through your city's historic district or a neighborhood known for its unique architecture. Admire the blend of old and new, and all the artistic details that often go unnoticed.
5 – Street Food Stroll
Turn your walking date into a culinary adventure by exploring local food markets, street vendors, and cafes. Discover new flavors together and converse over your new favorite treats.
6 – Art and Culture Walk
Plan a walking route that includes visits to local art galleries, museums, or street art hotspots. Talking about the art you come across can be both intellectually and emotionally rewarding.
Fitness and Exploration Walking Date Ideas
If you and your partner enjoy physical activity, these walking date ideas offer opportunities for exercise, connection, and exploration:
7 – Scenic Hike
Research hiking trails in your area that cater to your fitness level. Hiking dates through nature not only strengthens your connection but also provides a sense of accomplishment as you conquer new terrain together.
8 – Geocaching Adventure
Combine walking with a treasure hunt by trying geocaching. This is a fun activity that involves using GPS to find hidden containers, or caches, while exploring different locations.
9 – Historical Walking Tour
Enjoy walking back in time with a historical walking tour of your town or a nearby historic site. Learn about the stories and events that shaped your community while enjoying each other's company.
Tips for a Successful Walking Date
Regardless of which walking date idea you choose, a successful date requires some careful planning and consideration. Here are some helpful tips to ensure your walking date is enjoyable and memorable:
Choose the Right Location – Pick a location that aligns with both your and your partner's interests. If you and your partner love nature, opt for a park or a hiking trail. If you're urban enthusiasts, explore the city's streets and landmarks.
Check the Weather – Because walking dates are outside, you'll want to keep an eye on the weather and plan your outfit according. Wearing comfy clothing and appropriate footwear is key for a pleasant experience.
Stay Hydrated and Snack – Depending on the duration of your walk, you'll want to bring along a water bottle and even some light snacks.
Capture the Moments – Bring a camera or use your phone to take pictures during your walking date. These photos will make sweet mementos of your time together that you can look back on.
Be Present – Remember, the goal of the walking date is to connect with your partner. Put away your phones and focus on engaging in conversations and shared experiences.
Plan the Route – Before your walking date, have a general idea of the route you'll be taking. This is especially important if you're exploring unfamiliar areas.
Be Flexible – While planning is important, be open to spontaneous detours or extended stops if you come across something interesting.
Conversation Starters – Use the quiet and peaceful environment to have deeper conversations. Ask open-ended questions and listen actively to your partner's responses.
Final Thoughts On Walking Date Ideas
Walking dates offer a wonderful blend of relaxation, adventure, and intimacy. They really are an ideal choice for couples looking to do something different while seeking meaningful ways to spend time together.
Whether you choose to spend time in nature or exploring the heart of the city, these walking date ideas provide ample opportunities for bonding and creating special memories. So, put on your walking shoes, grab your partner's hand, and begin a journey of love and exploration.
This post was all about the best walking date ideas.
Other Posts You May Like: