This post is all about funny dog puns.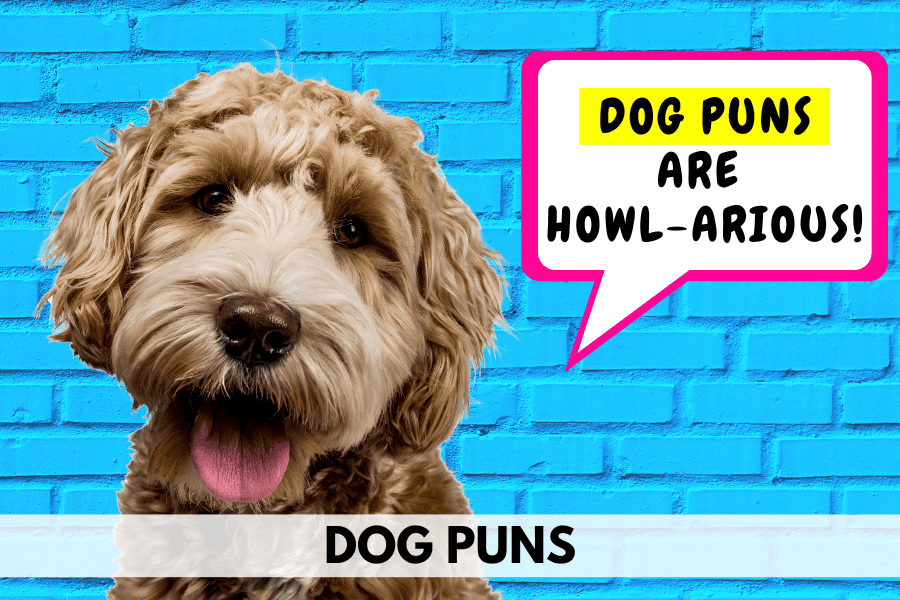 If you're looking for funny dog puns, you are in the right place.
Here we are sharing the ulti-mutt list of paws-itively paw-some dog puns!
Dog Puns
If you love pups and puns you are going to have an absolute ball with these funny dog puns!
Whether you're simply looking for laughs to share with your coworkers on a coffee break or you want to find those perfect dog puns for Instagram, you will surely discover something on this list that you will enjoy!
So cuddle up with your fur-legged bestie and keep on reading…you will be howling with laughter as you go through these funny dog puns!
Dog Puns Love
Never fur-get how much I ruff you!
Do you know howl much I love you?
Being with you is paw-idise!
RELATED: 113 Cat Puns For Some Serious Kitten Around
My love for you is fur-real!
Life would be ruff without you.
I want to unleash my love for you!
I woof you more than anything in the world!
Dog Puns Captions
I like big mutts and I cannot lie.
My best friend has 4 paws!
RELATED: 53 Donut Puns That Are A Hole Lot Of Fun
I'm always having a ball with you!
I woof spending time with you.
Give them a round of a-paws!
Another day at the paw-ffice.
You make me bark with laughter!
Dog Puns For Instagram
I prefer resting with my paws up!
Let's go get a paw-dicure!
RELATED: 141 Flirty Never Have I Ever Questions For Couples
It's not dog hair it's dog glitter.
Every move you make I'll be watching you. ,
Make it a paw-tastic day!
You are barking up the wrong tree.
Dog Puns Captions Instagram
Anything is paws-sible if you just believe.
Did somebody say Central Bark?
Busy catching up on my pee-mails!
You had me at first woof!
RELATED: 67 Of The Best Flirty This Or That Questions For Couples
Cute Pet Puns
Central Bark is my favorite!
Leave a little dog glitter everywhere you go!
Got a major case of the zoomies!
Birthday Dog Puns
These birthday dog puns are perfect to celebrate with any dog lover in your life!
Happy birthday to one hot dawg!
Hope your birthday is paws-itively awesome!
Today is your day to paw-ty!
Wishing you a fur-tastic birthday!
I hope your birthday is un-fur-gettable!
Make a woof and blow out your candles!
Have a paw-some birthday!
I herd it's your birthday! Let's paw-ty!
Puppy Puns
Movie and pup-corn tonight?
I herd you the first time.
RELATED: 103 Truth Or Dare Questions To Ask Your Boyfriend Over Text
I can't wait to lick your face.
Watch out for the pup-parazzi!
Darling you are fetching!
Stop and paw-nder once in a while.
Paws-itively in love with you!
Funny Dog Puns
Hold your ap-paws paw-lease!
RELATED: 41 Cheesy & Flirty Pick Up Lines For Her
The newest member of the pack!
Home is where the dog is!
I dug it up just for you!
Best sniffer in the neighborhood!
Short Pet Puns
Friends always stick together!
RELATED: 83 Romantic Names To Call Your Boyfriend, Girlfriend, Or Spouse
Woof Puns
Keep calm and carry big sticks!
Unleashing my love for you!
Paw-lease I'm begging you!
From one dog lover to another, we hope that you enjoyed this "ulti-mutt" list of funny dog puns!
This post was all about dog puns.
OTHER POSTS YOU MAY LIKE: