This post is all about flirty pick up lines for her.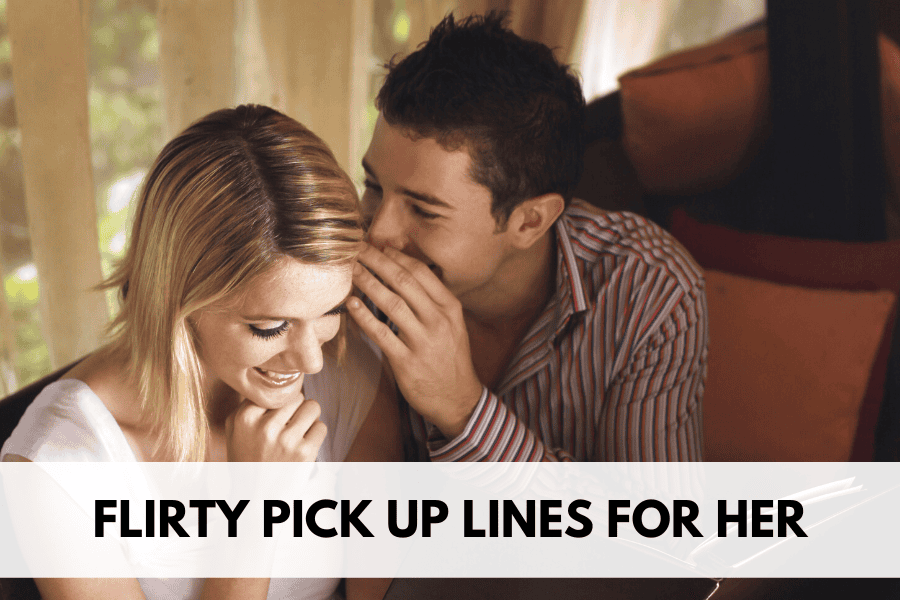 Looking for flirty pick up lines? You are in the right place!
Whether you are newly dating or you've been together for years, you are sure to find some flirty pick up lines for her or him on this list.
Flirty Pick Up Lines For Her
Sending a love text is a great way to show your sweetie that you are thinking about them.
Nevertheless, you can step up your texting game a notch and really get your special someone's attention with one of these flirty pick up lines.
Pick up lines when used correctly are the perfect way to break the ice and spice up the conversation with your sweetie.
These flirty pick up lines for her will give her something to laugh about and keep things fun and interesting.
RELATED: 129 Juicy Yes Or No Questions For Couples
In this post, we've put together a list of our favorite cheesy pick up lines, flirty pick up lines, and cute pick up lines.
You might be surprised how helpful it can be to have a few pick up lines on hand that you can use as needed.
We get it…pick up lines can be corny. However, that doesn't mean they don't work.
If your sweetie needs a little pick me up or you're looking for a creative way to break the ice, flirt, or add some laughter to their day – these pick up lines will totally do the trick!
Save your favorite cute pick up lines and enjoy the sparks that come along with using these flirty pick up lines.
RELATED: 93 Sweet And Romantic Love You Texts For Her
How To Use Flirty Pick Up Lines
If you and your significant other have been together for a while then you probably know their sense of humor and which of these flirty pick up lines is sure to crack them up.
However, if you are newly dating and getting to know someone – using a cheesy pick up line can be a good way to discover what type of humor they have and show them you are a fun person to be around.
Pick up lines lead to a fun conversation, a successful date, a relationship, sparks that keep sparkling, and more!
RELATED: 64 Juicy Pillow Talk Questions For Couples
The thing about pick up lines is that even though they can be cliche, cringy, and even corny – they do break the ice and have a tendency to spice up a date night and conversations with your sweetie.
Flirty Pick Up Lines For Her Over Text
#1 – Did it hurt? When you fell from heaven?
#2 – Pardon me, were you speaking to me? If not, please start.
#3 – By the way…I'm a thief and I have come to steal your heart.
#4 – Did you go to bed early last night? It sure looks like you got your beauty sleep.
#5 – Kissing burns up to 26 calories a minute. Want to work out?
#6 – Do you believe in love at first sight? If not, I will need to walk by you again.
#7 – Are you a parking ticket? Because you've got FINE written all over you.
#8 – It was feeling hot in here and then I realized it was you.
RELATED: 79 Of The Best Love You Texts For Him
#9 – Your name must be Google because you are everything I am looking for.
#10 – Are you a robber? Because you have stolen my heart.
#11 – I need my sunglasses when I look at you because you're so bright!
#12 – Can I see your shirt tag? I want to know what brand angels like.
#13 – Your parents must be artists…because you are a masterpiece.
#14 – I was thinking about it and I've decided that our lips should meet.
#15 – Are you an electrician? Because you turn me on.
#16 – You must be a locksmith because you have the key to my heart.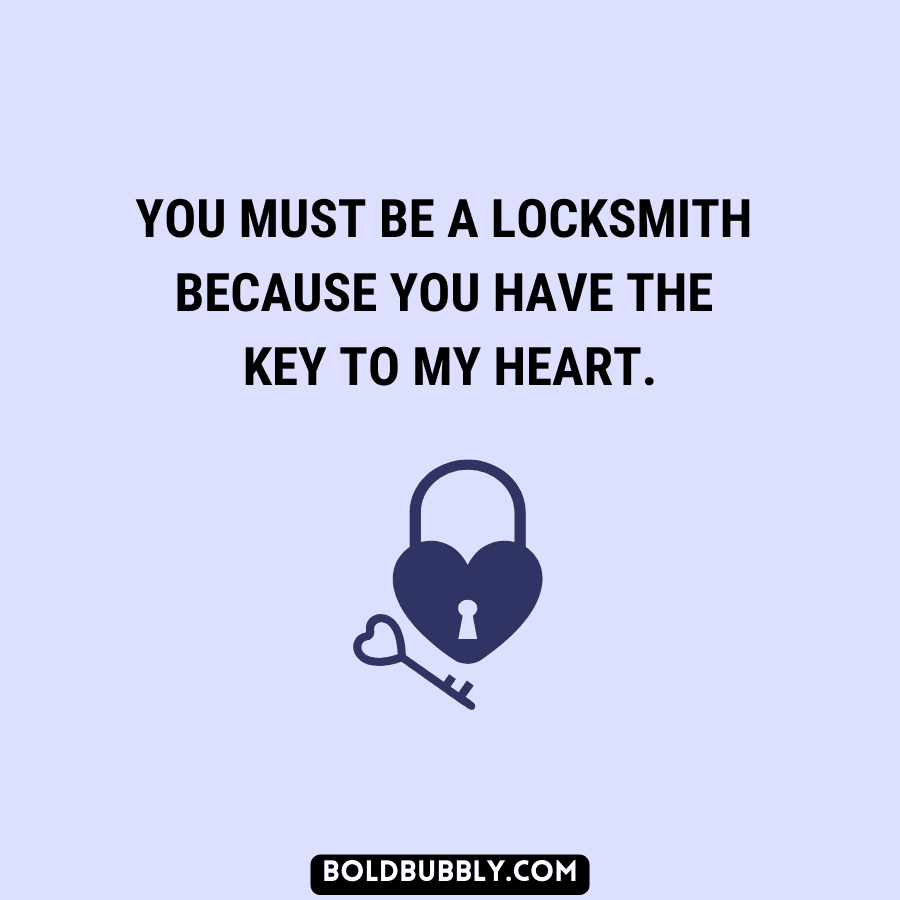 RELATED: 20 Questions Game For Couples To Spice Up Date Night
Flirty Pick Up Lines For Him
Tip: When you are using pick up lines don't get caught up in how cheesy or corny the line might be. Think of these pick up lines as little jokes (flirty jokes)! 😉
#17 – Do you need to sit down? Your legs must be tired from running through my mind all day.
#18 – You must have magic powers because when I'm with you time stands still.
#19 – Falling has never felt as good as falling for you.
#20 – My phone appears to be missing digits…it doesn't have your number in it.
#21 – Can I borrow your phone? I need to call my mom and tell her I've met the girl of my dreams.
#22 – Do you know who you look like? My next girlfriend.
#23 – I am not an artist…but I can picture you and me together.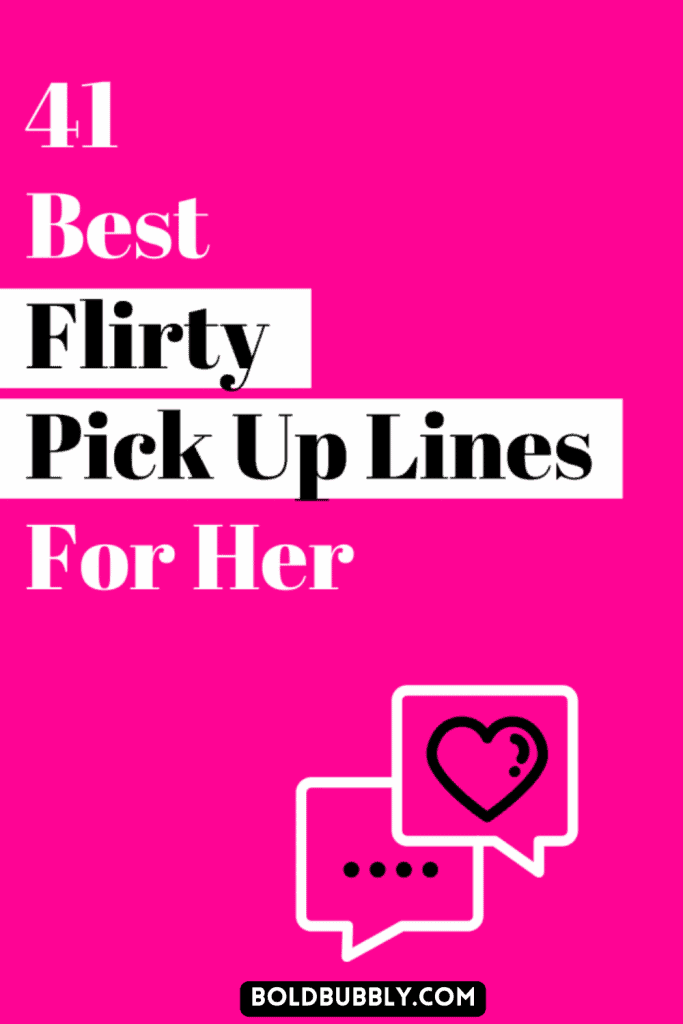 RELATED: 18 Date Ideas That Are Free And Actually Fun
#24 – Do you play soccer? Because you are a keeper.
#25 – Your hand looks heavy, can I hold it for you?
#26 – Somehow I have managed to lose my phone number. Can I have yours?
#27 – Do you like BBQ?… Because you are smokin'!
Cute Pick Up Lines
#28 – Just discovered I'm psychic…because I see you in my future.
#29 – Do you have a bandaid? I skinned my knee falling for you.
#30 – Aside from being gorgeous what else do you do for a living?
#31 – Do you have a raisin? How about a date?
#32 – Can I see your shirt tag? Just wanted to know if you were made in heaven.
RELATED: 67 Of The Best Flirty This Or That Questions For Couples
#33 – Are you wi-fi? Because I'm totally feeling a connection.
#34 – Did you just come out of the oven? Because you are HOT!
#35 – You are so beautiful you made me forget my pickup line.
#36 – I was feeling off today and then I saw you and you turned me on.
#37 – Are you sure you are not a keyboard? Because you are totally my type?
#38 – Can I walk you home? My parents always told me I should follow my dreams.
#39 – If I could rearrange the alphabet I would put U and I next to each other.
#40 – I'm going to have to see the dentist…you're so sweet you've given me a toothache.
#41 – Make sure your shoes are tied. I don't want you falling for anyone else.
RELATED: 97 Romantic Questions To Ask Your Boyfriend To Make Him Laugh
Use these flirty pick up lines for her to break the ice, make her laugh, and keep that spark sparkling!
This post was all about flirty pick up lines for her.
OTHER POSTS YOU MAY LIKE: