Looking for butterfly puns? These butterfly puns and butterfly quotes will give you all the good flutters!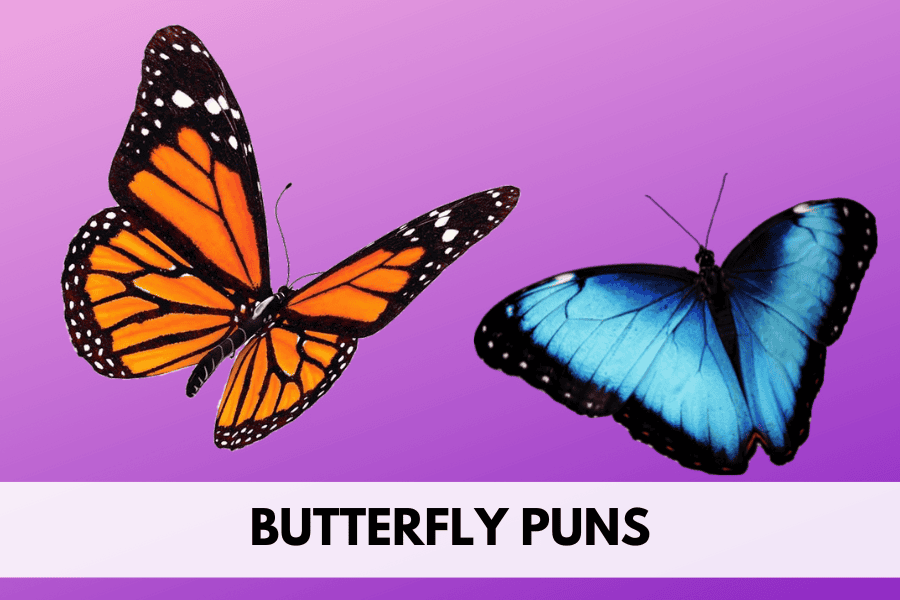 This post is all about butterfly puns.
Butterfly Puns
Butterflies are such beautiful creatures. The incredible growth and change that butterflies go through are a couple of the things that make them so magnificent.
There are so many valuable lessons to be learned from the beautiful butterfly. In this post, we've put together some of our favorite butterfly puns, butterfly quotes, butterfly captions, and more.
Hopefully, you'll find some laughter, love, and inspiration that you can use!
Whether you're looking for something sweet to write to your significant other, the perfect caption for your Instagram photos, journal prompts, etc – there are several cute butterfly puns and captions to choose from!
We will start with the butterfly puns and end with some butterfly quotes.
If you love puns be sure to check out the following punny posts as well:
So flutter on through this post and save your colorful faves!
Butterfly Love Puns
These butterfly love puns are a great way to spread some love and laughter to your sweetie!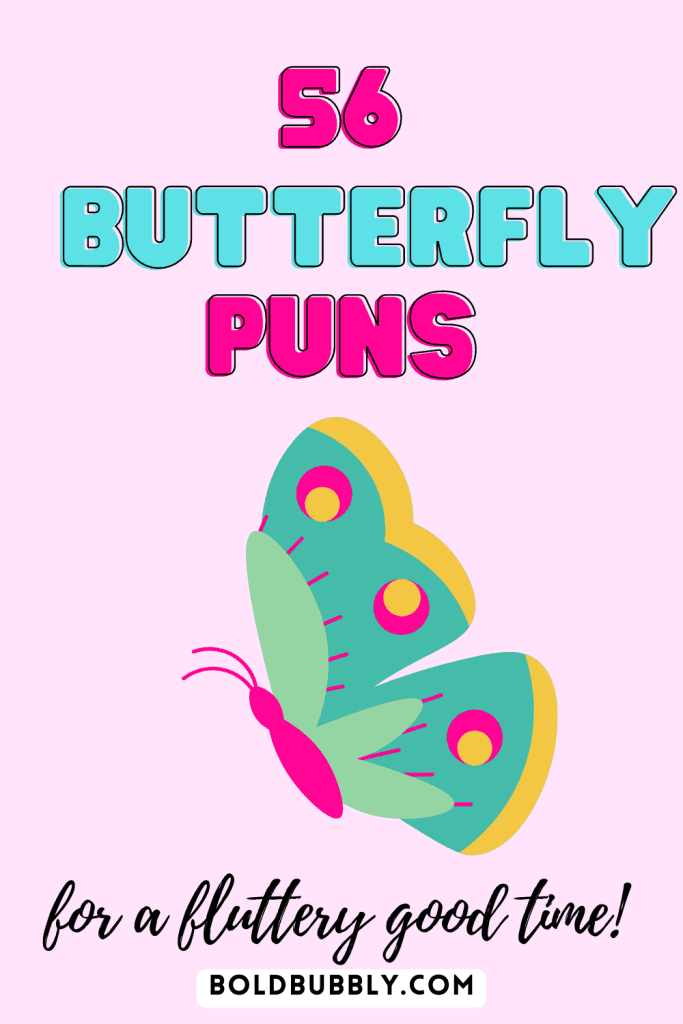 1 – Being with you is so fly!
2 – I just want to cocoon with you.
3 – Darling, you are more beautiful than a butterfly.
4 – You give me butterflies!
5 – Loving my new life with you by my side.
6 – I flutter for you!
RELATED: 113 Cat Puns For Some Serious Kitten Around
7 – With you, it's all rainbows and butterflies.
8 – You're my favorite flower!
9 – Life is butter-fly with you.
10 – You make my life more beautiful!
11 – I love flying through life with you.
12 – Being with you is butter than I ever could have imagined!
13 – My love for is like a butterfly, it becomes more beautiful over time.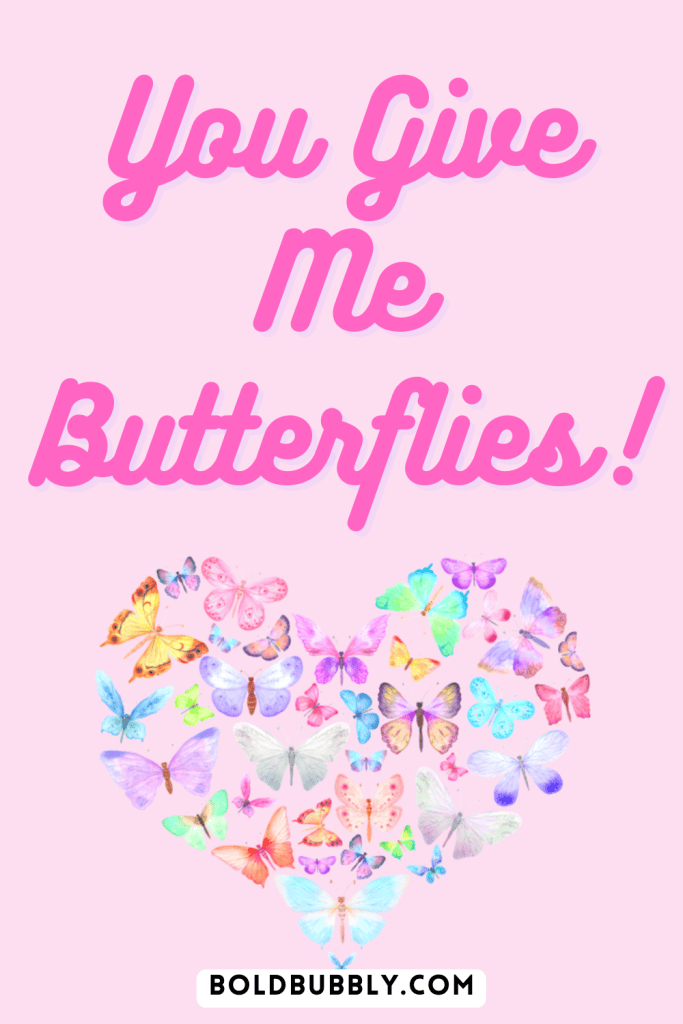 Short Butterfly Puns
If you're looking for that perfect butterfly pun for Instagram, there are several on this list that you can choose from.
14 – Spread your wings and fly!
15 – Changing into something even better!
16 – Looking for a pretty flower.
17 – I butter-fly!
18 – It's a butterfly day!
19 – Change is a good thing.
RELATED: 53 Donut Puns That Are A Hole Lot Of Fun
20 – Of all the beauties in the world, you fly the highest!
21 – You make my heart flutter!
22 – I'd love some butterfly kisses!
23 – Keep Calm. Change. And Fly.
24 – Butterfly and get going.
25 – Hurry up and change it's time to fly!
Funny Butterfly Puns
26 – Just woke up from the best beauty nap I've ever had.
27 – Been working on my wings.
28 – I've just been winging it.
29 – I felt it was time for a change.
30 – Make it a sunshine, rainbow, and butterfly kind of day!
31 – The sky is the limit!
32 – Be like a butterfly and embrace change.
33 – Remember it's always okay if you need to cocoon for a bit.
RELATED: 117 Dog Puns That Will Make You Howl With Laughter
34 – Fly high like a beautiful butterfly!
35 – Hold your head high and butterfly!
36 – Flap your wings and fly.
37 – Always stop to smell the flowers.
38 – If never choose to change you will never know what is possible.
39 – Sometimes you just have to wing it!
40 – Make a wish, spread your wings, and fly!
41 – Trust the process.
Butterfly Quotes
These butterfly quotes are great especially if you are looking for inspiration.
42 – "Perhaps the butterfly is proof that you can go through a great deal of darkness and still become something beautiful." Unknown
43 – "If nothing changed, there'd be no butterflies." Walt Disney
44 – "You do not just wake up and become the butterfly. Growth is a process." Rupi Kaur
45 – "Maybe this cage has been a cocoon all along." Stacie Martin
46 – "Love is like a butterfly, beautiful and delicate. If you truly care for it, you'll do whatever you can to make it happy, even if that means letting it go." Scott Pemberton
47 – "If you smile when you see a butterfly, you have happiness in your soul." Diana Cooper
RELATED: 100 Love Messages For Him That Will Melt His Heart
48 – "To become a butterfly you must want to fly so much that you are willing to give up being a caterpillar." Winnie The Pooh
Butterfly Inspirational Quotes
49 – "Happiness is like a butterfly, the more you chase it, the more it will evade you, but if you notice the other things around you, it will gently come and sit on your shoulder." Henry David Thoreau
50 – "The caterpillar does all the work, but the butterfly gets all the publicity." George Carlin
51 – "We delight in the beauty of the butterfly, but rarely admit the changes it has gone through to achieve that beauty." Maya Angelou
52 – "Change is a beautiful thing."
53 – "Just when the caterpillar thought "I am incapable of moving", it became a butterfly." Annette Thomas
54 – "Love is like a butterfly, a soft and gentle thing." Dolly Parton
55 – "Just when the caterpillar thought the world was ending, he turned into a butterfly."
56 – "Although the butterfly and the caterpillar are completely different, they are one and the same." Kendrick Lamar
We hope that you've enjoyed some good chuckles and inspirations with these butterfly puns and butterfly quotes.
Do you know of any butterfly puns or butterfly quotes you think we should add to our list? Leave a comment and let us know!
If you love puns be sure to check out the following punny posts:
This post was all about butterfly puns.
OTHER POSTS YOU MAY LIKE: