"Kiss the Miss Goodbye" is a fun, unique, and playful activity for a bachelorette party!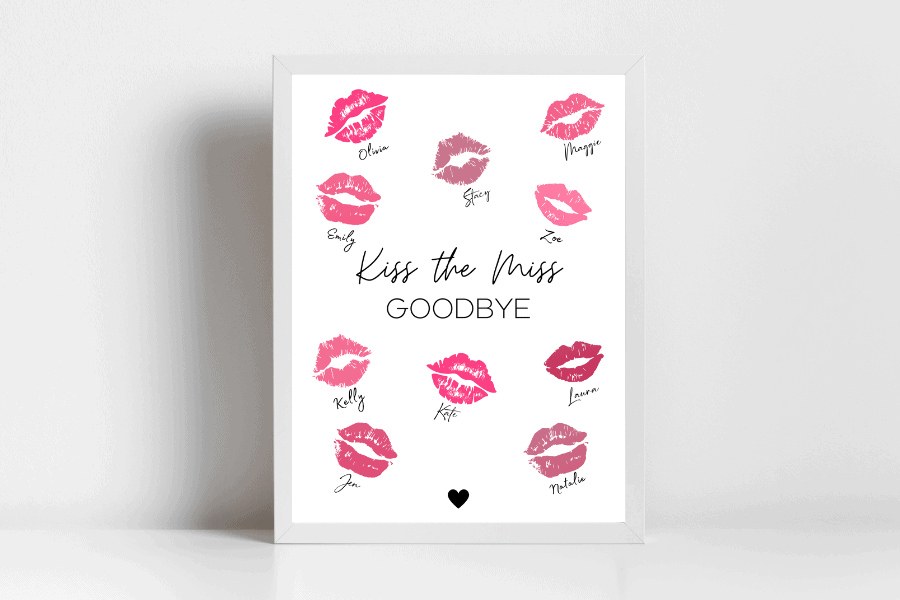 Whether you're the maid of honor or a party planner seeking to make the bachelorette's last hurrah a hit, "Kiss the Miss Goodbye" will undoubtedly set the tone for a memorable and exciting celebration.
Kiss The Miss Goodbye
As the bride-to-be embarks on her journey to wedded bliss, this game offers a unique opportunity for her and her closest friends and family to create cherished memories together. With colorful lipsticks, a blank canvas, and a lot of love, "Kiss the Miss Goodbye" is an interactive and creative way to celebrate the bride's last hurrah as a single woman.
If you're planning a bachelorette party, this game is a must.
We've included everything you need to know about playing this bachelorette party game. You'll also find a "Kiss the Miss Goodbye" free printable, that you can use for the special bride-to-be!
What Is Kiss The Miss Goodbye?
This is a popular bachelorette party game or activity that involves the bride-to-be and her guests creating a memorable keepsake together.
It's a playful and fun-filled way to celebrate the bride's final days of singlehood and bond with her friends and family.
The game typically involves a canvas, a printable, or a poster with a central design. Surrounding the design, there is plenty of blank space for guests to participate.
During the game, each guest takes turns applying their favorite lipstick color and then planting a kiss on the canvas or paper. Each guest can sign their name under their kiss mark and even leave a sweet message for the bride-to-be.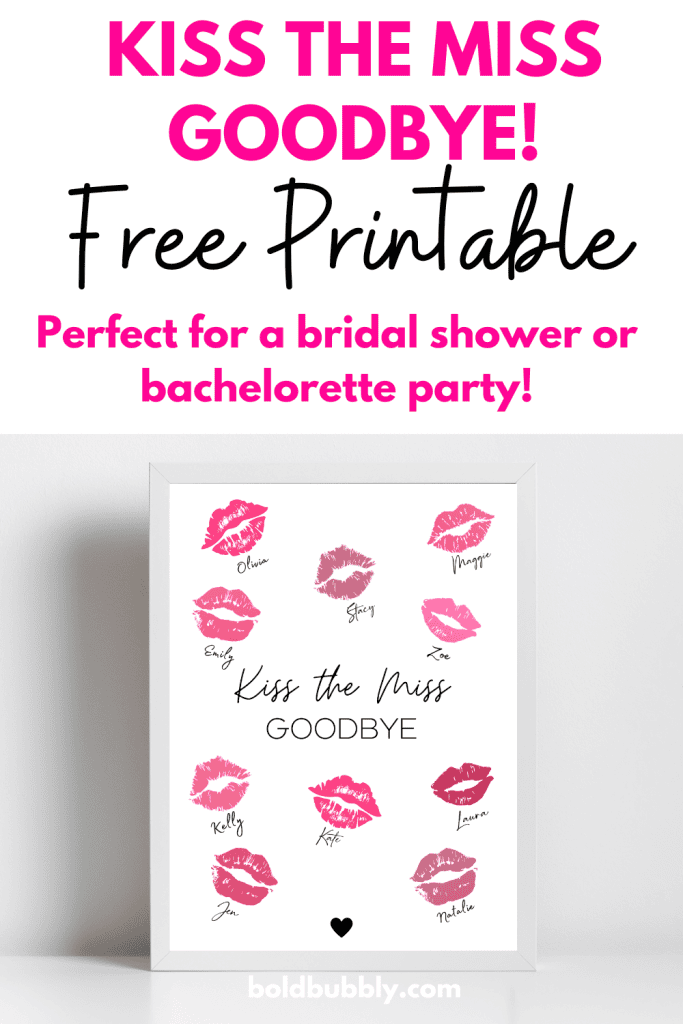 What Do You Need To Play?
One of the best things about this bachelorette party activity is that it really doesn't require much to do.
These are the 3 things you'll need to do this bachelorette party activity:
1. A "Kiss the Miss Goodbye" printable. We've included a super cute printable below in this post that you can download for free! There are lovely personalized options to choose from on Etsy as well.
2. Different shades of lipstick. You can have each of the guests use their own lipstick if you wish, or provide a variety of shades that match. That way you're sure to create a cohesive look on the "Kiss the Miss Goodbye" printable. We suggest providing the lipstick shades so that it all matches nicely. Plus, not every guest carries lipstick with them so having shades available ensures everyone can participate.
3. Fine black makers. You'll want to have fine-tipped black markers for guests to use to sign their name below their kiss mark.
Free Printable Kiss the Miss Goodbye Template
We've created this super cute Kiss the Miss Goodbye free printable just for you! Simply enter your info to download, print, and use at the bachelorette party you are throwing.
Frame Your Free Printable
Putting a cute frame on the finished product is the perfect way to make this a special keepsake for the bride.
A couple of our favorite frames for this printable are this white frame and this black frame.
Tip: Be sure to place the printable into the frame carefully without sliding it around. You don't want to smear the lipstick kisses on the glass.
A Fun Bachelorette Party Game
"Kiss the Miss Goodbye" is much more than just a game. It's a celebration of love, friendship, and the joy of embracing new beginnings.
This lighthearted activity brings a touch of laughter and creativity to the bride's bachelorette party. The bride will be left with a treasured keepsake filled with the kisses of her closest friends and family.
As the printable becomes a symbol of the love and support surrounding the bride, it serves as a lasting reminder of this special moment in her life. So, if you're looking to make the bachelorette party truly unforgettable, don't miss the chance to incorporate this activity into the festivities.
And for an added bonus – download your free printable "Kiss the Miss Goodbye" template! This free printable makes the game effortlessly enjoyable for all!
Other Posts You May Like: