This post is all about the best bachelorette scavenger hunt.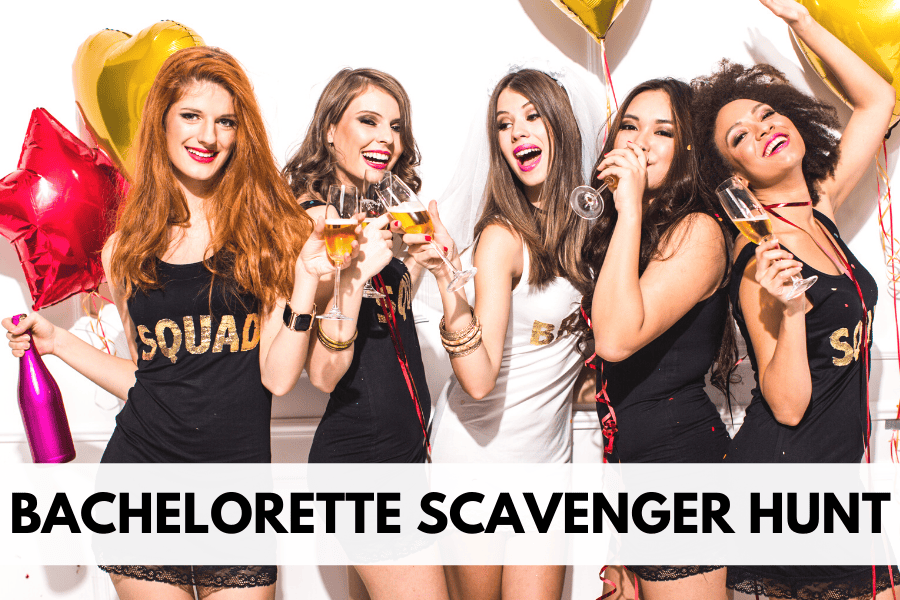 This scavenger hunt is perfect regardless of if you're planning to be partying it up in Las Vegas or heading out locally for a night on the town.
The Best Bachelorette Scavenger Hunt For A Fabulous Night Out
Bachelorette party season is here and this scavenger hunt will make it a night out you all will forever remember.
Having a bachelorette party will give the Bride time to connect with her closest friends and take a little break from all the stress that goes into planning a wedding.
Be sure to download and print this free bachelorette scavenger hunt and give a copy to each of the bachelorette party attendees for a fun and memorable night out celebrating the bride-to-be!
How To Do This Scavenger Hunt
The first thing you need to do is download and print the scavenger hunt below so that you can give one to each party attendee.
On the printable scavenger hunt list, you will see a variety of challenges for you and the others to find and complete throughout the bachelorette party evening.
Each challenge is worth different amounts of points, so make sure to check them off as you complete each challenge.
Every time you find something on the bachelorette scavenger hunt take a picture or video to document its completion.
These pictures and videos are so much fun to have and look back at to remember this exciting night you all shared together.
2 Ways To Complete This Scavenger Hunt
WAY NUMBER ONE:
You can complete the scavenger hunt individually. This means that you will need to give a copy of the bachelorette scavenger hunt to each attendee.
Throughout the evening, each of you will be working individually to find and complete as many of the challenges as you can.
Each challenge on the list is worth a different amount of points. The more difficult the challenge the more points you get for completing it.
At the end of the night, tally up all your points and whoever has the highest score wins.
RELATED: 15 Insanely Awesome Bachelorette Party Themes
WAY NUMBER TWO:
Do this scavenger hunt as a group.
Throughout the evening you all work together to find and complete each of the challenges.
This is a really fun way to do this scavenger hunt and your odds of completing each challenge are higher.
Whatever way you choose to do, be prepared to have a night filled with laughter, love, and a lot of fun!
Bachelorette Scavenger Hunt Ideas
1 Point For Completion Of Each Of The Following:
Shout out "(Bride's Name) is getting married!"
Toast the bride.
Get a free drink.
Take a selfie with a random guy.
Have a shot (+3 points if you take it without using your hands).
RELATED: How To Plan A Bridal Shower She Will Absolutely Love
5 Points For Completion Of Each Of The Following:
Take a photo with another bachelorette party.
Find something blue you can bring home.
Photobomb a pic.
Find a guy with the same name as the groom.
Take a photo with a bachelor party.
Dance on a bar or table (+5 points for dancing on a pole).
Printable Bachelorette Scavenger Hunt
10 Points For Completion Of Each Of The Following:
Get a piggyback ride from a stranger.
Find a group of 3+ guys and have them serenade the bride.
Get love advice from a stranger.
Ask a guy the color of his underwear.
Get a guy's phone number.
RELATED: Your Complete Bridal Shower Checklist From Beginning To End
15 Points For Completion Of Each Of The Following:
Kiss a stranger.
Get a condom from a guy.
Pinch a guy's butt.
Get a guy to put money in your bra.
Take a selfie with a stranger's phone and text it to yourself.
We hope that you have a blast doing this bachelorette scavenger hunt.
I've found it to be an absolute hit at every bachelorette party I have attended. It gets everyone involved and makes everything so much more fun!
This post was all about the best bachelorette scavenger hunt.
Other Posts You May Like:
Pin these to remember this post!