This post is all about how to throw a bachelorette party on a budget.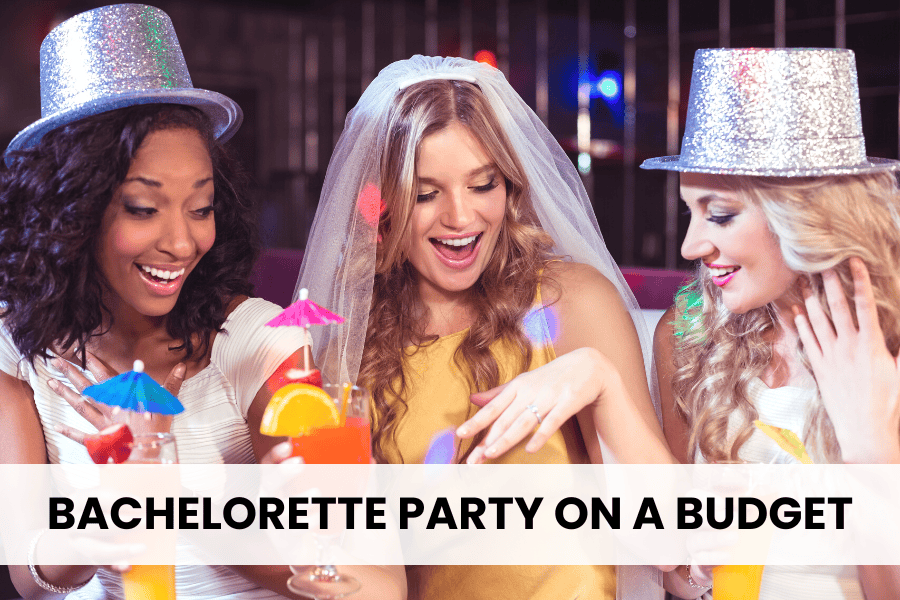 Planning a bachelorette party can be an exciting and fun task, but it can also be quite expensive. However, don't let the budget keep you from throwing an unforgettable celebration for the bride-to-be.
How To Plan A Bachelorette Party On A Budget
With a little bit of creativity, resourcefulness, and careful planning, you can throw an amazing bachelorette party that won't leave you penniless. In this post, we share some practical tips and ideas on how to throw a fantastic bachelorette party on a budget without compromising on the fun and the memories.
Set A Budget For The Bachelorette Party
So before you start dreaming up all the wild and fun things you want to do at the bachelorette party, let's talk about setting a budget. I know, it may not be the most exciting part of the planning process, but trust me, it's important.
First, sit down with the other bridesmaids and maid of honor and have an open and honest discussion about how much everyone can afford to spend. Make sure to factor in travel expenses, accommodations, food, drinks, activities, and any decorations or party favors you want to get.
Once you have a realistic number, stick to it! As you're planning it all, remember a bachelorette party is about celebrating the bride-to-be and creating special memories together. It's not about how much money you spend.
Find A Budget Friendly Location For The Bachelorette Party
Finding the perfect budget-friendly location for the bachelorette party can be tricky, but not to worry. There are plenty of affordable options available – even when you're sticking to a budget.
Consider looking into Airbnbs or hotels that offer group discounts. Another thing to consider is the location. Do you really need to travel out of state for the party, or would a fun local or nearby weekend trip be an option?
The more flexible you can be about the location of the bachelorette party, the easier it will be to stick to a budget friendly location.
Keep The Guest List Small
When it comes to bachelorette parties, it can be easy to get carried away and invite everyone under the sun. However, if you're really trying to stick to a budget, it's helpful to keep the guest list small.
Of course, you'll need to communicate with the bride ahead of time and make sure that she's okay with a smaller guest list. If not, then you may need to adjust the bachelorette party plans and cut back in another area to stick to the budget.
The thing to remember about the guest list is that the smaller the group means the less money spent on food, drinks, and activities. Plus, a small group can make for a more intimate and memorable experience. Again, it all comes down to the bride and her preferences.
Cheap Bachelorette Party Games
Games are always a blast to play at parties, but you don't have to spend a fortune on bachelorette party games to have a good time. There are several cheap and budget friendly fun game options out there.
You could play "truth or dare", and learn more about each other while sharing a few laughs. Another fun and free game to play is "never have I ever", where everyone takes a turn sharing something they've never done, and if someone else in the group has done it, they take a sip of their drink.
If you're feeling crafty, you can make your own "pin the kiss on the groom" game using a poster and some lipstick. We've also put together this Free Printable Bachelorette Scavenger Hunt that is sure to be a hit!
RELATED: The Best Free Printable Bachelorette Party & Bridal Shower Games
Budget Friendly Bachelorette Party Decor Ideas
Decorations can really add to the festive atmosphere of a bachelorette party. But, they can also add up quickly in terms of cost. Luckily, there are plenty of budget-friendly options that can still make the party look great.
One idea is to make your own decorations using items you already have at home, such as stringing up photos of the bride and groom or creating a banner with craft paper and markers.
Balloons and streamers are also relatively inexpensive and can be super cute. And if you want to add a little something extra, you can always create your own party favors, like custom chapsticks, body scrubs, candles, or goodie bags filled with inexpensive treats.
With a little creativity, you can make the bachelorette party theme festive without spending a lot of money.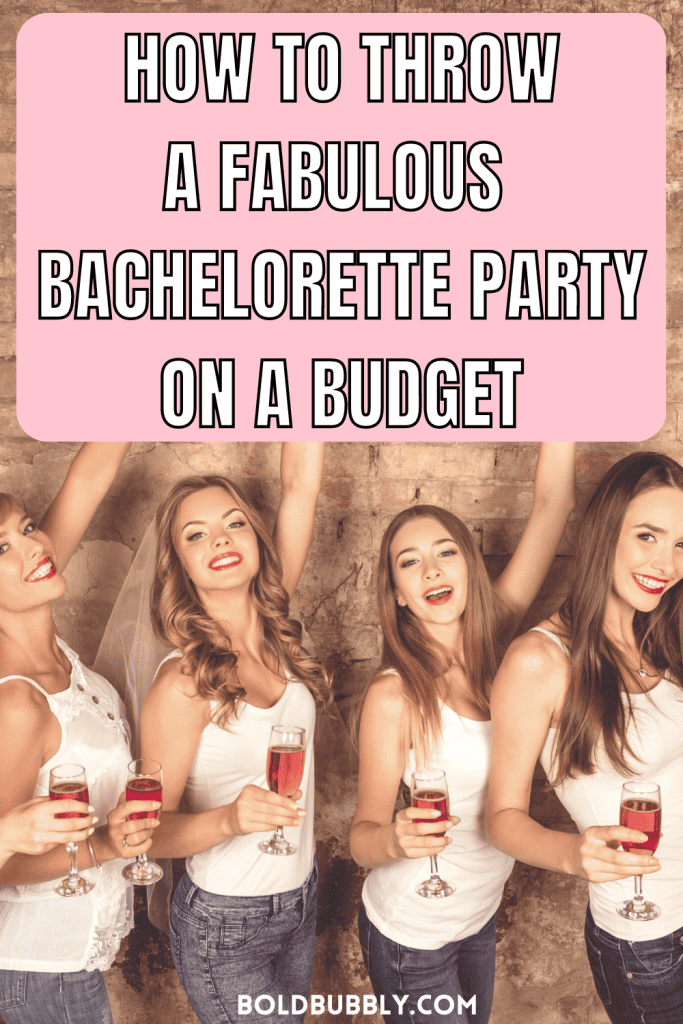 Bachelorette Party Ideas At Home
Having a bachelorette party at home can be a great way to save money while still having a fun and memorable time. There are plenty of activities you can do right in the comfort of your own home.
You can plan a DIY spa day, complete with homemade face masks, nail painting, and massages. A potluck dinner or a cooking competition are other cost-effective options. Where everyone brings their favorite dish and the bride gets to judge.
Another idea is to have a game night, with board games or card games, and plenty of snacks and drinks to go around. And, of course, you can't forget about the classic slumber party, complete with pajamas, popcorn, and movies.
The best part about having a bachelorette party at home is you don't have to worry about transportation or spending a lot of money on activities. Your focus can be completely on having a great time with your friends.
Budget Friendly & Free Bachelorette Party Ideas
You don't have to spend a lot of money to have a great bachelorette party. There are plenty of free or low-cost ideas that can still make the celebration unforgettable.
With a little creativity and planning, you can still have an amazing celebration without breaking the bank. Begin by setting a budget and keeping the guest list small. This will help to save money on food, drinks, and activities. Look for budget-friendly locations, such as a friend's house or a local park. And don't forget about inexpensive activities, games, and decorations. With these tips in mind, you can throw a bachelorette party on a budget that the bride will cherish.
This post was all about how to throw a bachelorette party on a budget.
Other Posts You May Like: