Pictionary with a twist is one of our favorite date night games for couples!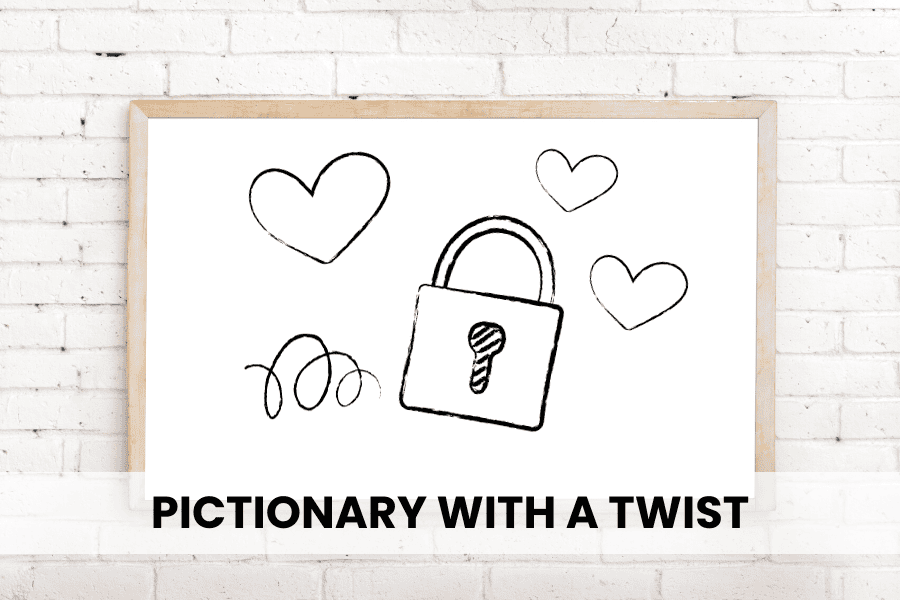 If you're looking for a fun and simple way to add some spice to your date night, you are in the right place.
In this post, we're sharing the best recipe for a memorable date night filled with laughter, creativity, romance, and connection.
Pictionary With A Twist
Date night Pictionary is a fun and easy way to spark romance on date night.
We've got everything you need to play this classic game with a romantic twist, from the setup to the best ideas for words that'll add that extra special touch to your date night.
Whether you're a Pictionary pro or simply looking for a fun new date night idea, this date night Pictionary game is a blast!
What You Need For Date Night Pictionary With A Twist
Pictionary words or phrases – Decide which words you want to use for this date night Pictionary game.
We've put together some clever words and phrases you can use for this game towards the bottom of this post.
Drawing Materials – You'll need something you can draw with. I like using a whiteboard and dry-erase markers.
However, you can totally use blank sheets of paper and pens as well. It really doesn't require much to do this date night game. 😉
A Timer – You can use the timer on your phone for this Pictionary with a twist game. If you have a game timer you'd rather use – that will work fine as well.
RELATED: 141 Flirty Never Have I Ever Questions For Couples
How Do You Play the Pictionary Game With A Twist?
1. Choose Your Words
Before you begin, you and your partner can put together a list of words or phrases that you want to use during the game.
The words you choose can be related to your relationship, like inside jokes, memories, or just random tidbits you both know about.
You'll want to make sure that the words and phrases aren't too easy but also not super challenging either.
**We've included 100 word ideas towards the bottom of this page that you can use for this Pictionary date night game. So, if you'd rather not come up with words or phrases, that's totally okay. Just use the ones listed below. 🙂
Cut Apart Your Word Cards and Place Them in a Bowl
You will want to cut the paper that your Pictionary words are on so that each word/phrase is on a single little slip of paper.
Fold each slip of paper and place it in a bowl. (This is where each of you will pull a word from when it's your turn)
RELATED: Date Night Scavenger Hunt For A Night Out You'll Never Forget
Decide Who Is Going First
Pick who is going to go first, you or your partner. The person who goes first will then pull a word/phrase from the bowl.
Set the timer for a predetermined amount of time. We like setting the timer for 1 to 2 minutes, but do whatever you and your partner feel is fair.
Drawing and Guessing
The player who pulls the word/phrase from the bowl will then have to draw it while the other player guesses what the word/phrase is.
In your drawings, you can't use any letters or numbers. Also, when it's your turn you cannot speak – however, you can give non-verbal gestures to communicate. Just don't use any words.
Scoring
If the person guessing gets the answer correct they will get a point.
Switch Turns
After each turn, you will switch roles so that both of you get a chance to draw and guess. Switch back and forth as many times as you wish.
Winner
The person who has the most amount of points at the end of the game wins!
Prizes or Penalties
To spice up this game, you and your partner can come up with prizes for the winner or create fun penalties for the loser, like doing a funny dance, a chore, giving a massage, or singing a song.
Feel free to get as creative as you want with these so long as you both are comfortable with the prizes and penalties!
Have Fun!
That's really it – this Pictionary with a twist game is meant to be a whole lot of fun!
The ultimate goal of this date night game is to connect, laugh, flirt, and don't take it too seriously.
Pictionary is all about getting creative and having a good time – so let your imagination run wild with the words, prizes, and penalties, and have a blast on date night!
RELATED: 97 Romantic Questions To Ask Your Partner To Get To Know Them Better
Pictionary Words and Phrases For Date Night
Here are 100 words/phrases you and your partner can use for this Pictionary with a twist date night game:
1 – Love Letter
2 – Heartbeat
3 – First Date
4 – Kiss
5 – Holding Hands
6 – Marriage Proposal
7 – Honeymoon
8 – Lovebirds
9 – Valentine's Day
10 – Soulmates
11 – Engagement Ring
12 – Sunset Walk
13 – Serenade
14 – Anniversary
15 – Romantic Dinner
16 – Love Potion
17 – Secret Admirer
18 – Sunset Kiss
19 – Starry Night
20 – Marriage Vows
21 – Candlelit Bath
22 – Sweet Nothings
23 – Dancing in the Rain
24 – Love at First Sight
25 – Picnic in the Park
26 – Midnight Kiss
27 – Breakfast in Bed
28 – Cuddling
29 – Heartfelt Conversation
30 – Love Story
31 – Slow Dance
32 – Chocolate Fondue
33 – Proposal on Bended Knee
34 – Lock and Key
35 – Cupid's Arrow
36 – French Kiss
37 – Teddy Bear
38 – Couple's Massage
39 – Engagement Party
40 – Love Note
41 – Elope
42 – Stolen Kiss
43 – Butterfly Kiss
44 – Date Night
45 – Marriage License
Spice Up Your Date Night Pictionary Conversations With these FREE Pillow Talk Questions
Simply enter your info to download, print, and enjoy!
46 – Moonlit Stroll
47 – Always and Forever
48 – Relationship Goals
49 – Double Date
50 – Wedding Cake
51 – Bridal Shower
52 – Love Shack
53 – Relationship Advice
54 – Beach Vacation
55 – Marriage Counseling
56 – Date Night In
57 – Long-Distance Love
58 – Relationship Milestone
59 – First Kiss
60 – Relationship Status
61 – Making Memories
62 – Rekindling Romance
63 – Midnight Serenade
64 – Love Language
65 – Engagement Announcement
66 – Breakfast for Two
67 – Love Hurts
68 – My Love
69 – Relationship Break
70 – Heart Break
71 – Love Letter in a Bottle
72 – Love Song
73 – Holding Back Tears
74 – Stealing Glances
75 – Romantic Getaway
76 – Building a Life Together
77 – Chocolate Covered Strawberries
78 – Love Triangle
79 – Inseparable
80 – Enchanted Forest
81 – Love Conquers All
82 – Lovebirds
83 – PDA (Public Display of Affection)
84 – Romantic Picnic
85 – Love and Laughter
86 – Falling In Love
87 – Honeymoon Destination
88 – Heart of Gold
89 – Tied the Knot
90 – Puppy Love
91 – Courting
92 – Relationship Rollercoaster
93 – Family Planning
94 – Love in Bloom
95 – Love Locks
96 – Mixed Signals
97 – Kiss and Tell
98 – Building Trust
99 – Love on the Rocks
100 – Happily Ever After
There are so many ways to get creative with words for date night Pictionary. Use these words or come up with your own!
Pictionary With A Twist
I hope you and your partner have fun playing Pictionary with a twist! It's a favorite date night game at our house.
If you're looking to reminisce about past experiences, get to know your partner better, dream, connect, and have fun – give this date night Pictionary game a try.
This post was all about date night Pictionary with a twist.
Other Posts You May Like: