This post is all about a pumpkin patch date.
If you're looking for sweet and romantic fall date ideas, you are going to love this pumpkin patch date!
Pumpkin Patch Date
As fall is quickly upon us, not only do we get to enjoy our pumpkin spice and everything nice, but the cooler season also opens up the opportunity for a whole bunch of cozy fall date ideas!
Here you'll find everything you need to have a fun and romantic pumpkin patch date with your sweetie this season.
Included In This Post:
Is a pumpkin patch a good date idea?
The best fall pumpkin patch date ideas.
How to find the best pumpkin patch in your area.
What you need to bring on a pumpkin patch date.
How to select the perfect pumpkin.
Pumpkin patch date captions (for all those cute selfies you'll be taking on this cozy fall date idea)!
Entertaining would you rather questions to spice up your pumpkin patch date conversations.
RELATED: 13 Halloween Date Ideas For Sexy And Spooky Fun
Is A Pumpkin Patch A Good Date Idea?
Yes, going to a pumpkin patch is a great date idea! The setting at a pumpkin patch is always beautiful.
You get to be outside enjoying the lovely fall day and often pumpkin patches offer several additional activities besides the pumpkin patch itself.
Every year, my hubby and I go to a pumpkin patch. It's been a tradition of ours since we first started dating – so this date idea always holds a special place in my heart.
Prepare to get playful with your sweetie and enjoy a fun-filled day of cute and colorful fall selfies as you both enjoy your pumpkin patch date!
Wandering through a pumpkin patch with your significant other looking for that "perfect one" to take home is a lot of fun!
RELATED: 15 Free Halloween Love Notes
Pumpkin Patch Date Ideas
The majority of pumpkin patches open the first week of October, making a pumpkin patch date a great way to kick off the fall and Halloween season!
Whether you are newly dating or you've been together for years, a pumpkin patch date is a must-do fall date idea.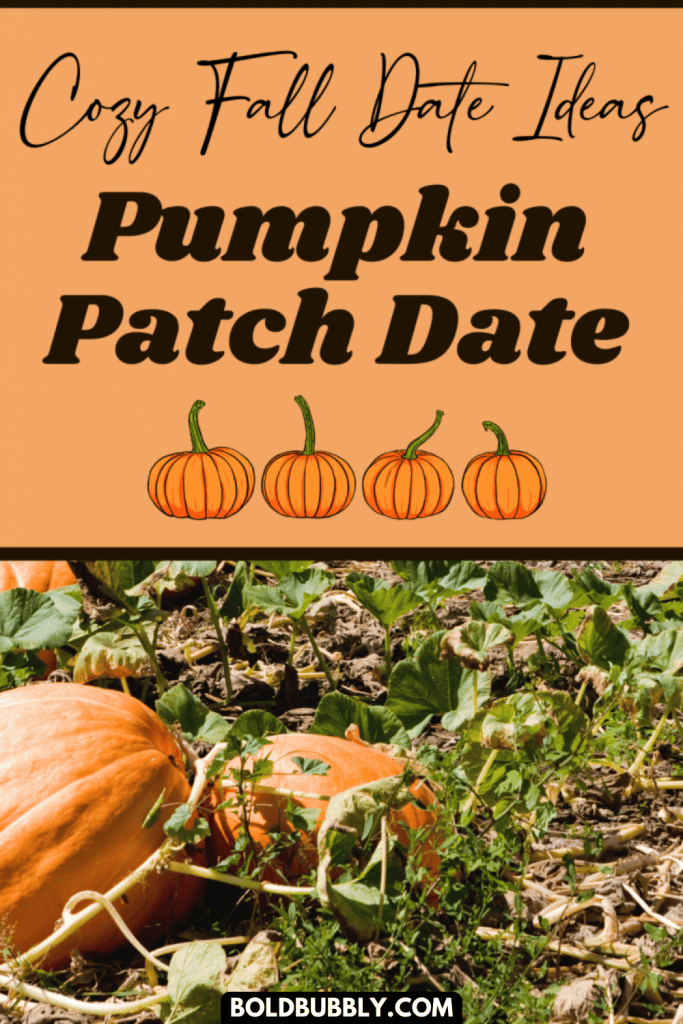 Visiting a pumpkin patch and hunting for your pumpkin makes for an excellent day date.
One of the awesome benefits of this pumpkin patch date is that because it is a day date you still have time for follow-up date activities.
For example, if this is your first date, assuming the pumpkin patch date goes well – you will have plenty of time to grab a bite to eat or even carve your pumpkins later that evening.
RELATED: The Ultimate Pumpkin Carving Date Night
It's fun to find a variety of different size pumpkins to take home with you. Consider gathering a few pumpkins to decorate with as well as a couple for pumpkin carving.
The colors at a pumpkin patch are gorgeous! If you want the ideal backdrop for some seriously cute fall selfies with your sweetie – definitely check out a pumpkin patch!
Pumpkin Patch Near Me
If you're not sure where to take your significant other for a pumpkin date, no worries.
Head to Google and search for "pumpkin patch near me".
This will bring up a wide variety of pumpkin patch locations nearest to you.
Click through each of the results to find a pumpkin patch that looks like something you and your sweetie will enjoy.
All pumpkin patches are different. At some pumpkin patches, you get to wander through the fields and cut your own pumpkin off the vine (these are our favorite types).
Other patches have pumpkins that are already cut for you – so you simply search through the pile of pumpkins looking for the one you want.
Both types of pumpkin patches are a lot of fun. However, our consistent favorite is when you get to hunt through the field to find that special pumpkin to bring home and cut it from the vine yourself.
Often pumpkin patches offer much more than simply pumpkin picking.
If you find the right patch – they may also have a petting zoo, hayrides, corn mazes, and more! Make sure to read the reviews and details of the pumpkin patch before deciding which one to go to.
RELATED: 67 Halloween Would You Rather Questions For Spooktacular Fun
What Should I Bring To A Pumpkin Patch?
Although a pumpkin patch date requires fairly little after finding the pumpkin patch itself – there are a few essentials that we always bring with us.
Cash – Many pumpkin patches do not accept credit cards. So it's a good idea to stop by the ATM before this date. You don't want to get there only to discover you have no way to buy your pumpkins.
Jackets – Since it is fall and the temperature is usually cool, you'll want to have clothing that will keep you warm. That way you and your date will be comfortable. Especially since this is an outdoor date idea and you'll be wandering through the pumpkin patch searching for gourds to take home.
RELATED: 19 Romantic Fall Date Ideas We Love
Old towels or trash bags – This one we learned the hard way. When you get a pumpkin from an actual pumpkin patch the pumpkins can be muddy and even a little prickly. Having old towels or trash bags to store your pumpkins in will help to keep you and your car clean. 😉
Extra pair of shoes – Bring a pair of rain boots or something that you can easily wash off if they were to get muddy. Depending on the weather and what the grounds at the patch are like, you may want to have a pair of rubber boots that you can slip into while hunting for your pumpkin.
You don't need to stay in your rain boots for the entire date unless you want to. Typically you won't need them for the extra festivities like hayrides or corn mazes (weather depending) but having a pair of boots to wander the fields in can be helpful.
How To Pick The Perfect Pumpkin
You'll want the pumpkin you pick to be solid when you touch it. Be sure to avoid pumpkins that are squishy or have soft spots on them. Those pumpkins won't last as long and have already started to decay.
When you tap on the pumpkin it should have a deep hollow sound.
If you are picking a pumpkin to carve you'll want to keep in mind the shape, color, and texture of the pumpkin. It can be more difficult to carve pumpkins with a lot of bumps or those that are an awkward shape.
Pumpkin Patch Date Captions
With the colors and atmosphere at a pumpkin patch, be sure to capture a few cute selfies of you and your sweetie. Add clever pumpkin patch date captions to your posts!
Pumpkin spice and everything nice.
Did somebody say pumpkin spice?
Pumpkin kisses and cozy fall wishes.
You and I are even better than pumpkin spice.
RELATED: 67 Of The Best Flirty This Or That Questions For Couples
Pumpkin Patch Date Would You Rather Questions
Having some would you rather questions is one of our favorite ways to spice up any date activity.
We've put together fun pumpkin patch-themed would you rather questions for couples here.
Save this post, so that you and your date can get to know each other a bit more as you enjoy some laughs with these fun pumpkin date questions for couples.
Would you rather…
Get lost in a corn maze OR get lost in a haunted house?
Drink a pumpkin spice latte every day for a year straight OR not be able to have a pumpkin spice latte for a year?
Carve a pumpkin OR paint a pumpkin?
Have a pumpkin for a head OR corn stalks for legs?
Roll in a pile of leaves OR roll in a pile of hay?
Scare someone OR get scared?
Roast pumpkin seeds OR make candy apples?
RELATED: 67 Halloween Would You Rather Questions For Spooktacular Fun
Eat pumpkin bread OR pumpkin scones?
Grow a pumpkin OR buy a pumpkin?
Meet a ghost OR meet a zombie?
Watch a scary movie OR read a spooky story?
Go trick or treating OR pass out candy?
We hope you and your sweeting enjoy an incredible pumpkin patch date this fall season!
This post was all about a pumpkin patch date.
OTHER POSTS YOU MAY LIKE: