These are the best bridesmaid proposal box ideas!
Whether you're looking for creative DIY bridesmaid proposal box ideas or searching for the best pre-made variety, we've got you covered.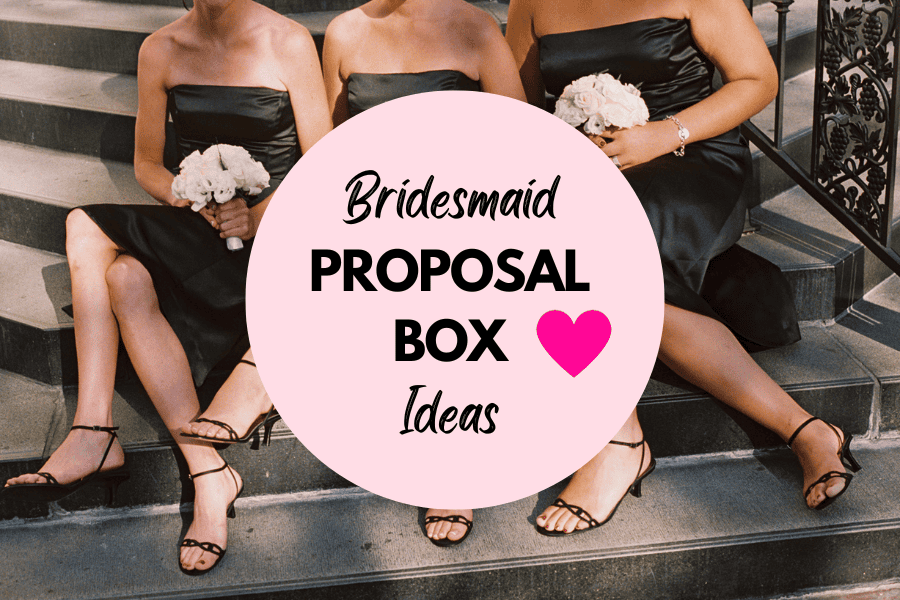 The journey to saying "I do" is an exciting and momentous occasion in anyone's life. Yet, behind all the smiles and anticipation lies a whirlwind of wedding planning intricacies.
From choosing the perfect venue to finalizing the guest list to bridal shower and bachelorette party planning, the process can be overwhelming.
One integral part of the pre-wedding celebrations is asking your closest friends and/or family members to be part of your bridal party.
In this post, we are sharing the best bridesmaid proposal box ideas. So whether you plan to purchase bridesmaid proposal boxes or get creative and DIY – we have the best ideas for you here!
Bridesmaid Proposal Box Ideas
When I was getting married I couldn't wait to give my closest friends their bridesmaid proposal boxes. Bridesmaid proposal boxes have become more and more popular over the years.
These boxes not only are a creative way to ask those closest to you to be your bridesmaids, but also they convey appreciation, excitement, and love for them standing with you throughout the wedding festivities.
You're probably aware that wedding planning can be a rollercoaster ride. You experience emotions, ranging from excitement and anticipation to stress and exhaustion.
There are countless decisions to be made, vendors to coordinate with, and logistics to sort out, the list goes on and on.
The role of your bridesmaids extends beyond the wedding day itself. These special people are there to support you throughout the entire planning process.
What Is A Bridesmaid Proposal Box
A bridesmaid proposal box is a carefully curated gift package. Many of them are personalized.
They serve as a heartfelt invitation for someone to be a part of your bridal party.
Bridesmaid proposal boxes are also a way to show gratitude to your bridesmaids for their help and dedication throughout the entire wedding planning process.
Whether you choose to do a DIY bridesmaid proposal box or purchase a pre-made one – these boxes will make your loved ones feel special.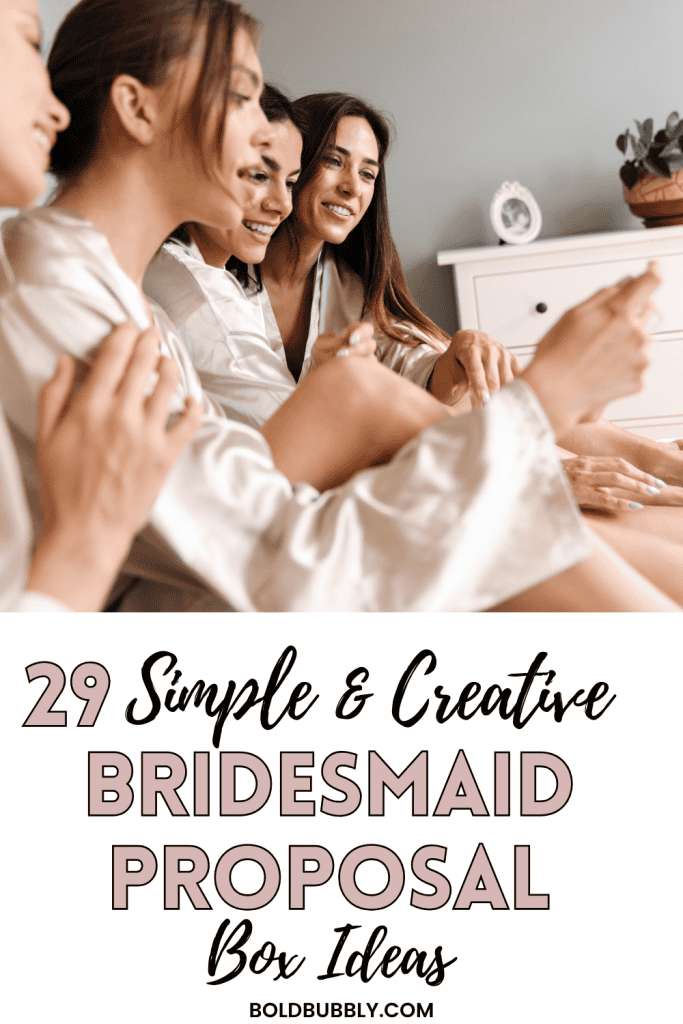 DIY Bridesmaid Proposal Box Ideas
One of my favorite things about DIY bridesmaid proposal boxes is that you can get super specific for each one of your besties, by including unique little gifts you know they're sure to love. 😉
Empty Bridesmaid Boxes for DIY
First things first, if you're crafting your own gift boxes you'll first need a box to fill with goodies!
These are a couple of our favorite empty bridesmaid boxes to get you started:
We love this blush pink bridesmaid proposal box set! The script font, with the "Will you be my bridesmaid?" printed on the top makes these boxes extra chic.
These high-quality proposal boxes come with a magnetic lid, they're sturdy boxes and easy to put together. They're perfect for holding a variety of bridesmaid gifts.
What To Put In A DIY Bridesmaid Proposal Box
Now that you've got your boxes, it's time to fill them up with all the goodies!
There are a variety of items you can put in a bridesmaid proposal box.
You can tailor each bridesmaid proposal box to match the overall wedding theme or you can make each box individually unique.
Here are some creative ideas for items to include in a DIY bridesmaid proposal box:
Personalized Letter
Begin building your bridesmaid proposal box with a heartfelt letter expressing your feelings and detailing why you want this person to be a part of your special day. This personal touch sets the tone for the entire package.
Customized Bridesmaid Jewelry
Include a piece of jewelry that resonates with your wedding theme. It could be a delicate necklace, bracelet, or pair of earrings that your bridesmaids can wear on the big day.

Your bridesmaids will love these delicate little necklaces. They can wear these for all the wedding festivities. The little box asking "Will you be my bridesmaid?" makes it a lovely addition to the proposal box.

You can personalize this lovely jewelry set by having each bridesmaid's name printed on the card.
These dainty initial bracelets are something that your bridesmaids can wear throughout the wedding celebrations as well as long after!
Scented Candles or Bath Bombs for Bridesmaid Proposal Boxes
Encourage relaxation with scented candles or bath bombs that allow your bridesmaids to unwind and pamper themselves through the planning process.
Include a couple delightful bath bombs in each of your bridesmaid proposal boxes. These are thoughtful items your squad is sure to enjoy!
These lovely I can't say I do without you scented candles are perfect for a proposal box.
Another good option for candles are these aromatherapy candles! If you're looking for a more budget-friendly option, these are a great choice. They come in a set of 8 each with a beautiful scent. Place one of these candles in each of your bridesmaid proposal boxes!
Mini Champagne or Wine Bottle
Add a touch of celebration with a mini bottle of champagne or wine, accompanied by a heartfelt toast to the future.

These adorable wine label stickers are perfect if you're including a wine bottle in the bridesmaid box! You can choose your label size as well as personalize each label with "Maid of Honor", "Bridesmaid", etc.

Whether you include a little bottle of bubbly or not, these personalized stemless wine glasses go perfectly in a bridesmaid proposal box!
After all, there will be lots of toasting to come over the next several months of festivities. They can use these for the bridal shower, the bachelorette party, and more!
Personalized Keepsakes for DIY Bridesmaid Boxes
Consider personalized items like monogrammed robes, tote bags, or tumblers that your bridesmaids can cherish as mementos of this special time.

These ruffle bridal party robes come personalized with whatever name or word you want printed on the back side of the robe. Your group will match seamlessly as you get ready for your big day!

We love these canvas tote bags! They're something that your group is sure to use throughout the wedding festivities and long after. Personalize each bag with your bridesmaids' names.
Tip: Consider using this tote bag or something similar as the gift bag for the bridesmaid proposal instead of using gift boxes.

These personalized tumblers are a cute item to include in the proposal boxes. Plus, you'll want to make sure you all stay hydrated throughout the planning process, bridal shower, bachelorette party, and more. Choose from rose gold, silver, or gold lids for these tumblers, and have your bridesmaids' names printed on each.
#14 – Handwritten Bridesmaid Proposal Box Notes
Alongside the letter, include a handwritten note that reminisces about your shared moments and fun times you've experienced together.
You know those little details or inside jokes that are special just to you two?! Include a couple of these memories on notes in the bridesmaid proposal box!
#15 – Favorite Treats For Your Bridesmaids
Include a selection of your bridesmaids' favorite snacks, chocolates, or other treats to add a personal touch.
This is such an easy and affordable addition to a bridesmaid proposal box. Whether your besties go for Skittles, chocolate, etc. whatever it is – add it to the box! They will love that you know their faves and appreciate the extra treat.
Beauty and Skincare Products For DIY Bridesmaid Proposal Boxes
Pamper your bridesmaids with a selection of beauty and skincare products that they can enjoy. Just make sure that none of you use any new products right before any of the big wedding events. 😉

These bride tribe lip balms are a great addition to a bridesmaid proposal box. They are an inexpensive little extra that your besties are sure to enjoy.
Your friends will appreciate a little extra TLC throughout the planning process. These gold under-eye masks are a special self-care item your group can enjoy.
Bridesmaid Wedding Planner or Notebook
Given the intricate details of wedding planning, a planner or notebook can be a useful addition to keep everyone organized and on the same page.
This Bride Squad notebook will come in super handy throughout the planning process. Your bridesmaids can use these to keep track of plans, to-do lists, ideas, etc. for all the wedding festivities. There's always lots to keep track of when it comes to wedding planning.
Pre-Made Bridesmaid Proposal Boxes
The convenience of pre-made bridesmaid proposal boxes cannot be overstated.
Creating the perfect proposal box requires time, creativity, and attention to detail. And with the hustle and bustle of wedding planning, these things might be in short supply.
Opting for pre-made boxes offers several advantages:
Time-Saving – Planning a wedding demands an immense amount of time and energy. Pre-made bridesmaid proposal boxes eliminate the need to hunt for individual items, allowing you to spend your time more efficiently.
Consistency – Pre-made boxes usually come with a cohesive theme. Thus, ensuring that the items align with each other and with the overall wedding aesthetic.
Professional Curation – These proposal boxes are often curated by experts who understand the emotional and aesthetic aspects of the wedding journey, ensuring that each box carries the right sentiment.
Stress Reduction – Alleviate unnecessary stress associated with designing and assembling proposal boxes. There is a lot to plan with weddings and purchasing pre-made bridesmaid proposal boxes can take a load off your plate.
Personalization Options – While pre-made bridesmaid proposal boxes are convenient, there still is room for personalization. Often you can choose from a variety of themes, colors, and items that best fit you and your besties.
Best Pre-Made Bridesmaid Proposal Box Ideas
Here are our top pre-made bridesmaid proposal boxes:
This bridesmaid gift set is a lovely keepsake for your bridesmaid. Included in this box: 1 stemless champagne flute, 1 rose gold bangle, 1 diamond pen, 1 bridesmaid card, 1 bridesmaid scrunchies, 1 rose essential oil soap bar, and 1 bluebell candle.
Your bridesmaids will love receiving these Kate Aspen pink and gold bridesmaid kit gift sets! This set includes 1 pink glitter heart frame with gold trim, 2 engagement ring-shaped magnets, 1 pink diamond-shaped magnet, 1 gold heart-shaped magnet, a white mug with pink watercolor Bridesmaid design, sunglasses, and a trinket dish.
This Bridesmaid proposal gift set comes in a set of 6, complete with proposal boxes, love knot bracelets, "I can't tie the knot without you" cards, and no crease hair ties.
Your bridesmaids will love the thoughtful gifts that come in this Blue "Will You Be My Bridesmaid?" Proposal Box. Each set includes 1 bridesmaid glass tumbler, 1 candle, 1 makeup bag, 1 mint soap, 1 blue claw cup, 2 shower steamers, 1 teddy bear towel, 1 artificial flower, 1 "I couldn't tie the knot without you" card, and the cute bridesmaid wooden box.

This Be My Bridesmaid Gift Set is full of special treats your besties are sure to enjoy! The set includes a sassy tea towel, edible glitter dust, and a fizzy bath bar packaged in a greeting card style box. You can write a sweet little note to your bestie on the box. 😉

How sweet is this pink bridesmaid proposal box?! The box comes with a personalized tumbler, personalized ring dish, a hair clip, diamond pen, scrunchy, and foam rose.

This unique "Will you be my bridesmaid?" set is sure to be loved by your besties. The set comes with 1 personalized round lid labeled with the name and color of your choosing, 1 heart matchbox, 1 candle tin, 1 clear hard plastic flute with "cheers", 1 personalized compact mirror, 1 heart pattern lip balm, and a "hello beautiful" mini note card for you to handwrite a special note to your bridesmaid.

We love this black bridesmaid proposal gift set! This beautiful box includes everything your bridesmaids will need to be getting ready for the big day. Each box includes 1 personalized champagne glass, 1 satin robe, 1 personalized travel jewelry box, 1 pearl hair claw, and 1 pair of black sunglasses. Each box comes personalized with a gift tag with a name.

This lovely blue "Will You Be My Bridesmaid" proposal gift set comes with 1 personalized gift box with a gold foiled card, 1 personalized tumbler, 1 artificial rose, and 1 scrunchy with the tag "to have and to hold".

If you're looking for a unique proposal box that has it all, check out this Sage Proposal Gift Box. This "Will You Be My Bridesmaid?" box comes with satin PJs, a sleep mask, scrunchy, slippers, and a glass tumbler.

Your bridesmaids will be feeling extra special with this Boho Bridesmaid Proposal Gift Box! Included in this box: 1 personalized glass tumbler, 1 satin robe and scrunchy, 1 velvet travel-sized jewelry box, and a "Couldn't tie the knot without you" gold bracelet.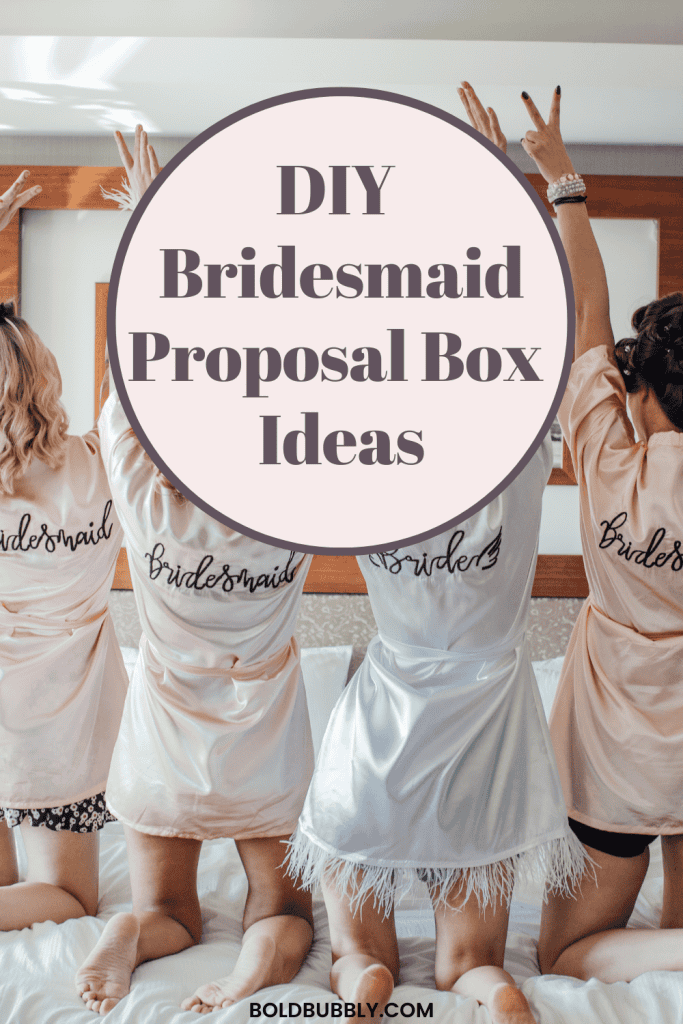 Best Bridesmaid Proposal Box Ideas
We hope that you've found some fabulous bridesmaid proposal box ideas on this list! Whether you choose to DIY your bridesmaid proposal boxes or opt for the pre-made variety – either way, they're sure to leave a lasting impression on your closest friends.
After all, bridesmaid proposal boxes are a sweet way to extend a heartfelt invitation to join you at this very special time in your life.
This post was all about the best bridesmaid proposal box ideas.
Other Posts You May Like: