Looking for the best bridal shower favors? You're in the right place.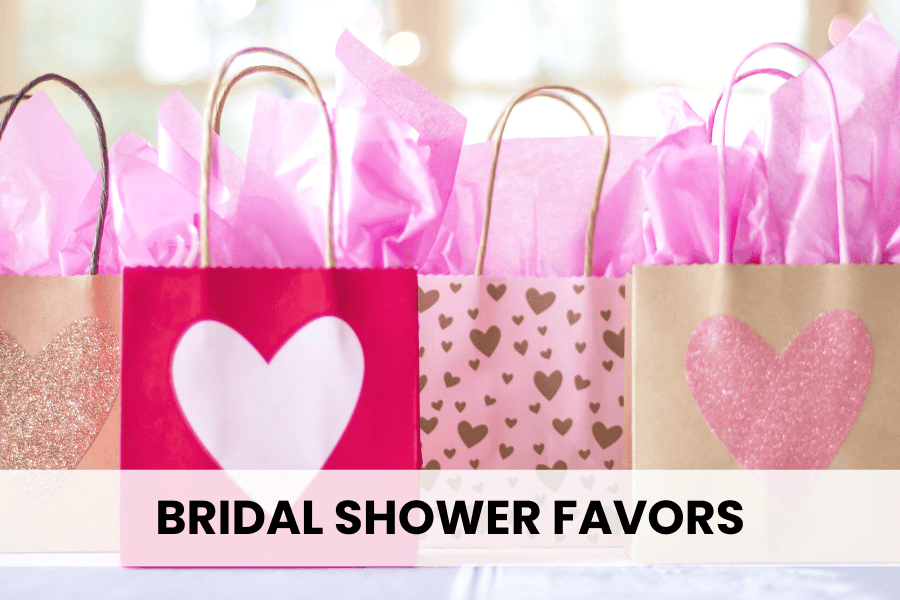 Throwing a bridal shower is a lot of fun but it's also a ton of work – not to mention shopping for bridal shower favors can be time-consuming. That's why we've put together this list for you of the best bridal shower favors!
Bridal Shower Favors
One of the last items purchased for a bridal shower is often the bridal shower favors. They're not a necessity but they certainly are a lovely extra touch.
Giving your guests a bridal shower favor is a simple way to thank them for attending the bridal shower by sending them home with a little shower gift.
Bridal shower favors don't have to cost an arm and a leg. There are actually several super cute inexpensive bridal shower favors you can purchase that guests will love.
IN THIS POST:
Bridal Shower Favor Ideas
We've included the best bridal shower favors for a variety of different budgets on this list to help ensure that you find favors that will work for the bridal shower you're throwing.
Bridal Shower Favors Succulents
#1 – BURLAP SUCCULENT SHOWER FAVORS

These little succulents come in burlap rustic decor in sets of 10 with the option to add a cute little gift box and/or customized tag. On the tag, you can include a thank you with the bridal shower details.
#2 – BURLAP SUCCULENT FAVORS WITH TAG OPTION "LET LOVE GROW"

You can order as many or as few of these succulents as you please. At the time of this post, there is no minimum amount of succulents you need to purchase.
#3 – LACE OR PLAIN BURLAP SUCCULENTS

How sweet are these little succulents?! These come in sets of 10 with a couple of options: You can select to have lace on the burlap or just plain burlap. There also is an option to add a cute little "Let Love Grow" tag to each of the succulents.
#4 – SUCCULENTS IN CERAMIC "LOVE" PLANTERS

Each of these succulents comes in its own adorable ceramic "love" planter. These succulents are sold in packs of 20.
Soap Shower Favors "From My Shower To Yours"
Soaps are a great bridal shower favor that guests can enjoy using. Plus, it's a clever favor idea with the whole "From My Shower To Yours" thing!
#5 – RUSTIC MINI SOAP FAVORS WITH PAPER ROSE

Each of these handmade mini soap bars comes with a personalized tag, tied with twine, and a small pink paper rose. There are several soap scents to choose from. The minimum order for these shower favors is 10.

Your guests will love these moisturizing lavender soap bars. This soap is handmade with natural ingredients and comes wrapped in a personalized tag.
#7 – VEGAN NATURAL HANDMADE SOAPS

We love these vegan handmade soaps. Each bulk order comes with a variety of different colors (20 is the minimum). Every soap bar comes in its own little box with the option to include a personalized tag if you wish.
#8 – "FROM MY SHOWER TO YOURS" SOAP FAVORS

Gift your guests with one of these uniquely handmade soap bars. You can choose what label you want or have a custom design label made for you. At the time of this post custom design labels are included with the order. Each soap bar comes in a lovely organza bag, you can select from ivory or white bags.
Sugar Scrub Shower Favors
#9 – "FROM MY SHOWER TO YOURS" SUGAR SCRUB

Thank your guests for sharing this special day with the bride-to-be with these all-natural sugar scrub shower favors. The minimum order is 1 so you can order as many or as few as needed. Each sugar scrub jar comes with 4 oz of vanilla scrub and a wooden spoon for scooping. Every favor has a personalized label on top of the jar. You can choose the color lid you prefer, and it comes complete with a label on the bottom listing ingredients and instructions.
RELATED: 13 Unique Bridal Shower Games Guests Will Truly Love Playing
#10 – MINI SUGAR SCRUB CUBES

These cute mini sugar scrub cubes come in frosted gift bags finished with a "From My Shower To Yours" tag and a paper rose. You can select from a variety of tag and paper rose color options. Every set includes 4 bags of sugar scrubs.
#11 – BRIDAL SHOWER BATH BOMBS

Guests will love these bridal shower bath bombs. Each bath bomb comes in an organza bag with a tag, embellished with 2 wedding bands. You can choose from several color and design options, as well as your preferred bath bomb scent. Add a little touch by personalizing these favors with tags that have details from the shower. Guests can use these bridal shower favors as a both bomb or a shower steamer.
#12 – BATH SALT BRIDAL SHOWER FAVORS

These bath salt favors make the perfect thank you gift for guests. Each glass tube comes with a personalized label and is filled with about 2 ounces of bath salts. There are a variety of bath salt scents to choose from. The minimum order is 1 – so order as many or as few as you like!
RELATED: 13 Of The Best Cozy And Chic Boho Bridal Shower Ideas
Lip Balm Shower Favors
#13 – GLITTER RING LIP BALM FAVOR HOLDERS

How cute are these glitter ring EOS lip balm holders?! With several glitter colors to choose from for the holders, these are a simple way to dress up lip balm and pass them out as shower favors. They come in sets of 6, 12, and 24. All you need to do is order the right amount of EOS lip balms, and these holders, put them together, and voila! Your favors are all ready to go!
#14 – BRIDAL SHOWER "THANK YOU" LIP BALM

These lovely greenery eucalyptus lip balm favors are a nice thank you to your guests for attending the bridal shower. There are many color options to choose from and the minimum order is 1 – so you can order as many or as few as you need!
#15 – PERSONALIZED LIP BALM BRIDAL SHOWER FAVOR

These lip balms come in sets of 12 with cute custom options. There are lots of designs to choose from as well as sticker colors. Be sure to include the bride's name and bridal shower date on these cute lip balm favors!
RELATED: How To Plan A Bridal Shower She'll Absolutely Love
Candle Shower Favors
#16 – PERSONALIZED CANDLE FAVORS

Thank your guests by giving them one of these beautiful candle favors! Each lid sticker comes personalized with details from the bridal shower. You can choose from a variety of lid colors and candle scent options as well. The minimum order for these candles is 6.
#17 – AROMATHERAPY SCENTED CANDLES
These aromatherapy scented candles make great shower favors. They come in sets of 8, we recommend pulling out all the candles and setting them together at the shower. Pass one candle out to each of your guests as a shower favor to thank them for coming.
Inexpensive Bridal Shower Favors
The following 4 shower favors end up costing $1 or less per favor at the time of this post.
#18 – 20 PACK OF MINI BODY LOTION
This 20 pack of shea butter body lotion tubes comes with 10 different fragrances. Guests can always use a little lotion to stick in their handbags and will love receiving this little thank-you favor.
#19 – HEART SHAPED WINE BOTTLE STOPPER
Guests will love these heart shaped wine bottle stoppers. They're sweet and useful! Each set comes with 50 heart shape wine bottle stoppers and organza bags to place each wine bottle stopper in.
#20 – DIAMOND BALL POINT PENS
These diamond pens are a thoughtful way to thank your guests for coming to the shower. You can also use these pens for the bridal shower games you might be playing. This set comes with 48 different diamond topped pens in 4 different beautiful colors.
#21 – LOVE FOREVER BOTTLE OPENERS
These "Love Forever" bottle openers are beautiful and useful shower favors that guests will love. Each opener is packaged inside a lovely gift box. This set of "Love Forever" bottle openers includes 50 bottle openers.
Bridal Shower Favors DIY
If you're looking for simple DIY shower favors, the following ideas are for you!
#22 – RUSTIC CANDY LOVE BOXES
These cute candy boxes make a sweet bridal shower favor. This set comes with 50 empty boxes that you can fill with whatever you choose. Our favorite treats to put in these boxes are Hershey's kisses!
#23 – PERSONALIZED HAND SANITIZER LABELS

These mini sanitizer labels are perfect for shower favors. All you need to do is order the labels with the personalized details (these come in sets of 30). Once you receive the labels stick them to the hand sanitizer bottles. Note: the hand sanitizer bottles are not included with the labels. These labels are sized to fit the Bath & Body Works PocketBac 1 oz sanitizers.
#24 – PINK BRIDAL SHOWER FAVOR BOXES
Fill these lovely bridal shower favor boxes with treats of your choosing. These beautiful boxes come with a ribbon, flower, and thank you tags.
RELATED: 15 Pink Bridal Shower Ideas For A Special Bride-To-Be
#25 – PERSONALIZED BRIDAL SHOWER FAVOR BAGS

You can't go wrong giving your guests a little treat bag as a thank you. Load these personalized bridal shower bags up with a treat. Cookies, sweets, or popcorn are always good options!
Lemon Bridal Shower Favors
Looking for lemon themed lemon bridal shower favors? There are several amazing lemon shower favors to choose from. For lemon bridal shower favors – head to this post where we list the best lemon themed bridal shower favor ideas.
RELATED: 21 Best Lemon Themed Bridal Shower Favors
Download Your Free Bridal Shower Checklist To Help With All The Shower Details
Do You Give Favors At A Bridal Shower?
You don't have to give out favors at a bridal shower – however, they're a lovely extra touch. Since there are several affordable bridal shower favor options – it's easy for hosts to include these little extra details at a bridal shower. These little favors also serve as a sweet keepsake for the bride to remember her shower by.
What Do You Put On A Bridal Shower Favor?
A sweet message, the date of the shower, and the bride's name are all thoughtful things to put on a bridal shower favor. Depending on the type of favor you choose to go with you can attach personalized stickers, tags, or ribbons matching the bridal shower theme.
RELATED: The Best Wedding Advice Cards And What To Write
Who Pays For The Bridal Shower Favors?
The person hosting the bridal shower is the one responsible for paying for the bridal shower favors. If you're hosting the shower with other people, split the cost of the favors evenly between all of you. Contributors often include the maid of honor, bridesmaids, and the mother of the bride.
How Much Should You Spend On Bridal Shower Favors?
There is no set amount of money that should be spent on favors. These are "little extras" that act as a thank you to your guests for attending. If you do choose to give out bridal shower favors, consider spending anywhere from $1 to $10 per favor (depending on your budget). You can spend as little or as much as you want!
We hope that you have found several bridal shower favor ideas that you can use for the shower you're hosting.
Including shower favors is not a must, but it certainly is a lovely extra touch!
This post was all about the best bridal shower favors.
Other Posts You May Like:
Pin to remember!