This post is all about honeymoon gifts.
The soon-to-be Mr. & Mrs. will be celebrating in style with these honeymoon gifts!
If you are looking for the best honeymoon gift ideas, we have you covered.
In this post, we are sharing the best honeymoon gift ideas!
Best Honeymoon Gift Ideas
Honeymoon gifts are such a fun and thoughtful thing to give the bride and groom.
Most of the time you won't find honeymoon gifts on the registry so spoiling the newlyweds with one or two honeymoon gifts will come as a fun surprise for them!
What Do You Give Someone For Their Honeymoon?
There are several exceptional options when it comes to honeymoon gifts.
One of the best things to do when deciding on what to get someone for their honeymoon is to find out where it is that they are honeymooning.
That way you will be able to purchase gifts that are in alignment with their honeymoon travel plans.
Honeymooning in Europe vs. Hawaii call for very different packing essentials.
However, whether the bride and groom are going to be lounging at the beach or taking tours and walking historic streets we have the best honeymoon gifts on this list.
RELATED: 21 Last Minute Bridal Shower Gifts The Bride Will Totally Love
Honeymoon Gifts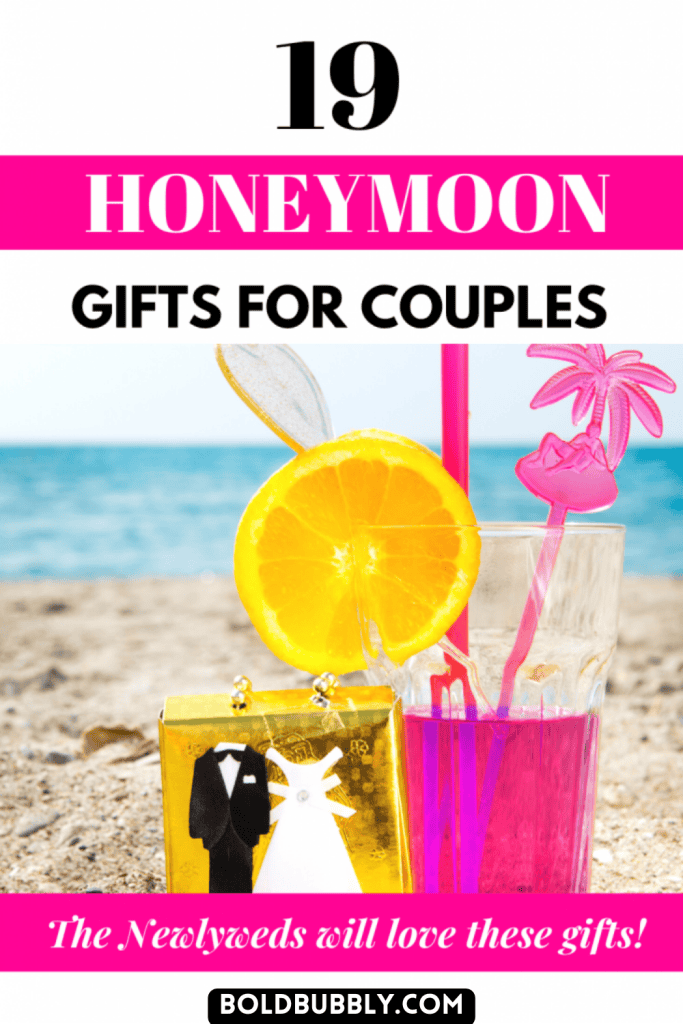 With these honeymoon gift ideas, the newlyweds will be traveling in style and have all the little extras they'll need to make this an incredibly special trip.
Beach Honeymoon Gifts
#1 – Mr. & Mrs. Beach Towel
The newlyweds will love being able to layout comfortably in the sun with these oversized Mr. & Mrs. beach towels!
#2 – Bride & Groom Sunglasses
This matching pair of Bride & Groom sunglasses is sure to make the newlyweds smile. They will have some fun in the sun together in their matching shades!
#3 – Just Married Sun Hat
The bride can sunbathe in style with this lightweight Just Married Sun Hat! This hat is perfect for keeping cool regardless of where her honeymoon travels take her.
#4 – Wifey Tote
She'll be showing off her wifey status with this Gold Sequin Wifey Tote! This tote can fit all her beach essentials and more for her honeymoon!
#5 – Sun Bum Sun Care Travel Set
The newlyweds will appreciate this SunBum Sun Care travel set! This travel set is especially useful if the newlyweds will be hitting the beach for their honeymoon.
#6 – Waterproof Phone Pouch
Having a Waterproof Phone Pouch at the beach or the pool is a must! The bride and groom will appreciate having a way to keep their electronics away from the water.
Honeymoon Gifts For Friends
#7 – Honeymoon Sand Keepsake Jar
The newlyweds will love being able to bring back part of their honeymoon with them! With this sweet Honeymoon Sand Jar, the bride and groom will always have a special keepsake from their honeymoon.
#8 – Mr & Mrs. Matching Shirts
Travel in style with matching Mr. & Mrs. shirts! Wearing matching shirts on a honeymoon is a fun way to celebrate your nuptials!
#9 – Mr. & Mrs. Baseball Caps
These matching Mr. & Mrs. Baseball Caps are so cute! The caps are useful and also make for great honeymoon pics!
#10 – Body Restore Shower Steamers
Shower steamers are a lovely way to help the newlyweds unwind while on their honeymoon. They can enjoy a relaxing shower together with these aromatherapy Shower Bombs!
#11 – Poo-Pourri
Help the bride and groom keep everything fresh on their honeymoon with this Poo-Pourri Set! With its small size, they can simply throw this little extra in their carry-on.
Honeymoon Gift Ideas For Couple
#12 – Hubby & Wifey Satin Robes
The Mr. & Mrs. can lounge in luxury and style on their honeymoon sporting their matching Mr. & Mrs. Satin Robes!
#13 – Mr. & Mrs. Tumblers
These adorable Mr. & Mrs. Tumblers will keep the newlywed's drinks hot or cold for 8+ hours! They can use these cute tumblers to enjoy an iced beverage poolside while celebrating their Mr. & Mrs. status.
#14 – Selfie Stick
Help the newlyweds capture special moments on their honeymoon by gifting them with this portable Selfie Stick!
#15 – Mr. & Mrs. Passport Holders + Luggage Tags
These Mr. & Mrs. Passport Holders + Luggage Tags are a cute and useful honeymoon gift idea! The bride and groom will keep their luggage marked in style and travel docs protected with this set.
#16 – Do Not Disturb Door Hanger
Help the newlyweds to enjoy some privacy with this adorable Do Not Disturb honeymoon door hanger. It is lightweight, fun, and a clever way to celebrate their honeymoon!
Honeymoon Gifts For Couples
#17 – Kindle
While laying out poolside or at the beach…or while flying – the newlyweds will love being able to catch up on some great reads with a Kindle! If the Mr. and Mrs. don't already have Kindles, these make extra special honeymoon gifts.
#18 – Honeymoon Vibes Tote
This super cute Honeymoon Vibes Tote is a must for honeymooners. They can use this bag as they head to the beach or to store all their travel essentials!
#19 – Weekender Bag
The bride and groom will love this Weekender Bag for their honeymoon! It makes for a perfect carry-on bag and is stylish too.
We hope that this list of honeymoon gift ideas has helped you to find something special for the newlyweds.
This post was all about the best honeymoon gifts.
OTHER POSTS YOU MAY LIKE:
Pin to remember!