These are the best last rodeo bachelorette party ideas!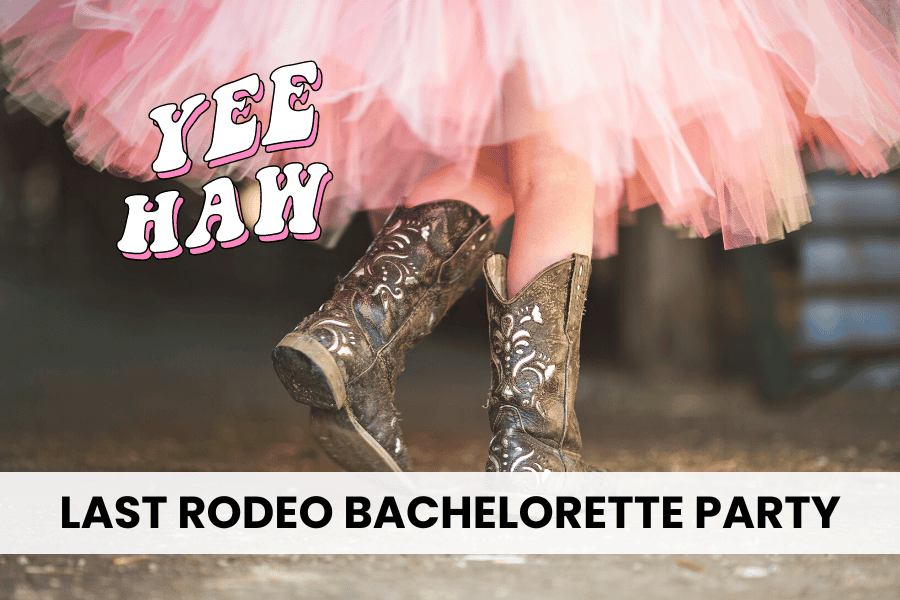 If you're on the lookout for a unique and unforgettable bachelorette party that captures the spirit of adventure and fun – you're in the right place.
We're here to wrangle up all the excitement and details you need to throw the ultimate Last Rodeo Bachelorette Party.
Last Rodeo Bachelorette Party
From the moment you decide to throw this unforgettable bachelorette party to the final "yeehaw" of the night, we've got you covered.
Here you'll find the best ideas for invites, decorations, supplies, outfits, favors, and more for throwing a last rodeo bachelorette party!
So, grab a lasso and join us as we round up all the essentials you need for an incredible Last Rodeo Bachelorette Party that'll have everyone two-stepping into the sunset with memories that'll last a lifetime!
Last Rodeo Bachelorette Party Invitations
Start the excitement from the get-go with these Last Rodeo Bachelorette Invitations! We've put together our favorites to help you set the stage for a one-of-a-kind celebration.

Customize this super cute "Let's Go Girls" invite on your own computer!

Whether you're throwing a cowgirl, last rodeo, or Nash bash party, these Rodeo themed bachelorette invites are a must!

If you're looking for a last rodeo or space cowgirl themed invite – you'll want to check out these Last Rodeo invites! The templates are customizable so you can include all the specific details for the bash you're throwing.
Last Rodeo Bachelorette Party Supplies and Decorations
Our handpicked Last Rodeo Bachelorette Decorations are the ultimate blend of Western charm and party pizzazz.
Your guests will be in awe as they soak in the vibrant cowboy-themed banners, western accents, and rodeo-ready details that make your bash truly unforgettable!
These silver mylar Last Rodeo balloons are a festive party addition!
Add to the "Last Rodeo" aesthetic with these western cowgirl bachelorette party decorations!
This 101-piece Last Rodeo Bachelorette decoration set comes complete with all the Western elements like cowboy hats, boots, horseshoes, and more! The set includes fringe curtains, disco ball balloons, a ring foil balloon, "last rodeo" foil sign, glitter banners, a cake topper, and more!

This "Her Last Rodeo" banner is perfect for a last rodeo party. With this pretty balloon sign, you can choose from rose gold, gold, or silver options.

Personalize this Last Rodeo Balloon Banner with the bride's first name. If you want you can even add in the cowboy boots and diamond ring making this banner even more fun!

This hilarious Same Cowboy Forever banner is sure to get some laughs from the bride. She'll love seeing her future hubby's face dangling from the sparkly banner!

If you're looking for a welcome sign for a last rodeo bachelorette party – this Last Rodeo Bachelorette Sign is a favorite!

Check out this creative guestbook – this last rodeo keepsake is a great option! You can personalize this making it a sweet memento the bride will always cherish.
RELATED: "Kiss the Miss Goodbye" Free Printable for an Unforgettable Bachelorette Party

This Cow print party bundle is a 58-piece set. It comes with themed plates, napkins, and koozies!
Last Rodeo Bachelorette Party Shirts & Outfits
Nothing completes a Last Rodeo bachelorette party quite like themed outfits and matching shirts. Get ready for some ideas that are the ultimate blend of sass and cowgirl charm!

The bride-to-be will dazzle in this white bride cowgirl hat! Choose from a variety of colors and veil options or if you'd rather just get the hat with no veil – there's an option for that too. 🙂
This last rodeo bride set comes complete with a bride cowgirl hat, a bride-to-be sash, and a cute pair of heart sunglasses!
Looking to add a little bling to the bride's outfit? She will LOVE these beaded "Bride-to-Be" cowboy boot earrings!
We love this super cute suede fringe vest! It's sure to complete your last rodeo bachelorette party outfit.
These cute cowboy boots will have you and your group matching the rodeo theme seamlessly!
If you want to glitz up your last rodeo outfits – these metallic cowgirl boots are the way to go! There are a variety of shiny colors that will be a perfect addition to your ensembles!

Add a cute little bride bandana to the bachelorette's outfit!

We are loving these "Let's Go Girls" tank tops! Your bride tribe will match in style and theme with these cute tanks.

These Country Quote T-Shirts are a whole lot of fun! There are several country sayings to choose from for a clever ensemble.

The bride-to-be is sure to look the part in this "My Last Rodeo" T-shirt!

These cute Nashville bachelorette shirts make a great addition to a last rodeo bachelorette party!

How cute are these "My Last Rodeo" and "Let's Get Rowdy" t-shirts! If you'd prefer something other than black and white – there are several fun colors to choose from.

Choose from a variety of colors for these cute "Western Bride Tribe T-Shirts"!
Last Rodeo Bachelorette Party Favors
Sending your cowgirl crew home with unforgettable mementos is a must, and our Last Rodeo Bachelorette Party Favor Ideas are here to lasso your heart!
These cowgirl bachelorette party hair ties are a simple, cute, and useful favor! Your guests will love the cute packaging and ties. They'll be able to use them for the party and long after.

You can personalize these last rodeo cups with each guest's name! It's also fun to stuff these tumblers with little favors for the party.

Surprise the bride with her groom's face printed on each of these cowboy party cups!
RELATED: 30 Insanely Cute Bachelorette Party Cups

An all-time fave for a last rodeo bachelorette party! These cowboy hat disco ball cups are such a fun addition. You can even have these tumblers personalized with each of the guest's names making them extra special.

The bride will LOVE the surprise of finding her soon-to-be hubby's face all over these cowboy hat straws!

These fun cowgirl themed can sleeves allow for you and your guests to bring your favorite canned beverages with you! Whether you're laying out at the pool or lounging in the hotel before the festivities – these are a lovely extra touch!

Not only are these last rodeo fanny packs super cute but they're also extremely functional as well. Guest will love this themed party favor!

These last rodeo temporary tattoos are a whole lot of fun! There are a variety of cute sayings and cowgirl themed designs that your guests are sure to love.

There's nothing quite like matching pink bachelorette cowboy hats to complete a last rodeo theme!

These super cute bandanas come in white, black, tan, and powder blue. You also can add a personalized touch by adding a name or title to each bandana! 😉
Last Rodeo Bachelorette Party Captions
Captions for your Last Rodeo Bachelorette Party photos are the icing on the cake. From "Last Ride Before I'm a Bride" to "Rustlin' up Memories at the Rodeo," these captions are the perfect way to capture the spirit of your unforgettable celebration. So saddle up as you browse through these last rodeo bachelorette party caption ideas. We hope they'll wrangle in all the feels and fun you shared with your ride-or-die crew!
"Ridin' into the sunset of singledom like… 🤠🌅 #LastRodeoBach"
"Boots and besties – it's our Last Rodeo bash, y'all! 🎉🍻 #BacheloretteHoedown"
"Saddle up, cowgirls! It's time to wrangle some memories. 🐴💃 #BrideGoneWild"
"Bachelorette shenanigans: Taking the rodeo route to love and laughter! 🤠❤️ #LastRodeoVibes"
"Last Ride Before the Bride! Galloping into the wedding countdown. 🐴👰 #CowgirlCrew"
"Yeehaw, it's her Last Rodeo! Let the bachelorette hoedown begin. 🎉🤠 #BridetoBe"
"Giddy up, gals! Our bride's rounding up her single days in style. 🐎💍 #RodeoRoyalty"
"This cowgirl's trading her boots for bridal heels! 💃👠 #RodeoBachelorette"
"Rustlin' up love, laughter, and lifelong memories! 🤠💖 #RodeoRendezvous"
"Sippin' on sweet tea as we celebrate our bride-to-be! 🍹🤠 #BacheloretteFun"
"Gals, let's show this bride how to kick up her heels one last time! 💃🎶 #LastRodeoRager"
"Bachelorette rodeo vibes: Galloping towards 'happily ever after'! 🐴👰 #SaddleUpSquad"
"Hats off to the bride! Wrangling up good times at her Last Rodeo bash. 🎩🌟 #CowgirlCrew"
"Bachelorette adventures: Riding into love, laughter, and lifelong friendships! 🌵💃 #LastRodeoJourney"
"From cowgirl boots to wedding veils – celebrating the bride's Last Rodeo in style! 👢👰 #HoedownHooray"
"Raising a glass to the bride's final rodeo – let's make it fabulous! 🥂🤠 #BrideTribe"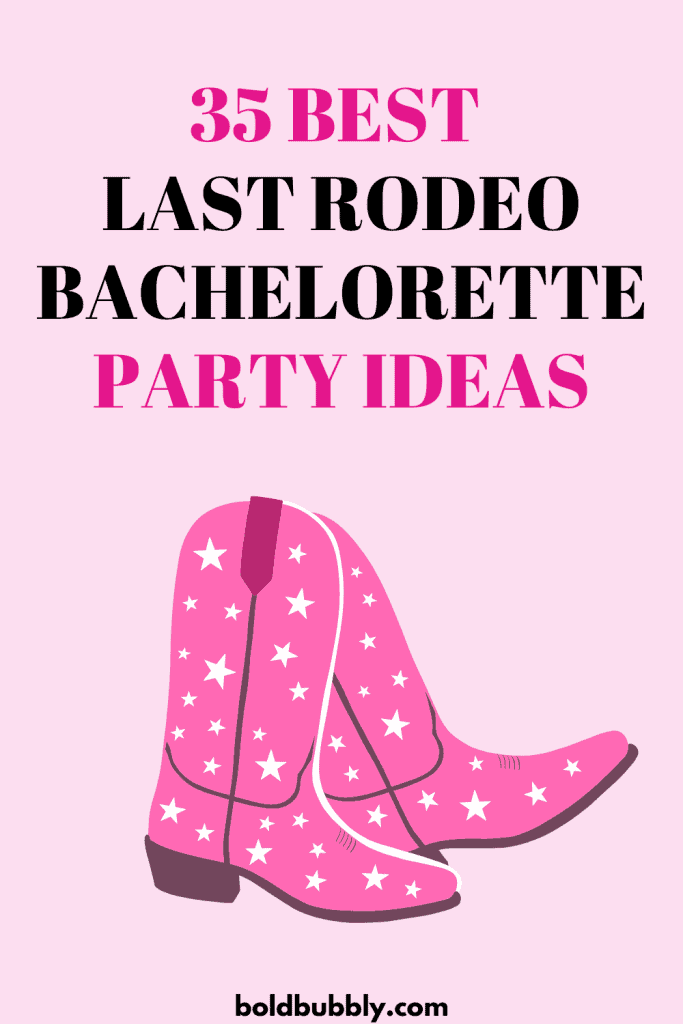 Throwing the Ultimate Last Rodeo Bachelorette Party
From the themed invitations to the decor, outfits, and more, we hope that you've found some inspiring ideas to help you throw the bride an unforgettable Last Rodeo Bachelorette Party.
So, grab your boots, tip your hat to the bride, and hold on tight to the memories you'll all cherish for a lifetime. Giddy up and let the Last Rodeo festivities begin!
Other Posts You May Like: