Guests will love playing this bridal shower emoji game. 
Are you ready to add a fun game to the bridal shower you're planning?
You're in the right place. In this post, we are sharing free printable bridal emoji pictionary game cards! 
This game will have your guests laughing, guessing, and connecting in no time.
Bridal Shower Emoji Game
I think we can all agree that throwing a bridal shower is an honor but also a lot of work. 
That's why we are passionate about sharing the best tips, tricks, bridal shower games, and more to make the planning process much easier for you.
The Bridal Emoji Game Is Always A Favorite Bridal Shower Game
Bridal shower games are the perfect way to break the ice and get your guests chatting and connecting in a short time. 
One of our favorite bridal shower games is this Bridal Emoji game.
Guests get to solve the emoji puzzles on each of the game cards that are related to the bride and groom or the wedding.
It's a bridal shower game that encourages conversation and collaboration as your guests work together to solve the emoji puzzles.
Another reason we love this game is its versatility.
Regardless of the theme or bridal shower location– this bridal emoji pictionary game fits right in!
Because of the clever emoji symbols, it's a shower game that ensures guests of all ages can join in on the fun.
What Do You Need To Play The Bridal Emoji Pictionary Game
To play this Bridal Emoji Pictionary game, you really don't need much.
Here's what you will need to play the bridal emoji game:
Bridal Emoji Game Cards
These are printable sheets or cards featuring a list of emoji puzzles related to the bride and groom or the wedding.
You can download your free printable bridal shower emoji game cards at the bottom of this post. Included with your download are the answers to each of the bridal emoji pictionary game puzzles. Another option is to create your own emoji puzzles or purchase the cards online. 
Pens or Pencils
Your guests will need something to write down their guesses with for each of the emoji puzzles.
Having cute bridal shower pens available for your guests is a lovely extra little touch! 
A Timer or Stopwatch
Depending on how you want to play the emoji game, you might use a timer to limit the amount of time guests have to guess each emoji puzzle.
Or you may set a specific time frame for completing all the puzzles on the game card. Your phone's timer works great for this by the way. 😉
Bridal Emoji Game Prizes (Optional) 
Consider having bridal shower prizes for your guests who solve the emoji puzzles. 
Having prizes for your winners is completely optional – however, prizes tend to add an extra element of competition and motivation.
And that's it! It really doesn't require much to do this bridal shower game.
Simply print the game cards, provide something to write with, set a timer, and let the fun begin!
How Do You Play the Bridal Emoji Pictionary Game
Playing the bridal shower Bridal Emoji game is a lot of fun and also super simple. 
Here's how to play the bridal shower emoji game:
Download Your Free Printable Emoji Game Cards
Grab your free printable game cards (at the bottom of this post), make your own, or purchase them online.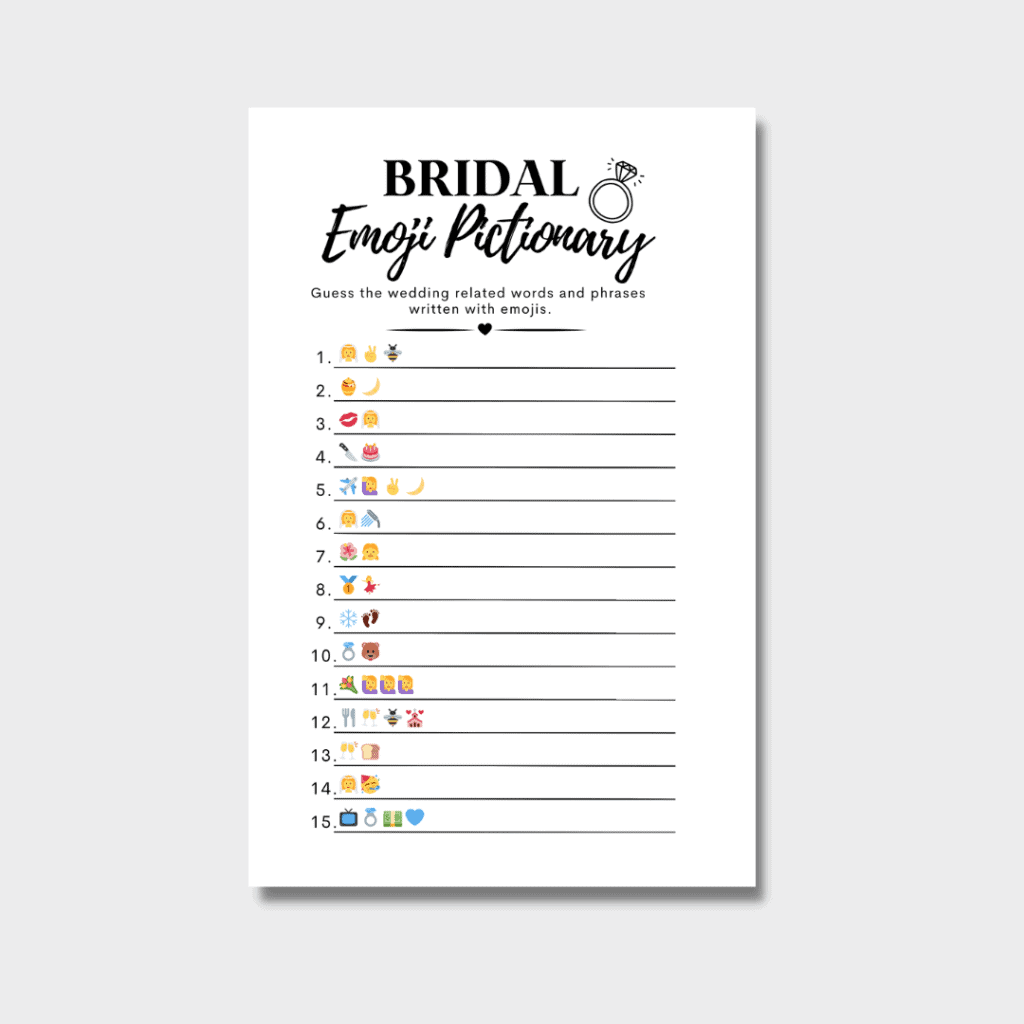 The emoji game cards contain emoji puzzles that are related to the bride and groom and the wedding. 
Each emoji puzzle represents a word or phrase connected to the bride and groom and the wedding. Puzzles represent things like their favorite movie, how they met, or other wedding-related terms.
Hand Out Game Cards and Pens or Pencils
Ensure that each of your guests playing the emoji game is provided with an emoji game card as well as something to write their answers with.
Set Bridal Emoji Game Rules
Depending on how you want to play this game you can either set a time limit for completing all the emoji puzzles or for each puzzle individually.
For example, you could set the timer for 5-10 minutes for guests to solve all the puzzles or set a timer for 1-2 minutes for each puzzle to be solved and completed individually.
Solve the Bridal Emoji Puzzles – Play the Game!
Ask the guests to look at the emoji puzzles and try to figure out what each one means.
They should write down their guesses on the game card next to each emoji.
Announce the Bridal Emoji Game Winners
Once the time limit has passed, go through the answers having your guests keep track of how many they got correct.
It can be fun to have the bride reveal the correct answers. If the bride is playing the game along with the guests – then read the answers aloud yourself.
The guest or guests with the most correct answers is the winner. They will receive a bridal shower prize if you're offering one.
Playing the Emoji Bridal Shower Game In Groups
If you have a large number of guests at the bridal shower, consider dividing your guests into teams.
Guests will then work together as a team to solve the bridal emoji puzzles.
Download Your FREE Printable Bridal Shower Emoji Game Cards
Simply enter your information to download your bridal emoji game cards. Print them out and enjoy using them at the bridal shower you're throwing!
Answers to each bridal emoji pictionary game puzzle are included in your free printable download.
Final Thoughts On the Bridal Emoji Bridal Shower Game
Adding the Bridal Emoji game to the collection of games you're playing at the bridal shower is a great idea!
This game can be enjoyed by guests of all ages. It helps to break the ice and get guests chatting, connecting, and laughing over the wedding-themed emoji puzzles.
We hope you enjoy the free printable bridal shower emoji game that we've included.
For additional bridal shower games, themes, tips, and tricks, be sure to check out our Bridal Shower Planning Guide. 
This post was all about the bridal shower emoji game. 
Other Posts You May Like: